Commentary
Shaq to get doctorate in leadership
Updated:
April 2, 2012, 1:00 PM ET
By
Zach McCann
| Page 2
Shaquille O'Neal led his team to four NBA championships in his career, but was he a leader?
Kobe Bryant might not think so, but Shaq says all of his antics -- the media sniping, the jokes, the nicknames -- were part of his leadership style.
"I would say that as a leader I was 70 percent humorous, 30 percent seriousness," Shaq told Page 2.
Shaq's serious about his leadership technique. So serious, in fact, that he's achieving his doctorate degree in leadership and education at Barry University in Miami. He's flying to Miami this week to defend his dissertation on the duality of humor and seriousness in leadership, and if that goes well, he'll graduate and become Dr. Shaquille O'Neal on May 5.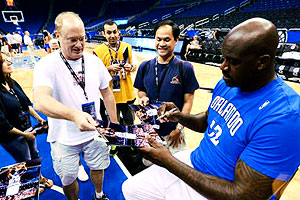 Courtesy of Chase Shaquille O'Neal, seen here at a Chase event, might soon give out leadership tips to businessmen.
We caught up with O'Neal to discuss his leadership style and his graduate work as he hosted an event for Marriott Rewards Premier Visa Signature from Chase cardmembers in Orlando.
What drew you to this area of study and how do you feel your experience in basketball helped you?
I think my experience in basketball has played a vital part in it. I've always been in a leadership role, reading John C. Maxwell, Morton C. Blackwell and guys like that, reading a lot of their principles and applying it to basketball. The reason my dissertation is dualities of humor and seriousness in leadership is because that's exactly what I did when I led my teams to our championships. The only time I got serious was when placed in a certain set of circumstances.
At what point in your career did you take an interest in reading and studying on how to be a leader?
When I was 18 -- actually in high school, my coach said: 'You're the leader of the team. We go as far as you go.' I really didn't know what it meant at the time. I didn't know what it meant and I didn't know how to take it. Then I grew older and realized that every little thing you do is vital. If you're dealing with an organization and you don't take it seriously, they won't take you seriously. I had to do a lot of things by example to show them that I was serious about winning. And I'd also say you can't be a great leader if you don't have great followers, and you have to make up different styles to make people believe in you.
You went through a bit of a leadership struggle with Kobe Bryant in Los Angeles. Do you think you made any mistakes as a leader in your career?
I don't really think I've made mistakes. I think I've pushed a lot of buttons to get people to perform at a great level. You have to understand in the business of basketball, it's all about championships and not friendships. A lot of people go to the L.A. thing, but all we did was push each other's business buttons. So the CEO and the COO were talking trash to each other, but if you look at the evaluation of our company from 2000 to 2003, there was no business higher.
Do you ever speak to Kobe? What would he think about your leadership dissertation?
No, I haven't spoken to him. And I probably never will. Again, I think me being a leader and me being the CEO, I did what I had to do to make sure our company was a Fortune 500 company and at the top of the performers list at that time.
Is there any leadership advice you'd give to a player or coach in the NBA right now?
[+] Enlarge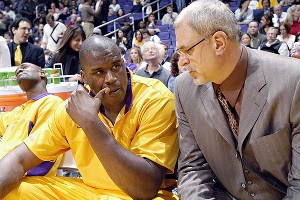 Andrew D. Bernstein/NBAE/Getty ImagesShaq was pleased with Phil Jackson's leadership.
I think the first rule thing is a lot of coaches don't know how to deal with egos. Second, you have to do your due diligence on player. Before you try to converse with a player, you have to know him. Some guys you yell at them and they'll break down, and some guys you yell at them and they'll be combative. Phil Jackson was the best at doing due diligence with players. He could say anything he wanted to me; he knew that. He knew had to go lighter on guys like Rick Fox and Robert Horry. He knew he couldn't be too hard on Kobe, because he wanted Kobe to be demonstrative. He was an expert and that's why he won so many championships. He did great work with Dennis Rodman because he let Rodman be Rodman -- that's when Rodman played his best.
Was there anyone you played with who helped mold you as a leader?
I didn't learn from any NBA players. When I was in Los Angeles, I was a big fan of Roger Enrico of Pepsi, Paul Fireman of Reebok, Leonard Armato from Management Plus and Cynthia Atterberry of Cross Colours. Those were all my mentors.
What do you plan to do once you've graduated?
I'd like to graduate first and go around and talk to the top CEOs of Fortune 500 companies. Right now, I'm developing a motivational program that I believe will be very effective with two of my colleagues and continuing to do research. A lot of the techniques are outdated, so we want to bring them up to date. But I want to get that doctorate behind me first, rather than a guy that's just talking about it.
It sounds like you're more interested in business leadership than acquiring a leadership position in sports.
Yes. In about nine months, I will be known as the black Tony Robbins, motivational speaker.