Commentary
Coolest NCAA name: Staats Battle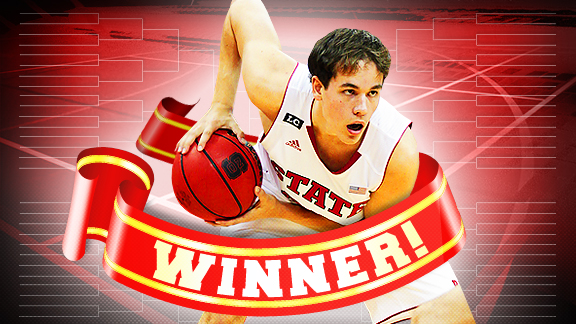 We began with 64 extraordinary player names. You narrowed the field to 32, then 16, eight, four and two ... ultimately determining the champion.
So after three weeks of balloting, it's with great pride that Page 2 crowns North Carolina State guard Staats Battle champion of the 2012 Coolest Name in the NCAA tournament bracket.
The gritty No. 6 seed from Raleigh turned aside all challengers and steamrolled his way to the prestigious championship. Scroll down to read Page 2's interview with the champion.
Staats Battle's path to the championship:
Page 2 caught up with Staats (rhymes with dots) to discuss his run to the title. Here's what transpired:
Page 2: How do you attribute the success of your run to the championship as a No. 6 seed?
Staats Battle: First of all, I've got to thank my dad. I'm a junior, so I just want to thank him for giving me the same name. Also, all my friends have been posting [the contest] on Facebook and Twitter and coach [Mark] Gottfried, [assistant] coach [Orlando] Early and [assistant] coach Nima [Omidvar] have been doing a lot.
How did Coach Gottfried get involved?
He has a ton of Twitter followers, so he sent the link out on his Twitter page and got a lot of people to vote.
What kind of attention have you gotten from teammates or classmates about the "coolest name" competition?
A lot. It's funny, walking into class, people who I've never seen before or talked to will come up to me and say, "Hey, I voted for you ... Good luck!" That's pretty cool.
Is it true your mom attended NC State, your dad attended North Carolina and your grandparents attended Duke?
Yes, and my sister goes to State right now, and my other sister graduated from Carolina.
Considering all those influences, how did you make your college selection?
I grew up a State fan. All my life, I've lived in Raleigh. I really wanted to play basketball, and two of my really close friends, Will Roach and Braxton Albritton, went to my high school and walked on at State. Growing up and watching them do that is something I wanted to do, too.
Have you selected a major yet?
I'm in the business school, but I don't have a concentration.
Do you know what kind of career you would like to pursue after graduation?
A financial adviser or something in the stock market, or maybe even go into coaching. I've been asking some of the coaches questions about that and seeing how that whole process works.
What's the story behind your name?
It's Dutch. It was my great, great grandfather's last name. It kept getting passed down, [eventually] to my dad, and he decided to name me Staats, too.
You're an Eagle Scout with an interest in community service. In which charitable endeavors are you most interested?
For my Eagle Scout project, I built benches for the interfaith organization, which helps women who have been abused. Also, I've been a camp counselor for Coach Ledford Sports Camps for community service.
Who's your favorite Wolfpack player of all time and why?
It would either be Archie Miller, Julius Hodge or Will Roach. Archie [for] the way he could shoot it and the way he competed. ... Julius Hodge because he was unbelievable and the way he talks. I don't do a lot of trash talking, but he does and gets into opponents' heads. Will Roach, just because I've known him for so long, and he's someone I look up to.
Let's hear your victory speech for the members of the academy and your adoring fans everywhere:
I'd like to thank all the Wolfpack fans. This award is definitely owed to them because of all their support. We have the best fans in the nation. Also, my family, and my dad for naming me Staats.