Commentary
The 2012 MLB fan giveaways
Updated:
April 4, 2012, 1:56 PM ET
By
DJ Gallo
| Page 2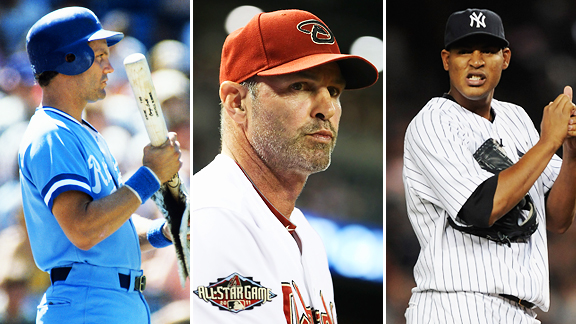 Getty ImagesDon't wash your hands of 2012's fan giveaways, as familiar faces will find their way onto items.
Happy baseball season! And happy free things.
Here are the best and worst giveaways/promotions on the MLB calendar this season. But first, a few things you won't find on the list.
• Jamie Moyer merchandise. The Rockies currently don't have a Moyer T-shirt giveaway or bobblehead night or anything like that planned. We can assume that's because they weren't sure he'd even make the team, not because they fear he's going to be … you know, not with us much longer.
• Ryan Braun giveaways. The Brewers have nothing planned for the reigning National League MVP. Weird, huh?
• Rex Sox giveaways or promotions. They don't do them. At all. Ever. You can't have the most expensive ticket in baseball AND give people things. That completely undercuts the goal of gouging them.
On to the list.
Best of 2012
Kirk Gibson Fan Night -- Diamondbacks, April 7
Everyone could use a good fan in the Arizona heat. Even if it doesn't cool you off, do you want to tell your Kirk Gibson fan that it failed? Didn't think so.
[+] Enlarge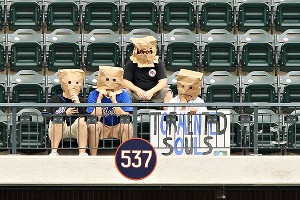 Jim McIsaac/Getty ImagesNow Mets fans will get some fingerless gloves, too!
Mets Texting Gloves Giveaway -- Mets, April 7
Apparently "texting gloves" are a thing now. The Mets and other teams are giving away fingerless gloves. Pre-texting, fingerless gloves were the domain of hobos and the destitute. So putting a Mets logo on them is kind of perfect.
Albert Pujols Bobblehead presented by FreeCreditScore.com -- Angels, April 17
The Angels get a slam dunk promotion out of the way early by giving away bobbleheads of the offseason's biggest acquisition. Can't go wrong there. Even the FreeCreditScore.com sponsorship works because it reminds fans that if they make less than Pujols' $240 million, they probably need to pay attention to their credit scores.
Royals Retro Batting Practice Jersey -- Royals, April 21
The light blue, throwback jersey is something that both old people and hipsters might like. Of course, if you're going to pull off the hipster look, make sure to eschew physical fitness and grow a mustache. Basically, try to look like Steve Balboni.
Yankees Stopwatch Day -- Yankees, April 29
There's nothing wrong with free electronics. Use it to see how quickly A-Rod gets booed if he falls behind in a count. The record is zero-point-instantly seconds.
George Brett Mini Pine Tar Bat Night -- Royals, May 5
You have to like promotions celebrating illegal moments in baseball history. Hopefully this leads to a Pete Rose Betting Slip Night, Gaylord Perry Sandpaper Night and Every MLB Player in the 1990s Steroids Giveaway Day.
Yankees Hand Sanitizer Keychain Day -- Yankees, May 8
Have you been to a Yankees game? You can't get enough hand sanitizer.
Marlins Earbuds and Free Music Download Card Night -- Marlins, May 23
Earbuds are something people of all ages can use, but they serve a double role at a Marlins game. Is Ozzie Guillen screaming curses in two languages? Just pop them in your child's ears for instant earmuffs!
One quick caveat to all of this: If the free music download card is only for this song, all bets are off. Then this giveaway is a form of torture.
[+] Enlarge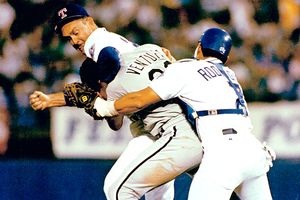 AP PhotoThis is what happens when your Nolan Ryan bobblehead beans your Robin Ventura bobblehead.
Robin Ventura Bobblehead Giveaway -- White Sox, May 26
Ventura is a White Sox legend and the team's new manager. It's a great giveaway for the locals. Bobblehead collectors will want one, too, to pair it with their Nolan Ryan bobblehead -- Ventura's head will take punches just like in the real fight!
Mariners Turn Back the Clock Night with '50s Poster -- Mariners, May 26
Jason Vargas, Miguel Olivo, Brandon League and Brendan Ryan dressed in '50s-era clothes and forced to pose for a poster. They drew the short straws while the rest of us get to laugh.
Boyz II Men Postgame Concert -- Pirates, June 9
Boyz II Men and the Pittsburgh Pirates. If you loved the early '90s and can only go to one game this season, make it this game.
Chia Pet Coco Crisp Day -- A's, June 17
Coco Crisp had only a .314 OBP last season. Not good. But he grew his hair out to the point of earning a Chia. That's good. Very good.
Mullet Night and Fireworks -- White Sox, June 22
Six weeks after this Mullet Night, the White Sox are giving away a bobblehead of a mulleted beer vendor. If you're a mulleted American, the White Sox are the team for you.
Christian Day at the Ballpark -- Cardinals, June 30
Finally a place where we Christians can feel welcome at a public event in Missouri.
D-backs Lucha Libre Mask Night -- Diamondbacks, July 7
Don't worry. Only 15,000 fans get this. So the whole stadium won't be wearing one. No reason to be freaked out or anything.
[+] Enlarge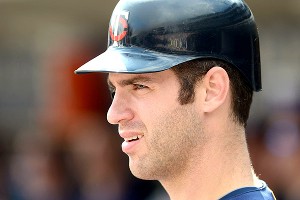 Mark Cunningham/Getty ImagesJust picture these 'burns on the side of your face.
Joe Mauer Sideburns Night -- Twins, Aug. 10
This is a fun promotion. Assuming, of course, they are giving away fake Joe Mauer sideburns and not chunks of Mauer's actual hair that he has been growing for them on his many trips to the disabled list. That would be creepy. Sideburns Night is also better than what would be perhaps a more appropriate promotion: Joe Mauer Heating Pad Night. That would be depressing.
Cubs Luggage Tag Giveaway -- Cubs, Sept. 1
A Cubs luggage tag giveaway just in time to plan that October vacation. Thanks, Cubs!
Best/Worst of 2012
Brian Wilson Gnome Giveaway -- Giants, May 20
Your opinion on this item all depends on your Brian Wilson exhaustion level. If you still find beard growth hilarious, you will think this gnome is cool. If beard growth is not the epitome of hilarity to you, you might want to place this gnome in your garden and then crush it with a huge landscaping rock. So either way, I guess it's a good giveaway item. Bump it up to the "Best" category.
Worst of 2012
[+] Enlarge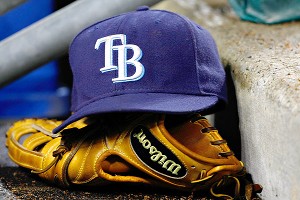 Scott Boehm/Getty ImagesUh, can we get an ingredients list for this hat?
Rays Recycled Youth Hat Giveaway -- Rays, April 22
Not many parents want to put old trash on their kid's head. Or could it be even worse than that? Could it be … people?! The Rays Recycled Youth Hat is made of peeeeeeeopllllllllllllle!
Dodgers Sleeved Blanket Night -- Dodgers, April 24
"Sleeved blanket." Good try, but sorry, Dodgers, not even Magic Johnson can make a Snuggie cool.
Energy Efficient Lightbulb Giveaway -- Twins, April 28
Energy efficiency: good. Handing out pieces of glass with mercury inside to 40,000 drunk people as they head to parking lot, most likely after a loss if the 2012 Twins are anything like the 2011 Twins: bad.
Twins Fishing Lure -- Twins, April 27
Oh, right. The day before, the Twins are giving away sharp pieces of metal. Everyone will probably be all violenced-out before lightbulb night. Feel free to move the one above to the "Best" category.
Adrian Beltre Bobblehead Night, sponsored by Medical Center Arlington -- Rangers, April 28
In his first year as a Ranger last season, Adrian Beltre missed 37 games to injury. Having his bobblehead sponsored by a hospital might be playing with fire. (It also might be perfect marketing by the hospital.)
Miller Lite Beerpen Giveaway -- Brewers, May 18
That's a very misleading promotion title. The Brewers better be prepared to have a lot of fans get sick due to drinking ink.
Kyle Farnsworth Bobblehead Day -- Rays, May 20
A Kyle Farnsworth bobblehead won't pack the stadium. Although if you get one, you can probably flip it for good money on eBay. Fans of Farnsworth's former teams might want to have one to throw things at or set on fire.
Sid Bream Slides Bobblehead Giveaway -- Braves, June 9
Sure, this commemorates a great moment in Braves history. But a Barry Bonds Plays Way Out of Position and Then Weak Arms a Throw in From Left, Somehow Allowing One of the Slowest Players in Baseball to Score From Second With a Spot in the World Series on the Line Bobblehead Night would get a lot more buzz.
Water Appreciation Day -- Royals, June 25
What is Water Appreciation Day? Who knows? At best it sounds educational and boring. At worst, the Royals are trying to get you to buy tickets for a rainout.
Exclusive Limited-Edition David DeJesus Bobblehead Giveaway -- Cubs, June 25
You can cool it with the "exclusive limited-edition" stuff, Cubs. No one will want a David DeJesus bobblehead no matter how rare you make it out to be.
Zim Bear Night -- Rays, June 29
The first 10,000 fans get nightmares.
Yu Darvish T-Shirt Night -- Rangers, June 30
What's not to like about a free T-shirt featuring Japanese rookie Yu Darvish? Well, the Rangers haven't released pictures of the shirt yet. What if it's this Yu Darvish T-shirt? The Rangers will get a lot of kids suspended from school.
Logan Morrison Toothbrush Holder Giveaway -- Marlins, July 15
Logan Morrison has taken heat in the past for sexually suggestive tweets. It's probably a bad idea to give a Morrison toothbrush holder to children. Who knows where it has been?
Twins Cap Giveaway -- Twins, July 15
The first 20,000 fans receive a free hat that will clash with every piece of clothing you wear! Yay! You look terrible!
[+] Enlarge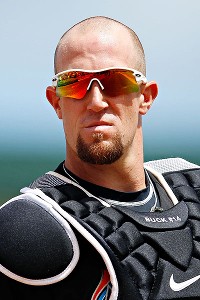 Sarah Glenn/Getty ImagesThis sweet, soothing image is the perfect cure for insomnia.
Kids Replica Jose Valverde Glasses Giveaway -- Tigers, Aug. 5
If there's one thing that kids love, it's getting a pair of glasses. Now all the Tigers need to give away are some orthodontic braces and kids will also get a new pair of underwear after receiving an ultimate wedgie at school.
Angels Scratcher -- Angels, Aug. 15
Beware the fans who show up to this game. They might have a skin condition.
John Buck Kids Pillowcase Giveaway -- Marlins, Sept. 2
"But Daddy, I don't want to sleep on the strange man's face." "Shut up. We got it for free. Go to sleep."
Cole Hamels Action Figure Giveaway -- Phillies, Sept. 23
The Phillies have not yet released a picture of the figurine. If they haven't signed Hamels to a new contract by late September, perhaps the figurine should depict Hamels in action walking to another team.
DJ Gallo is the founder of SportsPickle.com. He has written a book and written for Comedy Central, The Onion and ESPN The Magazine. You can follow him on Twitter at @DJGalloESPN.