Commentary
Getting fired isn't the end in the NBA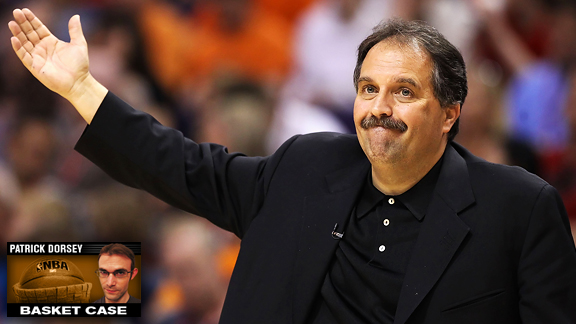 Getty ImagesThere's a fact in the NBA, and Stan Van Gundy might know it: Getting fired often leads to big things.
Is Stan Van Gundy trying to get fired?
Perhaps. Perhaps the bomb he dropped Thursday is Van Gundy's way of pulling a George Costanza, with the Magic coach stopping just short of eating strawberries while wearing an authentic Terry Catledge jersey in front of owner Rich DeVos.
Why would he do this? To extract himself from the Dwight Howard drama, of course, but perhaps for another reason: Because, as history shows, getting fired is no NBA death sentence, but a rite of passage.
Or, to paraphrase the great philosopher William Madison, "Of COURSE I wanna get fired. Everyone my age gets fired, it's the coolest!"
Here's our proof: 13 notable names who felt the blunt side of the NBA's firing hammer before ultimately blowing up.
1. Doc Rivers Before claiming a chip in Boston, Mr. Rivers' flow came to a dysfunctional end in Orlando, not long after claiming the NBA's Coach of the Year honor. Good to see things have stabilized in O-Town.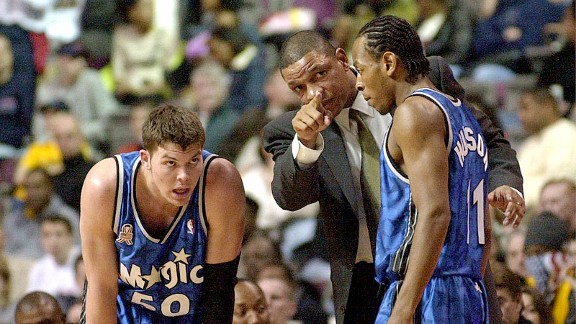 Jeff Kowalsky/Getty Images"OK, you spot up in the corner, Mike'll be at the elbow and I'll be in Boston, where I can actually win."
2. Rick Carlisle Before claiming a chip in Dallas, Mr. Carlisle met his end in Indiana, years after taking the NBA's Coach of the Year honor in Detroit before getting fired by the Pistons. Still with us? Good. Because his replacement in the Motor City was …
3. Larry Brown … who won a title in Detroit, more than a decade after a rather bizarre firing-then-rehiring-then-firing again scenario in San Antonio -- one that was so strange, even Brown himself admitted to thinking assistants Gregg Popovich (now a four-time title winner with the Spurs) and R.C. Buford (now the Spurs' highly regarded GM) also had been sacked. They weren't. Their ties to the organization weren't in fact severed. And it's a good thing …
4. Bruce Bowen … because who else would have uncovered the undrafted, chopped-by-Miami-and-Chicago defensive pest who got his number retired despite never averaging 10 points per game for the Spurs? Clearly, this is the most notable player ever to have been fired/cut multiple times. Right?
5. Jeremy Lin Oh yeah. Remember this guy? Before we experienced … umm … well … that whole Jeremy Lin thing (if only there were a catchy name for it!), the Knicks sensation was famously cut by Houston, Golden State and Dallas. Yes, even uber-businessman Mark Cuban seemed to fire the wrong guy. Then again, after all those hours in the "Shark Tank," it's no surprise Cubes took some of the rhetoric to heart.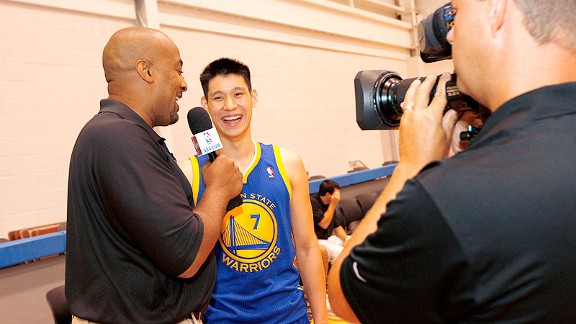 Mike Stobe/Getty Images"Thoughts, Jeremy?" "I'd like to thank the Warriors organization for letting me get away from it."
6. John Starks After being dropped by the Warriors -- seriously, Golden State, what's with you gifting the Knicks starting guards? -- Starks went on to have a long, fruitful career in New York. That should be enough to make us forget 2 for 18 … right, New Yorkers? Anyone with me? No? Tough crowd.
7. Phil Jackson It's not an oft-told story, but it's out there: Before bringing heaps of championships to Chicago, Los Angeles and New York and Los Angeles, Jackson coached a pro team in Puerto Rico while waiting for his NBA break. And he got canned. Guess the Caribbean American territory just doesn't care about motorcycle maintenance.
8. Jerry Sloan The Chicago Bulls, the team for which Sloan sweated and pounded heads during a decade of playing, unceremoniously booted him from their Big Shoulders after just two-plus seasons. Years later, after turning heads at the helm of the Utah Jazz, Sloan would meet his former team in the NBA Finals and exact some long-awaited rev -- oh my god, PROTECT THE BALL, KARL MALONE!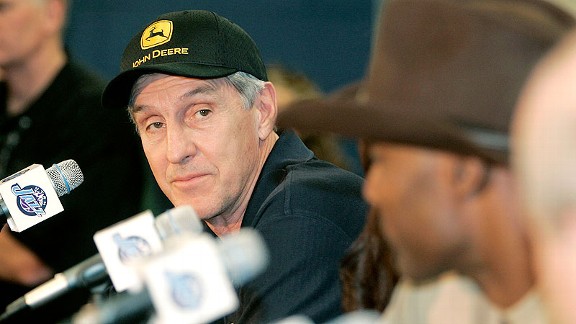 George Frey/Getty ImagesLesson taught by Jerry Sloan: Think hard before putting a future Hall of Fame coach out to pasture.
9. Chuck Daly The late, great coach, Basket Case's second-favorite Daly (behind this guy), won two NBA titles with the Pistons (1989 and 1990), headed up the Dream Team (in 1992) and was fired in 1982 by -- who else? -- the Cavaliers, after only half a season in Cleveland.
10. Lenny Wilkens Hard to say the Trail Blazers erred in dumping Basket Case's second-favorite Lenny (behind this guy) back in 1976; a year after dismissing the player/coach, Portland won the NBA title. But Wilkens himself grabbed a championship with Seattle in 1979 and eventually became the NBA's all-time winningest coach (before being passed by another famous former firee, Don Nelson).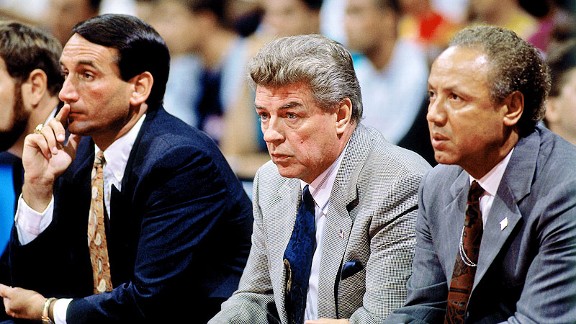 Andrew D. Bernstein/Getty ImagesChuck Daly got fired. Lenny Wilkens got fired. So you just
know
Coach K is next to get the ax.
11. Scott Brooks In 2007, Brooks was let go from his assistant job in Sacramento after being beaten out for the Kings' head-coaching position by Reggie Theus. Brooks never recovered.
12. Tom Thibodeau In 1996, Thibodeau was let go from his Philadelphia assistant job. He never recovered. Never ever.
13. Jeff Van Gundy Jeff got fired by the Rockets in 2007, and now he's a staple in ABC's and ESPN's NBA broadcasts … while constantly being mentioned for coaching openings. Is the ever-quotable Stan trying to follow his little brother's path? Maybe create a sideline reunion team called "Fam Gundy"? If soon SVG's asking for a bowl of strawberries and that aforementioned Catledge jersey, we'll know.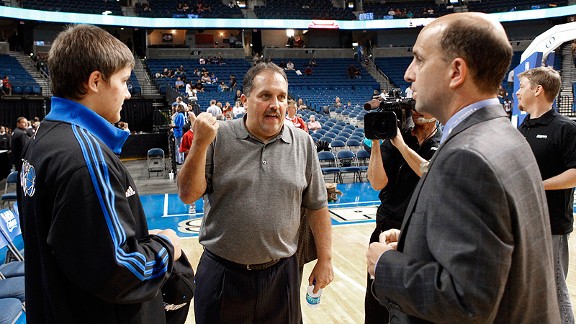 AP Photo/Mike CarlsonStan Van Gundy, center, with brother Jeff, practicing for when he's forced to hitchhike out of town.
POOR DIETARY DECISION(S) OF THE WEEK
IN PICTURE. NO WORDS.
Bill Murray runs through the crowded Tokyo streets, catches up with Scarlett Johansson, and …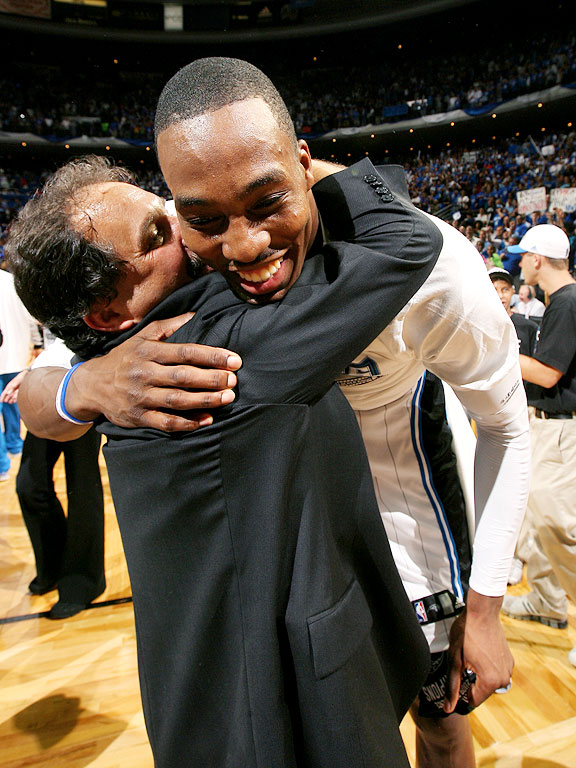 Nathaniel S. Butler/Getty Images
CRYSTAL (BASKET)BALL
Predicting media sessions ahead.
Shootaround before Orlando at 76ers, Saturday: "I'm still here, guys." --Stan Van Gundy
Shootaround before Pistons at Orlando, Monday: "I'm still here, guys." --Stan Van Gundy
Shootaround before Orlando at Wizards, Tuesday: "I'm still here, guys." --Stan Van Gundy
Practice in Orlando, Wednesday: "Stan still here, guys?" --Dwight Howard
Practice in Orlando, Thursday: "Pass the strawberries." --Stan Van Gundy
Patrick Dorsey is a Page 2 editor. He averaged 12 points per game as a second-grader in YMCA hoops; all other basketball court records have been sealed. He can be reached at bypatrickdorsey(at)gmail(dot)com and is on Twitter (@DorseyPatrick).