Commentary
'Sunday Brunch' checks out Masters
Updated:
April 8, 2012, 9:10 AM ET
By
Jerry Greene
| Page 2
We still can get some pleasure from the Masters golf tournament and the Augusta National Secret Society even though John Daly has finished judging a nearby wings-eating contest and Tiger Woods has kicked all the clubs in his bag. After all, this is the "annual rite of spring time," according to the disciples at CBS.
Speaking of Woods, after his 3-over round Friday, he said, "Unfortunately, I got into my old patterns again." Wait a second, Tiger. Aren't your "old patterns" supposed to be the best patterns in the world? Confusing.
A few more Augusta notes from the week:
• When Tiger drop-kicked his 9-iron Friday, raise your hand if you could relate. Yeah, me, too.
• So who will you be rooting for in Sunday's final twosome? Peter Hanson? Are you Swedish?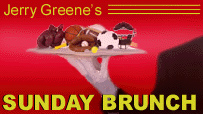 • Looks like we'll get through the Masters week without a single concussion.
• If I ever have a secret that I really, really don't want anyone to know, I want Billy Payne as my spokesman.
• If you missed it, Augusta National dropped fried chicken sandwiches and added veggie wraps to its menus. Who says the club doesn't change with the times?
And now while our sports literary superstars put the final touches on the delights in this Sunday Brunch, here are few more bits of tid from the week that was:
• Also from Augusta, thanks to Hall-of-Famer sportswriter Dave Kindred for this: "Tom Watson's late caddie, Bruce Edwards, ate egg salad sandwich at Masters 13 tee every day. Now Watson leaves sandwich there every day."
• Have the Mets been eliminated yet?
• Made me feel good when Dwight Howard said, "Right now our leader is being attacked from all angles." Great that he has Magic Coach Stan Van Gundy's back after all. But then I realized Howard was talking about Dwight Howard.
• Memo to John Cena: Come on, John, the whole world knew you can't apply the People's Elbow to the People's Champ. And now Brock Lesnar is back. If you didn't have buzzard's luck, you wouldn't have no luck at all.
• From Shaquille O'Neal about top items on his Bucket List: "Going to London would be one, to buy a professional team would be two and just to remain sexy would be No. 3" -- It's like I have a twin.
• Well, March Madness is over. See ya next year, Gonzaga.
Ding ding. There's the Brunch Bell, telling us it is time for this week's tastiest stories. In the time honored tradition of maitre d's everywhere: Enjoy.
• Wrapping up March Madness seems appropriate, especially asking John Feinstein, writing for The Washington Post, to review if "one and done" should be done itself. Feinstein also examines whether John Calipari and his Kentucky Wildcats should be blamed for squeezing every last drop out of the system that they did not create. Hear what Feinstein thinks here.
• On to the new baseball season and the new shrine to baseball in downtown Miami. Daniel Shoer Roth is a columnist at El Nuevo Herald. He looks at Marlins Park but also looks at the poverty just across the street and finds an enormous disconnect between the two. This is not comfortable reading but should be mandatory reading. Find out why here.
• Entering its sophomore season, the MLB Man Cave in Manhattan appears to be a grand success. Sam Mamudi of marketwatch.com tells us that instead of two Mancavers, this season will have nine. All the details here.
• Now let's get about as far from Manhattan -- or anywhere else -- we can get. Trivia question: What American town is the farthest from any major-league city? Answer: Turner, Montana (Pop: 61). Conor Dougherty of The Wall Street Journal visited Turner to discover the folks there are not happy with their claim to trivial fame. Discover more about life in Turner here.
Wel wish you the happiest of days on this Easter Sunday. Once again: Enjoy.
Jerry Greene is a regular contributor to ESPN.com and can be reached at osogreene@aol.com.