Commentary
Party of Five assesses early 2012
Updated:
April 10, 2012, 2:35 PM ET
By
Page 2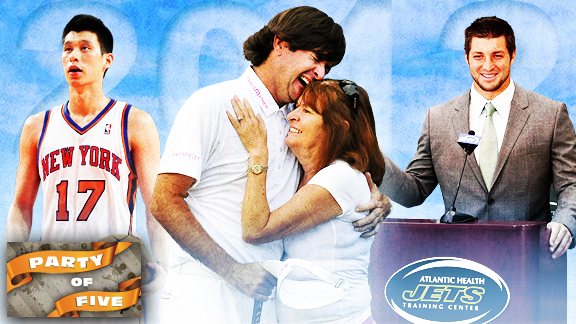 ESPN.com IllustrationJeremy Lin! Tebow to the Jets! And Bubba, Bubba, Bubba. Yes, it's been an interesting start to 2012.
On Jan. 1, 2012 … Jeremy Lin was a sub, Tim Tebow was a Bronco, Bobby Petrino was the unquestioned Top Hog and Saints defensive huddles didn't conjure up images such as this.
In other words, much can happen in the first few months of the year. It might have even been too much, if it weren't for our special panel: one that features Samantha Steele, Cam Martin, Vincent Thomas, Patrick Dorsey and Sarah Phillips.
And next week, you can work alongside our Party of Five! Just leave your best (read: funniest and/or most entertaining) answer to Question No. 5 in the comments section, and the winner will get to answer a question in next week's edition. The winner will be picked by the end of Wednesday; please check your ESPN Messages Inbox on Thursday morning to see if you're the one.
1. Who's the breakout star so far of 2012?
Cam Martin (@CameronDMartin): If you answer with anyone other than Jeremy Lin, I suspect your name rhymes with Mloyd Fayweather, and that you thought Linsanity was all about race and had nothing to do with an undrafted Harvard player who showed he had game when he was given the chance.
Vincent Thomas (@VinceCAThomas): "Breakout" star, huh? So, someone that wasn't a star or known commodity beforehand, right? Seems like a leading question -- a ready-made question for linsane sycophants that leads to Jeremy Lin. Won't do it. I'm going with JaVale McGee, and for all the wrong reasons.
Samantha Steele (@Samantha_Steele): According to Cameron, I'm a violent racist if I say anyone but Jeremy Lin. So … absolutely, Jeremy Lin. Well, and Tim Tebow. I'm glad to see he's finally getting some attention.
Patrick Dorsey (@DorseyPatrick): Brooklyn Decker, who is showing that she's more than a model by offering some tremendous NFL scouting insight -- wait. Nevermind. (Note to self: Always read past the headlines.)
Sarah Phillips (@SarahPhilli): Bubba Watson. On Thursday, everyone was pulling for Tiger Woods at the Masters. On Saturday, fans cheered for Phil Mickelson. On Sunday, after winning the green jacket, Watson was everyone's favorite golfer! Golf is best known for its bandwagon fans -- cheer for everyone, and cheer loudest for the winner.
[+] Enlarge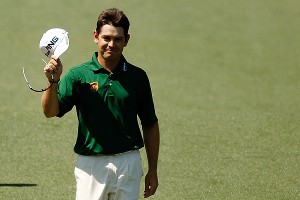 Streeter Lecka/Getty ImagesGo, um, who's this? Paul Scheer from "The League"?
2. Best tournament so far in 2012: NFL playoffs? NCAAs? Masters? Other? Explain.
Martin: The NFL playoffs was the best tournament so far, because average fans had some idea of who the key players were when the tournament began -- in contrast to the NCAA tournament and the Masters, where average fans were watching and saying, "Oooh, nice shot by, um, that guy."
Thomas: Surely it wasn't the NBA All-Star Weekend dunk contest, which featured "Meteor Man," lame Kevin Hart antics and non-subversive, fake race-baiting from Puffy and Chase Budinger.
Steele: I'm gonna go with the Masters. I'm not a huge golf fan, nor did I watch most of the Masters, but I did see that a man named Bubba who never took golf lessons won. Also, there was male crying. And an awkward handshake. So yeah, the Masters.
Dorsey: The Europa League, which has featured stunning upsets of Manchester City and Manchester United, plus impressive runs by Athletic Bilbao and -- hey! Where are you going? Fine, no soccer.
Phillips: The NCAAs were awful this year. But in hipster mentality, that means it was the best!
3. 2012 has not been kind to reputations (e.g. Dwight Howard, Bobby Petrino). Whose has taken the biggest hit so far?
[+] Enlarge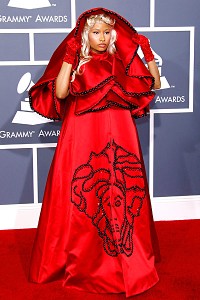 Dan MacMedan/WireImageSo, Nicki, um … explain?
Martin: Given Petrino's track record, his reputation was pretty well known; except, it seems, to Arkansas officials, who seem shocked that a guy who'd run out on his team (the Atlanta Falcons) and repeatedly shop around for better coaching jobs has created the current embarrassment engulfing the university. If the Yankees hire Jose Canseco as their strength coach, maybe they'll take a bigger hit to their reputation than Arkansas has taken.
Thomas: Nicki Minaj. The Grammys and "Roman Reloaded" have not done her any good in 2012.
Steele: I'm having a hard time thinking of a year that HAS been kind to reputations. But since judging people is so fun and everybody's doing it, I'll say Petrino. Public statements that include "I'd like to apologize to my wife …" (now that I'm caught) never end well.
Dorsey: Tom Brady. The guy was supposed to be all-everything, and then we find out he can't throw and catch at the same time.
Phillips: Dwight Howard. He already stole Shaq's "Superman" nickname, so he should steal "Sleepy" from Eric Floyd because his situation is tired.
4. What's the biggest story that no one is talking about right now (until, that is, you talk about it)?
Martin: No one is talking about the fact that Gregg Williams expended a lot of energy talking about the Saints' need to neutralize Michael Crabtree, a receiver who caught four touchdowns all year -- or two per MCL.
[+] Enlarge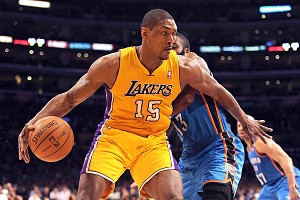 Harry How/Getty ImagesClearly Mike Brown has lost control of his team. Look at the shorts length on Metta World Peace!
Thomas: NBA shorts are getting shorter. This is the worst sports apparel trend since forever-ever. Paul Pierce, Amare Stoudemire, Kevin Garnett -- dudes are starting to show thigh, now. And we might have to enforce the Catholic School three-finger rule on Ron Artest.
Steele: Any story happening on the West Coast. It's that East Coast media bias, I tell ya! Well, I mean, besides stories about the Lakers. And the Dodgers. And USC. And I guess Blake Griffin and Albert Pujols, too. Whatever … it's real.
Dorsey: It's just a rumor, but sources say John Stockton was spotted in Spokane, Wash., wearing unusually baggy pants.
Phillips: No one's really talking about the potential sanctions for Baylor's men's and women's basketball teams. And this fan is probably worth a couple of violations, too.
5. In the rest of 2012, I'm looking forward to …?
Martin: In the rest of 2012, I'm looking forward to Tiger Woods being the only story in golf, Bobby Valentine being the only story in Boston, and the United States men's national team being the only soccer story in the London Summer Olympics.
Thomas: This Kanye West/Kris Humphries beef heating up. Don't let Ye clown like this, Kris. The high road is for suckas … and adults. Buy some studio time, get your American dubstep on and slay Yeezy in the clubs.
Steele: My birthday. Which is Dec. 11, in case you want to jot that down in the ole day-timer. Oh, was this supposed to be about sports? In that case, USC in the college football national championship. Don't believe me? Let's talk about it on Dec. 11.
Dorsey: The term "Bubba Slam" going from (A) rejected restaurant breakfast meal featuring egg yolks, heavy-butter pancakes, double-browned hash browns, three kinds of biscuits and gravy and a bacon-wrapped bacon sandwich with a side of bacon to (B) a golf thing.
Phillips: Lamar Odom's renewed focus to the Kardashian reality series. I fully expect Odom to now flourish as "Lam Lam" on "Khloe and Lamar."
[+] Enlarge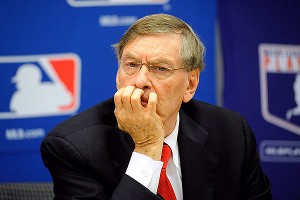 Patrick McDermott/Getty Images"Hmmm, Ohio does have nice weather in October …"
And our special guest …
Kevin Leyden; Claremont, Calif. (@nightcapKSPC): A four-way tie for the second wild card spot in the NL, and Bud Selig's subsequent move to schedule all the elimination games in Dayton, Ohio, under the original moniker "First Four."
Page 2's Party of Five is a rotating cast of characters answering all of sports' most important questions. Check back next week to see who has joined the Party. No RSVP required.