Commentary
Page 2 Stanley Cup playoffs preview
Originally Published:
April 11, 2012
By
DJ Gallo
| Page 2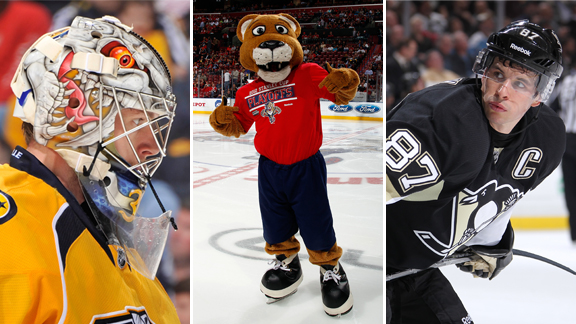 Getty ImagesPekka standing tall, Sid fighting back and the Panthers … playing? Must be Stanley Cup playoffs time!
A hockey team that doesn't have at least two good lines doesn't have a chance in the Stanley Cup playoffs.
Here's Page 2's attempt to come up with two good playoff lines of its own.
Eastern Conference

1. New York Rangers
First line: The Rangers' record before Linsanity swept New York: 32-12-5. The Rangers' record during Linsanity (historians generally agree this occurred between Feb. 4 and Feb. 19, 2012): 6-2-0. The Rangers' record following Carmelo Anthony's return from injury: 13-6-2. What can we learn from this? That the Rangers are what it looks like when a legitimately good sports team plays at Madison Square Garden.
Second line: Chris Kreider, a 2009 Rangers draft pick, helped Boston College win an NCAA title on Saturday and might suit up for the Rangers in the playoffs. Let's hope he doesn't, simply because no one wants to hear any debates over whether Boston College could beat the Columbus Blue Jackets.

2. Boston Bruins
First line: The Bruins enter the playoffs as the hottest team in the Eastern Conference, having gone 8-2-1 in their last 11 regular-season games with a plus-17 goal differential. OK, didn't mean hot like that, Mr. Chara. Put your clothes back on.
Second line: Brad Marchand has played especially well over the final 11 games, putting up 9 points and a plus-5. Never underestimate a man's motivation to get another shot at a tattoo without a misspelling.

3. Florida Panthers
First line: The Panthers are playing their first playoff series since 2000. Let's survey the Miami sports scene in the spring of 2000. The Dolphins were reeling from Dan Marino's retirement. LeBron James was a high school freshman, having not five, not four, not three, not two, not one, but zero NBA championship rings. And the Marlins' manager was making comments that put him in a very awkward situation (or at least we can assume John Boles had said something strange based on his expression here). So in a way, not much has changed in 12 years.
Second line: Panthers coach Kevin Dineen hasn't decided which of his goalies, Jose Theodore or Scott Clemmensen, will start Game 1 of Florida's series against New Jersey. "I've got a really exciting decision to make," Dineen said. "I don't look at it as a burden. I look at it as something that I can't go wrong either way." Unless Florida loses, in which case pretty much everyone will tell Dineen that he went the wrong way.

4. Pittsburgh Penguins
First line: At 4-1 odds (via Bovada), the Penguins are the Stanley Cup favorites, while the No. 1 seed Rangers are at 11-2 and the No. 3 seed Panthers, one seed ahead of the Penguins, have the third worst odds at 35-1. Vegas does not seem to think much of the NHL's seeding system.
Second line: Despite averaging nearly two points per game since his return to the lineup, Sidney Crosby says he still needs to get his hockey instincts back. So now we know: Injury can rob a person of being Canadian.

5. Philadelphia Flyers
First line: Flyers forward Scott Hartnell says he expects "a lot of blood, a lot of goals" in the Penguins-Flyers series. That's redundant. If the history of the Flyers franchise shows anything, it's that blood is their goal.
Second line: The Penguins have home ice in the series, but the Flyers are 5-1 in Pittsburgh's Consol Energy Center since it opened last season. Here is a quick highlights package from those games.

6. New Jersey Devils
First line: Ilya Kovalchuk has played 10 seasons in the NHL, but has appeared in only nine playoff games and won only one. Yes, in a 10-year NHL career, he's won only one playoff game. Granted, that record isn't really his fault. He spent much of his career on bad Thrashers teams. But the New York tabloids should really pay attention to the Devils in the playoffs. The "KovalCHOKE" headline opportunities are too great to pass up.
Second line: Police presence will be reduced around the Prudential Center during the playoffs over a feud between the city's mayor and team management. Look, people. Martin Brodeur isn't what he once was. He's almost 40. He can't continue to be your only source of defense. End the feud.

7. Washington Capitals
First line: Tomas Vokoun and Michal Neuvirth are injured. So the Capitals are forced in net to go with 22-year-old Braden Holtby and 31-year-old Dany Sabourin, who hasn't played an NHL game since 2009. Not exactly great matches for Boston's Tim Thomas. Although, on the bright side, no one knows what Holtby or Sabourin's political beliefs are.
Second line: In the 2008 playoffs, the Capitals had the third seed and lost in the first round. In the 2009 playoffs, they had the second seed and lost in the second round. In the 2010 playoffs, they lost in the first round with the first seed. And last year, again with the No. 1 seed, they lost in the second round. Perhaps they will have better results playing as a low seed. Or perhaps they will still perform below expectations and somehow get eliminated before Game 4.

8. Ottawa Senators
First line: Ottawa will have confidence playing the top-seeded Rangers, having won three of four from New York during the regular season. Erik Karlsson-ity! No? You're right. Sorry.
Second line: The Senators and the Canucks are the only Canadian teams in the playoffs. The Senators are 40-1 to win the Cup, tied for the worst odds, while the Canucks -- despite having the best record in the NHL -- are not the Cup favorites. So, yes, it seems our Vegas friends have watched playoff hockey before. Never bet on Canada.
Western Conference

1. Vancouver Canucks
First line: By the way, the Canucks are 11-2 to win the Cup. Which means the odds are better that Vancouver will burn. Although, if they win it all, there will probably be riots, too. Hey, there's no safer bet than fire insurance.
Second line: Daniel Sedin led the Canucks in goals this season, but has been out since March 21 and missed Vancouver's practice Tuesday. It might finally be time for the Canucks to tap into the strategic reserve and unleash the third Sedin brother.

2. St. Louis Blues
First line: Blues goalie Brian Elliott led the league in goals-against average and save percentage this year, but left practice Tuesday with an injury. He is listed as "day-to-day." If Elliott can't go, the Blues will be forced to play Jaroslav Halak, who had a 1.97 GAA and .926 save percentage this year. The horror!
Second line: The Blues swept the season series from the Sharks, shutting San Jose out twice and allowing a total of only three goals. On the other hand, there is a thing called a blue shark, which appears to be more shark than blue. Advantage: San Jose.

3. Phoenix Coyotes
First line: At 40-1 odds, the Coyotes are tied with the Senators as the biggest Stanley Cup underdogs. A division champion, who ended the season on a five-game win streak, as the biggest underdog in the playoffs? Former Coyotes coach Rick Tocchet would totally recommend that you put some money on this team.
Second line: Coyotes wing Paul Bissonnette hopes you are excited for the Stanley Cup playoffs.

4. Nashville Predators
First line: Star Nashville goalie Pekka Rinne is 6-foot-5. How to attack him? Let's ask Detroit's Pavel Datsyuk: "He really big, and he really kind of tall when he is in net, and he kind of really fast, too. What we need to do is shoot and go for rebound. Puck is so small. You have chance to put something between something." I feel like we've all learned something.
Second line: The Predators have long measured themselves against the Red Wings, their first-round opponent. But they say those days are over. "We have to bring our game and have them start talking about us," said Nashville forward Jordin Tootoo. "It's been enough of us trying to measure up to them. We're beyond that. We have to worry about ourselves." Ahhh. That totally sounds like something a Red Wings player would say. So adorable.

5. Detroit Red Wings
First line: Even though the Predators finished with a better record than Detroit, Henrik Zetterberg feels good about his team. "[Nashville] made some good moves," he said. "I guess they needed to do that. We like our chances. Everyone is going to be tough. You play good teams all the way from the start." Damn! You can always count on Henrik Zetterberg to bring the trash-talk heat!
Second line: Looking for some light reading to supplement your Red Wings playoff hockey experience? Pick up a copy of Mike Babcock's new book: "Leave No Doubt: A Credo for Chasing Your Dreams." I haven't read it yet, but I can assume there are several chapters about the importance of beard growth when trying to accomplish a goal.

6. Chicago Blackhawks
First line: Blackhawks captain Jonathan Toews will likely return from his 22-game concussion absence for Game 1 against the Coyotes. Toews says he could have been back earlier, but "these last few [regular-season] games you don't know what to expect from other teams in the regular season, especially teams that aren't going to be in the playoffs." This is apparently how Toews sees non-playoff teams: bad at hockey and prone to cheap shots.
Second line: Chicago has one of the worst power plays in the NHL. In fact, it was 26th overall. However, Phoenix -- the Blackhawks' first-round opponent -- had the league's 29th-ranked power play. Fan tip: For this series only, when there is a power play, feel free to flip over to another game or use the facilities.

7. San Jose Sharks
First line: San Jose was an awful 29th on the penalty kill this season. You know, maybe we should all root for the Sharks to meet the Blackhawks-Coyotes winner in the Western Conference finals just to see what happens on the power play. For science!
Second line: San Jose has more playmakers than the Blues do, but the Sharks' biggest deficiency is in net. Antti Niemi has played far below the level Elliott and Halak have performed at this season. You could say he's the … wait for it … Antti-Elliott/Halak. Again, you could say that, but then you would have to hear everyone around you groan. That's why I only wrote it.

8. Los Angeles Kings
First line: Kings goalie Jonathan Quick is 4-8 with a 3.22 GAA since the 2010 playoffs. If it happens again, you have to imagine the L.A. media will really lay into … ohmigod! Andrew Bynum said a thing!
Second line: OK, so we all agree the Kings aren't going to win the Western Conference, right? It's nice to see America can agree on something important.
DJ Gallo is the founder of SportsPickle.com. He has written a book and written for Comedy Central, The Onion and ESPN The Magazine. You can follow him on Twitter at @DJGalloESPN.