Commentary
Jim Caple's long, strange Page 2 trip
Originally Published:
April 13, 2012
By
Jim Caple
| ESPN.com
Editor's note: Page 2 is closing its doors after nearly a dozen years of service at ESPN.com. Look for your favorite writers, original multimedia, magazine contributors and scores of other new features in a new section beginning Monday, April 16.
Kevin Jackson called me the night before Page 2 launched in November 2000 and asked if I could write how the world of sports would be affected depending on whether Bush or Gore won that week's presidential election. I can't imagine writing such a piece for Page 2 today. But Page 2 was different back then, and little could I imagine where it would take me in my 11-plus years here.
SWAN SONG
After nearly a dozen years of cracking wise at the sports world, Page 2 closes its doors. We remember a golden era:
• Philbrick: Page 2's Greatest Hits
• Jackson: Founding editor bids adieu
• Caple: Memories of a road warrior
• Snibbe: Illustrated history of Page 2
• Philbrick, Gallo: Farewell podcast

I've written from 43 states, three provinces, 16 countries, four continents and 22 college campuses for stories that appeared on Page 2. I've covered the World Series, the Super Bowl, the NCAA tournament, the Olympics and the Pillsbury Bake-Off. I've spent nights in luxury hotels, college dorm rooms, fraternities, a sorority, a house that had been condemned, a baseball field and on a London sidewalk. And those are just the places I remember falling asleep -- God knows where I might also have passed out.
I toured the 2003 Final Four campuses in four days and literally did not go to bed three of those nights. One good night's sleep fixed my exhaustion, but my liver is still recovering from the three weeks when I embedded myself on five college campuses during the 2005 NCAA tournament
On the one hand, after living three weeks in frats, sororities, dorms and trashed student housing, I desperately want to get home to my wife, a bed that is not stained with urine, a decent night's sleep and a meal that does not come in a cardboard box. On the other hand, part of me wanted to stay in college. As a wise freshman told me at Illinois, work never ends but college does.
I waited for Barry Bonds home runs while I paddled a kayak in McCovey Cove, drank beer in the bleachers at Wrigley Field and helped keep score inside Fenway Park's Green Monster. I watched Super Bowl XXXVII with sailors on an aircraft carrier and Super Bowl XXXIX in a Pennsylvania bar with a chain-smoking Amish man and Trishelle from MTV's "Real World." I batted against former first-round pick and future All-Star Matt Thornton (who needed four pitches to strike me out) and competed with my wife in the world wife-carrying competition near Finland's Arctic Circle.
Caple and friend Boog risk life and limb running with the statues of the bulls in Pamplona, Spain.
I'm less than halfway through the World Wife Carrying Championship course when steroids suddenly make a lot of sense.
Everything is going fine until my wife and I hit the water hazard. It's 3 meters deep, about 30 feet long and there is a fireman in scuba gear standing by in case of emergency. By the time I wade its length, I'm so exhausted that we do not so much step from the pool as evolve out of it, like the first amphibians to leave the oceans and crawl onto land. We switch from the traditional piggyback carry to the fabled Estonian Carry; but as I lift my wife onto my back, only one thought goes through my mind: When did I marry Oprah? The longest stretch of the 253½-meter course remains, but I'm so tired from the water hazard that I feel like I'm not only carrying my wife on my back, but my mother-in-law as well.
I wore a Red Sox T-shirt in the bleachers at Yankee Stadium and a Yankees T-shirt in the bleachers at Fenway Park during the 2003 ALCS. Worse, I wore a Tigger costume on the University of Illinois campus.
I attended a toga party at Marquette, an all-day St. Booze-ketball party at the University of Illinois and something called a Seersucker Weekend party at Duke (complete with a punch containing absinthe and dry ice). Each party left me feeling worse than getting tear-gassed in a riot at Michigan State after the Spartans lost in the 2005 Final Four.
I sold drinks and earned $27 sweating and lugging my tray up and down the upper deck at Busch Stadium for three hours. I shared drinks with a buxom blonde chemist wearing a zebra-striped thong bikini after she earned $80 by dancing for 10 minutes on a bar at the Sturgis motorcycle rally.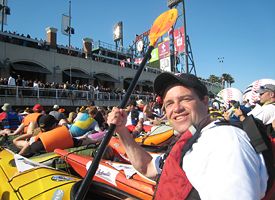 Vicki Schuman photoPage 2's road warrior traded the pavement
for the liquid real estate of McCovey Cove.
Eighty dollars in 10 minutes? That's almost $500 an hour. Obviously, Scott Boras is representing the wrong people. "Yeah, $80 in 10 minutes," Middleton said, sorting out the ones and fives. "I think that's the s---. Don't you think that's the s---?" After I agreed that, Yes, that is the s---, Middleton informed me that she is a chemist for a power plant in Topeka, Kan., swore again that she and her friend had never ever danced on a bar before nor dressed this way in public and insisted that I follow her outside to look at the motorcycle she built in her garage.
The next thing I knew, I was leaving a bar with two women who were wearing thong bikinis. Let me assure you, this was a career first.
I sat in the same bathtub where Crash Davis and Annie Savoy did it in "Bull Durham." I met a retiring minor league player at Field of Dreams when he was there to play catch with his dad (and I met him again eight years later at the World Series after he had worked his way up to a job with the Rangers). I was on the set with Kurt Russell when they filmed "Miracle" and unfortunately, also with Gary Busey when they filmed "Slap Shot 2."
I rode a Tour de France stage route and collapsed from hunger and exhaustion amid a swarm of insects. I rode around Bloomington, Ind., with a team training for Indiana University's Little 500 bike race. I rode through Seattle with Floyd Landis … and fell off my bike.
Jim uses the Estonian Carry to carry wife Vicki
at the 2005 World Wife Carrying Championship.
After righting myself, I start back up the road. "You lost your water bottle when you fell," Landis says. I look underneath my bike but I don't see it. Landis points down the road where the bottle is gaining speed as it rolls downhill toward a busy intersection. "Don't worry," Landis says, racing down toward the bottle. "I think I can get it."
This pretty much sums up the past year for Landis. Almost one year ago to the day, he had taken over the yellow jersey en route to his first-place finish in the Tour de France. And now here is one of the world's greatest cyclists, not only riding a bike with a sportswriter 5,000 miles away from his fellow pros in France but also fetching my frigging water bottle.
I ran with the bulls (sort of) in Pamplona and ran with the sausages in Milwaukee. As Randall Simon showed, running with the sausages can be more dangerous.
I felt chills at the shot put competition held at the original site of the ancient Olympics during the 2004 Summer Games, pride when my alma mater won the 2009 Pac-10 men's basketball title (its first conference championship in 56 years) and nauseated at Philadelphia's Wing Bowl that began at 6 in the morning.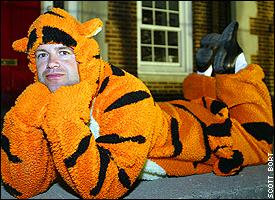 Our humble correspondent looks rather fetching in this ravishing Walt Disney Studios ensemble.
Sated by victory, the crowd spills out of the arena to head home for bed, the office for what would almost certainly be a most unproductive day of work, the strip joint for more high-class entertainment or, just as likely, to the local unemployment office. Meanwhile, I return to my hotel, bleary-eyed, a little nauseous and convinced that I have just seen the most disgusting competition known to man.
And then I do a Google search and find out there is a mayonnaise-eating contest.
I would say I will miss Page 2, but I already do. Writing for P2 was the absolute best job in the world. Well, perhaps there was one better job, which I learned while hanging with pro surfers on the North Shore of Oahu.
The (sponsorship) bidding was so fierce to sign Jordy Smith that Nike had Tiger Woods call him one day. "He just gave me advice on how he went about it when he was my age and tell me about the company he was with," Jordy says. "It was kind of baffling in the beginning. You don't know what to say because he's such a high-profile guy, but you just kind of cruise with it."
Traveling the world, staying in beach houses on someone else's dime, receiving advice from Tiger, a seven-figure endorsement deal and a good voice … it beats the normal teenage life of video games and pimples. Jordy doesn't even need to worry about applying sunscreen to his back. "The girls on the beach do my back," Jordy says. "Never a shortage of girls to sunscreen my back."
There were no girls with sunscreen for my back at P2 (believe me, we would have posted the photos), but I can't complain. No matter what event I covered or where I was in the world, it was always a wonderful ride.
Well, maybe not the Wing Bowl.