Commentary
Human cannonball becomes home run
LOWELL, Mass. -- David Smith Sr. is 69 years old. He's a soft-spoken man with an easy smile, bald pate and friendly demeanor. He's a former schoolteacher with a master's degree in education from Utah State.
He's also been fired out of a cannon more than 9,000 times.
So naturally, when Smith recently traveled to LeLacheur Park to become the first human home run, Page 2 made sure to be in attendance.
[+] Enlarge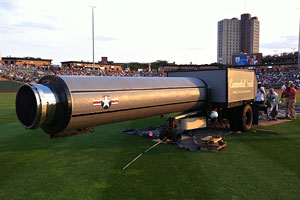 Thomas Neumann/ESPN.comDavid Smith Sr. and his crew had to set up and complete the human home run stunt during the
30 minutes between games of a doubleheader.
The plan was for Smith to be launched 150 feet by cannon from a spot in shallow center field into a net beyond the fence in right field between games of a minor league doubleheader between the Lowell Spinners and Connecticut Tigers. A short shot could send him careening into the fence at approximately 50 mph, while a long shot could conceivably send him soaring into the Merrimack River. Needless to say, speed, angle and distance calculations needed to be precise.
"This is a statistical situation," said Smith. "I just look in a little book that I've kept track of my shots, and I look in it and I know how far I'm gonna go and what I [need to do to] clear that wall and a few other things and I just make some settings and do it."
Smith Sr. left a teaching job in Salem, Ore., four decades ago to become a circus trapeze performer, and a few years after that he began performing as a cannonball. Now he's the patriarch of a family which boasts no fewer than eight current or former cannonballs, including wife Marie, six of his 11 children and a niece. One of his sons, David Jr., and one of his daughters, Jennifer, remain active in the profession.
A PROMOTIONAL TRADITION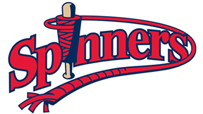 The human home run isn't the first memorable promotion by the Spinners, the short-season Class A affiliate of the Boston Red Sox in the New York-Penn League. Check out some of the other offbeat events put on by the team:
Yankees Elimination Project: The Spinners donate funds to youth baseball leagues which agree to phase out teams named "Yankees" in favor of the "Spinners" nickname.
B.O.S. Night: This acronym stands for "bag of s---." The team gave away bags of plastic poop in 2009, and Spinners spokesman Jon Boswell said he actually heard from fans disappointed that they didn't receive their bag of phony feces.
Flossing world record: This one is pretty self-explanatory, as 3,014 fans simultaneously flossed at a game last month.
Bubble wrap world record: To celebrate the 50th anniversary of the plastic protective agent in 2010, the Spinners convinced fans to pop 3,692 sheets in 30 seconds.
Duck, Duck, Goose world record: During the 2004 season, 432 Spinners fans set a record for the largest number of people to play this children's game. The record was broken in 2005 at the University of Guelph in Canada. Maybe it's time for Lowell to attempt to reclaim the record?
Earlier this year, Smith Jr. soared 193 feet, 8.8 inches in Milan, Italy, to break his father's official world record for the farthest distance traveled by a human cannonball. Unofficially, Smith Sr. sailed 200 feet, four inches at Owatonna, Minn., in 2002, but he never submitted video of the feat to Guinness World Records.
Video does exist, however, of the elder Smith being shot across the border from Tijuana, Mexico, into Imperial Beach, Calif., in 2005.
For Smith, performing the stunt at a ballpark was a bit more difficult than usual, because he wasn't able to set up the cannon in advance. Instead, he and his crew had to roll the massive machine onto the outfield grass, prepare everything on the fly, perform the shot and clear the field in about 30 minutes between games. Smith's appearance in Lowell also was one of his first shots after returning from a cannonball-related injury.
"I broke a leg about seven months ago," Smith said. "I'm just coming back off that. I jumped over a Ferris wheel six times in the last town and didn't have any discomfort, so this will be the seventh shot after a broken leg."
Smith's family owns a number of cannons. The one he brought to Lowell is approximately 35 feet long and constructed primarily of steel and fiberglass. The side of the massive artillery piece bears the words "Cannonball Smith -- World Record Holder." A single word adorns the back: "Jesus."
On a hot, sticky New England evening, Smith climbed aboard the end of his cannon while wearing a sleeveless No. 37 Spinners jersey over a red, white and blue Evel Knievel-themed stunt suit. He rode high into the air atop the machine's barrel as it was raised to an angle of about 45 degrees, and then he descended into the long tube. Soon after, he was blasted out of the barrel, soared effortlessly and performed an aerial somersault before disappearing beyond the wall.
"You're down in a tube. It's a little claustrophobic," said Smith. "All you can see out there is a hole. ... But when it goes off, you're just someplace else. Boom! You're out -- 20, 30 feet. Your mind clears. You spot the net. You do what you need to get your back in it, and it's over with."
A minute or so after takeoff, Smith triumphantly emerged from a door in the right-field corner and took a victory lap around the field, slapping hands and waving to giddy fans along the way.
"That was fun," said Smith. "That was great. I liked doing it here. These are really nice people."
[+] Enlarge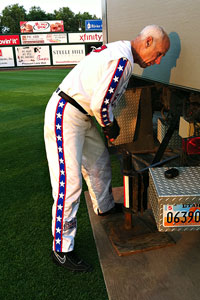 Thomas Neumann/ESPN.comSmith readies his cannon for action prior to launching himself over the outfield wall at LeLacheur Park.
Smith said he loves his job and the experience of flying. He loves thrilling spectators. He especially loves the expressions on the faces of children when they congratulate him after a successful flight. Ultimately, Smith said the adrenaline rush of being launched from a cannon and soaring 150-plus feet through the air at 50 mph isn't something he plans to give up anytime soon.
"I think I'm mostly dead, because it doesn't hurt," Smith joked. "It's like getting out of an armchair and going and laying down in bed for me. ... I'm 69, and I'll probably do it another 100 years or so."
Fans weren't the only ones inspired by Smith's feat.
"This guy is about 70 years old, and if you're able to get into a cannon and launch yourself over the center-field wall, it's absolutely fantastic," said Spinners pitcher Swen Huijer. "It's a nice job. It's really impressive."
Said Tigers pitcher Daniel Bennett: "That was amazing. I've never seen anything like that -- especially at a baseball game. It's kind of like a circus out here right now."
Smith might be on the radar of another sport as well. An arena football team has apparently expressed interest in having him become the world's first human field goal.
"Maybe that's the next thing," said Smith. "Could be."
Thomas Neumann is an editor for Page 2.