Commentary
Texas-sized party at the tailgate
Updated:
November 17, 2011, 9:23 PM ET
By
Doug Ward
| Special to ESPN.com
AUSTIN, Texas -- Another fall Saturday, and Austin is on fire. Kickoff for the Texas-Oklahoma State game is still five hours away, but with temperatures already reaching the mid-80s and countless meat smokers lining the streets near the University of Texas, the city feels like one big smokehouse. At tailgate parties around the campus, locally raised meats cook, Shiner Bock flows and talk revolves around everyone's favorite topic: Texas Longhorns football.
[+] Enlarge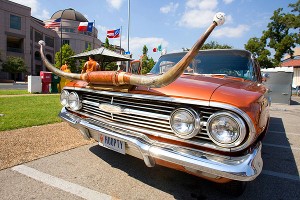 University of Texas Sports Information Move 'em on, head 'em up, head 'em up, move 'em out, tailgaters!
Over at Franklin Barbecue, a no-frills, cinder-block building so close to the campus you can catch a glimpse of Darrel K. Royal-Texas Memorial Stadium from the front window, the daily cue that waits out front for award-winning 'cue is dripping in burnt orange and hungering for burnt ends. As Bon Appetit Magazine's newly anointed king of barbecue, Franklin is a place for foodies who take their smoked brisket as seriously as their football, which in Texas, is just about everyone.
"Texas, barbecue, beer and football," says Christopher Morse, a 2000 film graduate who waits in line, "some things just go together." Let the people in Baton Rouge saute the Cajun shrimp, and leave the deviled eggs to the folks at The Grove. "Here," says lifelong Longhorns fan Louis Stubbs Jr., "it's all about barbecue."
Stubbs calls the brisket at Franklin, which is served up personally by proprietor Aaron Franklin and topped with an espresso-based sauce, the best he's have ever had. "Well worth the wait," he says. Stubbs is joined for the pregame meal by his two sons, Louis III and Mark, making them one of the many families who have made it a tradition to reunite for Longhorn football.
"Fall Saturdays are about everyone in Austin getting together as one big happy family and rooting for the same team," says Mark, a 1997 liberal arts graduate. "Texas football," adds his brother, Louis III, also an alum, "is all about getting together with family."
As game time draws nearer, the pulse of the tailgate scene beats strongest at Centennial Park, which sits directly across the street from the Frank Erwin Center, the school's basketball arena. There, amid shady oak trees, a Texas troubadour in a cowboy hat strums an acoustic guitar and sings "Hey There, Delilah," as the party rages on. Undergrads toss bean bags, tykes in Colt McCoy jerseys toss footballs, and most everyone tosses back frosty cool beverages -- all while keeping one eye on the Texas A&M-Baylor game that plays on satellite TVs.
In the thick of it all, Clayton Stone, Class of '92, serves as host to 500 to 600 hard-core guests at a tailgate party known as "Royal's Lounge," in honor of legendary UT coach Darrell Royal. In addition to celebrating Texas football, the get-togethers raise money for a scholarship fund.
Stone is here before every game and always builds his menu around the Longhorns' opponent. On this day, with Oklahoma State in town, it's a quarter leg of cow, tenderloin and brisket smoke nearby. "We had chicken when we played Rice," Stone says. "Today it's the Cowboys, so we have a cow theme."
Regardless of who is visiting, there is one common denominator with the bill of fare.
"It's always barbecue," Stone says.
Tailgating Gallery, Recipe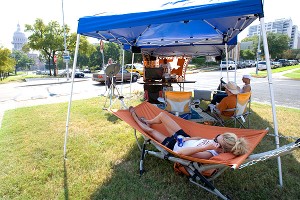 Click here to browse through Page 2's photo gallery of the tailgating atmosphere in and around the University of Texas' Darrell K. Royal-Texas Memorial Stadium on a game day.
Check out Matty O'Neil, aka The Cooking Coach, serving up a delicious pumpkin shake to please your tailgating crowd.
It's no coincidence that Stone serves his guests orange Vitamin Water and Shock Top beer, which has an orange hue to it. Burnt orange is the dominant color today, but even if you happen to be wearing Oklahoma State's sunnier shade of the color, you won't get burned in Austin.
"We always invite fans from the other team to join us," Stone says. "We like to show them some Texas hospitality."
Stone does not expect that hospitality to be returned once the action shifts to the field. He is prepared for the worst in today's game with the high-powered Cowboys, so he is going to make the best of the pregame party.
"My heart says [we will win]," Stone says. "But my head was in Dallas last week." Stone is referring to the 55-17 shellacking the 'Horns endured at the hands of Oklahoma at the Cotton Bowl.
Among the revelers on hand for the party is Stonie Clark, who was a defensive lineman for the Longhorns from 1992-95. "Once a Longhorn, always a Longhorn," Clark says.
Clark made a game-saving, fourth-down, goal-line stop of Oklahoma's James Allen in the final minute of the 1994 Red River Classic, a play that preserved a 17-10 Texas victory. The tackle is still talked about around Austin, remains a YouTube sensation and epitomizes the passion of college football here. But the man who made the memorable play says he never saw anything inside the stadium quite like what goes on outside it.
"I love coming out here on Saturdays," Clark says. "I almost feel like I was missing something when I was playing."
The only thing that figures to be missing from today's fun is a Texas win. The 'Horns are a seven-point underdog but you don't need to be an oddsmaker to know the score. "I will root for the Longhorns, hope for the best and have a good time no matter what happens," says Mark Stubbs, who has a pretty good idea of what will happen.
Morse, the film grad, doesn't expect a Hollywood ending, either. He figures there is easy money to be made taking the points today, but doesn't dare do so. "Oklahoma State is the smart pick," he says. "But I just can't bring myself to bet against Texas. That would be blood money."
[+] Enlarge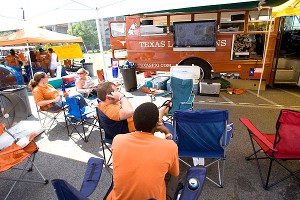 University of Texas Sports InformationHere is one reason why there's a Longhorn Channel.
At a Texas tailgate party, however, the stakes are much bigger than the outcome of a game. An identity is on the line. "It's who we are," Stone says. "We are Texas and this is what we do."
You don't even have to be from Texas to understand the synergy that connects the state to its food and its game. Manuel Gottingen, who is visiting from Germany, gets it. "We don't have anything like this in Europe," Gottingen says. "At soccer games, all the action takes place inside the stadium, not outside. You hear people say everything is bigger in Texas, and it's true."
A half hour before kickoff, the party eases its way toward the school's on-campus stadium. Inside, a John Steinbeck passage scrolls across the drive-in-movie-sized video board known as Godzillatron.
"Texas," Steinbeck informs us, "is a state of mind. Texas is an obsession. Above all, Texas is a nation in every sense of the word."
Players touch a "Don't Mess with Texas" sign on their way out of the locker room, and then enter a stadium of 100,101 pumped up fans. In the corner of the end zone stands Bevo XIV, the live steer that is at once a school mascot, symbol of everything that is sacred around Austin, and the only member of Longhorn Nation happy to have missed out on the pregame barbecue.
Doug Ward is a Southern California-based freelance writer.