Commentary
Hokies hospitality at the tailgate
Updated:
December 2, 2011, 12:14 PM ET
By
Anna K. Clemmons
| ESPN.com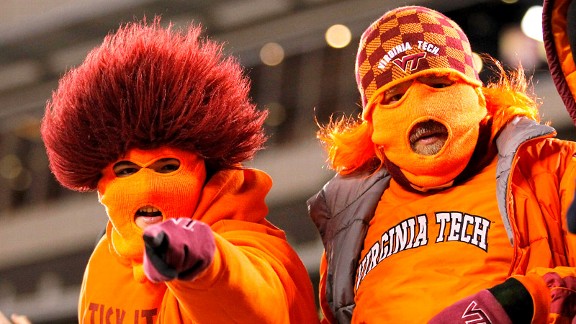 Geoff Burke/Getty ImagesEven the weather couldn't cool down Virginia Tech Hokies fans Nov. 17 against the Tar Heels.
BLACKSBURG, Va. -- It's a mid-November Thursday afternoon and the entire northwestern population of Virginia is driving to Blacksburg. At least that's what it looks like on Interstate 64 East as I merge onto the highway from Charlottesville, Va., approximately 6 hours and 54 minutes before the 8:03 p.m. kickoff between the Virginia Tech Hokies and the visiting North Carolina Tar Heels. The first 12 cars (and several pickup trucks) that I see are all displaying Hokie decals, flags and stickers, making the trip feel like an impromptu Virginia Tech parade.
Merging onto I-81 South 34 miles later, the traffic thickens, slowing our pace to 41 mph in a 65 mph zone. Again, Virginia Tech-decorated cars abound. I turn off my GPS, realizing I won't need any computer-generated guidance. I'll simply follow the masses. I'd heard about the expanse and intensity of a Virginia Tech tailgate and wanted to see if a Thursday game crowd matched a typical Saturday. The Hokies are one of the most frequent teams on ESPN's Thursday night football schedule; but are the fans as indiscriminately dedicated regardless of the night? I'd soon find out.
Tailgating Gallery, Recipe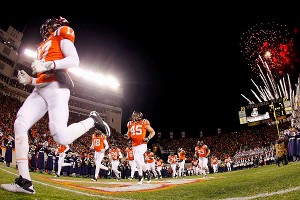 Click here to browse through Page 2's photo gallery of the tailgating atmosphere around Virginia Tech's Lane Stadium on a game day.
Check out Matty O'Neil, aka The Cooking Coach, serving up some tasty apple cider for a hot tailgating treat.
When I left Charlottesville, the temperature hovered around 50 degrees. I imagined Blacksburg's weather would be similar. But upon arriving at 3:45 p.m. and stepping out of my car, I learned my first lesson in Virginia Tech tailgating: Blacksburg weather is intense. Cold seeped into my entire body as the wind howled, reaching speeds that felt like 25 mph. According to the official game report, the temperature inside Lane Stadium at kickoff was 29 degrees; with the wind chill, it felt like 10.
A short but powerful snowstorm (the second time since 1981 it has snowed on a Nov. 17) arrived around 4:45 p.m., which didn't seem to surprise the home crowd, leading to lesson No. 2: Hokie tailgaters are a prepared bunch. They'd driven into the parking lots and unpacked heat lamps, gas heaters, fire pits and even homemade overhead heating devices. Almost everyone I spoke with wore scarves, gloves, heavy coats (lots of hunting/camouflage jackets and pants) and ear-warmers in shades of maroon and orange. Several people walked through the parking lots selling hand-warmer sets. Before I could buy one, a kind tailgater gave me two packs when he saw that my frozen hand could no longer grip my pen, offering evidence of lesson No. 3: Virginia Tech tailgaters are a friendly group.
Tom Gannaway, a 54-year-old locomotive engineer from Matewan, W. Va., had driven 3½ hours to Blacksburg for his crew's tailgate in Lot Six. Gannaway was born into Hokie-dom (his father is an alum) and has been a season-ticket holder and tailgater since 1984. "We are the best I've ever seen at tailgating," Gannaway said of Virginia Tech fans. "We are nice, well-mannered, intelligent … we appreciate life and we don't meet a stranger."
He and his group of 15-20 tailgaters have been known to invite opponents' fans to join them in their pregame festivities. Indeed, two Carolina-clad men drank Miller Lites alongside Gannaway's maroon-and-orange outfitted family, who dubbed themselves the "Lot Six Wrecking Crew" and said that their food spread varies from week to week. On this afternoon, they enjoyed a variety of chips, snacks, brats and beers and encouraged me to sample their "Hokie shine," a.k.a. moonshine.
[+] Enlarge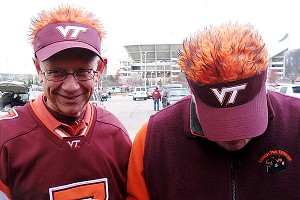 Anna K. ClemmonsMembers of the Laura Hewitt tailgate don their Hokie hair visors.
Wearing only a sweatshirt and khaki shorts -- no jacket -- and smoking a cigar while enjoying a drink, Gannaway declared, "Weather doesn't matter. It's all about the camaraderie with friends and family."
As I hunched over and struggled against the wind while walking toward the Chicken-Hill Lot adjacent to the stadium, I thought about how weather might affect the evening's game. Charlottesville resident and Hokie alum Alex Gomaa, 30, talked about how Virginia Tech has a history with weather affecting the scoreboard. He remembered the 2003 Hokies victory over Texas A&M during a fierce tropical storm with driving rain and winds peaking at 40 mph, the effects of Hurricane Isabel. Virginia Tech's October 2007 loss to Boston College came on a bitterly cold and rainy night. On many windy evenings, Gomaa pointed out, Tech coaches will opt to go for it on fourth and short instead of kicking a medium-range field goal. The wind can also affect the punting game. As for the fans, Gomaa says they've "embraced" the harsher weather as they "respect the impact the weather can have on the game."
Laura Hewitt, 60, recently relocated to Blacksburg with her husband, a Virginia Tech alum (she attended nearby Radford University). "We basically moved here for sports," Hewitt said. The two had commuted from their home in Delaware to almost every Hokie home football game for the past two decades before deciding to move. They now attend all football games, men's and women's basketball games and other sports. Their tent parked on the grass adjacent to the Chicken-Hill lot looked like a Virginia Tech memorabilia store: a spread of several hot dishes served inside Hokie bowls, Hokie hair visors, specially-ordered Hokie candies, Virginia Tech napkins sitting inside Hokie baskets, even Hokie snack mix -- nary an item inside their maroon-and-orange tent was any other color, including the wardrobes of the attendees.
Hewitt, who's been known to arrive with her husband as early as 7 a.m. for an 8 p.m. kickoff, says that when other schools visit, they acknowledge the impressive Virginia Tech tailgating scene. "I haven't seen any other schools that come close to ours," Hewitt says. "Even when Clemson fans were here, they said, 'It'd be hard to top this.' "
Hewitt offers evidence of lesson No. 4: Virginia Tech tailgaters are dedicated. Yes, you could argue this about a lot of fans from a variety of schools. However, the sheer volume of these tailgaters bests many universities. Virginia Tech associate director of athletic communications Bryan Johnston noted that 20 total parking lots are available to tailgaters and that an average of 25,000 fans tailgate before every home game (on this night, it appeared closer to 30,000-35,000). Driving around the numerous parking lots, you couldn't throw a pompom without hitting a tailgater.
One of the most popular tailgates sits next to Hewitt's. Tim Webb and Rob Guidry, residents of Prince George County, Va., and owners of Container First Services in Petersburg, Va., typically serve as hosts to 100-150 people before each home game. Their tailgate is a chaotic combination of tents, food, fires, grills, speakers and an outfitted Hokie trailer. The smells emanating from the grill and tables were enticing: beef tenderloin, chicken wings, stuffed chicken, shrimp 'n' scallops wrapped in bacon, twice-baked potatoes, all arranged in a long buffet line. There's no grazing at their tailgate, only feasting.
During the week prior to the game, Guidry sends an e-mail to the prospective attendees to gather a headcount. Then he takes the total food bill (he and Webb do the shopping and prep) and divides it accordingly. Each attendee pays between $25-$35 for a massive food spread and all-you-can-drink beer, liquor and other beverages. The tailgate has been voted the best tailgate of the year twice by Virginia Tech.
Guidry's daughter will be a freshman next year at Tech. He played football at Liberty University, but his best friend went to Virginia Tech and Guidry found himself visiting Blacksburg on most weekends. "Virginia Tech football gets in your blood and it becomes all that you think about," Guidry says.
The maroon-and-orange trailer, complete with flat-screen TVs, a mini-kitchen, and a Hokie wall decal signed by head football coach Frank Beamer, was an idea actualized after a hasty sketch on a McDonald's napkin. Before each home game, Guidry lays a floor mat at the trailer's entrance decorated with the opposing team's colors and logo.
[+] Enlarge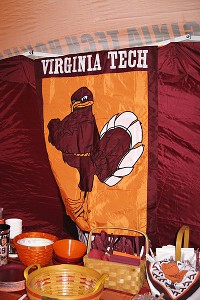 Anna K. Clemmons Each item inside Laura Hewitt's tailgate is appropriately thematic (even the wooded baskets have tiny Hokies on them).
Rivaling Guidry's operation farther up into the parking lot maze was Jared Tucker's crew. The 26-year-old alum of Virginia Tech, a consultant working in Arlington, Va., gave me a full tour of the impressive, homemade structure under which his tailgate took place. While he's only been tailgating since 2003, he said he's been a Hokie fan "all my life."
Almost everything from the tent structure to the overhead TV stand inside Tucker's tailgate is custom-made. They created the tent's roof, which is made of an umbrella-like material designed to be weather-resistant regardless of the elements. They also run two heaters on propane fuel to keep the tent area toasty (the warmest spot I visited). They operate a 47-inch flat-screen satellite TV on a self-made stand as well as a full stereo system. The entire overhead apparatus is put together each week through an electric system designed by another member of the tailgate who is an engineer (go figure). They even have track lighting atop their entire van and a custom-made Hokie flagpole so that, as Tucker says, "you'll easily see us driving down I-81."
On this day, they arrived at 11:30 a.m.; for noon games, they arrive by 7 a.m.. They average 18-22 people at their tailgate, though they acknowledge that "randoms" often try to join their operation, particularly on colder days.
Tucker's friend Angie King, a co-operator of his tailgate, has been tailgating for more than 20 years. She noted that 15 years ago, few of the parking lots were paved and people "just had little grills and a cooler of beer -- that's it." But like so many others in today's Hokie tailgating environs, she and Tucker take their operation seriously. "We do our tailgating 110 percent, just like Bud Foster's defense gives 110 percent every week," King says.
I spoke with many other groups, including a few fans in the port-a-potty line who'd clearly imbibed enough to stay warm. I didn't have enough time to travel to every parking lot but imagined I'd meet many of the same die-hard fans whether in Lot 3 or Lot 18. As kickoff approached, I learned lesson No. 5: Stick around for the game, or at least until kickoff. Virginia Tech football may be best known for their distinctive entrance ("Enter Sandman" blasting through the speakers, 66,223 fans jumping around), which ESPN TV commentators dubbed one of the best in college football. Their tailgating scene is a close second, particularly on Thursday nights. And thanks to an 11-1 record this season, there's still time to catch the fifth-ranked Hokies in action against No. 20 Clemson this weekend for the ACC Championship in Charlotte, N.C., or in an upcoming bowl game.
Just don't forget your mittens.
Anna K. Clemmons writes for ESPN The Magazine and ESPN.com