Commentary
Family traditions at Florida's tailgate
Updated:
December 23, 2011, 1:18 PM ET
By
Tyler Jett
| Special to Page 2
GAINESVILLE, Fla. -- No matter the outcome, Faris "Bubba" Williams knows tonight will be the best Gators game he sees all season. It is 5 p.m. on Nov. 26. The sun is setting over a parking lot on the south end of the University of Florida campus, about a 10-minute walk down Gale Lemerand Drive from Ben Hill Griffin Stadium, where, in about two hours, Florida will play for the last time at home this year.
[+] Enlarge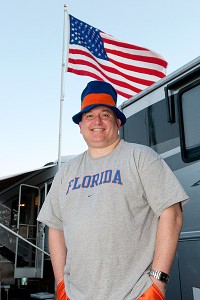 Ray Carson/University of Florida PhotographyU.S. Army Lt. Col. Faris "Bubba" Williams took leave to attend the Florida-Florida State game last month.
Kickoff will mark the beginning of the end in what has been a disappointing 6-6 regular season, one that will be sealed with a depressing stamp: a 21-7 loss. At home. To Florida State. Still, for Williams, the game is as good as it gets, as good as it's allowed to get.
Four days ago, Bubba arrived in his hometown of Jacksonville from Rotterdam, Netherlands, where he has spent the year serving as a lieutenant colonel in the 598th Transportation Brigade. In one week, on Dec. 3, he was scheduled to depart for Kuwait. Williams, who graduated from Florida with an education degree in 1986, is a stocky man. The sides of his head are shaved, the top hidden by an orange-and-blue top hat. He has been serving on the other side of the Atlantic since 2003.
While overseas, he passes up sleep to take in Gators games that begin at 2 a.m. local time. He watches ESPN America, uses his Slingbox or goes to a Gator Club -- he's found them everywhere from Barcelona to Utrecht, Netherlands.
But Williams said he still owns season tickets, and one week a year he gets to see Florida play live.
"It's huge," he said. "You have to fight your battles. I'm usually home for Florida-Georgia. I was told [former Gators coach] Urban Meyer should have deployed me for the Florida-Georgia game in Jacksonville. They only lose when I'm not there."
Today, though, Williams doesn't expect to provide a spiritual lift. No tailgater on campus does. The odds for Florida look slim. No matter: If fans only cared about wins, they would have found better ways to spend Thanksgiving weekend.
To many, tailgating at Florida isn't about wins, though fans admit they've enjoyed watching them pile up the past two decades. Instead, it's about something much deeper, they say. Tailgating is about … beer. Lots of beer. Beer in cans. Beer in kegs. Beer in red Solo cups arranged like pyramids atop folding tables, squeezed cans of Natural Light and Pabst Blue Ribbon and every other cheap beverage left behind as evidence of just how odd it is to hear the words "dry campus" and "Saturday" in the same sentence.
But aside from the drinks, tailgating at Florida is about family, about tradition. As Williams talks next to an RV, his kin lounge in camping chairs watching football on a flat screen TV. There's his dad, Willie, a 24-year military veteran with white hair, a goatee and a gravelly voice that would inspire fear if he wasn't so damn happy. He calls Bubba "sand boy," a nickname earned after the younger Williams sent home a photo from Kuwait of an incoming sandstorm. "One side of the photo looked clear; the other side was like brown night," Willie said.
Also seated is Williams' mom, Jean, a short, tan woman from Panama. She will start talking about Bubba, then she can't stop. He made the varsity team at Englewood High in eighth grade. He was the team's MVP senior year. He came to Florida on an ROTC scholarship.
Next to Jean is Darryle Boyd, Williams' brother-in-law. He married into the tailgate: One of his first dates with Williams' sister involved meeting her family at a game.
Throughout campus plenty of people are like Boyd, people whose marriage licenses include a lifelong allegiance to the Gators. Stan Clark grew up a Dolphins fan, but his in-laws cheered for the Gators. He started following the team in 1979.
"It just kinda stuck," he said.
Clark is from Green Cove Springs, a town a little more than 50 miles northeast of Gainesville with a population of 6,908. Steve Spurrier's parents, Marge and the Rev. J. Graham Spurrier, are from the same area, and Clark received plenty of autographs from "ol' Stevie boy." Clark still keeps the reverend's obituary in his Bible.
A block north of the lot where Clark and Boyd and the Williamses spend their afternoon, Walt Krumm Jr. has set up a trailer, a $2,200 stainless steel grill, a couple of tents and some camping chairs near Flavet Field, where kids play touch football and Ultimate Frisbee. Krum is a stocky, tan man with a mullet and orange-framed sunglasses.
"We were tailgating when this tree was a sapling. We were bitching about it," Krumm said, pointing up a trunk that now stands at least 20 feet tall. "Now, we praise it for the shade."
Florida Tailgating Photo Gallery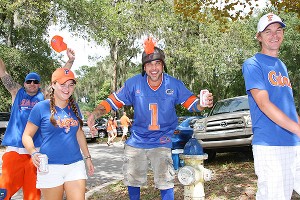 Click here to browse through Page 2's photo gallery of the atmosphere in and around a University of Florida tailgate.
Check out Matty O'Neil, aka The Cooking Coach, serving up a delicious pumpkin shake to please your tailgating crowd.
Krumm has actually been tailgating at Florida long before that tree sprouted. He started about 30 years ago, when he and his friend Wayne White visited a third buddy, Greg Nuetz, an architecture major.
At the beginning, they were camping out of the back of a truck. Now, Krumm said, the tailgate draws about 100 family members from Ocala, Fla., including White, who married one of Nuetz's sisters. Krumm married another one.
Krumm's crew usually arrives between 7-8 a.m. on Saturdays. They eat breakfast and dinner with an appetizer in between. All told, they cook 10-20 pounds of meat each week. After the game, the core members of the group stay for about two more hours, eating and visiting while waiting for traffic to die down. If it's cold, they hover around a bonfire.
A 7-by-16 trailer stands as the centerpiece of Krumm's tailgate. It used to be a white, portable concession stand, but the trailer has since been tricked out. It has been painted -- blue and orange, of course -- and has a couple important lists in white lettering on the doors: SEC championships, national championships, Heisman winners.
One side of the trailer displays a mural with a Gator standing on a chariot that is pulled by the other mascots of the SEC. Krumm acknowledges the painting will need a couple of additions next fall: Missouri's tiger and Texas A&M's mascot -- "Whatever an Aggie is." When his wife adds that another mascot is missing (Mississippi State's bulldog), Krumm tries to shush her.
Every year, Krumm said, his tailgate grows, sometimes in attendance, always in equipment. The same can be seen in other parking lots. Across from Ben Hill Griffin Stadium, Rick Weedman is flying 77 flags atop his truck. He owns 90, but he can squeeze in only so many. In the same parking lot, an orange-and-blue Ford F-350 is parked with a Gator head on the bed staring out the back. There is also a customized school bus, with halves of Gators helmets in the places where stop signs normally hang.
The Florida campus stretches about 2,000 acres, and almost every patch of grass is covered with tents, chairs and coolers. Because it's almost always hot, even in November, ice is a commodity and the preferred attire rarely exceeds a T-shirt and shorts. Sometimes, men wear jean shorts, which is to Florida what stolen shoes and missed field goals are to Florida State. Some Florida students where Jorts ironically; others do so with no reservations or self awareness.
At midtown, across from the stadium, shops and restaurants are packed. Home games generate about $106 million into the local economy, according to a study by UF's Institute of Food and Agricultural Sciences. A bartender at 101 Cantina said Florida's home games pay the bills for the whole year. The owner of Kay Bros. BBQ estimated that business increases 500 percent on game days.
There aren't too many campus fixtures that fans flood to. Some will pose for pictures at Century Tower, which was built in 1953 for the university's 100th anniversary and is dedicated to alumni who died in World War I and World War II.
Fans also take pictures in front of statues of Spurrier, Tim Tebow and Danny Wuerffel. And two hours before kickoff, people line up in front of the stadium to watch the Gator Walk, a tradition started by Meyer.
[+] Enlarge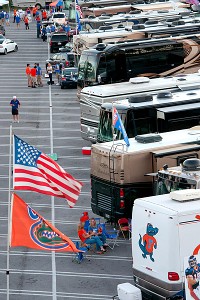 Ray Carson/University of Florida PhotographyIn the RV parking lot, fans show their support by flying a Gators flag underneath the U.S. flag.
The only other significant ritual, according to older fans, is meeting folks from other schools. Clearly, not every fan feels the same way about this: Eleven people were arrested and 156 were ejected during the FSU game, both season highs.
Gale Fitz, of Alachua, Fla., watched as an FSU student slashed her family's inflatable Gator on a rainy afternoon in Tallahassee, Fla., in 2008. But she has also had plenty of nice experiences with opposing fans. A couple of years back, a Mississippi State fan who Fitz bonded with mailed her a cowbell.
"Of course I stuck it in my closet because I don't want no Mississippi State thing," she said. "But it was nice."
Nobody, however, has bonded with fans from farther away than Bubba Williams. When he saw a pub in London advertising a Florida game, he craned his head inside and asked, "Is this Florida, like the University of Florida?" It was. And when a bar in Rotterdam wasn't playing the Florida-Tennessee game earlier this year, Bubba invited some friends to watch the game at his place.
"Being in the armed forces, they tell you to blend in," he said. "But you see people wearing Gator gear, you have to say, 'Go Gators.' Next thing you know, it's like you've been friends all your life."
If that's true, if Williams really can create lifelong bonds with strangers on another continent based solely on Florida football, those people share commonality with the man who parked his RV next to Williams. Greg Wilkan, of Eustis, Fla., started tailgating in this parking lot with the Williamses when he and Bubba were in the ROTC and Gator Guard Drill Team together.
Now, 25 years later, Wilkan brings his wife, Rachel, and children Audry, 11, and William, 8. The kids went to their first Gators games when they were just babies. They cried because, apparently, they couldn't handle 90,000 fans screaming in unison.
"There was a time when we were distant," Williams said of his relationship with Wilkan. "Then he got married and had kids, and we started bonding again. It's all 100 percent done through tailgating."
Said Wilkan: "If it wasn't for the RVing and the friends and the experience that comes with that, we wouldn't be going to Gators games this year."
Williams will continue to serve overseas until May 2, 2014, his mandatory retirement date. Then he will move back to Jacksonville, where he just bought a house that will soon be decorated with the Gators pictures purchased at the campus bookstore this weekend. Until then, he will continue to watch games that don't start until after midnight, sometimes online, sometimes at an obscure Gator Club.
And when he does come home, Bubba will finally be able to take advantage of those season tickets. Then, he can be a little pickier about which Gators game is the best of the season.
Tyler Jett is a freelance writer based in Gainesville, Fla.