Commentary
Kevin Love talks high school, Rambis
Originally Published:
July 13, 2011
By
Sam Alipour
| Page 2
LOS ANGELES -- Kevin Love is, by all accounts, a good chap and, by his own account, kind of a jerk, too.
Back in high school, anyway.
The Timberwolves All-Star admitted as much at the Gatorade High School Athlete of the Year Awards, held Tuesday night, on ESPYs eve, where Love joined Detroit Lions quarterback Matthew Stafford to present the 2011 Gatorade Male High School Athlete of the Year award to pitcher Dylan Bundy, an Orioles draftee out of Owasso (Okla.) High School.
Afterwards, Page 2 sat down with the NBA's top rebounder (and Gatorade's '07 Male High School Athlete of the Year) to talk about his school days, trade rumors and his now-former coach, Kurt Rambis, whose ouster was announced that very day.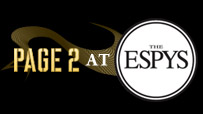 You're a young guy, and you've got the braces to prove it. (Note: yes, Love, 22, wears corrective dental gear.) Feel more comfortable here with the kids, or with the stars at the ESPYs?
The braces make for uncomfortable moments, but I like to act like I'm older than I am. I'm 22, they're 17 and 18, so I like being at the ESPYs, talking to other players, finding out about their journeys. But I like the atmosphere here. I miss the camaraderie of high school, being around the guys day-in and day-out, hanging with them off the field of play. In the NBA, you see the guys everyday over 82 games. After the game, it's like, "OK, I'll see you later."
What do you miss least about high school?
Math. I was never good at math. I was always on the verge of getting a D. I barely cracked advanced algebra to get into college.
Most embarrassing memory?
I had a girlfriend my senior year. We were dating for quite a while. She was up for prom queen, and I knew my friends were all going to vote for her so they could see me do the waltz with her. So, to avoid the whole situation, I thought it'd be a good idea to ask my best friend's girlfriend to the prom. It didn't set well with either side. My friend understood the situation but, between the girls, let's just say it wasn't good. There was a bit of a verbal abuse going on between them, and I took some of that heat as well.
That's cold, dude.
True story. If I have one regret about school, it's that I should have been more willing to put myself out there, in more uncomfortable situations, so I could learn from them. I should've raised my hand more in class, for example. I plan on going back to UCLA, and I want to sit in front of the class, raise my hand and absorb as much as I can.
We're in LA, home of the Lakers, a team you've been rumored to join via trade. Is it too early to start fanaticizing about playing here?
I think it's a little too early to start thinking about that, but to hear the rumors are flattering, especially to be mentioned in the same breath as Pau Gasol. But to be back in LA, where I was born, where I have a ton of family support and friends from UCLA and beyond? In good time. But as far as right now? I'm proud to be with the Timberwolves and we're going to try to turn that organization around.
Just today, it was announced that Kurt Rambis is out as coach of the T'wolves. Thoughts on his ouster?
It's tough. He was in limbo for a long time. It was a tough situation for him. But Kurt is a players coach. Everybody loved playing for him and being around him. He's a part of winning teams for so many years, going back to the Showtime Lakers, with the shaggy hair and the Superman glasses, all the way to coaching with Phil Jackson. He's a winner.
Thoughts on who's next?
I've heard a few rumblings, Bernie Bickerstaff and a few other names. I don't really have a preference. Being the youngest team in the NBA, we're going to have some growing pains but we can shock a lot of people. I feel like we're going to need not necessarily a disciplinarian or a guy who's going to be loose, but someone who can set the tone for us while still being able to accept some of the growing pains that we're going to have.
When we spoke before the draft, you said you'd take Derrick Williams with the 2nd pick but preferred that the Wolves trade the pick for a player who could contribute right away. Is it frustrating to play on a team that is so far out of contention and yet continues to build around young players?
It's definitely frustrating. I mentioned trading for veteran players not to take away anything from Derrick, who I think he was the best player in the draft, but I felt like adding veterans to our team would only help us. We have such a young group of guys. When we went back to Minnesota the week before the lockout started, we had 9 players in the gym and eight of them were 24 or younger. That's going to result in growing pains and in losses, as well.
In the meantime, you're locked out. How are you killing time?
A lot of my time is spent working out. But I'm headed to Mexico on Saturday, to get away and shut the cell phone off. I'm trying surfing and doing beach volleyball. I have that Irish blood, so I need some sun. But I would like the season to start on time, especially seeing as how it's a contract year for me. And I think it's frustrating for the fans, too, when you have billionaires fighting against millionaires. We want to get it figured out as quickly as possible.