Commentary
Predicting the rest of the MLB season
Originally Published:
July 13, 2011
By
Jim Caple
| Page 2
We're halfway through the season, and it's turning out just as we all expected, what with the Pittsburgh Pirates only one game out of first place. How will the season's second half go? Take a peek through the Off Base crystal ball:
July 16: Albert Pujols' invitation to the All-Star Game finally shows up in the mail buried amid three Lands' End catalogs, seven preapproved credit-card notices and donation requests from both the Republican and Democratic parties. Meanwhile, CC Sabathia skips his neighbors' son's bar mitzvah because he pitched the previous Sunday.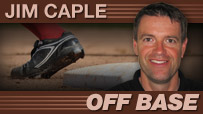 July 20: After the Mariners suffer two -- yes, two! -- three-ball walks in the first half of the season, Chone Figgins strikes out on two pitches when umpire Phil Cuzzi rings him up on an 0-1 pitch and no one on the Seattle bench notices. "Oh, we noticed," manager Eric Wedge contends. "But trust me, he was just going to strike out anyway."
July 24: As it does every summer, the game pauses briefly to turn its eyes toward Cooperstown, where the Hall of Fame pays tribute ... to the Padres for scoring their first run of the month. San Diego loses the game 2-1.
July 27: The Roger Clemens perjury trial takes a discouraging turn for the former pitcher when he shows up in court with a third ear sticking out of his forehead.
July 31: Minutes before the trade deadline, the Yankees purchase Matt Kemp, Andre Ethier, Clayton Kershaw, Chad Billingsley, Aaron Miles and Hiroki Kuroda in the Dodgers' bankruptcy court and add them all to their roster.
Aug. 3: Disgusted by the way the young players are so easily distracted, Florida manager Jack McKeon bans all that "newfangled technology" from the clubhouse such as Sony Walkmen and transistor radios.
Aug. 12: After injuries decimate their staff, the Red Sox sign Pedro Martinez and go with a one-man rotation. "I know it sounds crazy," manager Terry Francona says. "But we'll be able to do it because we've strengthened our bullpen now that Sam Malone has come out of retirement."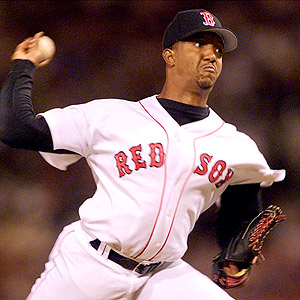 Stephen Jaffe/AFP/Getty ImagesPedro Martinez will still pitch fewer innings than when Grady Little was running the show in Boston.
Aug. 17: Pujols tears the ulnar collateral ligament in his right arm but misses only two games after performing "Albert Pujols Surgery" on himself, using a pocket knife to remove a tendon from his left arm and sewing it into his right. He hits two homers in his first game back.
Sept. 7: The Mariners take a 4-2 lead into the ninth but lose 5-4 when the scoreboard operator accidentally gives the Angels three extra runs and no one on the Seattle bench notices.
Sept. 12: San Francisco's pennant hopes are derailed when Arizona's Justin Upton hits a game-winning ground-rule double that gets lost in closer Brian Wilson's beard. Two San Francisco infielders, a pair of CSI agents and Dog the Bounty Hunter enter the beard in search of the ball but are never seen nor heard from again.
Sept. 28: The Yankees win the AL East, but the team chooses not to go to the postseason, citing fatigue, a sore arm, "the rheumatism" and a "too-good-to-pass-up" Groupon deal for a five-star resort in the Bahamas. Somehow, they sweep the Twins in the division series anyway.
Oct. 9: Baseball names the Mets as the Yankees' replacement for the ALCS, explaining that the Mets were in town with nothing else to do.
Oct. 16: The emotionally distraught Mets lose the ALCS to Texas after owner Fred Wilpon sells Mr. Met into a Russian prostitution ring to cover payroll.
Oct. 26: The Pirates take a 7-3 lead into the ninth inning of Game 7 of the World Series before ice forms on the River Styx, the world stops spinning on its axis, zombies roam the Earth and Republicans and Democrats pass a bipartisan bill that balances the budget.
CSI: BOX SCORE
You know the rules. You get a fragment from an old box score and the challenge of determining what game it is from and why it is significant. I give this one a difficulty rating of 4.0

Kurt Snibbe/ESPN.com
BOX SCORE LINE OF THE WEEK
Fresh off the disabled list, San Diego starter Aaron Harang took a no-hitter through six innings before reaching his pitch limit (6 IP, 0 H, 0 R, 0 ER, 3 BB, 6 K). And in case you somehow missed it, Derek Jeter reached the 3,000-hit mark by going 5-for-5 with a home run (5 AB, 2 R, 5 H, 2 RBI). But this week's award goes to the surprising Pittsburgh Pirates, who put up this stunning line Friday night:
A-37,140
Sure, the Cubs were in town, but that doesn't completely account for the huge crowd. And there was no special promotion (as there was Saturday, when the Pirates drew even more fans). This was just an excited crowd eager to see the Pirates who are on a roll. After 18 consecutive losing seasons, the Pirates entered the All-Star break in second place and just one game out of first. That, friends, is the best story of the first half.
BALLPARK RANKINGS
Chase Field, Phoenix: The enormous retractable roof makes this place look so much like an airport terminal from the outside that I feel as though TSA agents will ask me to take off my shoes and put my laptop in a bin before entering. There are some interesting elements inside, however, including a swimming pool in right-center that can be rented out for $3,500 a game -- including tickets for 35 of your closest friends and $750 in free food. Sheesh, you can hardly sit behind home plate at Yankee Stadium for that amount. The concourses are also broad, although the food selections could be more imaginative. Even when the roof is open, you always feel like you're inside. This is not a bad stadium, but when it comes to Arizona ballparks, I prefer the Diamondbacks' spring training facility in north Scottsdale.
(And the roof should have been open for the All-Star Game. So it was hot. Big deal. It might be almost as hot in Kansas City next year, and humid. This is Arizona. If these people couldn't take the heat, why the hell did they move here?)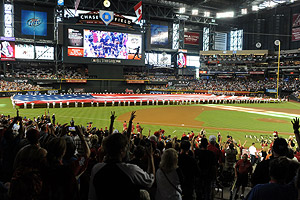 Norm Hall/Getty ImagesWelcome to Chase Field! If you can't take the heat get out of the ... well, state.
Score: 76.5. Current rankings:
1. AT&T Park, San Francisco, 94
2. Camden Yards, Baltimore, 92
3. Target Field, Minneapolis, 91
4. Wrigley Field, Chicago, 90
5. Dodger Stadium, Los Angeles, 88
6. Safeco Field, Seattle, 87
7. Comerica Park, Detroit, 87
8. Kauffman Stadium, Kansas City, Mo., 86
9. Progressive Field, Cleveland, 82
10. Busch Stadium, St. Louis, 78
11. Rangers Ballpark in Arlington, Texas, 77
12. Chase Field, Arizona, 76.5
13. Nationals Park, D.C., 76
14. Rogers Centre, Toronto, 75
15. Oakland-Alameda County Coliseum, 74
16. Tropicana Field, Tampa, Fla., 68
YEAH, WELL, THAT'S JUST LIKE YOUR OPINION, MAN
• Can someone please explain how they held the All-Star Game and couldn't find room on the roster for Pujols? Even commissioner Bud Selig said he wanted Pujols on the team. If the game supposedly counts, why aren't the best players in it? This is baseball's marquee event of the summer, but it's steadily becoming the Pro Bowl, only without the Hawaiian beaches. It's time to get rid of the stupid "Pitchers who start on Sunday aren't eligible to pitch" rule, tell opposing managers to leave the AL and NL managers alone when it comes to the use of pitchers, let us see the top starters pitch at least two innings and begin treating the game as something special and important again. Sigh. At least we got to see setup man David Robertson in the second inning.
• Here's promising news. Selig said Tuesday that he favors using a reverse-DH rule for interleague play and that it is being considered. For interleague games played in American League parks, there would be no DH, and fans would get to see pitchers bat. In National League parks, there would be designated hitters, so fans would get to see the DH.
• It's bad enough that a team doesn't notice when the umpire screws up and allows a three-ball walk once. It's worse when that same team doesn't notice when it happens a second time just one week later, as in the Mariners' case. The first time against the Padres two weekends ago cost Seattle the game. The second time Sunday against the Angels, it had no effect on the outcome, and manager Eric Wedge said his team wanted to walk Bobby Abreu anyway. Even if that's true, it still looks very bad. Isn't anyone charting pitches?
• There's never a dull moment with Jose Canseco. As Alex Espinoza of the Yuma Sun reported, last week Jose's Yuma Scorpions played a game in which Canseco gave up one run in six innings when virtually every player in both lineups was a pitcher. "Following the abrupt resignation of Lake County manager Tim Johnson before the game, an interesting chain reaction of events occurred," Espinoza reported. "Several fielders joined Johnson in his impromptu exit from the team, allegedly saying the team hasn't been keeping up with payroll. ... The Lake County Fielders are owned by actor Kevin Costner, according to the team's official website. Lake County president Rich Ehrenreich told Yuma general manager Jose Melendez that Lake County is up to date with its finances. ... With virtually no players at his disposal, Lake County interim manager Pete LaCock was forced to fill his lineup with pitchers. In a gesture of respect to Johnson, who managed him with the Toronto Blue Jays in 1998, Canseco decided to level the playing field. So Canseco took the mound for his second start of the year, while eight pitchers and a true catcher, Zach Larson, made up Yuma's batting order. Of the 13 Fielders to take an at-bat, 11 were pitchers and two were catchers." I tell you, the most interesting stories in baseball are in the independent leagues.
CSI: BOX SCORE ANSWER
All the marquee names should have immediately indicated this is a fragment from an All-Star Game box score. But again, which one? Well, all you needed to see was the name Rose in one lineup and Fosse in the other to know this was the 1970 All-Star Game that ended with Pete Rose barreling over Ray Fosse in the bottom of the 10th to win it.
Do you think Rose ever would have missed an All-Star Game because he played Sunday and needed the rest?
Jim Caple is a senior writer for ESPN.com. You can follow him on Twitter at jimcaple.