Commentary
Tour de France riders willing to play hurt
Originally Published:
July 19, 2011
By
Jim Caple
| Page 2
Koen van Weel/AFP/Getty ImagesDutch rider Laurens ten Dam got right back into the fray after wiping out on Saturday's 14th stage.
Random thoughts on the Tour de France while wondering whether my wife would get creeped out if I shave my legs before my next ride ...
Remember that great scene in "E.T." when Elliott and E.T. are riding the bike and then rise off the ground and soar across the face of the moon? It's the most iconic image ever of a cyclist flying through the air. Or at least it was until Stage 9 of this year's tour. That's when a French TV car suddenly swerved into the path of the four leading riders, broadsiding Juan Antonio Flecha and sending him crashing into Johnny Hoogerland. Hoogerland and his bike went flying spectacularly off the road -- he looked weightless -- and into a barbed-wire fence. Yes, barbed wire! Even if all the videos of the crash get pulled down from YouTube it's incredible enough to warrant buying the Tour de France web package just to see it again.
In fact, a friend suggested that Hoogerland's crash is so amazing that it could replace ski jumper Vinko Bogataj of "Wide World of Sports" fame as the symbol for the agony of defeat. I would agree, except Hoogerland wasn't defeated. He somehow pulled himself out of the barbed wire, got back on the bike and finished the 120-mile stage with blood pouring down his legs. Not only that, he took the polka dot jersey, which is given to the rider with the most points in the King of the Mountains category. He was so bruised, battered, fatigued and in so much pain on the podium he looked a little bit like Stallone at the end of "Rocky" (though, of course, much, much thinner).
[+] Enlarge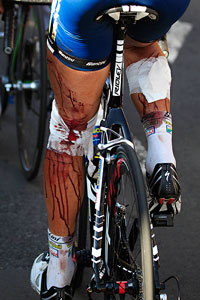 AP Photo/Laurent ReboursJohnny Hoogerland isn't going to let a mere flesh wound knock him out of the Tour de France.
Cyclists can handle a lot of pain, as Jens Voigt can attest. He took a downhill turn too sharply on Stage 14, disappeared over an incline and into a cluster of trees. He got up and continued riding, only to crash on another turn, sliding across the pavement at maybe 25 mph. He not only finished the stage, but he somehow got all the way back to do the work at the front of the peloton. Which is certainly a lot better finish than in the 2009 Tour, when he skidded down a mountain road at 50-60 mph, was knocked unconscious and had to be rushed to the hospital. I think 80 percent of French roads are paved with cement and the other 20 percent are covered with Jens Voigt's flesh. ...
This year's Tour has been marked by many crashes -- defending champ Alberto Contador has spent more time on the pavement than a CSI victim chalk outline -- but the Hoogerland/Flecha crash was particularly painful to watch for recreational cyclists. We live in near-constant fear of getting hit by cars while riding, and if you're not safe from cars while racing in the Tour de France, where are you safe on a bike? Sometimes I think it would be best to just stay on my stationary bike in the garage but even there I worry about crashing into my parked car.
On the other hand, I think the frequent car-vs.-bike war is blown way out of proportion. I ride a lot, and most drivers are very good about giving cyclists sufficient room to ride on the side of the road. And the majority of cyclists (most of whom also drive and pay taxes to maintain roads) are good about staying out of the path of cars (since none of us want to get killed). It's a minority on each side that causes the problems. There are a few drivers who endanger lives by intentionally and recklessly ride far too close to cyclists. And there are a few cyclists who stubbornly block traffic by riding in the middle of the road or race through intersections with barely a glance to see if there are any cars. That's dangerous and moronic behavior by both parties.
I'm with Garmin-Cervelo rider David Zabriskie, who stresses that cyclists and drivers have to behave and respect each other. After all, if we don't, we'll wind up hitting something even less forgiving than barbed wire. ...
Did you ever see "The Triplets of Belleville?" It's an Academy Award-nominated animated movie from 2003 with a plot involving a crime ring that kidnaps Tour de France cyclists and forces them to ride 24/7 as an arcade attraction for gamblers. Yes, it's by a French director. It's alternately wondrously beautiful -- the scenes depicting the training and diet of the main cyclist are very clever and funny -- and curiously strange (the cyclists are rescued by a trio of octogenarian music hall performers). Anyway, I bring this up because I think the lead cyclist and Thomas Voeckler were separated at birth.
[+] Enlarge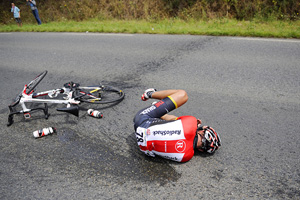 Lionel Bonaventure/AFP/Getty ImagesYaroslav Popovych remained in this year's Tour after crashing twice in Stage 5, although he later withdrew because of a chronic fever.
Voeckler has worn the yellow jersey as this year's leader since Stage 9. Many figure he will crumble in the Alps later this week, but at this point I think he has to be considered a real contender to win the Tour. Everyone expected him to lose the yellow jersey in the Pyrenees, but he held on during each stage to maintain his lead. He lost time to Cadel Evans and Contador in Tuesday's 16th stage but still has a 1:45 lead on Evans, 1:49 on Frank Schleck, 3:03 on Andy Schleck and 3:42 on Contador. This is significant because Voeckler is French, and a French rider hasn't won the Tour in 26 years. Twenty-six years! That's like going a quarter century without a U.S. citizen winning "American Idol."
Since the last time there was a French champion, Spanish riders have won it 11 times and Americans have won it 10 times (11 if you count Floyd Landis). Cadel is probably the favorite at this point, and as much as I like the Schlecks, I'm kind of pulling for Voeckler. The way he's fought to keep the yellow jersey is so impressive, and it would be good for a French rider to win the Tour again. I also hope Sammy Sanchez rides well, because I really enjoy hearing Paul Sherwen say the name of his team, Euskaltel-Euskadi. ...
I admit it. I'm a Tour addict. I'll wake up and watch the final hour of a stage in the morning and then watch it again at night ... and perhaps in the afternoon as well. Then I'll order the 12-hour DVD collection and watch it while riding my stationary bike in the garage. I can't really explain this. The Tour is most definitely an acquired taste, like Scotch. While it can be incredibly monotonous to some, I find it mesmerizing. The scenery of the French countryside has a lot to do with that -- I mean, you never see castles along the foul lines at a Pirates-Reds game.
But as much as I enjoy watching, I cannot understand why broadcasts don't provide more basic information, like constant updates on the speeds of the cyclists and the grades of the climbs. In a world of GPS and speed guns, how hard would it be to have a little graphic constantly giving us the cyclists' speed? I'll even take it in kilometers per hour and do the conversion -- just give me something!
Anyway, while I'm excited to watch the Schlecks climb L'Alpe d'Huez in Stage 19, I'm also sad that we're already in the race's final week. The Tour is more than 2,000 miles long and takes three weeks to ride, but it always seems to fly by faster than a car suddenly blowing past you on a narrow road.
Jim Caple is a senior writer for ESPN.com. You can follow him on Twitter at jimcaple.