Commentary
Tour de France keeps on giving
Originally Published:
July 25, 2011
By
Jim Caple
| Page 2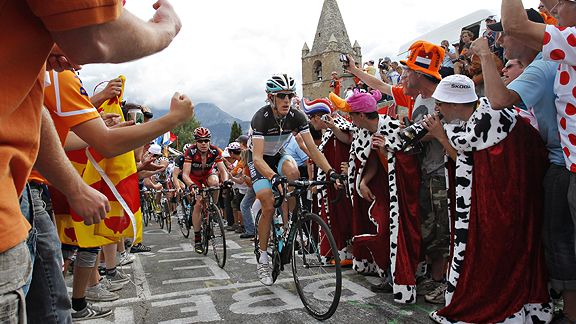 AP Photo/Christophe EnaLance or no Lance, the performance of riders like Andy Schleck will keep fans coming back for years.
In last week's column on the Tour de France I wrote that the Tour is an acquired taste. What I didn't mention is that the Tour must also first be acquired.
This is much easier since Versus began broadcasting the Tour nearly as often as other networks show "Law and Order." When I'm at home, I'll spend most of the day watching one replay or another … or all of them. It gets more complicated when I go on the road, which I must because baseball insists on holding the All-Star Game during the Tour.
I consider myself very fortunate when I stay at a hotel that gets Versus and the Tour on its cable package (I distinctly remember watching Floyd Landis' epic 2006 "steroid" ride in a motel room in Asheville, N.C.), because most don't. That's why I subscribe to the Internet Tour package that allows users to watch the Tour online whenever they want. This came in very handy during the All-Star festivities in Arizona, allowing me to show my fellow seamheads the Juan Antonio Flecha and Johnny Hoogerland accident with the French TV car. (You never see cars striking athletes in baseball, or at least not since they got rid of the bullpen cart.)
I was depending on this Saturday when I was in Cooperstown to cover the Hall of Fame inductions. Immediately after a news conference with the new inductees, I returned to the press room (the Cooperstown high school cafeteria) and logged on to watch the replay of the Stage 20 time trial that would determine whether Andy Schleck or Cadel Evans would win the Tour. And all went well. I watched a couple of early riders, then jumped ahead to the Evans' start.
The problem was that the replay suddenly jumped ahead a couple of minutes to when Schleck was already on the course. I thought that was weird but figured I had just gotten distracted and missed it somehow. Then the replay suddenly jumped ahead another 10 minutes. And then it jumped ahead 45 minutes to a post-race interview with Tony Martin. No matter how many times I restarted the video or rebooted the laptop, the video always jumped ahead at the same precise spot. I checked the replay repeatedly over the next couple of hours and it was always the same. One moment Evans and Schleck are locked in epic competition, the next we have a talking head at the end of the race.
In other words, the replay showed every moment of the stage … except for the most important 55 minutes that I wanted to see.
This could have been worse, because even though I couldn't watch the stage, at least I didn't know the outcome. And as we all know in this world of 24-hour cable, Internet and Twitter, it is almost impossible not to learn the outcome of a sporting event if for some reason you are forced into waiting for a replay later in the day. You can wear earplugs, lay down in a sensory deprivation chamber or seal yourself in carbonite and you still can't avoid some "friend" telling you the final score. In our modern world, perhaps the only person who can remain cut off and oblivious enough to not know the outcome of a game is Manny Ramirez (even if he's playing in it).
Fortunately, I was in Cooperstown, which is not exactly a hotbed of cycling, so I wasn't at much risk of getting an update on how a rider from Luxembourg fared in a time trial. (With all the Twins fans there for Bert Blyleven, however, it was touch-and-go finding out the end of the 1987 World Series.)
With the crucial stage segment unavailable on my laptop, my only option was to find a restaurant or bar that carried the Tour. My first choice was Sal's Pizzeria, which, despite my half-dozen visits to Cooperstown, is pretty much the only restaurant at which I've eaten. Sal's has great pizza at amazing prices, but more importantly it has two TV screens. Unfortunately, both were showing the Yankees game. Worse, it was the seventh-inning stretch. I'm sorry, but it didn't seem wise for me to ask Yankees fans to change the channel to the Tour de France while "God Bless America" was being sung.
So I left Sal's and decided on another course of action. I would wait until the final hour of the primetime broadcast and hope I could find a bartender who would show it. And I did. I gave him $5 and he switched from highlights to the Tour broadcast, just as Schleck started the time trial.
At which point someone at the bar said, "You don't know how the stage turned out? Well, I won't say anything, other than Tony Martin had a good ride."
And incredibly, that's all he said. He kept his mouth shut and left me alone to watch the time trial. I could have kissed him.
Of course, after I watched the stage, I wished he had told me how it turned out so I could have saved my time and gotten back to the hotel early.
It's been a long time since the outcome of a sporting event disappointed me so much. I like Evans well enough, but I was really rooting for Schleck. I mean, pretty much everyone likes the Schleck brothers, plus my wife's family is from Luxembourg -- her cousins produce a very fine riesling at their winery on the Moselle River -- so we have even more of a rooting interest. My wife even has a Frank Schleck jersey, or is this more information than desired?
I felt bad for Andy last year when Alberto Contador left him in the dust when his chain fell off. Not that I blame Contador at all -- if you can't keep your chain on, you don't have many people to blame but yourself. And I didn't hear anyone mention that the riders should have slowed down on Stage 19 on Friday when Evans was having mechanical issues with his bike and finally had to swap it out.
I felt worse for Schleck on Saturday night when Evans steadily destroyed his 57-second lead in the time trial and essentially won the Tour, handing Schleck his third consecutive second-place finish. He's still young with many great years ahead of him (unlike Evans), and probably will be the favorite next year, but that's probably not much consolation right about now. The only real consolation is that, being from Luxembourg, all those Buffalo Bills comments will just sail over his head.
Meanwhile, I'm still trying to figure out what was my favorite jingle in the commercials that were endlessly repeated during the Tour coverage: the light little tune from the Travelers insurance commercial with the dog worried about a cat burglar, or the dynamic Jet riff for Michelob Ultra? What was interesting about this year's commercials is that Lance Armstrong appeared in only one of them, that Mich Ultra commercial in which he displays the worst golfing performance outside of "The Legend of Bagger Vance." That wasn't the case last year, when Lance appeared in virtually every single commercial. And I must say, I didn't miss him in the commercials.
Or on the road, for that matter. As exciting as Lance made cycling for years and as much as he helped the sport grow in this country, I'm happy to move on. I was just as captivated watching Andy Schleck go on an early, old-school attack Thursday after a disastrous stage the previous day. Or watching Evans, the oldest Tour winner in almost 90 years, battle himself back into contention over the mountains Friday after his mechanical issue. Or seeing Thomas Voeckler sweat and fight and bob and weave through the Pyrenees and Alps to stay in yellow as long as possible. Or Contador charge up Alpe d'Huez. Or Tyler Farrar finally sprint past Mark Cavendish for a stage win. Or Flecha and Hoogerland cross the line together after the car crash.
Or … well, so many more moments. It was a great Tour this year, even if Schleck didn't win. Lance may be gone, but his greatest legacy might be that he turned so many people onto biking in this country that we can enjoy the sport just fine without him.
Jim Caple is a senior writer for ESPN.com. You can follow him on Twitter at jimcaple.