Commentary
Page Turner: Looking at baseball fiction
Originally Published:
December 19, 2011
By
Jim Caple
| Page 2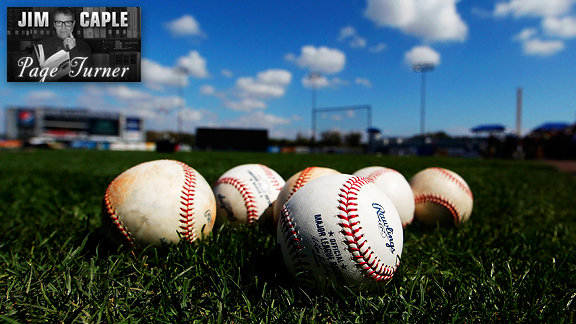 Getty ImagesIt's a genuine pleasure to enjoy baseball novels that are able to create their own world of incredible.
The constant challenge with baseball fiction is that the real thing is almost always better and more compelling.
After all, the outrageous, wonderfully unpredictable drama of the final night of baseball's regular season this year couldn't be topped even if the games were played in an Iowa cornfield, Sidd Finch was pitching and Evan Longoria was swinging a bat made from a lightning-splintered tree. Mean-spirited columnist Max Mercy would never attempt such an over-the-top story as the Rays rallying from a 7-0 eighth-inning deficit and beating the Yankees on a walk-off homer, but it all played out as delightfully as a fairy tale that night (though fans in Atlanta and Boston may disagree).
I recall Roger Angell once writing that fictional baseball names never ring true the way that a name such as Vida Blue does. He was right about that. Whenever I read a piece of sports fiction, the names always seem off. This is no fault of the writer -- it's just that we hear the real names so often that the fictional names can't help but seem as made up as Pearl Du Monville, the dwarf who batted in James Thurber's short story, "You Could Look It Up,'' a full decade before Eddie Gaedel stepped to the plate for the St. Louis Browns.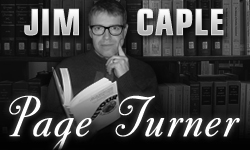 Call it the Reality Wall, a barrier larger and more imposing than the Green Monster.
The best baseball fiction is able to clear that wall. Even if actual big leaguers play a part in the plot, the author finds a way to take the reader well beyond Lansdowne Street and keep them from thinking about the real game. W.P. Kinsella's "Shoeless Joe'' takes place in so clearly a fantasy world -- the deceased Shoeless Joe Jackson playing in an Iowa cornfield? -- that it works flawlessly.
Other favorite baseball fiction includes Philip Roth's snot-blowing funny "The Great American Novel,'' David James Duncan's "The Brothers K,'' Robert Coover's "The Universal Baseball Association, Inc., J. Henry Waugh Prop.,'' Bernard Malamud's "The Natural'' and, of course, Michael Lewis' "Moneyball.''
(Ha! Just joking on that last one. I really enjoyed reading "Moneyball,'' but Lewis' account of the Athletics' success in 2002 would have been more accurate with a little mention of MVP Miguel Tejada, Cy Young winner Barry Zito, starters Mark Mulder and Tim Hudson and third baseman Eric Chavez ... but I digress.)
The latest entry in great baseball fiction is Chad Harbach's clever, captivating and refreshingly humorous "The Art of Fielding.''
The novel revolves around shortstop Henry Skrimshander, a brilliant shortstop for a small Wisconsin college who nearly kills his roommate/teammate with an errant throw. It's a great concept, and by placing the story at a college, Harbach avoids the Reality Wall of comparisons to actual major leaguers.
Rather than thinking about how the story stacks up against that of the real San Francisco Giants or the Texas Rangers, we instead enter a separate world of thoroughly engaging characters: Skrimshander, his gay roommate, the school president, the president's daughter and -- my favorite -- catcher Mike Schwartz with his aching, rapidly aging knees. I picked up "The Art of Fielding'' during the postseason wondering whether it could possibly live up to its hype, but Harbach had me with the first page when he described the fictional Westish College as the "little school in the crook of the baseball glove that is Wisconsin.''
"The Art of Fielding'' succeeds because like all great sports books -- fiction or otherwise -- it is about so much other than baseball. Opening up this novel is like peeling the cover off a baseball -- there are just so many strands leading to the center. There are nods to Herman Melville and "Moby Dick,'' and examinations of success and failure, but relationships are at the heart of this baseball book. There are those between a father and a daughter, that father and a young man, and the relationship that resounds most for me, the one between two teammates, one the older mentor and his younger, more talented friend.
The story strains credibility on a few occasions, but that's all right. As sports remind us so often, the incredible is routine ("I don't believe what I just saw!'') and the reason we enjoy the games so much. Which makes it such a pleasure to read a baseball novel that creates its own rewarding world of incredible.
Author of the Month Club
Sprinter John Carlos won the bronze medal in the 200 meters at the 1968 Olympics in Mexico City, but he is remembered less for that than what happened afterward when he and teammate Tommie Smith took the medal stand. The pair stepped onto the podium shoeless as a symbol of African-Americans' historic poverty and when the national anthem played, they bowed their heads and thrust black-gloved fists to the sky.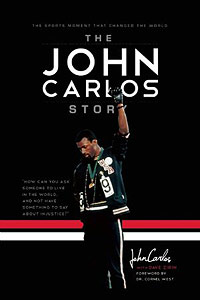 courtesy of haymarket books "The John Carlos Story: The Sports Moment That Changed the World."
The gesture was widely viewed as a black power salute, but Carlos says their raised fists were a protest against injustice and inequality around the world regardless of race or ethnicity. The salutes cost them -- the ultra-conservative IOC president, Avery Brundage, who raised no protest against the Nazis in the 1936 Berlin Olympics when he was president of the USOC, forced their removal from the Olympic Village, and they also received death threats.
Carlos continued to race after the Olympics, briefly played pro football and later coached track at the high school level. Now 66 and still very outspoken against the injustices he sees, he recently finished his autobiography with Dave Zirin, "The John Carlos Story: The Sports Moment That Changed the World.''
Carlos talks about the book, the fist salute, Jackie Robinson, the apathy of current athletes, the Occupy Wall Street movement and the superpower he would most like:
Page Turner: What prompted you to write the book now?
JC: "I felt like I was getting old and that it was time to have something coming from me, for my kids and grandkids. There are so many stories about me. I just wanted people to know who I am before leaving this world, and the time was right.''
PT: What do you think your image was in this country after the fist salute?
JC: "They thought I was a fire-spitting dragon who hated white people, who hated America. Nothing could have been further from the truth. I was just concerned with right and wrong.''
PT: How did that salute change your life?
JC: "I think it just gave me more visibility in what I've done. It hasn't changed my life. Had that not happened, I would have done the same thing I've done in my life - I just wouldn't have gotten noticed for it. As far as becoming an icon, that's something that you and others brought on me.''
PT: Are athletes more or less outspoken than in your day?
JC: "They're far less outspoken today. That is a good question that you have to ask them.''
PT: I think of your salute and then I think of Michael Jordan and the Dream Team using the flag to cover up another sponsor's logo.
JC: "It's about the dollar. We went out there for humanity and they went for a fistful of dollars.''
PT: Which modern athletes do you admire?
JC: "Steve Nash. [Charles] Woodson. [Michael] Strahan. Those athletes have made statements in regards to their social and economic standing in relation to others. And of the older athletes, Jim Brown, of course. Bill Russell. Kareem. Ali. Jackie Robinson.''
PT: How did you meet Jackie?
JC: "When I was a kid. The first memory of was when my father introduced him to me. I grew up in Harlem where my father had a shoe shop and Jackie and other players came into his shop. They would play cards. The bottom line is when I met Jackie Robinson, it was as my father's friend. Later on I saw 'The Jackie Robinson Story,' and Jackie starred as himself in that, and I made the connection with this man being my father's friend. As a youngster going to a movie, they turn the lights down and you want to play and have fun. Then the movie starts and you realize you've met this man, so you want to pay attention and learn. I learned that he went to UCLA, that he served in the armed forces, how he crossed the color line and integrated baseball and became a sacrificial lamb to open the door for everyone else.''
PT: How have the Olympics changed since 1968?
JC: "The way the Olympics have changed is they freed up the money. They let some of the athletes have some money. They let the kids have some money.
"I don't think of it as a positive or a negative, it's just the way it is. It's an opportunity to make money. [Back in 1968], they kept us on a tightrope, giving us $2 a day. You would go into the stadium and they would have 80,000 people there and they gave you $2. Most of the guys were married and had responsibilities. We had to represent America but we thought America was not stepping up to the table. It wasn't a racial or ethnic thing. This was across the board, white kids and black kids.''
PT: You've spoken at a number of Occupy Wall Street gatherings. What did you say?
JC: "I told them, why was I there? I am I there for them. After 43 years we're still fighting for the same issues: equality. For everyone to be able to go to college and get a decent job and flourish in America. Before, it was black people because we were the lowest man on the totem pole, so to speak. Now the circle has widened so much that it includes every ethnic group. They're all wondering whether I will have a job tomorrow, will I be able to pay the mortgage, whether my child can go to college and whether they can pay for college. And the kids out there are not from poor families. They're from wealthy families but they're rebelling. They're saying to their parents, 'We had a great life and if you had shared more, more people could have had a great life, too.' ''
PT: I'm in Minnesota today, where the owner of the Vikings is looking for a $1.25 billion stadium. What is your opinion of the super-rich owners complaining about high taxes, then demanding public subsidies -- and higher taxes?
JC: "He wants to put the bill on the back of those people he's fighting against. He wants the stadium and he wants you to pay for it. That's what people are saying -- enough is enough.''
PT: Will the movement make a real change?
JC: "I think anyone who puts up a fight long enough can make a change. If you look at the word consistency, consistency will make change regardless of what you're fighting for.''
PT: Finally, this is a question I ask everyone -- Which superpower would you most want to have? The strength of 100 men, the ability to fly, turn invisible or have the speed of Mercury?
JC "That's a hard one, bro. If I was invisible, I could get into a lot of things and straighten them out. But when you say the strength of 100 men -- do you mean the strength of 100 men to come together and unify? I would do that, but if it's just brute strength to hold up a building or something, I don't need that.''
Put This On Your Wish List
[+] Enlarge
Knopf Doubleday Publishing GroupGreat gift idea: "Into The Silence: The Great War, Mallory and the Conquest of Everest."
An excellent Christmas gift for the armchair adventurer is "Into the Silence,'' Wade Davis' new staggering epic on the Mallory expeditions up Everest in the early 1920s. George Mallory is the climber who, when asked why he wanted to climb Everest, famously responded, "Because it's there.'' Mallory attempted the mountain three times (1921, 1922 and 1924), eventually dying on its slopes in 1924.
The climbing passages might not be as gripping as Jon Krakauer's classic "Into Thin Air'' (the book doesn't even reach the mountain until nearly 300 pages), but it is the climber profiles and the historical context Davis provides that make this such a masterpiece. Virtually everyone in the expeditions suffered through almost incomprehensible horrors in the trenches of WWI, and Davis' descriptions of them are the most vivid and harrowing I've come across.
The treatment of the porters and Sherpas is also particularly revealing. The climbers have considerable debate over whether the use of oxygen tanks is a form of cheating, yet they never question their use of dozens of poorly paid and often scandalously provisioned porters to carry the hernia-inducing equipment loads.
All three expeditions fell short -- it wasn't until 1953 that Edmund Hillary and Tenzing Norgay reached the summit -- but Davis' writing is so powerful that you're rooting for the climbers and still hopeful that this time, they somehow make it to the top. "Into the Silence" is not a short book (at 573 pages, not counting notes, you almost need a Sherpa to transport it), but it a riveting one you will have a difficult time putting it down. I give it my highest rating.
Classic Sports Literature 101
Joe McGinniss is in the news for his recent book on Sarah Palin, but a less controversial book is his "The Miracle of Castel di Sangro.'' Published in 1999, it tells the account of what happens when a team in the poor, 5,500-resident town of Castel di Sangro improbably climbs to the Serie B level of Italian soccer (just below the ranks of AC Milan). McGinniss's book is part Italian travelogue, part "Godfather,'' part "Major League,'' part "Fever Pitch'' (the original version), part "Breaks of the Game'' and 100 percent delightful. This is a great, great read that will make even people who hate soccer want to buy a souvenir red-and-yellow scarf and learn the team's songs.
Jim Caple is a senior writer for ESPN.com. You can follow him on Twitter at jimcaple.