Commentary
The La La and Carmelo Anthony show
Updated:
September 17, 2010, 3:17 PM ET
By
Kelley Carter
| Special to Page 2
There were two things that Carmelo Anthony cared about when it came to planning his summer wedding to TV personality La La Vazquez: the food and the music.
La La laughs now when she thinks back on the small forward's wedding demands, and on Sunday we get to see what led up to the end result. The planning of their wedding -- and the actual wedding -- will be documented on "LaLa's Full Court Wedding," which premieres at 10:30 p.m. on VH-1.
La La chats with us about the show, her Kim Kardashian-thrown bachelorette party and what she ended up giving in to so Anthony would be happy on wedding day.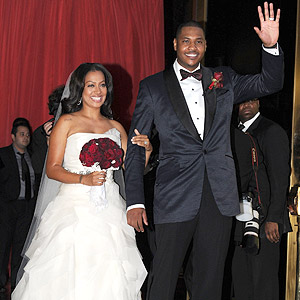 Jason Kempin/Getty ImagesLa La and Carmelo Anthony at their July wedding.
Will we see Carmelo a lot on the show or are you the coach for this wedding extravaganza?
"I mean, definitely it's my reality show, it's called 'Lala's Full Court Wedding' but obviously I'm marrying, and I'm married, to him now, so you do see Melo take part in different parts of the series and different parts of the episodes. But all of Melo's fans, yes, they will absolutely see him enough to satisfy their appetite."
I once asked Melo what things he was most concerned about with this wedding and he said the food and the music. What was it like negotiating those things with someone like Carmelo?
"The music was perfect. DJ Clue DJ'd our wedding, so that was amazing, and then the food was great. We had a mixture of seafood and chicken and meat and the vegetarian products. The desserts were crazy. We had a candy bar and red velvet cake. It was heaven for anyone who likes to eat, I'll tell you that much."
What was the pressure like for you guys to pull off a wedding like this?
"It wasn't pressure on that aspect for me. I really wanted people to have a good time."
Did you guys get into it about certain elements? Or were you guys pretty much in harmony?
"Well, I'm the easy one, Melo's a little more picky and more specific than I am. So for him, he wanted a red wedding. I was fine with that, he got a red wedding. That's his favorite color. He wanted red velvet cake, I was fine with that. The one real thing we disagreed on was, he wanted a band. I felt like a band just feels older to me, and I didn't want to feel like we were at our grandparents wedding. I wanted to feel young and fun and I was overruled in that by him and my mom and friends that all were like 'A band is great; it's elegant.' So we did end up having the band, but that was really the only big disagreement."
I would have taken Carmelo for a DJ guy, myself.
"Baahhh! So would I! So would I! This is where the surprise came in, and I was just like, a band? But needless to say the band was amazing and I think it was the right thing to have during the dinner portion of the wedding. And it wasn't like they were playing old, old jams, they played songs that we know and we dance to and they sounded really, really good. And then after people ate, then it was like OK DJ Clue it's time to get on there, crank this thing up, so it kinda worked perfectly. It would be a little weird having dinner, blasting some Young Jeezy in the background."
What else did you learn about Melo during this planning process?
"Well, there's that whole thing that the guys don't want to be involved, and Melo did want to be involved. I'm not going to say that was a surprise to me because that's his personality, but I was surprised about how meticulous he was about some things. Of course he didn't care about forks and knives or place settings or the tablecloths, but he was very specific on the food choices and very specific on the band and the music, and he was very specific on the color red. I was like 'Are you serious right now?' That was an eye opener for me."
What else will we see in this show?
"You see a lot of anxieties that people just naturally go through and you see my friends kind of guiding me through them. And then it's fun moments like Kim Kardashian and Kelly Rowland throwing my bachelorette party, which was completely over the top. And me having a kind of a down moment, going to Ludacris, who I grew up with, asking him for advice from a male perspective, so you get to see a little bit of all of that and my friends kind of helping me through this journey before the actual wedding."
Why did you guys agree to a reality show?
"I think that for me, more than Melo, it was just the aspect of wanting people to have that sneak peak into my life. I think there's always questions surrounding me, people know me from MTV, know me as a host, but they don't really know me as a person."
Also, Carmelo's favorite color is red? Not blue? That's surprising, yes?
"Red's always been his favorite color, he just loves red. We have a red basement in our house in Denver. Red is just Melo's color. So with that being said, he wanted a red wedding and when you see the show, and I'm sure you've seen some of the pictures, he got exactly what he wanted."
That was very generous of you as a bride to give him that, La La.
"Yes, it was. But like I said I'm easy going, I'm just like 'Hey, I just want people to show up, have a good time,' that's what I cared most about."
Kelley L. Carter is a Los Angeles-based entertainment freelance journalist.