Commentary
Siblings turning new sport upside down
Updated:
May 28, 2010, 12:56 PM ET
By
Lynn DeBruin
| Special to Page 2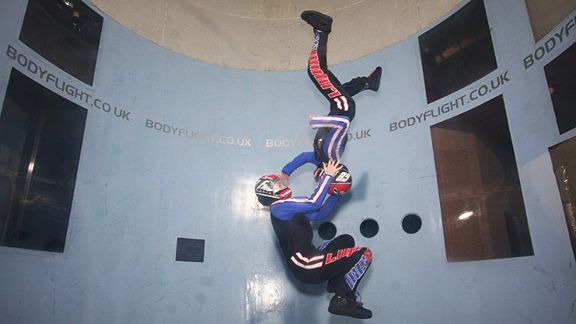 Courtesy of Bodyflight LtdJustin and Kayla Tinucci are performing a trick they created and have named the quad spock flip.
HIGHLANDS RANCH, Colo. -- Combined, they probably didn't weigh 150 pounds.
So when Justin and Kayla Tinucci arrived at their first "Throw Down the Gauntlet" competition in Arizona, the reaction wasn't surprising:
"We're competing against a bunch of kids?" their competitors wondered.
Yet as the skydiving world soon discovered, size doesn't matter. Neither does age.
Then just 8 and 11, respectively, the brother-and-sister act from Colorado threw down an Air Force Academy team at that 2007 indoor tunnel competition.
A year later they earned a spot in the Guinness Book of World Records for longest continuous indoor freefall (they set it at 96 minutes, only to have it broken by a Brit months later, then reclaimed it March 31, 2009, by going 1 hour, 43 minutes, 40 seconds without touching the walls, floor or ceiling).
Also in 2009, the siblings won the Bodyflight Bedford (England) World Challenge in formation flying and finished fourth in the highest professional category of freeflying. Their next competition will be at the Gauntlet (Eloy, Ariz.) in October.
Now, after taking a 10-month break so Justin could pursue other dreams in Hollywood (he's been on Nickelodeon's "iCarly" and has his own agent), the Tinuccis are primed to take their experience to a new level -- even if they still can't legally jump out of an airplane until they're 18.
Of course, Justin, whose shock of red hair would make Conan O'Brien proud, has his own thoughts on that rule.
It's all about proper cussing, said the 4-foot-9 Justin, now 11, during a recent act at the L.A. Improv.
"When the ground is rushing toward you at 180 miles per hour and there's a problem with your parachute, 'OH, FUDGEMONKEY' just doesn't cut it," he said.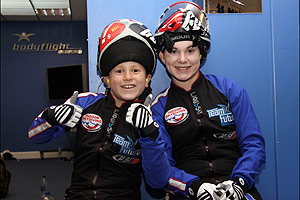 Courtesy of Bodyflight LtdJustin and Kayla Tinucci earned a spot in the Guinness Book of World Records for longest continuous indoor freefall.
For those who have never heard of the sport, tunnel diving is relatively new, with the first indoor centers typically built near drop zones.
Now there are about a dozen such tunnels in the United States, from the street-level, see-through showcase at IFly Hollywood to SkyVenture Orlando.
SkyVenture Colorado is in a suburban Denver shopping center and attracts everyone from 103-year-old grandmothers and wedding parties ($73 for two-minute intro flights or $475 for 24-minute packages) to elite pros who rent larger blocks of time.
Considering how expensive it is to skydive ($180-$300 a jump), and how short a time there is to work on freefall before pulling one's parachute (45-60 seconds, depending on altitude), practicing indoors makes sense for devout jumpers.
And for the record, it doesn't blow; it actually sucks.
That's the technology inside the tapered tunnels, which can generate wind speeds up to 180 miles per hour using four 300-horsepower, electric-driven turbine fans.
Picture the building and its large basement as a big cup recirculating air to the 12-foot wide tunnel that acts as the giant straw stuck in the middle.
"It's absolutely incredible what you're able to do once you're able to control your flying," said Colorado instructor Zachary Sabel, who after hundreds of hours can zip up and down and into the entryway like Spider-Man.
"The tunnel is your playground. You can fly on your belly, with your feet down or up in the air. You can run up and down the walls, do flips."
It's just a matter of controlling one's body against the hurricane-force winds, where even the slightest movement of finger or foot can send one careening into the walls.
That's what made the kids so unique in four-man competition at Bodyflight Bedford -- their ability to fly in sync with instructors weighing 200 pounds or more.
"We've had skydivers who come in and say, 'I've done 10,000 [airplane] jumps, but I can't do nearly any of what the kids can do.' They're completely shocked and in awe," said Bob Tinucci, father of the flying siblings.
Kayla, who hopes to be an Air Force cadet one day -- a far cry from her brother's dreams of hosting "The Tonight Show" -- hopes the sport will catch on.
"We'd like to see it in the X-Games or Olympics because it's really fun for people to watch," the eighth-grader said.
She figures it's only a matter of time.
Lynn DeBruin, formerly of The Rocky Mountain News, is a freelance writer for the Sports Media Exchange, a national freelance network.