Commentary
Mary Lou Retton still a hot commodity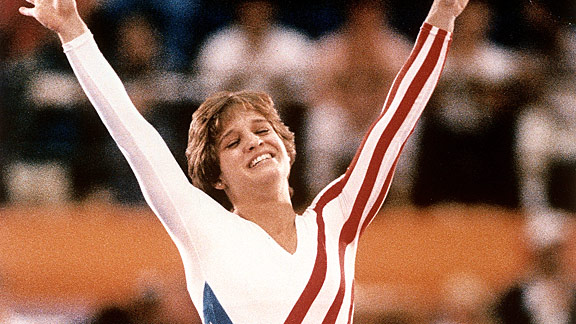 AP Photo/Lionel CironneauMary Lou Retton is still basking in the glow of her perfect 10 in 1984.
Mary Lou Retton is an American gymnastics hero. She's a devoted mother, a motivational speaker and a lover of charity. In short, she's an icon, the very portrait of all that's positive in sports.
And right now, somewhere on TV or the Web, she's falling out of a pinata.
That's right, the diminutive tumbler who took the world by storm in the 1984 Olympics is back, if only for 30 seconds at a time, randomly appearing in a quirky Dairy Queen commercial.
So, uh, why?
Two reasons.
One, the serious reason, is the frozen treats chain's involvement with the Children's Miracle Network, which is one of Retton's most beloved nonprofits. So, when they sent her the script, she gladly accepted.
The other reason?
"Because in all of my 27 years in this craziness," she said, "I've always made fun of myself."
And that's likely why she remains beloved, even in this era of celebrity hyper-parody. Hard to mock someone who's already doing it for you.
That's not all Retton is up to these days, though. Sure, the 43-year-old gold medalist is leading a quieter life, having moved back to her hometown of Fairmont, W.Va., after leaving at age 14 for Texas. But it's not as if the DQ spot got her off the couch. As she told Page 2 in a wide-ranging interview, Retton's still got a lot going on -- and it'll stay that way for some time.
Page 2: About all that making fun of yourself -- what keeps you from taking things too seriously?
Retton: I don't know. It's just kind of been an ongoing thing with me. Gymnasts are small, and I'm definitely one of the smallest ones. And I think it's fun. If you don't have humor in life, you're just a pretty sad and bitter person.
And it seems to keep you memorable, even now.
Yes. And that blows me away. Because it [the Olympics were] literally almost 30 years ago.
I think because I was the first American to ever win the [gymnastics] gold, people remember that for whatever reason. But also, back in 1984, gymnastics were still I think pretty prestigious. And we were truly amateur athletes. ... So I think there is some innocence that goes back to my Olympiad, and I think that times were different. And families actually sat down and watched the Games together.
I was the underdog also. I was this little coal miner's daughter from West Virginia and wasn't supposed to win, and I think we as a society, especially as Americans, we tend to pull for the underdog, and it just happened.
So you probably still get noticed out there.
People will come up to me so many years later and say, "Oh my gosh!" They recognize me right away. Which is, I think, from my eyes or my smile.
But they'll say: "I remember where we were. We were vacationing at the beach, and we all came in that evening to watch you." I get stories like that every single day. And it's very nice.
How much do you do these days, in terms of appearances?
Right after the Olympics at 16, I was pretty much doing everything. And now at this stage in my life I'm a wife (to husband Shannon Kelley) and mother first. I have four beautiful daughters (Shayla, 16; McKenna, 14; Skyla, 11; Emma, 9), and I'm trying to slow down a little bit and try to be a mom. ... I'm only choosing things that really are meaningful to me right now.
Your new life includes moving back to West Virginia, after your husband got a job as quarterbacks coach at Fairmont State University. What were things like before that?
I was just at a state where I was still traveling -- this is 20, 25 years [after the Olympics] -- once a week, having nannies raise my kids. And I just hit a point where I said: "You know what? This isn't where I want to be. This is not what I want to be doing."
Do you still get a lot of offers?
I could probably be somewhere probably once a week. And I've tried to break that down. ... It's not about money at this point. It's about just what's meaningful to me and where I am and the causes that are great to me (note: among them are Procter & Gamble/the Special Olympics, and Biomet, which performed her hip replacement surgery in 2005; she's also a motivational speaker).
Do you still keep in touch with the gymnastics people from 1984?
Definitely. With all the social media, we keep in touch. We text, we call, we email each other -- Twitter, that kind of stuff. It's easy to keep in touch with everyone.
And out of my four daughters, three are competitive gymnasts. And one was deemed to be a pretty high level -- no Olympic aspirations, thank goodness. But from traveling around with her, I get to see a lot of the coaches and people that helped me in my career.
Might be an obvious question, but what got your daughters into gymnastics?
When I was young mother, that's what I put them into. I encourage really any mother to put their toddlers into gymnastics because it's great. It's fun, they love it, they go jump on the trampoline and somersault and climb on the bars.
And [I had them start] because I love the sport and it was familiar to me. And three of them stuck with it. My other one is a competitive cheerleader, so there's some tumbling and gymnastics involved.
But it's hard. I can tell you that. Sitting in the stands watching them compete is very difficult, very nerve-racking. I'd much rather be down there on the floor by myself.
What's it like being Mary Lou Retton at a gymnastics event?
It's crazy at times. ... Most people respect it. But if I start to get bombarded, my statement is: "You know, I'm here as Mary Lou Kelley -- which is my married name -- and I'm here to watch my daughter just like you. After the competition is over I'd be more than happy to sign, but right now I just want to be a mom and watch my child." And most people respect that.
Do you coach your daughters at all?
No way. No, no way. If we fight the way it is, are you kidding me?
I don't think [it would be] very healthy. I want to be that parent where they come home from practice or competition and give me a hug, because they learned a new skill or they [did well] at a meet, or a shoulder to cry on if they didn't do well at all.
I'm a great gym mom, I drop them off at the gym and I pick them up. Sometimes I'll go in ... and they'll come up and [say], "Mom what do you think?" And I'll give them a little tip: "Oh, that was good, but you might want to try this." But [sometimes] they're just like, "No, mom. We don't do it that way anymore." It just blows my mind. Mom, Olympic champion, but doesn't know [about today's gymnastics]. So I stay out of it.
You said you want to get out there, but you also had the hip replacement a while back. Do you do any gymnastics these days?
I can still flip around. I'm really not supposed to with my hip, but I do. But I do.
So what was that commercial like?
They actually had a stunt person literally fall out of the pinata. You can't tell, though. You really can't tell, it was so quick. But you go into wardrobe, you get makeup -- my wardrobe's always red, white and blue. They never want to glam me up or put me on a runway by any means.
But you go through wardrobe and you go through makeup, and it's time for me to get out there and I'm lying on the floor because the stuntwoman fell to the floor out of the pinata, and I jump up real quick and do my champion pose. We do it over and over and over. That little bitty spot took all day long. ... Literally all day long. But I was used to that. I've done so many commercials in my life.
What have been your favorite appearances?
Gosh, there are a couple. ... The very first one was "Scrooged" with Bill Murray (she plays herself playing Tiny Tim on a live retelling of "A Christmas Carol"). ... It was literally maybe a month or two after winning in '84, [and] that was a great experience, because here I was 16 years old, literally secluded to a gym my entire life, and I walk onto this big Hollywood set, I see all of these movie stars. And Bill was fabulous. [He] came up to me and [said], "Oh my God, she's here!" They were like enthralled to meet me. So that was fun. ... And I still get a teeny tiny little residual check every year around Christmas time because it's a Christmas movie.
I was in "Naked Gun 33 1/3," and I love that slapstick comedy. ... Again, I play me. And I won an Academy Award, and instead of getting up from the seat like everybody else, I get up and tumble down the aisle and tumble across the stage to go get my Oscar.
But probably one of the biggest thrills of my life was meeting President Reagan and Nancy (at a post-Olympic ceremony, where she was voted to give him Team USA's famous red blazer). ... I tapped him on the arm and I said: "Mr. President, I'm Mary Lou Retton, and I'd like to officially give you our official Olympic blazer." [And] he looked down at me and his eyes got big, and he just had so much joy and he was like, "Oh my goodness! Nancy, come over here, it's that little Mary Lou we watched!" And I was like, you've got to be kidding me. I was like in the twilight zone. I was just blown away.
Do you have anything else coming up?
I can think of a few things on the books. Definitely some speeches coming up in the pipeline. ... Things are already starting to heat up for London and my involvement with the Olympics (she's on the Board of Directors for gymnastics). A lot of times companies will bring me over and I do a lot of hosting. I'll host different groups of people that they bring over, do breakfast with them, then take them to the competition, tell them what to look for.
That kind of stuff. Definitely a lot of TV, whatever the big corporations and sponsors want. And it's already starting to heat up.
Patrick Dorsey is a writer based in South Florida and a regular contributor to Page 2. He can be reached at bypatrickdorsey@gmail.com.