Commentary
Flem File: Cooking up Cowboys QBs
Updated:
September 22, 2011, 7:48 PM ET
By
David Fleming
| Page 2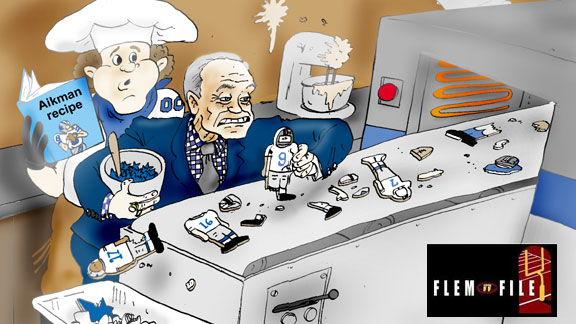 Kurt Snibbe/ESPN.com
Tony Romo says it hurts when he laughs.
By now, Dallas fans must know exactly what that feels like. It has been more than 11 years since multiply concussed Hall of Famer Troy Aikman was forced to retire as the last, great quarterback of the Dallas Cowboys. Since that moment, America's team has been on a bizarre, epic, gut-wrenchingly hilarious and, at times, nonsensical quest to replace Aikman. And, more often than not, the results have left Cowboys fans in the same state as Romo: in too much pain to laugh.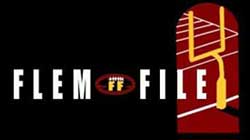 By my count, in this span, 13 QBs in the past 11 seasons have won exactly one playoff game while donning the sacred blue star, an ignominious list that includes Ryan Leaf, Chad Hutchinson (who once went from being Chicago's starter to being out of the league in four days), Drew Henson, Quincy Carter and Clint Stoerner, who, I have to be honest, I really thought was a country-western singer.
And then there's Romo. His pain comes from a fractured rib and a small puncture of his lung suffered in a gutsy 27-24 come-from-behind win in Week 2 against the San Francisco 49ers. A victory that solidified Romo as a warrior while also helping to distance him from his all-too-familiar fourth-quarter meltdown in Week 1 against the New York Jets. The question remains: Is Romo a goat or the G.O.A.T.? Is he a three-time Pro Bowl quarterback or the guy who has laid an egg in nearly every big game of his career? Actually, he's both.
It's a wild fluctuation that not only epitomizes Romo's career but pretty much sums up most of the past decade under center in Dallas. Crazed? Cross? Confused?
Fret not, dear FlemFilers, for I can sum up the Dallas Cowboys' decadelong quarterback quandary in just one sentence.
[+] Enlarge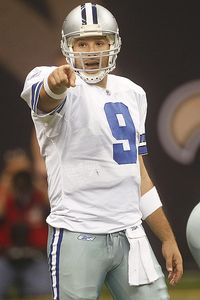 AP Photo/Dave MartinWarrior, goat, hero, whipping boy; Tony Romo has been a lot of things during his Cowboys career.
Remember, Troy Aikman never really wanted to leave the Cowboys, a team he had led to three Super Bowl titles and 90 wins in the 1990s; instead, on March 7, 2001, to avoid paying a $7 million roster bonus, the Cowboys waived the future Hall of Fame quarterback who had suffered, by today's standards, a ridiculously dangerous 10 concussions in his 12-year career, including four in his final two seasons, the last of which came courtesy of Redskins linebacker LaVar Arrington, who, on Dec. 10, 2000, launched Aikman, scrambling at what you might describe as the speed of kudzu, practically up into Jerry Jones' luxury box, a devastating hit that Aikman says he still can't remember and Jones probably would like to forget because it prompted him, after letting backup Randall Cunningham go, to reach badly in the 2001 draft, selecting former University of Georgia standout Quincy Carter with the 53rd pick overall, essentially handing him the starting job as a rookie, the first bad move in what would be a long, bizarre string of them for Carter, who, that first season, split time with draft bust Ryan Leaf, Anthony Wright and Clint Stoerner who, it turns out, is not a crooner but a former QB for Arkansas whose pro career is best noted for the eclectic team names he represented (in order: Claymores, Admirals, Desperados, Kats, Soul and Team Arkansas) and the fact that he holds the honor of being the only QB ever beaten out by both Leon Murray and Quincy Carter, who, in turn, was supplanted the next season (2002) in Dallas by Chad Hutchinson despite the fact that Hutchinson hadn't played football since his senior year at Stanford in 1998 and had a release so slow you could measure it with a sundial -- tiny details that did not stop always shrewd Jones from offering him a seven-year contract and a $3.1 million bonus along with comparisons to Hall of Famer Roger Staubach (by coach Dave Campo who should have referenced Babe Laufenberg instead) -- money and compliments Hutchinson repaid by going 2-7 with the Cowboys before eventually getting shipped to Chicago where, in the 2005 preseason, he went from starting to out of football in four days; yes, 96 hours; more evidence of a failed experiment in Dallas that returned Carter to the starter in 2003, when he led the Cowboys to a 10-6 record and the wild-card playoffs (Carolina 29, Dallas 10) before he was abruptly cut during 2004 training camp amid rumors he had failed a drug test; Carter signed with the Jets, spent time in a drug rehab facility, went to the CFL, was arrested on marijuana possession charges in 2006, signed with the Arena Football League, got kicked off that team for skipping practice (Practice? We're talkin'bout practice? Yes), somehow landed a tryout with the Dolphins in 2008, didn't get signed, was arrested in February 2009 on accusations of drunk driving and pot possession and again that May for violating his probation, signed with the Abilene Ruff Riders of something called the Indoor Football League (I played in this league, too, against my brothers on the carpet in my parents' living room) until Carter was a no-show at a game forcing the team to start a guy named (honest to god, people, you can't make this stuff up; there are laws …) David Bowie, after which Carter had not been heard from again until this past October when he was arrested on battery charges: a saga so inexplicable it would ruin the career of most NFL GMs -- unless, of course, he also owns the team, in which case, then, in 2004 he just signs his latest pipe dream, Drew Henson: Tom Brady's former backup at Michigan, Henson was taken in the sixth round of the 2003 draft by the Houston Texans but instead chose to play major league baseball, a decision he parlayed into an eight-game career with the Yankees (he went 1-for-9) before Jones blew a third-round pick in the 2005 draft (no big deal, there aren't any good players left in the third round … except for maybe Frank Gore and Justin Tuck, who were drafted in the third round that year) to entice the Texans to trade Henson, who offered a bit of perspective into Jones' skills as a talent evaluator by going 4-for-12 for 31 yards on Thanksgiving Day 2004 in his only start as a Cowboy -- a performance that inspired Bill Parcells to send Henson to NFL Europe for a season before waiving him in favor of some kid named Tony Romo, a move that eventually allowed Detroit to scoop up Henson, who again turned into a turkey on Thanksgiving, going 1-of-2 with back-to-back fumbles before exiting quietly from pro sports, something his replacement in Dallas, 41-year-old Vinny Testaverde wasn't quite as good at: Dallas' 2004 squad was Testaverde's fifth team and the sixth time he finished in the top three in the league with interceptions (he had 20 in 2004), a contributing factor to the Cowboys' 6-10 record and Parcells' decision in 2005 to bring in Drew Bledsoe, 33, a free agent with a cannon arm, a warrior spirit and the escapability of bedrock who finished 9-7 with the Cowboys and moved into the top 10 in all-time passing yards (43,447 yards or just slightly longer than the driving distance from Dallas to the Cowboys' stadium in Arlington); a milestone that earned him the Cowboys' unwavering support for almost six whole games in 2006, at least until a Monday night game in New York when, having been sacked four times, Bledsoe was picked in the end zone by Sam Madison on what would have been a go-ahead score, a "recipe for disaster," according to Parcells, who benched Bledsoe at halftime (and subsequently ended his career), turning the Cowboys over to Romo, a decision that thrilled Dallas fans all the way up until he threw an interception on his very first snap as a Cowboy, the first of three that day, including one Kevin Dockery returned 96 yards for the game-clinching score, something that, at the time, seemed like a temporary setback for gifted Romo who originally had signed with the Cowboys three years earlier as an undrafted rookie free agent (with a 40 time of 5.0) out of Eastern Illinois, where he won the Walter Payton Award as the best player in Division I-AA developing skills that he displayed in the final 10 games of 2006 with a 65.28 completion percentage (second highest in the NFL) and a 95.1 passer rating that was the third highest in Cowboys history -- the only blip being a Christmas Day game he played in front of then-girlfriend Carrie Underwood when he threw for a career-low 142 yards -- a small glitch encountered while guiding the team back to the playoffs against Seattle, where Romo led the Cowboys on an eight-play, 70-yard drive that set up a 19-yard chip shot with 1:19 to go for the team's first postseason W in a decade; inexplicably, though, Romo, still the team's holder, botched the snap, then tried to run the ball around the left end, only to be chased down from behind at the last possible second, and at the doorstep of a wide-open end zone, by a hustling Jordan Banineaux who left a dumbfounded Romo sitting on the goal line by himself pondering one of the biggest gaffes in playoff history and prompting Seattle coach Mike Holmgren to say, "that just doesn't happen" -- a phrase that became something of a motto for Romo, starting in 2007 when the 12-1 Cowboys were rolling toward the playoffs until, some say, Romo's new girlfriend Jessica Simpson showed up at a game against the Eagles in a pink No. 9 jersey (which always reminded me of that scene in "The Wedding Singer" when Adam Sandler tells his ex-girlfriend to take off his Van Halen T-shirt before she jinxes the band and breaks it up) and Romo, who had just signed a $67.5 million contract extension, responded with three picks, two fumbles and a bruised thumb in a 10-6 upset loss that still didn't keep the Cowboys from getting the all-important bye week that Romo famously used to go to Cabo with whatshername before losing to the Giants in the divisional playoffs, a loss Romo clinched with a pick on his final throw into the end zone, making the Cowboys the first No. 1 seed in the NFC to lose in the divisional round in the past 20 years, a revelation that, perhaps, led to T.O.'s tearfully defending his QB, and then, a year later, accusing him of playing favorites with his pass targets at least until Week 6 of 2008, when Romo broke his right pinkie on the first play of overtime in a 30-24 loss at Arizona, causing him to sit for three games (Brad Johnson went 1-2) before returning to, later, face the Eagles in the regular-season finale with a playoff game on the line, a game in which Romo threw for 183 yards, no TDs and a pick, once again creating questions about his play under pressure, something that disappeared in 2009 when Romo (after breaking up with Simpson) threw for a career-high 4,483 yards and made his third Pro Bowl, but then resurfaced, with gusto, when, after an 11-5 season and a wild-card win, Romo was sacked six times, lost two fumbles and threw a pick in a 34-3 blowout loss to the Vikings -- a pattern of panic, underperformance and pain (How do you feel? I Aik, man) that has plagued Cowboys QBs for more than a decade: in 2010, when Romo started 1-5 before breaking his clavicle (he was replaced by Jon Kitna and Stephen McGee), and again in 2011, when Romo (under the guidance of head coach Jason Garrett, himself a former backup Cowboys QB) blew the Jets game and then, in Week 2, heroically returned from rib and lung injuries to beat the 49ers in OT, motivated, one can only guess, by the thought of Jerry Jones on the hunt for another quarterback, something that must make folks in Dallas hurt when they laugh.



Editor's note: Got your own favorite Cowboys quarterback moments/nightmares? Share them on Twitter (@daveflemingespn hashtag #flemfile) or vote for your favorite Cowboys QBs of the past decade on the FlemFile's Facebook poll.
David Fleming is a senior writer for ESPN The Magazine and a columnist for ESPN.com. While covering the NFL for the past 16 years at Sports Illustrated and ESPN, he has written more than 30 cover stories and two books ("Noah's Rainbow" and "Breaker Boys"), and his work has been anthologized in "The Best American Sports Writing."