Commentary
Flem File: Wild scenes on sidelines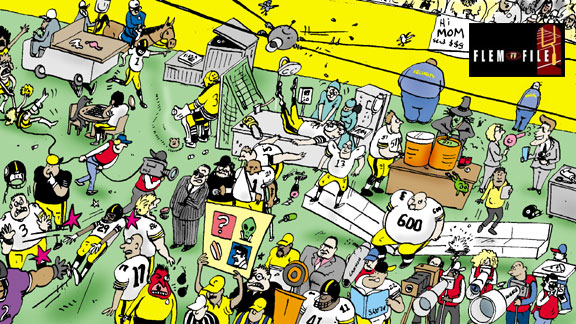 Kurt Snibbe/ESPN.com
The NFL sidelines are perhaps the only place in the sports universe where visitors are routinely subjected to frequent bursts of both fire and urine.
In this strange, lovely world, I've seen 300-pound men weep uncontrollably. I've heard bones crack like dry twigs. Footballs zip past your head like bloated leather vampire bats and thick black cables constantly lash at your feet like serpents. There are rent-a-cops self-deputized by the magical powers of a yellow windbreaker, pop stars precariously balanced on giant heels and tiptoeing around, half-blinded by their fake eyelashes, Frisbee-catching mutts watching the game and priests in their own collars fixated on the cheerleaders. There are old-fashioned red rotary phones, huge camera lenses, power tools, buffalo, horses, eagles, oxygen tanks and the constant threat of flying D-cell batteries, beer cups and expletives. And the smell? It's a potpourri of wet, sour grass, sweaty socks and desperation -- most of it hidden under buckets of machismo slathered on like cheap cologne.
Welcome to the scariest, most bizarre and dangerous place in all of sports.
Dare I say this weird, wonderful alternate universe celebrated perhaps it's finest, freakiest hour this past weekend.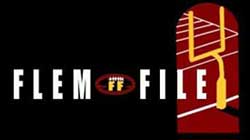 There were near-fisticuffs after 49ers coach Jim Harbaugh hit Jim Schwartz with the old father-in-law, way-too-hard-not-to-mean-something back slap; a gut-punch for Andy Reid from LeSean McCoy that, quite honestly, looked like slow-motion footage of the shirtless guy in goggles taking a cannon ball to the gullet; Michael Vick kicking a stray football nearly into the face of a Washington Redskins cheerleader after a 31-yard scramble (nearly, I said nearly, calm down); and Saints coach Sean Payton suffering a torn meniscus and broken tibia in Tampa after the old QB failed to scramble out of the way of his own player.
Just three days earlier, as the Saints' defensive players were stretching before practice in New Orleans, Payton bragged about how he had never been injured while playing football. Not while throwing for 10,665 yards at Eastern Illinois or during briefs stops in the NFL, CFL and AFL.
But no one is safe on the sidelines, not even him.
In most NFL stadiums there are usually between 20 and 30 feet of space that frames the field (less behind the end zones).
Everyone except players, coaches and officials are set 6 feet back from the actual playing surface by a thick yellow line that runs around the entire field and behind both benches. It sounds like a decent amount of cushion, but trust me, once you start adding in TV personnel, photogs, trainers, support staff, fans, cheerleaders, tubas and a handful of wild animals, the place becomes a cramped kaleidoscope of humanity, like a cross between a state fair, a Halloween spook house and an Occupy Wall Street gathering.
In other words: I highly recommend it.
I mean, where else can you see a beered-up guy in a Santa suit? Or players and coaches come to blows? Or singer Ashanti nearly step on Michael Vick's leg cast? Or last-second strategic adjustments or spontaneous speeches that change the course of games, seasons … history? If absolutely everything inside the chalk is strictly governed by the myriad rules and regulations of the No Fun League, the sidelines are where football gets to cut loose and, literally, color outside the lines a bit.
Several years ago, I watched a game from the sidelines in Jacksonville -- and between the pregame pyrotechnics that singed my eyebrows, a Kevin Greene sighting and hordes of heavy-set humans squeezed into tight spandex pants, it felt more like a Poison concert than a football game. I hated it so much I never wanted to leave. This is also the place where I learned the, um, golden rule of NFL sidelines etiquette: If you see someone huddled by the bench wrapped in a towel, do not approach; they are more than likely relieving themselves. If a bucket is involved you'll want to observe a perimeter of at least 20 feet. Don't ask.
Adding to the "Wipeout" effect of the sidelines is the fact that inside the already packed area a cart with a TV crane is constantly pinballing from end zone to end zone. This thing looks like a metal Apatosaurus and it's almost as friendly. If you ever want to know what truly rules the NFL, just watch this cart move during games, yielding to no one and occasionally mowing down slow photogs like possums trying to cross a country road.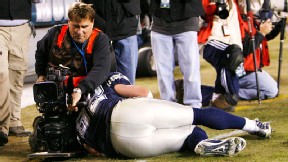 Rob TringaliThe NFL sidelines can be pretty treacherous -- for players and spectators alike.
Of course, the cramped quarters that make the NFL sidelines so unique are also what make them so dangerous. Seventy-two inches of space is hardly ever enough room for packs of angry 250-pound men traveling at full-speed to avoid bulldozing anything, and everything, in their path. The thing is, down this close to the action, it's easy to find yourself mesmerized by the theatre. It's never the size of the players that really shocks people on the sidelines, it's the speed and agility with which these behemoths can move that leaves you standing there in slack-jawed awe as the earth moves beneath your own feet. It literally throws off your depth perception and timing, which is why, I think, there are so many collisions - because in your mind you're going: "This can't be possible, they can't be moving this fast, there's no way they'll make it over to me, hey, wait … what? SLAM! … Ouch, dang it, why is my leg pointed the wrong way?"
Last year, Florida's Will Hill accidentally plowed over a guy in a wheelchair, and Penn State coach Joe Paterno became a guy in a wheelchair after sideline collisions broke his left leg and damaged his knee (2006) as well as his arm and hip (2011). A member of the Saints' chain crew was also hospitalized last winter with head injuries after getting run over during a punt return.
A few weeks ago, a large crew from ESPN The Magazine covered nearly every aspect of a Houston Texans game at Reliant Stadium for an issue we're calling "One Day One Game." Several of my colleagues had never watched a game from this vantage point, and so before kickoff I gave them a quick tutorial. Fireproof your eyebrows, I said (remember those Jacksonville pyrotechnics?). Don't approach anyone in a towel. Stay away from security guards with Paul Blart mustaches. Leave the mascot alone. And give the odd-looking net located near the bench a wide berth. I've had my bangs feathered more than once by a kicker's cleat on his practice follow-through. In fact, the over-under on the number of people hit by some form of errant football on the sidelines during any given game is right around six.
Tweet It Or Post It
Tweet It or Post It: What's the weirdest thing you've ever seen on an NFL sideline? Tweet it (@daveflemingespn or #FlemFile) or post it on my Facebook page.
The other thing I always warn sideline newbies about is the sound. It's nearly impossible to describe and almost as hard to block out afterward. Nothing truly captures the violence of the game like the sounds emanating from the field. The shouting and feral grunting and groaning mixes with the thunder-crack of helmets, shoulder pads and human flesh into this kind of sickening-yet-enthralling orchestral car crash.
Veteran sports photographer Rob Tringali has been working the magical land of the NFL sideline for more than 20 years. In 2001, when then Pats QB Drew Bledsoe was nearly killed by a horrific hit from linebacker Mo Lewis (I'm not exaggerating, Bledsoe was rushed to the hospital with severe internal bleeding), Tringali was probably the closest person to the collision and the memory haunts him still. "I was, maybe, 10 feet or so away and I thought quite honestly that Lewis might have killed Bledsoe," says Tringali. "In all my 22 years of shooting football, I never heard a sound quite like that one, like a car accident happening right in front of you."
Tringali's seen photogs on the front lines at football games get their legs broken by the TV cart, their faces smashed by snowballs and their arms and legs hog-tied by overzealous security. Too many of his colleagues have been run over to count. Jerry Rice once smashed into him and busted his $10,000 lens. He kept the 600mm lens, covered in Rice's cleat prints, as a desktop memento. "On the humorous side," says Tringali, "back in the 1990s, Lawrence Taylor was chasing the Vikings quarterback to the sidelines, dove at him and ended up right next to me. He looked right up at me and said, 'Man, I am mother-effing tired.'"
Ah, yes, after it's all said and done, these are the moments -- these brief, unfiltered, unrehearsed moments -- that make the sidelines such a special place. I always make a point of walking the empty, slick and confetti-covered field after each Super Bowl and, I know it's silly, but I swear the energy from the triumphs and missed opportunities still echo off the space down there. In the final moments of the 1995 AFC Championship Game in Pittsburgh, I worked my way down from the press box to the southwest end zone just a few feet from the massive NFL logo. I got there just in time to watch Colts quarterback Jim Harbaugh heave a Hail Mary on the final play of the game that, for a split second, sat in the lap of receiver Aaron Bailey before rolling helplessly to the frozen turf. When the ball finally came to a rest, just a yard or two from my feet, the Steelers had returned to prominence and the Cinderella run of the Colts and their goofy QB was over.
Harbaugh has said many times that the play in Pittsburgh still haunts him. And part of me thinks that one moment from the sidelines all those years ago is in some way connected to his actions on the sidelines in Detroit just last week.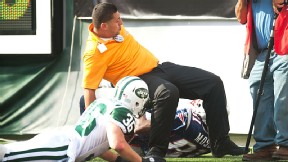 Rob TringaliEven the security guy isn't safe when some big, fast and physical NFL players come bounding his way.
At the very least, both of those moments are why the NFL sidelines, for all their flaws and freaks, are such coveted real estate. To hear the pure joy during touchdown celebrations, to eavesdrop on the coaching conversations, to see the QBs studying polaroids looking for one wrong step or hip turn from a cornerback, to listen as defensive linemen discuss stunts or teammates genuinely anguish over an injured teammate or console someone after a mistake -- to witness these things with your own eyes makes everything else in this strange, lovely alternate sports universe worth it.
Even the fire and urine.
David Fleming is a senior writer for ESPN The Magazine and a columnist for ESPN.com. While covering the NFL for the past 16 years at Sports Illustrated and ESPN, he has written more than 30 cover stories and two books ("Noah's Rainbow" and "Breaker Boys"), and his work has been anthologized in "The Best American Sports Writing."