Commentary
Flem File: Best of the bad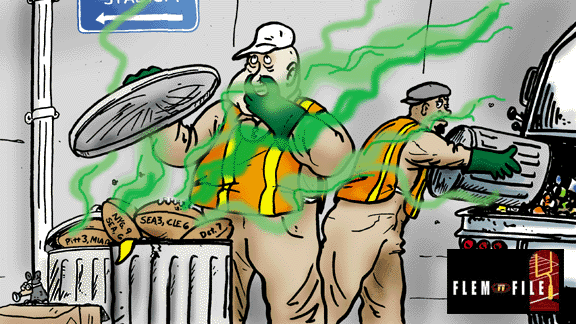 Kurt Snibbe/ESPN.com
I deserve hazard pay.
Part of the research for this week's Flem File required me to do something no sane person would attempt: purposefully rewatch last week's epically awful Cleveland-Seattle game. A contest, "won" by the Browns, 6-3 and featuring zero touchdowns, 12 punts, 15 penalties, three turnovers, two botched field goals, poor officiating, a pair of QB ratings low enough to store meat in and almost 43 minutes of possession for the Browns who, in all that time, only twice managed to get within 30 yards of the end zone.
It's not often you see an NFL game in which the winner was outscored by both Manchester City and the losing team from the World Series game the night before. "This game is not for the weak of heart," said Browns first-year coach Pat Shurmur, whose team moved to .500 this late in the season for only the fourth time since 1999. "You watched it, right?"
Uh, yeah, Coach, I watched it. And rewatched it. I wanted to see for myself just where this grand Mistake on the Lake ranked alongside some of the worst NFL games of the past decade. And after about four minutes, I already wanted to scratch my eyes out with a dull fondue fork every time Charlie "My name? Keith Stone" Whitehurst (12-of-30 overall and 1-for-7 on passes of 15 yards or more) dropped back to pass. How can you tell that Browns quarterback Colt McCoy hasn't been in Cleveland that long? After the game he said he couldn't remember the last time he played 60 minutes without seeing a touchdown.
Stick around, kid. Stick around.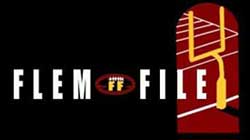 Because any list of the worst NFL games of the past decade is bound to have a very specific color palette: orange and brown. I can't tell you how many times I stopped in the middle of my research, put my pen down and said to myself, "Is it too late for law school?" and "Good God, Browns fans deserve a hug."
Including Sunday's game, my list of WGE nominees stretched to 47 games, and about one-third of those involved the Browns, followed by the Bills, Jets, Seahawks and Panthers. It's weird: The Raiders, Bengals and Lions have lost a lot of games in the past decade, but for whatever reason, they rarely have been boring.
Of course, everyone's parameters about what makes a bad game will differ, but for me it starts with low to nonexistent scoring. It's wrong, I suppose, but I enjoy that these teams spend millions of dollars and thousands of man-hours, take themselves so damn seriously and then, in the end, manage to score only three more points than I could have done by using a random collection of strangers off the street.
That's why blowouts don't qualify, even though they can be almost as boring. Not in my book. It takes two bad teams and two sloppy performances to make one classically bad game. The less scoring, the better. Although scoring isn't everything, I've seen my share of great, nasty, low-scoring street fights between the Steelers and Ravens.
Let's see, what else? In a good bad game, there shouldn't be anything at stake. It helps if both teams have losing records. There can't be any subplots (like Aaron Rodgers getting hurt in the Pack's 7-3 loss against Detroit last season), epic performances (like Curtis Martin's 288 all-purpose yards in a 6-0 Jets victory over the Steelers in 2003) or last-second heroics (like the defensive stand at the end of Washington's 10-3 win over Philly in 2008). Bad games can't go into overtime because the compelling nature of sudden death ruins them. Bad games should have the four P's: punting, penalties, piss-poor passing and paltry point totals.
When in doubt, if I'm watching a game and thinking, "Geez, I could be out cleaning the gutters right now," it probably made the list. So here it is. Enjoy.
Tweet It Or Post It
I might have missed some major NFL stinkers from the past 10 years. So by all means, if you have nominations, if you disagree or if you agree, tweet it (@daveflemingespn #FlemFile #worstnflgamesever) or post it on my Facebook page (DavidFlemingESPN).
But first, before reading, please be sure to hide all your fondue forks.
Green Bay 9, New York Jets 0 (2010) -- After this game, the New York Post said the Jets (seven penalties, three turnovers and six drives of fewer than 10 yards) should change their obnoxious chant to W-R-E-C-K-S. WRECKS-WRECKS-WRECKS. Pronounced: REX-REX-REX. You know you've had a bad day at the office when your most explosive play is a fake punt on fourth-and-18 that went for 17 yards. The Packers weren't all that much better. Sure, it's hard to imagine the current Packers offense mustering only three first downs and three field goals in 60 minutes, but a year ago this was a regular occurrence for the world champs. In 2010 they were involved in three games that easily could have made the list, including a 7-3 loss to Detroit and a 10-3 win over Chicago. It could be worse. In the land of bad football, it can always be worse. In 1936 the Packers tied the Chicago Cardinals 0-0.
Cleveland 6, Buffalo 3 (2009) -- Somehow it's fitting that although the rest of the world recognized this as one of the worst games in NFL history -- in the second half, QBs Derek Anderson and Trent Edwards combined for a passer rating of 38.6 -- former Browns coach Eric Mangini described his first win in Cleveland as "beautiful" and "great." The Browns won for the first time in 10 games while the Bills (flagged 13 times) lost for the 12th time in 15 games. There were 14 punts, and on 20 of 24 drives, the teams failed to move the ball more than 23 yards. If we gave out a least valuable player award for these games, the toilet-bowl-shaped trophy would be named after Anderson, who turned in the worst performance ever by a winning quarterback: 2-of-17 for 23 yards and a pick for a passer rating of 15.1. He completed 11.8 percent of his passes for an average gain of 54 inches. That's horrific to you and me and any sane person who respects and enjoys football. "Fantastic," according to Mangini. Yeah, that seems about right.
Carolina 17, Oakland 6 (2008) -- Don't let the 17 points fool you. Quarterback Jake Delhomme threw a touchdown pass on the opening drive after the Raiders fumbled the opening kickoff at the 16. He then completed only 10 more passes the rest of the game -- and four of them were to the Raiders. How inept was Oakland? It was the first time in more than three decades that a quarterback with four picks and a completion percentage below 30 won the game. The Raiders had gone nine quarters without scoring a touchdown, and it looked as though they would go 90, holding the ball for a torturous 37 minutes but managing only two third-down conversions, three turnovers, a pair of long field goals and, of course, 10 penalty flags. After this game I started looking at the Raiders' logo in a whole new light: a guy who's blind in one eye, is wearing a helmet from the 1920s and has been stabbed in the back twice.
Pittsburgh 3, Miami 0 (2007) -- On Twitter this week (@DaveFlemingESPN), when I asked for #worstnflgamesever, this was the game most people nominated. Thanks to an epic storm and brand-new sod put down at the last second, the Steelers and the 0-11 Dolphins played slip 'n' slide on a floating field and were 17 seconds from the NFL's first scoreless tie in 64 years. The Steelers should know that bad weather doesn't always mean bad football. In 2003 Curtis Martin rushed for 228 yards while leading the Jets to a 6-0 win against Pittsburgh. This time, though, rain washed away most of the yard markers along with the football skills of both teams. It looked like a "Three Stooges" episode. Pregame lightning also cut the warm-ups short as well as the national anthem and player introductions. There was no use for it anyway, not for the lowest-scoring Monday night game in history. If fans in Pittsburgh wanted skill, scoring and water, they should have walked over to the Igloo, where the Penguins scored three or more points 63 times in 2007.
Baltimore 9, San Francisco 7 (2007) -- One scout said that the 49ers "set offensive football back about a decade" in this game. I think that's wrong. It was actually more like 25 years. The 49ers had 56 total yards of offense midway through the third quarter. And for the fourth time in five games, the 49ers failed to gain more than 200 yards of offense. Take away two late, fluke plays of 65 yards, and they actually failed to gain 100 against eight- and nine-man fronts by the Ravens, who, I believe, call these schemes Fan Coma and Asleep by the Half. I've seen some epic, intense, low-scoring performances by this Ravens defense, including a knockdown, drag-out 13-9 brawl against the Steelers in 2008. This, unfortunately, was not one of them. Instead, I swear, about midway through the second half you could see 75 percent of the fans thinking, "Wait, how much did I pay for these seats again?"
San Francisco 9, Minnesota 3 (2006) -- The worst part is that Joe Montana had to witness this. In attendance for the 49ers Alumni Day, Montana re-enacted "The Catch" to Dwight Clark during halftime. That was by far the most exciting part of the game, which featured 42 yards rushing by the 49ers and a 21-yard field goal for the Vikes -- and that was it. If 49ers fans hadn't missed Montana and his dynasty days, they sure did after watching this turd. QB Alex Smith had 105 yards passing, and Brad Johnson barely surpassed that while adding three turnovers. His best pass came on third down on the final drive of the game, and it hit Troy Williamson right in the numbers before he fell helpless to the ground. Vikes fans remember it as "The Drop."
[+] Enlarge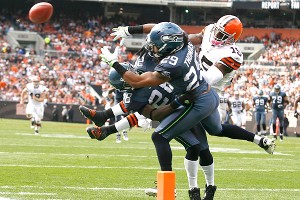 Matt Sullivan/Getty ImagesSeahawks defenders Walter Thurmond, left, and Earl Thomas and Browns receiver Greg Little fall all over themselves in dreadfulness.
Carolina 10, Atlanta 3 (2006) -- Only Scrooge and Woody Hayes would have enjoyed this game. Played on Christmas Eve in Atlanta between two teams hovering around .500, this game featured a scoreless final 43 minutes of play as well as 52 relentlessly boring rushes (12 in a row at one point) by the Panthers, who held the ball for what felt like a 42-minute long dry heave. It was the first win in five years (and 17 games) for Panthers QB Chris Weinke, who completed four passes for 32 yards and parlayed that performance into his current job as -- of course -- the director of some swanky quarterback academy in Florida.
Miami 10, Cleveland 7 (2004) -- In this epic battle between last-place teams with interim coaches, when Olindo Mare kicked the winning field goal, the handful of fans still in attendance stood and cheered. Not because they were happy. But because they were relieved they wouldn't have to endure overtime. "Both teams scored early, and we thought it was going to be a shootout," said clueless Browns wide receiver Dennis Northcutt. "Then it was just drive and punt, drive and punt." One reporter summed up the difference in the contest perfectly when he said the Dolphins were "just a little less awful than the Browns." In their ninth loss in a row, the Browns completed just nine passes and in the third quarter suffered an interception and two fumbles … on the same play.
New York Giants 9, Seattle 6 (2002) -- The Giants won this game on a 47-yard field goal by a kicker they had cut in the preseason, but the first half was so godawful bad, their own fans booed them at halftime. No wonder. Four of their first six drives produced 2 yards or fewer, and they went the first 40 minutes of the game without scoring, even with two shots from the 1-yard line at the end of the first half. Somehow, though, the Seahawks were worse: Shaun Alexander rushed for 37 yards, and Trent Dilfer threw for just 108 yards and a costly pick in the final two minutes of the game that sealed the snoozer. "We were sleepwalking in the first half, and the second half we kind of woke up," Michael Strahan said. The result is a nightmare no one in Seattle or New York will ever forget.
Detroit 9, Dallas 7 (2002) -- Because the Lions won this on a field goal by Jason Hanson with 48 seconds left ,it almost didn't qualify for the list. Then I saw the QB matchup for the ages: Joey Harrington versus Chad Hutchinson. Do I really need to say any more? Harrington completed 14 passes and was picked twice, and Hutchinson fumbled three times and was sacked five times. These two went 33 minutes without scoring and were 2-of-15 on third downs. Here's how the Dallas drive chart starts: Punt, Punt, Punt, Punt, Fumble, Punt, Punt, Punt, Fumble, Kickoff, Punt, Kickoff, Punt, Punt. Good times. Good times. After the Lions gained 50 yards in the first half, the deadlock was finally broken by a Detroit "drive" of four plays and minus-7 yards and a field goal. "We've got a three-game winning streak at home," said then-coach Marty Mornhinweg, leaving out, for the moment, the fact that his Lions had also lost 12 in a row on the road.
Five from 2011 that could make the list
Week 8, Indianapolis at Tennessee --
Based on the recent performances of these two offenses, this game could be so ugly, they might write a country song about it someday.
Week 9, Miami at Kansas City -- This might be the Dolphins' best chance at a W, and to get it against a team like the Chiefs, Miami will have to score at least six points.
Week 10, Jacksonville at Indianapolis -- Enough. Let's make the pregame coin toss to see who gets Andrew Luck and be done with it.
Week 11, Jacksonville at Cleveland -- The league's worst passing attack against the league's worst rushing attack, this is the kind of matchup that makes you want to rake leaves all Sunday.
Week 14, St. Louis at Seattle -- At its current pace, the Rams' offense should score 200 points … sometime in 2013. At least the weather will be nice.
David Fleming is a senior writer for ESPN The Magazine and a columnist for ESPN.com. While covering the NFL for the past 16 years at Sports Illustrated and ESPN, he has written more than 30 cover stories and two books ("Noah's Rainbow" and "Breaker Boys"), and his work has been anthologized in "The Best American Sports Writing."