Commentary
Flem File: Turkey of the Year Awards
Originally Published:
November 24, 2011
By
David Fleming
| Page 2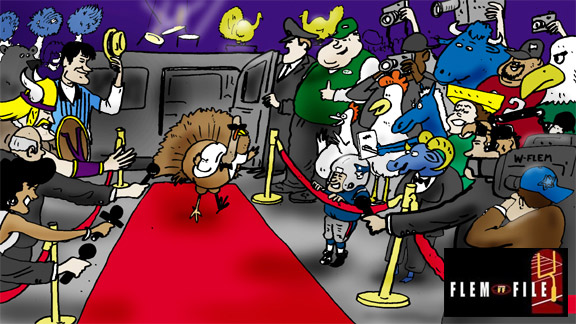 Kurt Snibbe/ESPN.comWho is a winner (technically a loser) in the Flem File's 15th annual Turkey of the Year Awards?
Do anything long enough in this business and eventually you'll see it all. Well, I think we've officially hit that point with the Flem File's 15th annual Turkey of the Year Awards.
The story I'm talking about -- and the leading candidate to take the award we give out each year for the worst behavior in football -- has it all: gambling, drugs, guns, player payoffs, threats of violence against coaches, and bribes for big plays for players who usually weigh fewer than 75 pounds.
In May, an "Outside the Lines" investigation revealed that all of this behavior, and more, was taking place in the South Florida Youth Football League, a pee-wee football program involving 30,000 kids, many as young as 5, from Palm Beach to Miami. One law-enforcement official estimated that one-fourth of the crowd at games was criminal. And you thought Dolphins games were brutal to watch.
Well, as bizarre and sad as the SFYFL story is, I'm sorry to report that there are many other potential winners for this year's TOY Award.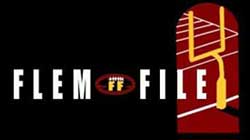 And the nominees are…
ROGER GOODELL AND EARL BENNETT: A ridiculous fuss over expensive, ugly shoes? Is this the NFL or "Sex in the City"?
PATRICK WITT: The Yale quarterback skipped his Rhodes Scholarship interview so he could play Harvard. Ivy League football players everywhere rejoiced. "You see," they shouted, "we have our priorities completely out of whack just like real college football players!"
MOHAMMAD NOSRATI: Iranian futbol player suspended for "goosing" teammates during goal celebrations. Talk about your hand-ball infractions.
TOY RING OF HONOR (1999) DION RAYFORD: Still my absolute favorite turkey during the last 15 years. The Kansas football player wedged himself, Winnie the Pooh-style, into the drive-thru window of a Taco Bell after becoming enraged that workers had left a chalupa out of his order.
ANTI-TURKEY AWARD: This year it goes to Pinckney (Mich.) High School senior Brianna Amat, who kicked the winning field goal after being named homecoming queen at halftime.
TIKI BARBER: After Barber and his girlfriend were forced to hide from the player's then-pregnant wife in the attic of his agent's home, Barber described the experience as being "a reverse-Anne Frank thing." Barber's NFL comeback failed. Probably because he could never run the football as well as his mouth.
MAJOR WRIGHT: The Bears safety and several other players had to apologize after their likenesses appeared in an ad for Exxxotica Expo 2011, an event billed as the largest gathering of adult film stars. But let's be honest, you thought Major Wright was a porn name, too.
QWEST FIELD: Seahawks fans complained that they were paying $8.50 for large 20-ounce beers that were the same size as the mediums. It's hilarious that people dumb enough to pay more than two bucks for an ounce of beer would complain that they were getting ripped off. Besides, by now shouldn't Seahawks fans be used to getting less than what they paid for?
DESEAN JACKSON: Philly wide receiver was benched for sleeping through an important football function but, really, isn't everyone on the Scream Team guilty of the same infraction?
ADRIAN PETERSON: Frustrated during the lockout, Peterson said playing for millions of dollars in the NFL was like "modern-day slavery," making him the first running back in NFL history to rush for 1,000 yards with one foot in his mouth.
TOY RING OF HONOR (2002) PETER FILANDIA: This Australian Rules footballer was suspended 10 days for biting an opponent's testicles during a match. I've got three for this one: (1) Suddenly my father-in-law's oyster stuffing doesn't sound so bad; (2) Trying to type funny line, but, can't, breathe, stomach cramping, sweating … Must. Move. On; and (3) I just realized that the report says "testicles" -- plural.
DAVID TYREE: Hero of Super Bowl XLII said he'd trade his iconic catch and his ring for a ban on gay marriage because of the "anarchy" it would bring. The state of New York legalized gay marriage anyway and ignored Tyree, which must have reminded him of 99 percent of his football career.
THE REST OF US: I'm nominating the other 299,950,000 football and music fans in the country who didn't sign the petition to ban Nickelback from playing halftime of the Lions-Packers game.
TOY RING OF HONOR (2010) BRETT FAVRE: Let's see, his post-Green Bay career now includes, basically, getting two coaches fired, orchestrating two franchise meltdowns, yet another late-game interception that cost his team a shot at the Super Bowl and an alleged sexting scandal. If it wasn't for that "SNL" open-fly skit, Favre's comeback might have been a total waste.
OHIO UNIVERSITY: Did you see the YouTube video of the team freaking out after being told about their new black uniforms? The audience from Oprah Winfrey's My Favorite Things saw the clip and said, "Geez, calm down fellas."
REX RYAN/PACMAN JONES: I don't have anything on either of these guys right now but there's a pretty good chance they'll both do something stupid and/or obnoxious in the few hours between when I file this story and it goes up online, so just type it in yourself.
MIKE SHANAHAN: You know the Shanaplan is working to perfection when Redskins fans start longing for Jim Zorn.
TIM TEBOW: Relax, he's not nominated. But we do interrupt this normally lighthearted column to weigh in on the whole football-and-God thing by sharing a section from a 2007 ESPN the Magazine story I did on fellow evangelical QB Jon Kitna: "Dissent of any kind is tantamount to blasphemy in the NFL, where nothing is more sacred than being considered a team player -- especially when a team is winning. The huge importance placed on unity in football creates a general intolerance of any kind of locker-room pluralism -- something Christian athletes often mistake as tacit approval of their preaching." Food for thought.
TOY RING OF HONOR (2009) TREVOR WIKRE: A big, sad, high-four for the utterly misguided right guard from Division II Mesa State College in Grand Junction, Colo., who decided to have his pinkie lopped off so he wouldn't miss a game.
AD INDUSTRY: If I go just by the ads I hear and see during football games, then, apparently, I'm an overweight, bald and impotent fool who smells really bad and is so desperate to bolster my questionable masculinity I'll rush out and buy products from companies that consider me so dumb I won't realize how much their ads insult me.
LOUIS MURPHY: In April Gainesville, Fla., police arrested the Oakland Raiders wide receiver for possession of Viagra without a valid prescription. According to police, it took three officers to take Murphy into custody. That's because … nope. On second thought, I'm not touching this one.
BRIAN ROBISON: Vikings defensive end gets fined $20,000 for kicking Packers guard T.J. Lang in the groin. If things continue the way they have in Minnesota, Robison has the team MVP award locked up and, is it me, or does the NFL seem to care more about protecting its image than its players' testicles?
NORV TURNER: After yet another disappointing season for the chronically underachieving Chargers, all I can say about Turner's career as a head coach is that he's a great offensive coordinator.
CHRIS JOHNSON: After picking up 13 yards on 12 carries in Week 10, the Titans running back needs to average only 249 yards per game the rest of the way to break 2,000 yards.
JOHN ELWAY: The guy who scrambled and improvised his way to the Hall of Fame can't support Tim Tebow until he learns to throw from the pocket. That seems fair.
TOY RING OF HONOR (2008) HORNY BILLS FANS: During a game against the Jets, Buffalo law enforcement officials arrested a couple having sex in a restroom of Ralph Wilson Stadium. I'm supposed to provide a wholesome punchline here suitable for all audiences, but everything I came up with includes the phrase "wide right."
Tweet It Or Post It
Nominate your own TOYs and become a FlemFile Tweep (Fleep?) via Twitter (@DaveFlemingESPN #TOY) or vote on the FlemFile TOY Facebook poll (Facebook/DavidFlemingESPN); come on, what else are you going to do on Thanksgiving, talk to your family?
JORDY NELSON: I hate to break it to you, pal, but defenses don't take you lightly because of your skin color. They take you lightly because you seem to drop half the passes thrown to you and because you had six career TDs heading into this season.
TEBOW FANATICS: While we rightfully (and righteously) fawn over Tim Tebow, let's not forget that there would be no late-game miracles without the Denver defense keeping the Broncos in these games for 58 minutes.
RAHEEM BROCK: In June, the Seahawks defensive end was arrested for walking out on a $27 bar tab. I'm no fitness expert, but the Seahawks' Dine & Dash offseason workout program doesn't seem to be working.
JASON PETERS: The Eagles Pro Bowl blocker was arrested in Shreveport, La., for playing music too loud. His lawyer should argue that he needed the mind-numbingly loud music in order to block out the fact that he was in Shreveport.
TOY RING OF HONOR (2006) MITCH COZAD: Cozad (pronounced: Gillooly), the backup punter at Northern Colorado, was convicted of second-degree assault after police accused him of stabbing the team's starting punter.
DEGC: Detroit Economic Growth Corporation. Normally we keep the turkeys limited to just football, but in this case I'm happy to make an exception. When General Motors offered to step up and turn the old site of Tiger Stadium into a youth baseball park, this group of dimwits decided that with only 40 square miles of abandoned land in Detroit (roughly the size of Buffalo, honest) they just couldn't spare a few acres to help kids and preserve an historic site.
THINGS I'M THANKFUL FOR: Miami University hockey; Pop-Tarts; the Navin Field grounds crew that takes care of the Tiger Stadium lot; The Black Keys; Vladimir Konstantinov's art; cranberry relish in a can; Fred Jackson; London Fletcher; Andre Carter; Steve Smith; bodysurfing; the sight of Lambeau Field towering in the distance against a cold, gray sky as you approach Green Bay; the Pottsville Maroons; and getting to write my first Turkeys column in 15 years without mentioning a single Lion.
And our final nominee…
DAVID FLEMING: Player-hating, no-good-book-writing, how-do-I-get-his-job, keyboard-coward. There. Happy? Now you don't have to waste your time, on such a busy day at work (wink-wink) with something like hate emails.
OK, Happy Thanksgiving Flem Filers, and remember: you're all Turkeys of the Year to me -- Flem.
David Fleming is a senior writer for ESPN The Magazine and a columnist for ESPN.com. While covering the NFL for the past 16 years at Sports Illustrated and ESPN, he has written more than 30 cover stories and two books ("Noah's Rainbow" and "Breaker Boys"), and his work has been anthologized in "The Best American Sports Writing."