Commentary
Flem File: Inner workings of a QB wizard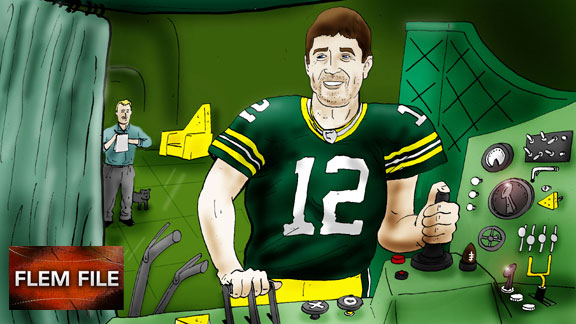 Kurt Snibbe/ESPN.com
Deep inside Lambeau Field, the Packers' inner sanctum is protected by a large, green metal door. Even with the proper security code the heavy door still lurches open in a slow and dramatic way. And as I stood in the doorway during this theatrical pause on the afternoon of Nov. 10, a team official summed up the moment rather nicely when he said, half-jokingly: "Prepare to meet the wizard behind the curtain."
He wasn't that far off, really.
The Packers have won 17 games in a row, thanks in large part to quarterback Aaron Rodgers, who now ranks No. 1 in passer rating (127.7), completion percentage (71.8) and touchdown throws (33) against just four picks. He's also the only QB in NFL history to register a passer rating of 110 or more in 11 consecutive games. In light of all this my assignment for the Interview Issue of ESPN The Magazine was a doozy: track down the leader of the world champion and still undefeated Green Bay Packers and, ya know, get him to spill his guts about what might just be the greatest season ever by a quarterback.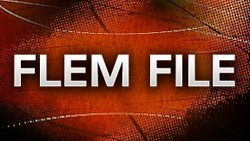 The finished product is now online and on newsstands. But the reaction to the piece was so strong I thought I'd follow it up in this week's Flem File with a kind of behind-the-scenes look at the interview along with some deleted scenes, if you will.
On the other side of that Lambeau doorway, sunk low in a large, cushy black leather chair, was the wizard himself. Rodgers was dressed in sweat pants, a hoody, a blue- and white-striped knit cap (it had been snowing, on and off, all day; welcome to Green Bay) and he had what looked like about a week's worth of stubble on his chin. He was tapping away on his phone but then turned it off and put it away. (A good sign, I thought, and a courtesy not every athlete extends.)
We weren't in a room, exactly, but something more like an alcove just off the team auditorium. Just behind Rodgers' head, in fact, was a bank of what looked like computer or system routers stacked in a black cabinet from floor to ceiling, an odd tapestry of panels, wires and little green flashing lights. Other than that oddity it was a good spot, though -- private and quiet.
Somehow I had never seen this area, even though the Packers and I go back a ways. All the way to Super Bowl XXXI, in fact, where my assignment for Sports Illustrated was to ride in the limo with MVP Desmond Howard from the Superdome to the Packers' hotel. His knees bumping into his agent's inside the crowded limo, Howard fiddled with an unwrapped cigar and worried about his new SUV parked back in Green Bay -- completely clueless about the Wonderland-like rabbit hole he was about to step into. The same kind of transformation Rodgers experienced just nine months ago in Dallas.
But for this interview I didn't want to talk about the Super Bowl, or Brett Favre, or the Vikings (that week's Monday night opponent) or even his ubiquitous insurance commercial. My request was simple and straightforward: a chat about the craft of quarterbacking. Because, despite all the endless, 24/7, wall-to-wall coverage of the NFL, very rarely does anyone ask these guys about how they do their jobs. Sure, we ask them about the job results -- the wins, the losses, the interceptions, the touchdowns, etc. -- but not about the actual nuts and bolts, the tiny, intricate, complex minutia of how they actually manage to get all those things done, or, sometimes, not done. And here's a little secret: in this regard athletes are just like the rest of us, most of them absolutely love to talk about, are dying to talk about, the deeply technical aspects of their passion and obsession which, in this case, is the unique craft of QB'ing.
Before the 2010 draft I did a piece for The Mag with Jimmy Clausen on the art and mechanics of throwing a football. What seems like a simple thing is actually one of the most kinetically complex motor skills in all of sports. Which is why we titled the piece "As easy as 1, 2, 3 … 756, 757, 758." The long-term benefit of doing this story and talking at length with a dozen or so QB gurus like Steve Clarkson, Troy Calhoun, Jim Zorn and Sonny Detmer, is that, in some small way, it has allowed me to speak to quarterbacks in their own language, if you will.
[+] Enlarge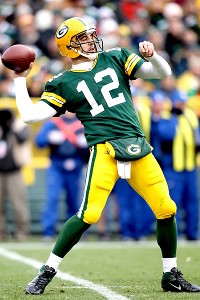 Matthew Stockman/Getty ImagesAaron Rodgers ranks No. 1 in passer rating (127.7), completion percentage (71.8) and touchdown throws (33) and has been intercepted just four times.
Because if you ask Peyton Manning about his feelings, his face will instantly begin to resemble that blank blue "safe mode" screen your computer goes into when it gets hit by a virus. But ask him why the deep safety's left cleat was 18 inches outside the numbers even though he was supposed to have inside leverage on a touchdown pass to Dallas Clark, and he'll talk your notebook full until the building empties and the janitors are flashing the locker room lights because they want to go home for the night.
I had never spoken to Rodgers at length before but I had a pretty good feeling he was one of these guys.
Just in case he wasn't, I had a handful of plays at the ready to stir his memory and our conversation. There was a ridiculous play-action bootleg he ran against the Vikings where he threw a perfect 26-yard strike, on the run and between three defenders to Greg Jennings. There was a 50-yard TD pass to Jordy Nelson against the Broncos where Rodgers froze veteran safety Brian Dawkins and prevented him from gaining inside leverage on a deep seam route. There was a pass in Atlanta on third-and-8 with the Packers trailing 14-0 where he bought enough time with his feet to allow a long, crossing pattern to develop downfield for a huge, possibly perfect-season-saving pass. I even had the details down from one of his few picks this season where his feet, his eyes and his reads escaped him for a moment against the Bears and Brian Urlacher made him pay.
But, as it turns out, I didn't need any of it. Rodgers is as bright, as chill and as helpful and engaging as they come. I barely got halfway through my opening question about a TD against the Chargers when he jumped in with:
" … that's a run-pass option play where we read what the defense is doing, check to the pass or leave the run on. The way they were deployed pre-snap, it looked like they were gonna bring that eighth guy down into the box and give him the option of reading the run. But they really didn't do that. I had just told people in the huddle the check I might go to and when I saw that I alerted them under center to switch to the pass. James Jones then ran a great route. A nice little stutter and go. I gave a pump fake. He ran by 'em. I put the ball there. Touchdown."
He broke that play down for a few minutes, almost challenging me to keep up. I hung on for a while before I had to put my hand up and call a timeout and ask him to go back to explain a few things. It all seemed so complicated but the Packers make it look so effortless. I asked him if it felt that way.
"Not effortless," he said. "Very fluid and smooth. But not effortless. Expectations have changed. A lot of that changed with the Super Bowl. The expectation when we take the field now is not only are we gonna win but we're gonna play well offensively and put up points. A lot of it is due to the way we practice. We practice at a high level with high intensity and I see a direct correlation between the way we practice and prepare and the confidence that we then have that we can go do it in the game."
Tweet It Or Post It
Will Aaron Rodgers finish with the best all-time season for an NFL quarterback? Tweet your opinion (@daveflemingespn #FlemFile) or post it on my Facebook page (DavidFlemingESPN).
You learn quickly in talking to Rodgers that Tom Brady has had a huge influence on him.
"Tom's one of the best of all time," he said. "He has to be in the discussion of one of the two, three best of all time to ever play the game at this position. I enjoy watching him play and seeing how he attacks defenses."
A lot of other quarterbacks also came up.
"Different guys get it done in different ways," he said. "Look at Jay Cutler throw. He breaks a lot of the so-called guru fundamental rules but the guy has a cannon for an arm. He can have his hips going one way and his feet going another way but he has such great shoulder torque and hip torque to go along with his incredible arm that he can throw it from different angles and still make the proper throw."
Even what's his name, that other Packers QB and Wrangler pitchman, came up. Well, kinda.
"Watching is a very important part of learning," he said. "I was a backup for three years and I made sure I was watching the guy in front of me. Anything he did well, or did better than me, I wanted to figure out how he did it. I watched on Sundays and I watched him during the week and I tried to learn and incorporate the good things I saw into my own game."
Thinking about his own development the past seven years, Rodgers was very impressed by the immediate success of rookies such as Andy Dalton, Cam Newton and Christian Ponder.
"It's got to be exciting for those organizations because they already know that they have guys who they can build around knowing that they are only going to continue to improve with the numbers and the wins they put up," he said. "Because it takes a while to really figure out what you're doing back there, it really does. And then, after that, you have to learn to react to what the defense is doing with all that movement. It would be nice if they would just stay in the same spot the whole time. But they're moving all over the place and you have to learn what they're doing and then you have to learn how to move them yourself with things like your eyes."
One of the things Rodgers kept coming back to was how football, and especially the quarterback position, was a game where winners and losers are determined by the smallest of margins.
[+] Enlarge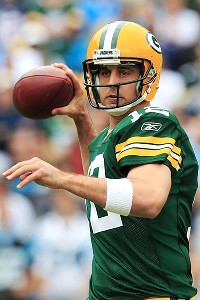 Streeter Lecka/Getty ImagesRodgers makes his job look effortless sometimes, but it's not. It's just really "very fluid and smooth," he said.
"It's a game of inches and of quick reactions," he said. "Another big play from the Super Bowl was the throw I made to Greg Jennings down the middle in the second quarter. The safety, Ryan Clark, was coming from the back side and you're looking at him being less than a 10th of a second away from making that an incompletion instead of a touchdown that put us up by 18."
On the mental side of the position.
"It's really what Yogi Berra said: 90 percent of the game is half mental. Or something like that," he said. "It's such a mental game. And at quarterback there is so much they put on you, you have to be really sharp mentally."
Are there exceptions?
"Unless you are so much more athletic than the defense or you're running a scheme that doesn't put a lot of emphasis on reading the defense or is predominantly run oriented. Although most of those are falling away in this league," he said. "But if you're seeing the same thing all the time -- say, a one-high safety with man coverage underneath -- then it's different, you're just dropping back and throwing the ball to one of your one-on-one routes. But if they're playing some zones and disguising things and changing things and attacking you in different ways on every down then you've got to have those quick reads and reactions."
We also talked about throwing mechanics a lot. And he kept mentioning "release point." It's like a follow-through in golf or a jump-shooter's wrist snap in basketball -- when a quarterback is in the zone his hand and arm end up in the same place after every throw.
"It's about hitting the same spot with your throwing motion, your arm, when you release the ball," he said. "Some guys are more sidearm, some guys are way over the top. I'm kind of between a ¾'s release and over the top. You hear it with major league pitchers: he's a side-arm guy, he's a ¾ guy, he's an over-the-top guy. Accuracy as a passer is about this: building up enough muscle memory so that I know if I hit this same release point, with this kind of effort, with this kind or trajectory, then I have a very good shot the ball's gonna end up exactly where I want it to go."
We ended up talking for almost 40 minutes. It went by fast. The one thing I really wanted to ask about but didn't get to was the concept of throwing receivers open with back-shoulder passes.
In the end, what I came away with -- besides a new understanding and appreciation for the complexities of playing quarterback at the highest possible level -- is the feeling that despite the immense and mounting pressure on him, Rodgers is genuinely still having a blast playing this game.
And after it's all said and done this year that might set him apart almost as much as his record-breaking achievements.
David Fleming is a senior writer for ESPN The Magazine and a columnist for ESPN.com. While covering the NFL for the past 16 years at Sports Illustrated and ESPN, he has written more than 30 cover stories and two books ("Noah's Rainbow" and "Breaker Boys"), and his work has been anthologized in "The Best American Sports Writing."