Commentary
NFL playoffs have been unpredictable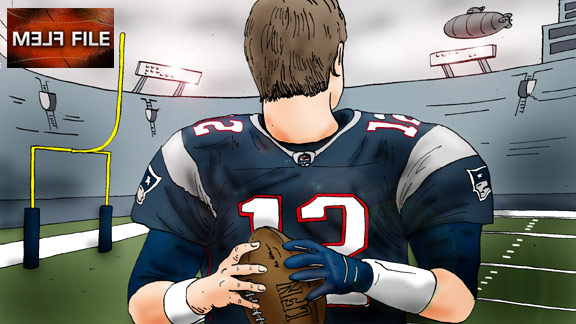 Kurt Snibbe/ESPN.com
Wednesday, just another boring, predictable, nothing-to-see-here moment in the NFL's ho-hum playoffs.
Nothing big really, just supposed breaking news on a Hall of Fame quarterback from a B-list actor, speculation that the Chiefs offices are bugged, rumors that a member of America's Team scuffled with Lil Wayne's entourage, Tom Brady securing his spot among the postseason leaders in punting, a supposed draft bust and basket case tight end leading the resurgent 49ers and two of the worst defenses, maybe ever, rolling right along toward the Super Bowl.
If the first two and a half weeks of the NFL playoffs have taught us anything, it's that, um, we don't have any idea about what the next two and a half weeks will bring.
The Giants catch a break on the weather by going to Green Bay. Tim Tebow looks sharper than Aaron Rodgers. The most elusive receiver in the game weighs 265 pounds. The Texans return punts, backward. Some fumbles aren't actually fumbles. Bill Belichick is cracking jokes. The Steelers look soft. The Lions look solid.
Right now in the NFL up is down, back is front and wrong is right. Everything about the 2012 NFL playoffs is beautifully backward, divinely contrarian and horribly screwed up -- and I don't ever want it to stop.
And so, in keeping with the spirit of things, this week we're officially renaming this the Melf File and collecting a list of all the contradictory things we've learned so far in the NFL playoffs, er, offplays.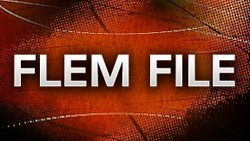 Like this: After such a long, tough season Flem knows what an advantage it is to get to rest your starters so they're fresh and healthy for the postseason. Melf, on the other hand, has learned (thanks to the ESPN Stats & Info people) that since 2002, of the five teams with the No. 1 seed that rested their QB in Week 17, like GB's Aaron Rodgers, who had 21 days off between starts, only one (2009 Saints) won the Super Bowl.
Flem is also certain that college coaches can't cut it in the NFL. Melf would just like to say: Jim. Harbaugh.
Flem says the high-stakes NFL playoffs are a time when the true pros in our biz truly shine. Melf can't comment right now, he's chasing down a lead from Judd Nelson's Twitter account on the Colts' draft plans.
Flem totally buys into the idea that scouts, GMs and draft experts know what they're doing. Melf points out that these guys missed on as many as 25 percent of the players currently in the NFL, including the best back (Arian Foster), the best corner (Tramon Williams) and the best receiver (Victor Cruz) in the playoffs -- none of whom were even drafted. No wonder Eliot Wolf of the Packers recently conceded to Melf that, at best, scouting is an "inexact science."
Flem thinks the backward column conceit is clever and timely. Melf knows that he'll be getting angry tweets from readers who, based on "Melf", thought the column was going to be a slideshow of super hot moms who love the NFL playoffs.
Flem says, ya know, players don't really care that much anymore, even the playoffs are just about cashing that check. Melf points out the story in the New York Daily News about former Giants long snapper Trey Junkin, whose bad snap cost the Giants a chance at a wild-card win against the 49ers nine years ago. "I think about it every day," he says. "It still jolts me from sleep."
Flem wonders whether TEs as No. 1 receivers is just a gimmick. Melf knows that, slowly but surely over the last 40 years you can trace the evolution of the passing game directly to the formation of the tight end -- which started out shoulder-to-shoulder with other linemen as a glorified third guard and has spread out wider and wider each season until becoming a No. 1 receiving target last week in New England, where Rob Gronkowski and Aaron Hernandez combined for 14 catches, 200 yards and four TDs (albeit against the Broncos' overmatched young safeties.)
Flem says Hall of Famers are always experts on football. Melf agrees, just look at how right Mike Singletary was about Vernon Davis.
Flem likes the way Tampa Bay is taking its time and being thorough with its coaching search. Melf's got Rich Kotite's phone number if the Bucs need it. Melf also thinks 1) the Bucs should hire Brad Childress and 2) the coaching move that will have the biggest effect on the 2012 season may turn out to be that no one was smart enough to hire away Panthers offensive coordinator, and Cam Newton miracle worker, Rod Chudzinski.
Flem believes in the importance of team chemistry. Melf thinks it's a myth. Melf says winning creates chemistry, not the other way around. Just look at the Jets.
Talent is what counts, not togetherness. And the reason the myth prevails is because we need to ascribe moral weight to sports to justify all the time, money and energy we spend on it. Also: If team chemistry is so sacred, why would a Hall of Famer like Ed Reed blindside his QB through the media just days before the biggest game of the year?
Flem adds: other than his sweet 'stache, Joe Flacco is a total disappointment. Melf replies: Um, he's got a 97.1 passer rating so far in 2012 and a 5-3 overall record in the playoffs. Matt Ryan is 0-3.
Flem says Ray Lewis is crazy to think about retiring. And Melf says, yes, Lewis is a warrior, a leader and a legend who belongs on the Mount Rushmore of NFL linebackers. Melf also wants to point out that before he hurt his toe, Lewis was having a very good season and that he did manage to come up with a big stop on a screen pass in the fourth quarter against the Texans. However, having re-watched the tape from that game Melf was saddened, a bit, watching things he never expected to see even from a clearly hobbled Lewis: getting chipped out of plays by mediocre blockers, taking short cuts around traffic instead of blowing the whole thing up, diving at ankles and coming up with air, whiffing on a clear shot at the ball carrier on the goal line. Melf hates the way that even the great ones must eventually yield to the ultimate game clock.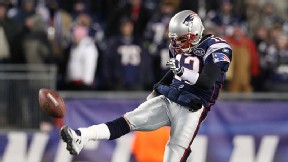 Elsa/Getty ImagesCheck out Tom Brady punting against Denver. Who would have thought?
This time of year Flem loves to say that defense wins championships. Melf retorts, um, five of the eight teams that made the divisional round of the playoffs had defenses ranked 24th or lower, and if New York and New England advance the Super Bowl will feature the Patriots' 31st-ranked defense (411 yards allowed per game) versus a Giants defense (ranked 27th) that gave up 4,082 yards this season.
Flem also blabs on and on about how special teams is a full one-third of the game and full of highly specialized experts at their craft. Melf watches as the Texans' Jacoby Jones averages 0.7 yards (and two fumbles) on six punt returns against the Ravens. Then he sees Tom Brady, after going eight years between kicks, execute a pooch punt on third down against the Broncos that goes 48 yards to the 10. In 2003 Brady hit a pooch kick that was downed at the 1. (Belichick joked that he was disappointed about the loss in field position.) According to ESPNBoston.com, when Brady's kicks work in practice his teammates chant "SalaryCAP" at punter Zoltan Mesko, implying that the former fifth-round pick's job might be in jeopardy because his postseason average is nine yards less than Brady's.
Flem actually gave up on Alex Smith four years ago. Melf wants to know if that was when the 49ers were on their sixth or seventh different offensive coordinator?
And, he adds, Smith's game winner to Vernon Davis, lasered through triple coverage to a spot that was empty when he let go of the ball, was the play of the postseason no matter what happens the rest of the way.
Flem is certain that continuity is the key to success in the NFL. Melf notes that of the 11 coaches hired in 2009, nine of them have already been fired.
Flem believes injuries are eroding the competitive spirit of the NFL. Melf says last year the world champion Packers had 16 players on IR and this year the Texans were one (or two) plays away from making the AFC title game after losing their top two QBs, their best pass rusher and more than a dozen other players to injuries.
Flem thinks that people are losing their taste for the uber-violence of the game, especially as it relates to potential long-term problems relating to repeated blows to the head. Melf just got the TV rating back and the Steelers-Broncos audience of 42.4 million made it the most watched program since, well, since Super Bowl XLV. Although Melf does wonder whether this is because the NFL is so compelling or the fact that every show on TV now seems to be about hillbillies shooting, fishing, cooking, racing, mining, sawing, auctioning, pawning or hoarding stuff.
Over the years Flem has heard every single coach preach to him about the immeasurable importance of not turning the ball over. Melf says: But wait, the Saints turned the ball over five times and still should have won their game in San Francisco. Same goes for the Texans and their four turnovers in Baltimore and the Pats actually lost the turnover battle against the Broncos.
Flem says home-field advantage is huge, it's why you scratch and claw and battle for every inch of ground during the regular season. Melf notes that of the last nine No. 1 seeds to play at home in the AFC Championship Game, five made it through to the Super Bowl
.
Flem read reports that said Jim Caldwell was safe in Indianapolis and sitting in on interviews for new staff hires and, meanwhile in New York, Tom Coughlin was probably on his way out with two weeks left in the regular season. Now, Melf knows that Caldwell is gone and Coughlin is (again) being called an underrated football genius.
Flem wonders, hmm, what strange, ancient forces could be behind all this playoff voodoo -- Madonna? Melf believes the mind-bending, mesmerizing combination of Vince Wilfork and Gerard Warren's 655 pounds of flab, the Patriots' electric-silver pants and super slo-mo TV replays of their on-field moves may have actually reversed the time/space continuum of the NFL playoffs -- making good, bad; up, down; and right, wrong.
Finally, looking for any kind of normal, typical behavior in the NFL, Flem notes that Bengals cornerback Pacman Jones, still healing from the torching he endured against the Texans, pled guilty in an Ohio court to misdemeanor charges of disorderly conduct.
And, at long last, a semi-relieved Melf concedes.
OK, not everything about the NFL is completely backward.
David Fleming is a senior writer for ESPN The Magazine and a columnist for ESPN.com. While covering the NFL for the past 16 years at Sports Illustrated and ESPN, he has written more than 30 cover stories and two books ("Noah's Rainbow" and "Breaker Boys"), and his work has been anthologized in "The Best American Sports Writing."