Commentary
Brandon Jacobs is key to Super Bowl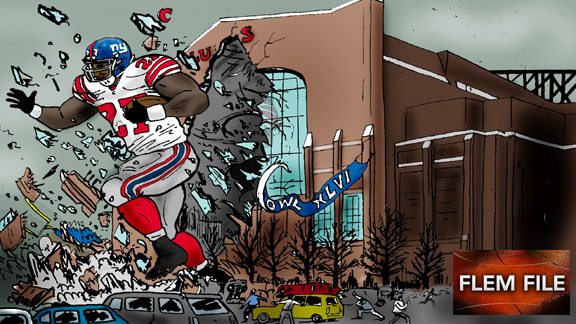 Kurt Snibbe/ESPN.com
With a loud click, a groan and a whir the suddenly old fashioned VHS tape disappears into the bulky, odd machine. And when the screen finally lights up with the rare, grainy high school football footage, one thing becomes perfectly clear: Brandon Jacobs was a giant long before he was ever a New York Giant.
At first glance, in fact, Jacobs looks so much larger than everyone else on the field -- I'm talking coaches, refs, mascots and especially teammates, most of whom barely reach his armpits and look more like little kids dressed up for Halloween -- I wonder whether I'm the victim of what would probably qualify as the last known hoax involving VHS technology. But that's him all right. That's his number, 46. That's his nickname ("Toby") they're yelling from the stands. And there's no question that's his running style, slow and plodding, yes, but deliberate and destructive, too -- like lava flow.
Recently, I visited Jacobs' tiny, desolate hometown of Napoleonville (pop: 700) located deep in the bayou about 45 minutes west of New Orleans, where his legendary exploits at Assumption High are still very much the talk of the region. In 2000, as a 6-foot-4, 245-pound senior with great feet and a surprising burst toward the open field, Jacobs rushed for 3,022 yards and 38 TDs while leading the Mustangs to a 13-1 record and the state semis. One recruiter described Jacobs as "something Oliver Stone would've created for a football movie." Adds Lee Brecheen, editor of Louisiana Football Magazine and a leading recruiting authority on the Bayou for more than 22 years, "High school kids were flat-out afraid to tackle him. He was a freak of nature, a legend, the kind of player we won't ever see again in our lifetime."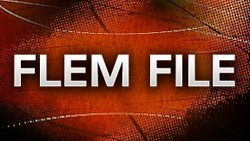 This, I thought, had to be worth a look, especially on the one day of the year when high school football and the Super Bowl share top billing. And it took less than five minutes to prove my instincts correct: not just about Jacobs but my decision to hold onto that ancient VCR for the past eight years even though it's roughly the size of a suitcase one might use for a summer abroad.
In the first game alone, Jacobs rushes for 338 yards and four touchdowns, a feat I wouldn't have believed myself had I not seen it with my own eyes. From the first snap, the visiting team from nearby Thibodaux put nine defenders inside the box to stop Jacobs. It didn't work. And even though there always seem to be five tacklers around him at all times and no discernible holes to run through, on the tape Jacobs just keeps tearing off larger and larger chunks of real estate. It's remarkable, really. You can dismiss it as a giant man playing against boys. At first, that's what I did. But the more you watch -- the more you see Jacobs' legs churning and his shoulders lowering into the pile and his angry reaction to cheap shots at the ends of plays -- the more it starts to become about a term no one uses anymore with Jacobs: will.
Against Thibodaux, his third touchdown of more than 40 yards comes late on a well-executed option pitch. Jacobs gets the ball at full speed near the sideline where, smartly, no one dares get in his way. "OH LORD have MERCY!" screams someone watching in the stands. And even though it makes you laugh out loud, it's no joke, there is a palpable danger and awe in the collisions Jacobs produces with the ball in his hands. (Just ask Charles Woodson.) Back in the day, those kinds of reactions were common, says Assumption coach Don Torres. "Brandon has always had a cult kind of following," he says. "For football people it's almost like a religious experience the way you are drawn to him because of the things he could do on a football field. And he fed off that because, if you watch, you can see he's got that strut about him too. He knows he's good."
Very little of that has changed. And as the 2011 playoffs progressed and the matchup for Super Bowl XLVI came into focus, I realized that the entire season might just come down to what is on this tape and whether Jacobs can rediscover the dominant form he first displayed more than a decade ago. I mean, with the Patriots' explosive offense and the Giants' questionable D, it doesn't take a gridiron genius to figure out that one key to the game for the Giants will be keeping the ball out of Tom Brady's hands with a ground game that sets the physical tempo and tone by converting on third down, devouring the clock and scoring TDs instead of field goals once inside the red zone.
Tweet It Or Post It
Want to see footage of Brandon Jacobs epic high school career? Go to my Facebook page to see the raw video. If you're still not convinced Jacobs could be the key player in Super Bowl XLVI, tweet your own nominee to @daveflemingespn #FlemFile.
No small task, I know, for a rushing offense ranked dead last during the regular season. The key, says Jacobs, will be to "stay calm and take advantage of opportunities, and when it's your chance, get in there and make a big play."
Jacobs certainly did in 2008, the other time these teams met in the Super Bowl. Lost in the legend of David Tyree's helmet catch is the fact that the Giants would have never even been in position to attempt that play, or the game-winning TD pass to Plaxico Burress, if, earlier in the drive, Jacobs had not bulldozed his way to a first down on fourth-and-1 at the New York 37. "You don't get that, it's game over," says Jacobs. He did, though, and two plays later Eli Manning and Tyree hooked up for one of the most spectacular plays in Super Bowl history.
Can Jacobs do it again?
It has been a long, frustrating, up and down season for Jacobs, who still managed to gain 826 yards on 5.6 yards per carry. He has been bothered by injuries, has looked tired and slow at times, been at odds with fans, as well as Rex Ryan, and was even labeled "a little soft" by Jerry Rice. Those wild bursts of angry running when he seems to crave contact were few and far between, and I was starting to think that after seven seasons Jacobs was approaching that sad, inevitable wall that all big, physical backs hit sooner or later where their bodies just can't take the pounding anymore. Instead, he's gained 5.1 yards per carry during the last month and has the fifth-highest rushing total (127) in the postseason.
Answering the call at crunch time is a pattern that has repeated itself all the way back to his playing days at Assumption. Jacobs quit the team his freshman year, didn't play his sophomore season and nearly walked again as a junior because he deemed the line for preseason physicals to be too long of a wait. Herb Washington was the quarterback on the 2000 team and is now the offensive coordinator at Assumption. He says Jacobs rarely lifted weights, was a no-show for most offseason workouts and that no one really knew for sure whether he was even going to play until he showed up for the first day of practice his senior season. "At times, Brandon could be kind of a butthead," says Washington.
But when his team needed him the most Jacobs showed, and a few weeks later he gained 609 yards in two games, more than the Mustangs rushed for in most seasons. Jacobs ran the ball 25 times a game that season and seemed to get stronger and faster as the games wore on. He played middle linebacker, too, kicked off, returned kicks and never complained, never asked out of practice or whined when he got pulled with a big lead just after halftime.
[+] Enlarge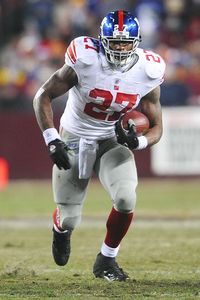 James Lang/US PresswireFor the New York Giants to win Sunday, they will need the hard yards by Brandon Jacobs.
As a result there are any number of highlight reel touchdown runs on the tape -- Jacobs jumping over two defenders, Jacobs plowing over three, or carrying four, Jacobs beating a speedy cornerback to the cone, and on and on and on -- but what really pops off the screen, to me, are the times when he isn't anywhere near the ball. Whenever he was asked to block, Jacobs seemed to relish the opportunity to pay back, or stand up for, his teammates and close friends with a series of devastating, knee buckling, turn-away-from-the-TV-screen type blocks.
"Brandon walked to school every day and the places he walked by had some bad elements and he was faced with those elements twice a day every day," Torres says. "And it would have been easy for Brandon to get involved with that but he never gave in to that temptation. I guess, what I'm trying to say is, I hear fans complaining about him or saying this and that about him and I just want to say that the people who really know Brandon know that he always made the right choices in his life, and he always came through big, whenever he really had to."
With that bit of context in place, the tape rolls on. It's grainy and shaky and, gawd, so slow and you can't really hear anything because of the crowd noise and the constant drum beat from the marching band. But then, once again, the fuzz clears and it's Assumption's ball at the 30 and Jacobs takes a handoff to the left and splits the end and the tackle before bulldozing a linebacker along with the poor guy trying to block for him. He bounces effortlessly into space, cutting under the linebackers and side-stepping the safeties.
Twenty yards down field now Jacobs heads toward the sideline. For a moment, he disappears under a blanket of seven would-be tacklers before emerging near the sideline with a linebacker screaming downhill at him and lined up on what looks like a perfect angle for a big hit. As if sensing this, though, Jacobs finds another gear, takes two powerful strides, separates in space with his knees practically hitting his chest he heads down the chalk line, leaving the sideline littered with a trail of defenders desperately diving at his feet, their facemasks full of grass divots.
After Jacobs reachs the end zone, the camera pans up for just a moment, revealing the endless sugar cane marshes that frame the school's football field on three sides. That's where everyone figured Jacobs was headed after the season -- straight into the fields to cut cane. Jacobs had a different destination in mind. Every time he carried the ball in that direction he was aiming, in some way, for the tiny flickering lights he could just barely make out miles away across the vast inky darkness of the bayou.
For Jacobs that distant flickering light meant junior college in Kansas, then onto Auburn and Southern Illinois, to New York in the fourth round of the 2005 draft, a Super Bowl win in 2008 and, in three days, a chance for the Napoleonville giant to again carry the New York Giants back to the pinnacle of the football world.
A dozen years later not all that much has changed about Jacobs. He's still running through the darkness toward that enchanted, elusive light.
Only now it's the kind that's reflected off the silvery sides of a second Lombardi Trophy.
David Fleming is a senior writer for ESPN The Magazine and a columnist for ESPN.com. While covering the NFL for the past 16 years at Sports Illustrated and ESPN, he has written more than 30 cover stories and two books ("Noah's Rainbow" and "Breaker Boys"), and his work has been anthologized in "The Best American Sports Writing."