Commentary
DJ Gallo's Offseason Pigskinpalooza!
Originally Published:
April 29, 2010
By
DJ Gallo
| Page 2
The NFL draft is over. Congratulations to Mr. Irrelevant and all 253 Mr. Relevants.
But with that off the calendar, I think the next thing every football fan in America is eagerly anticipating is ... this week's edition of the Pigskinpalooza! YAY! So let's begin.
MONEY
University of Washington president Mark A. Emmert has been named the new president of the NCAA. Reportedly, there were nearly 100 candidates before the list was whittled to 32 and then to just a handful. Huh. It almost sounds like a ... tournament or something. And the NCAA ... that has football, right? Huh. Might be an idea there for you, Mr. Emmert.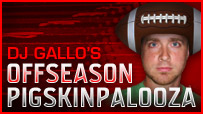 The Oakland Raiders will reportedly cut JaMarcus Russell at any moment. And ... OK, I'm now getting breaking news ... yes. The Raiders are cutting JaMarcus Russell right now. Let's go to a live picture at the scene.
The Washington Redskins have signed Joey Galloway to a one-year deal. Galloway is 38 years old. In 2008, he had 13 catches for 138 yards. Last year, he had seven catches for 67 yards. It's a curious signing. But not if you're the Redskins. If you're the Redskins, it fits perfectly with Dan Snyder's "Hey! I've heard of that guy!" player acquisition mandate.
New York Giants punter Jeff Feagles is set to announce his retirement after 22 years in the NFL. The team was expecting him to retire, so they drafted East Carolina punter Matt Dodge in the seventh round. Dodge will compete for the job with former Australian rules football player Jy Bond. Really. I'm not making that up. I realize that if someone was going to make up a name of a stereotypical Australian rules football player, they might go with "Jy Bond," but that's his real name.
QUOTES
"I can't get one phone call. ... I've said in the past that I hope our management and the owners can look past the fact that I am president of the PA. But right now it's not looking that way. I'm looking for a job." -- Kevin Mawae. The 39-year-old, Pro Bowl guard thinks he isn't getting any job offers because he's president of the NFL Players Association. And I think he may be on to something. I've been president of the Halle Berry Fan Club for 10 years, and not once has she called me. It's so rude.
Is your mom a prostitute? (paraphrased) -- Jeff Ireland, Miami Dolphins GM, to Dez Bryant in a pre-draft interview. NFLPA executive director DeMaurice Smith said on Wednesday that NFL teams can't cross the line when interviewing prospective draft picks. So asking "Is your mom a prostitute?" would obviously be well over the line. Whereas closer to that gray area would be something like: "So the NFLPA -- that's a completely powerless organization, huh?"
"I think it stinks. [College football] is becoming perilously close to losing the purity and amateurism that separates it from it's pro counterpart." -- Aaron Taylor, former Nebraska player and current CBS college football analyst, on the fact that teams with losing records could make bowl games now that there are 35 bowls, up from 33. There, there, Aaron. Nothing to worry about. College football is keeping the system in which a computer determines the national champion. It remains incredibly amateur.
"The important thing is we're paying attention, we're going to be strategic, we're going to be thoughtful, but we're not going to relinquish our role as one of the premier conferences." -- Mike Slive, SEC commissioner, on coming Big Ten expansion and the possibility of the SEC expanding. Slive didn't comment on how he will soon be attacked by an angry mob of SEC fans because he used the words "one of."
COACHES
Major League Baseball told Tampa Rays manager Joe Maddon that he couldn't wear a hoodie, then reversed the ruling. This week, Maddon got a personalized Patriots hoodie in the mail from Bill Belichick. Oh, no. Belichick knows he is associated with hoodies. He has become self-aware. I think this is the point in the movie when the evil robot destroys us all. RUN FOR YOUR LIVES!!!
Detroit Lions head coach Jim Schwartz gets aroused by Jahvid Best highlights. It's true. That's what he told Michael Silver of Yahoo Sports: "Some people watch adult videos on their computer. I go to YouTube and watch Jahvid Best highlight clips. That's what gets ME going." So there you go, everyone -- an ESPN.com first. I'm linking to an "adult" video. Ooh, what are you wearing? A helmet and pads? Me likey.
LAWS
Two Arkansas players were arrested this week on drug possession charges. A campus police officer noticed the pair sitting in a parked car, smoke drifted out of the door when it was opened and a "plastic baggie of green leafy substance" was in plain view. Ridiculous. It's like people can't even burn their A-plus, end-of-semester Botany 101 project in celebration anymore.
Delone Carter, Syracuse's leading rusher, has worked out a deal with the school that will allow him to return in the fall. He is still banned from campus during the spring and summer over an incident in which he allegedly punched another student. Wait a minute. Don't they play football in the fall? Huh. What a stroke of good luck for Carter and the Syracuse football team!
And that's all for this category. Apparently the Steelers and Oregon Ducks spent the past week planning stuff.
MISCELLANEOUS
Bad news, Denver Broncos fans: tackle Ryan Clady tore his left patellar tendon playing basketball and is out for three months. Wait. Only three months? Everything I've read says that torn patellar tendons take much longer to heal. It's almost as though the Broncos organization recently acquired someone with healing powers.
By the way, Tim Tebow's jersey is the fastest-selling rookie jersey in NFL history. In second place, I am just guessing, is a Broncos No. 15 jersey with the customized name "BALL AND JUICE" on the back.
So all the draft experts and analysts have weighed in with their grades on how every team did. But no one has reported yet how the teams themselves feel they did. So let me give you that information now.
Cardinals: A
Eagles: A
Broncos: A
Raiders: A
Seahawks: A
Cowboys: A
Ravens: A
Well, they're all A's. Great job, teams!
DJ Gallo is the founder of SportsPickle.com. His first book, "SportsPickle Presents: The View from the Upper Deck," is available from only the finest bargain book retailers. His next book project will be released soon. You can follow him on Twitter at @DJGalloESPN.