Commentary
Media day questions we want answered
Originally Published:
July 21, 2011
By
DJ Gallo
| Page 2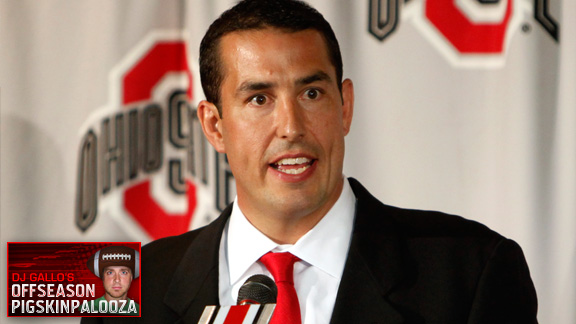 AP ImagesOhio State coach Luke Fickell has plenty on his plate -- and he just got here.
While the NFL is still working through its labor woes, college football has essentially started. College football media days began this week and they're almost as entertaining as the action on the field.
Unfortunately, it's not possible for one person to attend all of the media days -- and I'm not invited to such things, anyway -- so instead I created a list of questions I would like other media members to ask various college coaches. Thanks for your help, colleagues! Please report back to me with the coaches' responses.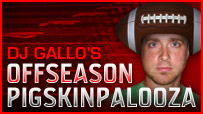 Luke Fickell, Ohio State
Since you became head coach, have you failed to report any NCAA violations that have been brought to your attention? [Wait for his response.] "No" is exactly what Jim Tressel would have said, too. When can we expect your resignation?
Bo Pelini, Nebraska
Your program recently committed an NCAA violation by allowing players to use their scholarship money to purchase recommended course textbooks in addition to required course textbooks. Are you prepared to state today, before the gathered media and the millions of people we will relay your message to, that you will do everything in your power from this day forward to ensure that Nebraska football players never again receive a comprehensive education?
Joe Paterno, Penn State
Would you agree with me that jokes about your age are tired and clichéd and the domain of hack comedians and writers? I SAID: "WOULD YOU AGREE WITH ME THAT JOKES ABOUT YOUR AGE ARE TIRED AND CLICHÉD AND THE DOMAIN OF HACK COMEDIANS AND WRITERS?"
Steve Spurrier, South Carolina
A recent "NCAA Football 12" video game simulation conducted by CBS Sports resulted in your Gamecocks winning the national title. Can you please talk about how comparing video game football to real football is ridiculous, but do so by peppering your comments with hilarious Southern colloquialisms?
Dabo Swinney, Clemson
Excuse me, Dabo Swinney, but I have a question. Do you have any idea how much fun it is for people to say "Dabo Swinnery"? That is all.
Gary Patterson, TCU
Even though your program has been repeatedly burned by the system, you have repeatedly expressed support for the BCS. Why do you not support a playoff system? And a follow up, why do you hate all that is good and pure?
Nick Saban, Alabama
I recently looked at your statue and it stole my soul. What can I do to get it back?
Paul Pasqualoni, UConn
OK. Good prank. Now who did UConn really hire as its new football coach?
Paul Rhoads, Iowa State
Les Miles, LSU
How's my grass taste?
Mack Brown, Texas
Congratulations on the new Longhorn Network. In order to compete with other channels, how many shows will you have about hoarders? And a follow up, how many shows will there be about people making cakes?
Gene Chizik, Auburn
Your hiring in 2008 was extremely unpopular among Auburn fans. Now you have a national title. Would you like to look into the cameras and tell Auburn fans that they're morons?
Chip Kelly, Oregon
I have an old VHS tape of high school football games. I was going to throw it out, but would you be willing to give me 25 grand for it?
Mike Sherman, Texas A&M
Are you looking for additional ways to get the ball into the hands of Smash Williams?
Houston Nutt, Ole Miss
How has Philander Moore looked so far? Has all the philandering kept him from focusing on his responsibilities as a student-athlete?
Brady Hoke, Michigan
What has been the biggest challenge of your job so far, other than finding time to get your work done around people calling and stopping by your office to tell Ohio State jokes?
Jerry Kill, Minnesota
Your name is awesome. I don't have a question.
Todd Graham, Pitt
Are you at all concerned about the high expectations you have with this program, considering your predecessor was undefeated?
Dana Holgorsen, West Virginia
Sir, can you recite the alphabet backwards?
Randy Edsall, Maryland
What do you plan to do with the large portion of the Maryland football budget that Ralph Friedgen spent on lunch?
Al Golden, Miami
The Miami football program was lawless during its glory years. Randy Shannon ran a tight ship but didn't win. Would you agree that in order to have success, you need to strike a good balance between crime and discipline?
Joker Phillips, Kentucky
Why so serious, Joker?
David Cutcliffe, Duke
What do you think of Mike Krzyzewski's recruiting class?
Butch Davis, North Carolina
You have said that you have no idea about all that led to the many recent scandals plaguing your program. Do you have any idea how you still have a job?
Mike Stoops, Arizona
Is there any way you could get me Bob Stoops' autograph?
Steve Sarkisian, Washington
You recently Tweeted, and I quote: "Woof, woof, woof!" Do you care to elaborate on that?
Mike Gundy, Oklahoma State
Could you please do your "I'm a man! I'm 40!" catchphrase? It's hilarious.
Lane Kiffin, USC
What is it like to be the head coach at the University of Sexual Ballers?
DJ Gallo is the founder of SportsPickle.com. His first book, "The View from the Upper Deck," is available from only the finest bargain-book retailers. His next book project will be released soon. You can follow him on Twitter at @DJGalloESPN.