Commentary
Winter Olympic mascots -- a closer look
Originally Published:
February 12, 2010
By
Shane Igoe
| Special to Page 2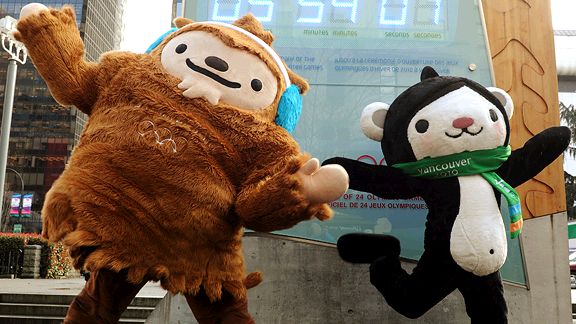 Mark Ralston/AFP/Getty ImagesHere are Miga and Quatchi, two of the mascots of the Vancouver Olympic Games.
With the 21st Winter Olympic Games getting under way Friday, we thought it appropriate to show some love to one of the most important participants in each Olympics -- the mascot.
Mascots are supposed to be the playful embodiment of the host city and country, but over the years they have proven to be rather esoteric, and sometimes downright scary (see 1996's Whatizit). You be the judge -- here's a look at all the mascots in Winter Olympics history:
1. Schuss (Grenoble, 1968): Schuss was an unofficial mascot, but nevertheless the first one in Winter Olympics history.
What it really resembles: Sperm on skis.
2. Schneemann (Innsbruck, 1976): German for "snowman," Schneeman was the first official mascot of the Winter Games.
What it really resembles: A twisted Tyrolean version of a jack-in-the-box character.
3. Roni (Lake Placid, 1980): The original mascot was a live raccoon named Rocky, but he passed away before the Games began. No word if it was rabies, but Rocky was quickly replaced by a plush Roni.
What it really resembles: A doll version of Ranger Rick.
4. Vucko (Sarajevo, 1984): Vucko, a wolf, beat out the likes of a chipmunk, a lamb, a mountain goat, a porcupine and a snowball in a newspaper poll.
What it really resembles: A wilier Wile E. Coyote.
5. Hidi and Howdy (Calgary, 1988): Through a contest created by the Calgary Zoo, these brother-and-sister polar bear names were chosen.
What they really resemble: The Care Bears of the Great White North.
6. Magique (Albertville, 1992): Talk about being a goat -- this snow imp replaced a mountain goat named Chamois.
What it really resembles: Looks more like a star-shaped Maggie Simpson decked out in her snow gear.
7. Haakon & Kristin (Lillehammer, 1994): Doll-like children from Norwegian folklore served as an inspiration for these mascots.
What they really resemble: A Holly Hobbie doll fashioned to look like a young Elin Nordegren.
8. Snow Owls (Nagano, 1998): A weasel named Snowple was replaced by four snow owls (Sukki, Nokki, Lekki and Tsukki) after the public failed to embrace the original varmint.
What they really resemble: Older folks might be reminded of Woodsy the Owl and his "Give a hoot, don't pollute" saying; younger people might think of Hedwig from "Harry Potter."
9. Hare, Coyote, Bear (Salt Lake City, 2002): Organizers combined three prominent animals of Native American folklore with the three elements of the Olympic motto -- the hare is swifter (Citius), the coyote is higher (Altius), and the bear is stronger (Fortius).
What they really resemble: Disney hand-me-downs. The bear looks like he belongs in the Country Bear Jamboree.
10. Neve & Gliz (Torino, 2006): Conceptualized by a Portuguese artist for the Italian games, Neve is a snowball and Gliz is an ice cube.
What they really resemble: Chromosomes and genes seen on middle-school biology slides.
11. Miga, Quatchi and Sumi (Vancouver, 2010): Based on mythological characters -- including a sea bear, a young Sasquatch and a thunderbird that wears the hat of an orca.
What they really resemble: High-concept Nickelodeon cartoon characters.
Shane Igoe is a sports and entertainment writer based in Los Angeles. He can be reached via his Twitter page.