Commentary
Tim Stauffer is apt to tout WebMD app
Originally Published:
May 21, 2010
By
Kyle Kensing
| Special to Page 2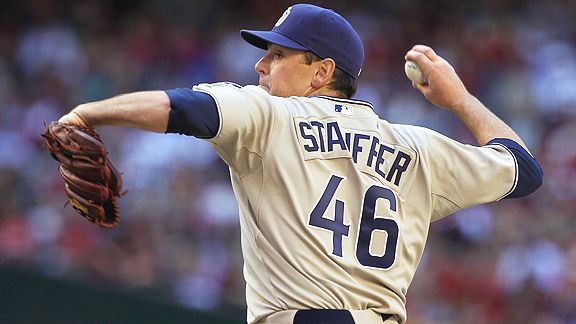 Christian Petersen/Getty ImagesPadres reliever Tim Stauffer suffered abdominal pain on a recent road trip and diagnosed himself.
Who knew an iPhone app could be a lifesaver? Or at least a life-changer?
Tim Stauffer didn't. But he does now.
"For some reason or another, I haven't used it much, but I have a WebMD app on my phone," he said. "I got it a year or two ago, thought it might come in handy. First time I needed it to work, it did."
Did it ever.
While WebMD might seem better suited for a crowd older than Stauffer, who's 27, what with apps such as Legends of Wrestlemania and I Heart Radio out there to serve as invaluable time-wasters for 20-somethings, the choice to download a medical reference app may have been a lifesaver.

#46 SP
San Diego Padres
2010 STATS
GM

10

W

2

L

1

BB

4

K

19

ERA

0.39
After all, that app on his iPhone helped Stauffer self-diagnose a serious ailment last week, leading to an emergency appendectomy.
The San Diego Padres reliever experienced late-night stomach pains in the lower right portion of his abdomen while the team was in San Francisco for an NL West series with the Giants.
He said he initially tried sleeping through it, but as the hours passed, Stauffer knew something was amiss.
"Nothing I'd ever felt before" is how Stauffer described it. "A different kind of pain that was pretty localized in one area."
Stauffer had had dinner with his wife that night, but she didn't have the same symptoms. This wasn't a bad batch of Bay Area seafood.
So there he was, in the wee hours on May 10 in a hotel, hundreds of miles from home, surfing around on his iPhone.
At 3:16 a.m., he called Padres head trainer Todd Hutcheson.
"At that point, I was in a lot of pain and knew something wasn't right and needed to get to the hospital," Stauffer said. "Better to be safe than sorry."
Thanks to some quick thinking and his WebMD app, Stauffer had diagnosed the pain.
"That's the first thing he said to me," Hutcheson said. "'I think I have appendicitis.'"
Plugging his symptoms into the application yielded appendicitis as the likely illness and set in motion a process that would soon have him on an operating table.
The Professional Baseball Athletic Trainers Society's directory pointed Hutcheson and Stauffer in the direction of San Francisco's St. Mary's Medical Center.
"He left the hotel around 4:15, by 7:30 or so they had him in a CT scanner and by 9:30 they had him scheduled for surgery," Hutcheson said.
Shortly after Stauffer drank two servings of barium for his CT scan, the official diagnosis was made and St. Mary's surgeons operated.
"I was glad it was the first day of the road trip and not the last day when the team would have left," Stauffer added.
Just two days later, Stauffer was back in the clubhouse to watch the Padres top the Giants. But according to Hutcheson, it will be about a month before Stauffer is back on the field.
Stauffer's rehabilitation has progressed quickly since bandages were removed from his incision, Hutcheson said. On the docket now are cardio workouts on stair climbers and stationary bikes. Workouts for Stauffer's shoulder have also resumed.
Although he doesn't want to rush back, a quick return is a priority as the Padres continue to set the pace in the NL West.
"We have great depth this year. We have guys who are able to fill in," Stauffer said. "But obviously, I want to get back out there as quickly as I can and fill whatever role they need me to pitch in."
Kyle Kensing is a freelance writer for Sports Media Exchange, a national freelance writing network.