Commentary
Carmelo Anthony's late-night birthday
Originally Published:
May 27, 2011
By
Laura Lane
| Special to Page 2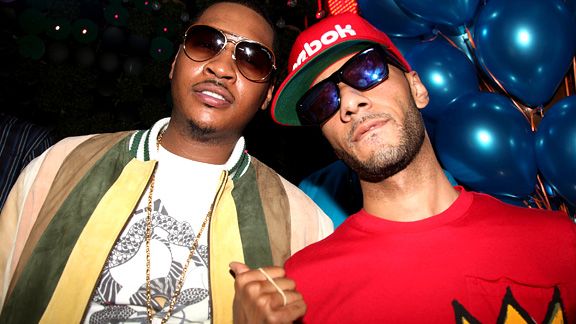 Johnny Nunez/WireImageCarmelo Anthony and Swizz Beatz celebrate Anthony's birthday at Greenhouse in New York.
Carmelo Anthony's birthday cake arrived after midnight the night of his 27th birthday party at New York club Greenhouse on Friday, two days before his actual birthday on May 29. There was still no Carmelo and there were rumors he wasn't going to show. After all, Amare Stoudemire was on the list and was apparently in Los Angeles along with his girlfriend Ciara and Anthony's wife, LaLa Vasquez, who was also on this list but rumored to not be in the city. That didn't seem to matter. If Anthony was nowhere to be found, his birthday party was going on without him.
The cake, created by baker Ilene Miriam, was molded into a navy blue Knicks gym bag with Anthony's bright royal blue number seven jersey draped over it, with vanilla with Baileys Irish Butter Crème icing inside. It had arrived at 12:30 a.m., just before cast members from VH1's "Love & Hip Hop" arrived.
So how does one get into Carmelo Anthony's birthday party?
"I came in with a promoter," explained Dana Pallotta, a Jersey girl and regular at Greenhouse who found out about the party on Facebook. "It's usually free but they made me pay $20 because it's considered a special event."
And if Anthony never shows?
"How am I gonna feel? Some clubs you have to pay $20 either way," she shrugged.
At least the atmosphere of Anthony was in the air.
Half a dozen female waitresses and workers were dressed in tight sleeveless No. 7 jerseys, picked up from the Madison Square Garden gift shop as a last-minute request from Greenhouse owner Barry Mullineaux.
"We just planned everything yesterday," Mullineaux said. "It was a conversation with Carmelo's brother Justice and his best friend David. He throws a birthday event every year and they were planning on going to Miami or L.A. and they weren't sure, but last minute they decided they wanted to do something in New York before they went away."
[+] Enlarge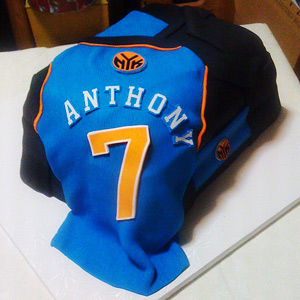 The party planning began Tuesday and while most people would find it difficult to have a specially designed cake ordered in less than 24 hours, when Anthony is involved, people have a way of making things happen.
"They worked all night on it," said Mullineaux, who had ordered the cake and was throwing the party on his own dime. "A lot of Knicks fans are obviously going to come because it's his birthday. I think the response from everyone is happy that he's become a Knick. They think it's going to be a good season next year."
While Mullineaux wouldn't say how much he had spent on the party, he was more than happy to take care of Anthony -- within limits.
What if Anthony requested 30 bottles of Cristal?
"Well, we'll have to discuss that if he wants that," Mullineaux said. "Requests are within reason."
Fair enough.
At 1 a.m. Anthony's teammate Toney Douglas showed up, but he sounded unsure if his friend would arrive. "Is he coming? I can't say. I don't know. I talked to him earlier. You'll see."
Douglas was no help. The club wranglers' answer of "he'll be here in 15 more minutes" had been going on since 11:30 p.m. and it was looking doubtful Anthony would show.
Finally, at 1:30 a.m., a silver and midnight blue Mercedes-Benz Maybach pulled up to the club. The bouncers swiftly cleared the way and pushed aside screaming Knicks fans and eager clubbers. Anthony, wearing aviators, a varsity-style jacket and a gold-chained necklace with a Jesus head, stepped out of the car with his entourage of bodyguards and friends.
He moved swiftly past the red carpet, not stopping for pictures outside or interviews, although when asked how his birthday was so far he responded: "It's Sunday!"
Perhaps the pre-celebrations don't count.
Inside the club, blue and orange balloons surrounded Anthony's table. Producer and friend Swizz Beatz arrived shortly after, bringing several bottles of Moet Nectar Rose Champagne for the celebration.
"That's my brother right there!" Swizz Beatz said when asked about Carmelo. "I've known him for a while."
Anthony sat below the DJ booth at a table in the center of the club with a crew of male friends, surrounded by bottles of Hennessey, Circoc and Coronas, smiling and bouncing his head to the music, still wearing his aviators.
At another table, "Gossip Girl" star Matthew Settle partied with friends, noting that although he was a Knicks fan, he didn't know Anthony personally.
Later in the night Anthony returned to the red carpet to take a few pictures with the eager photographers who had been waiting outside, before leaving at 4 a.m.
The birthday celebrations had just begun.
Laura Lane is a contributor to Page 2 and ESPN The Magazine.