Commentary
The Iceman turns into Twinkle Toes?
Originally Published:
September 18, 2009
By
Chuck Liddell (as told to Laura Lane)
| Special to Page 2
Editor's note: UFC Hall of Famer Chuck Liddell is hoping to take his skills from the octagon onto the dance floor when he competes on ABC's "Dancing with the Stars" (the season premiere is Sept. 21 on ABC). Liddell will have some steep competition, including former Dallas Cowboys wide receiver Michael Irvin and Olympic swimmer Natalie Coughlin. While knockouts might not help Liddell with the samba, if there's one thing the MMA fighter knows how to do, it's win. Liddell will be checking in with Laura Lane and Page 2 every week he's still on the show, which -- if he has anything to say about it -- will extend all the way to the finale.
I was approached a while back to do "Dancing with the Stars," but I always had fights coming up or something that would cause me problems, so I never did it. As soon as I decided to take some time off, it seemed like a good time to do the show.
[+] Enlarge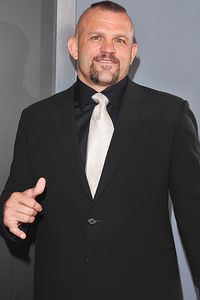 Lester Cohen/WireImageLiddell cleans up pretty nicely, doesn't he?
It's a whole 'nother audience that you get to meet. And, as someone from the MMA community, I'll try to convince them that we're not a bunch of meatheads. I want to show them that we're normal people.
I've met all the other contestants. Mya is a trained dancer, so she's probably going to be tough. Michael Irvin is obviously a good athlete. Tom DeLay's a great guy. He's so funny. I hung out with him one night after I met him, and he's a nice guy.
I had seen the show before, but I hadn't seen all the episodes. I YouTube'd a bunch of episodes when I decided to be on it. I thought it would be really hard, but it was even harder than I thought it would be. It's something totally different. I have absolutely no dancing background. I think I took one swing class when I was in college, with a friend of mine. I think I went twice.
I thought it would be difficult, but so many things are different than what I came from. Every position is different than what I consider an athletic position. When I move fast, I'm bent over my knees, chest down. That's not OK. Chin down, shoulders up, not OK. All the stuff that's paramount to my success in my career is not OK in dancing. It's frustrating for me for things not to come easy to me.
I've been doing six days a week, six hours a day of dance rehearsal, since Aug. 17. I've been trying to learn a lot of different dancing and a lot of different stuff. I'm training for dancing, and that's all I'm doing right now. I'll do some strength stuff and have some fun, but I'm taking time off right now from fighting.
My partner, Anna Trebunskaya, is a great partner. She reminds me of my coaches. She's really hard to deal with. She's always saying, "OK, try it again. No, that's not right. Try it again." She's a great girl, though. Anna was Jerry Rice's partner in Season 2. I was talking to one of Jerry's buddies from the 49ers, and he said, "Oh, you got the drill sergeant, huh?" She was hard on Jerry too.
Dancing is a lot lower-impact than ultimate fighting, but it takes a lot longer, and I burn the same amount of calories. I have a calorie counter, a Bodybugg, that I wear, and I've burned as many calories as I do preparing for a fight. I just won a $10,000 bet with Dana White (president of the UFC) on Tuesday. He bet me I couldn't get down to 215 pounds by Sept. 15. I started cutting weight on Aug. 17, and I dropped from 236 to 213.2 when I weighed in. The bet gave me extra motivation to get to the weight I wanted to be at for the show. That's where I'm quickest on my feet, and that's why I wanted to get down to that weight.
It was pretty funny when I went back for my costume fitting on Tuesday, because the guy looked at me when I walked in and said, "Oh, s---. I already made you a suit." He was fixing my waist, and I went from 19 to 18 on my neck. My first fitting was three or four weeks ago, and he said, "Usually guys lose 10 pounds before the show, but not 20!" I warned him I was going to lose a lot of weight. He said, "Oh yeah, everyone loses five or 10 pounds." He didn't believe me. We're doing a foxtrot, so it's a classy suit. It looks good.
I'm looking forward to getting out there and having fun. My family and friends think it's great I'm doing the show, and they think it's funny. I had never danced in front of people before, so I did a mock run-through and had them watch my performance, and they were very impressed. Everybody's been calling me Twinkle Toes. My friends like to call me that to make fun of me. I've been Iceman my whole life, so I don't think Twinkle Toes will stick.