Commentary
Disc golf has a pro tour, and momentum
Originally Published:
August 19, 2009
By
Jack McCluskey
| Special to Page 2
LEICESTER, Mass. -- In many ways, Avery Jenkins and disc golf have grown up together.
His parents picked up the sport in the '80s, planned family vacations to places where they could catch a tournament on the weekends and bought disc golf baskets for the backyard. Now Jenkins, 31, is closing in on his 10th year of traveling on the pro disc golf tour, making a living playing the sport.
[+] Enlarge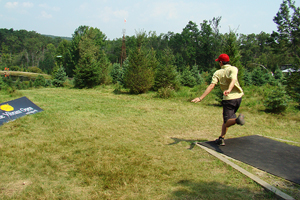 Jack McCluskey Instead of using a club, just pull your arm back and let 'er rip.
"[Most] kids grow up playing basketball in the backyard," Jenkins said. "I was in the backyard shooting at disc golf baskets."
This past weekend, Jenkins and his sister, Valarie, were two of 177 pros entered in the Vibram Open, the final stop on the Professional Disc Golf Association National Tour. With a total payout of almost $50,000, the Vibram Open is also one of the richest tournaments in disc golf. As defending champions, Avery and Valarie stood to pocket $2,500 and $1,500, respectively, if they could pull off repeats in Leicester.
So although it was the middle of August, this Christmas tree farm -- the Maple Hill course is closed from Thanksgiving to Christmas so that people can cut and cart their own trees -- was bustling with activity. With the mercury climbing close to 90 degrees, and the sky high and cloudless, a group of about 20 people gathered at the top of a hill and waited for the clock to strike noon.
Standing on the crest of the hill, backs to the trees lining the road, the spectators watched a red disc zip over rows of still-young pine trees and a green swath of grass sloping down the hill toward a medium-sized, lily-pad-dotted pond. They murmured approvingly as the disc settled softly onto the ground on the far side of the pond, just inside an overgrown, rutted cart path, in a landing zone marked with wood chips.
It was a fine first shot for the man in the lime green shirt, Barry Schultz, who came into the final day of the three-round tournament at an astounding 18 under par. Schultz shot a 49 on the first day of play at the par-62 course, breaking the year-old course record of 51 set by, surprise surprise, Avery Jenkins. And he would go on to win the tournament in a runaway, finishing with a 25-under 161, 7 shots ahead of the rest of the field.
His second shot would take him past the cart path, over more rows of young pines and into some open space lined with wood chips just before the tree-line proper. Past that open space was a square swatch that had been cleared from the full-grown woods and boxed in with planking.
In the center of that swatch stood the pin, complete with a blue cloth flag with a white number 1 on it, flapping in the breeze. The only difference between this and a traditional golf pin is, on the pole hangs a metal basket, and hanging above the basket are a number of metal chains. This is the first disc golf basket, or Pole Hole. And it stood a mere 760 feet away from the tee box.
For Schultz and the other top pros teeing off on the final card at noon, the distance isn't the hard part. A good driver will take care of the distance. It's making a good shot, avoiding the rows of trees, setting up a makable putt and, maybe most of all, keeping dry.
After all, this is disc golf. And as Schultz said, holding up a driver disc, "Throw this in the water, you just lost your driver."
Not your father's Frisbee
Rules and history
Rules
As its name implies, disc golf pretty closely follows the rules of golf. The object of the game is to throw the disc into the basket in as few throws as possible. Each throw is made from where the disc came to rest on the previous throw; if the previous throw landed out of bounds (in the woods, water or in a snap trap), a penalty will be assessed and the next throw will come from a drop spot. The player with the lowest score wins.
History
There is no exact date, time or place for the first disc golf game. What is certain is that the Frisbee, a federally registered trademark plastic flying disc made by WHAM-O Inc., was developed in 1958. In 1965, George Sappenfeld is credited with holding one of the first Frisbee golf tournaments, in Thousand Oaks, Calif. Eleven years later, Ed Headrick created the Disc Golf Association Company to manufacture discs and other equipment, notably the first target to use chains and a basket, which he trademarked the Disc Pole Hole. That same year, 1976, the Professional Disc Golf Association was formed, and the modern era of disc golf unofficially began.
-- Jack McCluskey
Although for many the phrase "disc golf" may conjure up images of long-haired hippies in tie-dyed T-shirts tossing floppy Frisbees off trees or telephone poles, the truth couldn't be more different.
First of all, there's a big difference between your father's Frisbee and the discs used by competitive players. Discs are smaller in diameter and denser in composition, and have different aerodynamics -- they fly faster and farther than Frisbees and, thanks to advances in manufacturing techniques, hold their flight characteristics better after impact with a wall or tree or telephone pole.
Although there are hundreds of colors and styles of Frisbees, they all do virtually the same thing in the air. Discs can be made so that they do very different things in the air. Some are sharper, heavier; these are drivers. Some are more rounded, smaller; these are putters.
Next, consider the people throwing the discs. Although there is sure to be some long hair involved and although there may even be some hippies, there also are doctors and lawyers, teachers and plastics engineers, people from all walks of life. And the elite-level players are just that: elite. Don't think you can stumble out of bed onto a disc golf course and hang with Schultz, Jenkins & Co.
Throwing a Frisbee may be easy, but throwing a disc down a hill, over a stand of trees and a pond and into position to make a second approach shot at a green box set inside the tree line of a woods is not.
And although not all courses are set up like Leicester's Maple Hill course, the concept is the same. Frisbees are a hobby; disc golf is a sport.
From the ground, through the air … into chains?
Although the majority of the action in a disc golf tourney takes place in the air, the efforts to grow disc golf as a sport are taking place on the ground.
"Disc golf is really a grassroots sport," said Brian Graham, executive director of the Professional Disc Golf Association, the sport's international governing body. "It grew up around the world by the hard work of volunteers."
By and large, volunteers still do the vast majority of the work. The PDGA has only five full-time employees and three consultants, but "hundreds and hundreds of volunteers."
Need a caddie?
To have a caddie, or not to have a caddie?
Just like traditional golfers, professional disc golfers can have caddies to carry their gear during events. Unlike traditional golf, though, not many pros choose to do so on a regular basis.
If that's the rule, disc golf professor Dave Feldberg is the exception. "I'm the player who carries the most discs," Feldberg said. "I carry between 30 and 40 discs. I'm also the only player who consistently has a caddie."
Feldberg pays his caddies 10 percent of what he wins, which is a lot considering pro disc golfers don't always win a lot. But Feldberg says it's worth it, and not just because it's nice to have someone else carrying the bulk of the weight. "I don't need advice," Feldberg said. "I just need someone to rattle ideas off of. Someone to pump me up or calm me down."
Avery Jenkins, the 2009 world champion, said Feldberg, a good friend, carries way more than anyone in the pro ranks. "I can make just about any disc do what I want," Jenkins said. "So I only carry 20 to 22 discs."
Jenkins said he generally doesn't use a caddie but admitted that sometimes it's nice to have one. "I carried my own the entire world championships until the final holes, then I had my dad carry them for me," Jenkins said. It probably didn't hurt that his father has played disc golf himself since the '80s.
Even in a singular sport, sometimes it's nice to have someone carrying part of the burden -- and sharing in the spoils.
-- Jack McCluskey
"We have 40,000 lifetime members in 28 countries," Graham said. "Just about anywhere you go in the country where there's a course or a tournament, there are PDGA members and disc players willing to help."
Although the PDGA has been around since 1976, and disc golf itself has been around since long before that (although no one is sure exactly when or where the first disc golf game occurred), Graham says there's still room to grow.
When the PDGA was founded, there was one dedicated disc golf course in the world. By 1980, there were 60. By 2008, the most recent year for which data is available, there were 2,748. In 2007, there were 11,943 PDGA members. A year later, that number had increased almost 9 percent to 12,980. The PDGA Tour has grown at an even higher rate, with events jumping 16.7 percent from 852 in '07 to 994 in '08, and total purses increasing from $1.7 million in '07 to just more than $2 million in '08.
But all that growth didn't happen overnight. There have been delays and missteps along the way.
"We kinda made the same mistake that soccer did," Graham said. "We started with a top-down approach." Much like the North American Soccer League's New York Cosmos trying to sell Americans on the game by signing Pelé back in the 1970s, disc golf tried to market its pros before it was even sure anyone would want to watch them.
"There was a pro tour before people even knew what disc golf was," Graham said.
So now Graham and the PDGA are taking disc golf to schools. A pro disc golfer named Jay "Yeti" Reading explained one such initiative, called Educational Disc Golf Experience, or E.D.G.E.
"It's a complete curriculum for Grades 3 through 12," Yeti said at the Vibram Open, where he won the putting contest. "We give you everything you need to learn the techniques and play the game.
"We're impacting an amazing number of kids right now. Our country is battling an epidemic of childhood obesity, and we think disc golf is a lifetime activity that can help kids develop a healthy lifestyle."
After the tournament was over, Yeti, who has played disc golf professionally for the past 10 years, was flying to Texas to introduce the sport to 50,000 more schoolkids.
And, it's possible that a student who learns about disc golf from Yeti in Texas goes to college and studies the sport with one of the top players in the world. That's because Dave Feldberg, a former world champion and still a topflight disc golfer, teaches a for-credit class on disc golf at the University of Oregon.
"Disc golf is golf for the next generation," Feldberg said a day after finishing tied for sixth at the Vibram Open, shooting an 11-under 175, for which he received a check for $862. "It takes less time, less money, less land, less stress. Today's athlete? They're not wanting to put on dress slacks and traditional golf gear to go enjoy themselves with their buddies."
"I was like a catfish, dude, swallowed it whole"
Billy Crump is nothing if not a salesman.
"I drove 15 hours one way to be here," Crump said. "I'm not getting paid. Just to talk, because it had to be done."
Crump is providing live blow-by-blow coverage of the tournament via webcast on the Open's Web site. "I'll talk for five and a half hours straight," Crump said. When he introduced himself, Crump said, "I'm the Nature Boy, and I can talk."
[+] Enlarge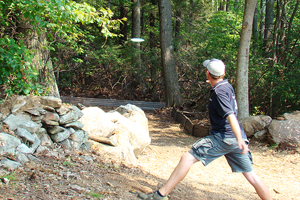 Jack McCluskey Looks like a tricky shot, doesn't it?
Nature Boy's story is a familiar one among the disc golf community. Some friends dragged him to a disc golf course several years ago, and he promptly failed miserably and declared the game "the stupidest thing I've seen in my life." Then he went back and played again and, as he put it, "I was like a catfish, dude, swallowed it whole."
His pro career, to hear him tell it, was not exactly a huge financial success. His first year on tour, he made $200 and kept at it only because the guys he was traveling with were doing significantly better. They made sure he had enough to eat and enough for the entry fee to that weekend's tournament.
"I always said, 'One day I'll quit playing and just cover you guys,'" Crump said, adding proudly, "I've been called the Jim Nantz of disc golf."
Although he doesn't seem to have an official title or position with the PDGA, Crump acts as a one-man promotional department. He is a broadcaster, producer, ad salesman, marketing consultant and media director. "We all say we're on the precipice," Crump said, hoping this latest shove will push disc golf off the cliff and into the mainstream.
He's not the only one selling the sport, however. Not by a long shot.
"We all say, 'It's gonna be huge in three to five years,'" Avery Jenkins said. "We've been saying that for years."
Vibram Open tournament director Steve Dodge said the disc golf community has debated what to call the kind of golf they play in the PGA. "I think we settled on 'conventional,' but you know that only works if ball golf is more popular," Dodge said. "Who's to say in 20 years this isn't conventional golf?"
Disc golf's Golden Bear
Ken Climo is to disc golf what Jack Nicklaus is to traditional ball golf.
"When people try to compare me to Tiger, I say, 'Tiger hasn't broken the records yet,'" Climo, 41, said by phone from his home in Clearwater, Fla. "I think I'm the Jack. I've got the records, and somebody's gotta come get 'em."
The records Climo was referring to include total tour wins (he has 220 and counting) and world championships (12, including nine in a row from 1990 to 1998). He also might own the record for reverential references by contemporaries and competitors.
Jenkins, who won the 2009 world championship in Kansas City earlier this month, said he grew up idolizing Climo. Dave Feldberg was in awe of Climo's accomplishments, noting that no one is even close to Climo in total majors; Feldberg said he and Barry Schultz are probably closest at five apiece. Crump called him "a living legend" and pointed out a picture of Climo throwing a disc on the side of an Innova Disc Golf van parked at the Vibram Open.
Video game disc golf
Disc golfers rejoice! EA Sports has added a disc golf feature to the Nintendo Wii version of "Tiger Woods PGA Tour 10."
"Welcome to Disc Golf!" the demo screen on the EA Sports Web site reads, above a computer rendering of a blue disc with "EA Sports driver" written on it. "Are you ready to play one of the fastest growing sports in America?! Disc Golf is very similar to regular golf. The goal is to get the disc in the basket in the least amount of throws. Play on all courses. Have fun!"
Using all the courses from the normal game, players will be able to play the courses using discs instead of clubs and balls. Legendary disc golfer Ken Climo says it's an exciting advance for the sport. "You can play Pebble Beach with a disc," Climo said. "That's gonna give our sport a lot of exposure."
Will being featured in Tiger's newest video game be the push disc golf needs to hit the mainstream? Not so fast. After all, the disc golf option is on only one video game console. "It's baby steps," Climo continued. "It's gonna come, it's just gonna take a while. Ball golf is 400 years old, that's what I keep telling people. As a sport, disc golf is just more than 30 years old, that's not very old. We're basically just coming out of our adolescence."
If adolescents with Wiis buy enough copies of "Tiger Woods PGA Tour 10" and play enough of the disc golf option, maybe the sport will enjoy another growth spurt. Only time will tell.
-- Jack McCluskey
Other pros have sponsors, but Climo has his own line of discs. That didn't come easily, though. Climo didn't get his current deal with Innova until after he'd won his seventh straight world championship.
"I don't know what took them so long," he said, then laughed.
Under the terms of the deal, Climo gets a quarter per disc sold in addition to a monthly paycheck. "It started out at a little less than $1,000 a month, maybe a little over $1,000 in the summertime when sales are good," Climo said. "Now I'll get checks for around $4,000 a month in the summertime."
Although that might not sound like much, it's more than any pro disc golfer has gotten before. For the most part, sponsors still are making deals with players mostly for merchandise. They are small companies such as bottled-water distributor Brazilian Springs -- a proud sponsor of the Vibram Open.
"For the most part, we've been successful on the regional level," said Graham, the PDGA executive director. "Though we do have one large company interested in us, asking lots of questions."
The one-man disc golf salesman extraordinaire, Crump said he's been told "no" by more companies than he can remember. But, like most things in disc golf, there has been gradual progress.
"Our sport is where traditional golf was in the '30s and '40s," Graham said. "Those guys lived out of the trunks of their cars, driving from tournament to tournament and barely making it."
It wasn't always possible to make a living playing disc golf.
In the beginning of his career, Climo built houses during the week and won tournaments on the weekend. Graham was a civil engineering designer for 23 years before being hired as PDGA executive director in 2007. Schultz was a plastics engineer back home in Wisconsin before he went pro full time. Sarah Stanhope, who won the women's division at the Vibram Open with a 9-over 191, is a high school science teacher in Greenville, S.C.
But the success of pros such as Climo has helped pave the way for players such as Avery and Valarie Jenkins, Feldberg and Schultz to make a living off disc golf.
"We're playing for more money. There are more sponsors," Avery Jenkins said. "When I started traveling in 2001, we were in a '71 Winnebago that got five miles to the gallon. We were making just enough to get from weekend to weekend.
"Now we're not fretting about making it to the next weekend."
Valarie agreed: "We're not buying houses or nice cars, but it gets us along." The Jenkinses have traded up from the Winnebago to a Ford Tioga motor home, complete with three beds, air conditioning and even a flat-screen TV hooked up to an Xbox and a Nintendo Wii.
"Now we get about double [the mileage], 10 miles a gallon," Jenkins said.
To hear most members of the disc golf community tell it, someday soon they'll be doubled in number. After all, they're right there on the precipice. All they need is that final push, one more toss. Then disc golf will really be airborne.
Jack McCluskey is an editor at ESPN.com.