Commentary
Bubba Day wins Page 2 names bracket!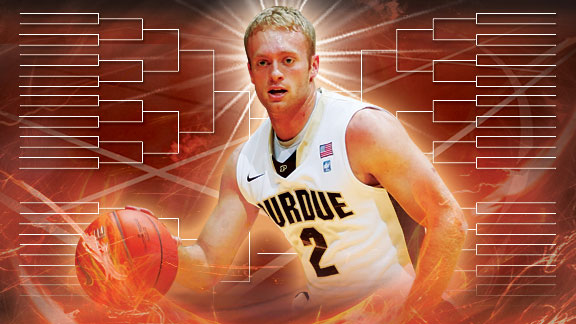 ESPN.com Illustration
We began with 64 extraordinary player names. You narrowed the field to 32, then 16, eight, four and two … ultimately determining the champion.
So after three weeks of balloting, it's with great pride that Page 2 crowns Purdue guard Bubba Day champion of its inaugural Coolest Name in the NCAA Tournament bracket.
The scrappy No. 15 seed defied the odds at every turn, built momentum as the tournament progressed and steamrolled his way to the prestigious championship.
• Click here to view the complete bracket and voting results
Bubba Day's path to the championship:
Page 2 caught up with Day to discuss his stunning run to the title. Here's what transpired:
Page 2: Did you feel disrespected by the fact that you received a No. 15 seed from the selection committee?
Bubba Day: Yeah, I did. For sure. As you can see by how the tournament played out, I thought the 15 seed was a little low. I think that really gave some motivation to the fans and the voters.
What do you think about Page 2's proposal to make Bubba Day a paid holiday in the sports world?
I'm all for it, obviously. That would be pretty sweet. … Apparently, there's a National Bubba Day, too, so that [June 2] might be the day to take it off.
How did you get the name Bubba?
Bubba's not my given name. I don't think my mom would do that. My real name is Andrew, but the nickname was given by one of my older brothers, and I've actually had it since I was a baby. How it started was he would come home from school and say, "Where's the baby?" It wound up changing to "Where's the Bubba?" and eventually it just became, "Where's Bubba?" I was probably about 1 year old, and it stuck ever since.
How excited are you to be able to add this honor to your professional résumé?
I actually hadn't thought of that. I might just have to add it. That would probably be a great conversation starter with a recruiter or someone who's interested [in hiring me].
Your Purdue bio states that you're a management major. What kind of career do you plan to enter upon graduation?
I'm not exactly sure. I plan to graduate, Lord willing, in December. I'm interested in anything to do with business, marketing and finance.
Will you be with the team again next season?
No, I planned this to be my last season. I do have a season of eligibility left, but since I'm graduating in December, and after a lot of thought, I think it's time to move on and start a new phase of life and a new chapter after college.
That would mean you wouldn't have the opportunity to defend your crown. Any chance you might reverse your decision?
I've been thinking about it and talking with coaches and just trying to work through the whole process. Unless I have a last-minute change of heart, then this will be my final year.
You grew up in West Lafayette, your father received his doctorate from Purdue and your three brothers are all Purdue grads. You must have been a Boilermakers fan growing up, right?
Yeah, I grew up on Stadium Avenue, which is about two blocks away from Mackey Arena, so I've been a Purdue fan as long as I can remember.
Who's your favorite Boilermaker of all time?
I was a big Jaraan Cornell fan. He was also a lefty, a really good 3-point shooter and just a really good overall player.
Let's hear your victory speech for the members of the academy and your adoring fans everywhere:
I came in as a low seed, an underdog, but [won] thanks to great support back home and a grassroots effort from people I know who wanted to spread the word. I don't think I could've done it without them. I just appreciate all the love I got from Boiler Nation. It's something I'll definitely remember all my life, and possibly even put down on my résumé now. Shout-out to all the fans of Purdue and West Lafayette, Indiana.
Thomas Neumann is an editor for Page 2.