Commentary
Nancy Faust sounds great for White Sox
Updated:
April 2, 2010, 3:14 PM ET
By
Rick Paulas
| Special to Page 2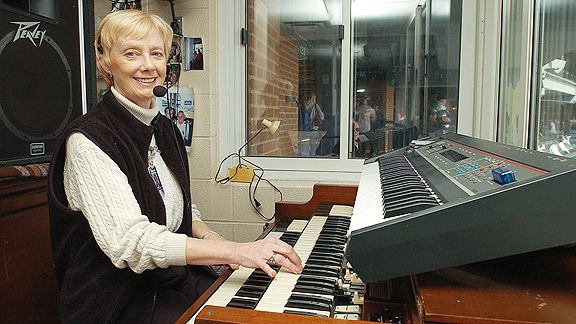 Ron Vesely/Chicago White Sox Chicago went from Dick Allen to Ron Kittle to Frank Thomas, but Nancy Faust has been a constant.
A visiting manager calls for time and crosses the basepath. The pitcher stands at the mound, waiting. Everyone in the stadium knows what's about to happen, including the pitcher himself, which makes the whole thing kind of awkward. The manager reaches the pitcher, offers a few parting words of encouragement and signals to the bullpen. The disgraced pitcher hands over the ball and walks off.
The fans, in unison, serenade the departing pitcher:
"Na, na, na, na. Na, na, na, na. Hey, hey, hey. Goodbye."
You can thank Nancy Faust for that.
Faust re-introduced the song "Na Na Hey Hey Kiss Him Goodbye" in 1977 as the stadium organist for the Chicago White Sox. Since 1970, she's been tickling the ivories at Old Comiskey Park, then New Comiskey, now known as U.S. Cellular Field. For 40 seasons, she's added her signature sound to games on the South Side.
The 2010 season will be her 41st and last.
"It's been a glorious career," Faust said.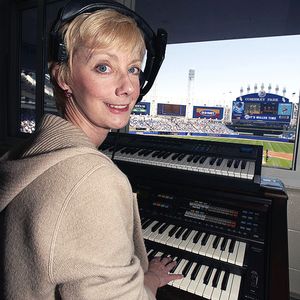 Ron Vesely/Chicago White SoxFaust's music has been a fixture at Comiskey Park and U.S. Cellular Field since 1970.
And an unlikely one. Back in '70, she wasn't an avid sports fan, having attended only one game. Although her mother was a professional musician, Faust never thought she would follow in her mom's footsteps.
Said Faust, "I was a psychology major with elementary school emphasis." That meant she was on the fast track to becoming a teacher. But friends pushed her to seek out opportunities in music. Shortly after she graduated from Chicago's North Park College, White Sox general manager Stu Holcomb responded with an offer: "If you're still interested, the job is yours."
She was. Her first game was a 12-0 Opening Day loss to the Twins. Now, she's on schedule to celebrate her 3,000th game in June. In between, she became an icon.
"Everyone loves her," said White Sox fan Greg Novak. "She was the ambience at the old park, always smiling and happy. It didn't hurt that she was a pretty blonde."
Many fans got to see that smile up close, because Faust always keeps her suite doors open. Some fans venture in just to offer thanks for making the day a bit more special. Others step in to whisper requests.
Some White Sox fans would make a game out of trying to figure out the inspiration behind Faust's music choices. The idea was simple. Guess why she chose to perform a specific song for each player. While some were relatively simple, such as "We're Off to See the Wizard" to accompany an Ozzie Guillen at-bat, others were as difficult as a New York Times crossword puzzle.
"I just reflect whoever comes up to bat, and whatever happens, happens," said Faust. "It's all improvised."
"That's half the fun of going to a Nancy game -- listening for connections between the song snippets and players coming to bat," said Chris Ytzen, editor of SouthSideSox.com, a blog dedicated to the White Sox.
When Ytzen says "Nancy games" he's referring to the specific games at which she performs. In 2006, Faust cut back her schedule, from playing at all 81 home games to just about a third of that number.
[+] Enlarge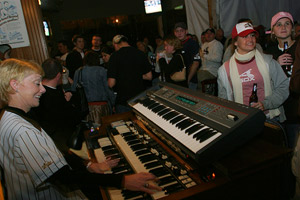 AP Photo/Joshua LottFaust serenades White Sox fans at a Chicago bar during Game 4 of the 2005 World Series.
"I'm aware of the transition to canned music," said Faust. "I just thought the time was great to help that transition along."
Which brings us to the dark underbelly of Faust's retirement: When she leaves, no one's in line to take over. Instead of replacing organists, most teams are bringing in glorified DJs to hype up the fans, rapidly putting an end to a signature feature of our national pastime.
As the unofficial instrument of baseball, the organ makes perfect sense. There's a sound of laziness to the organ. It's almost like the speech pattern of someone just waking from an afternoon nap. That sound, that feeling, is baseball in a nutshell. Forget explosions and thundersticks; baseball is a lazy afternoon and a few beers with the buddies or Cracker Jacks with the family. It's reclining in the sun with 30,000 of your closest friends. The fact that baseball organists are close to becoming extinct is disheartening to many fans.
"I'm not going to scream loudly because some pre-animated needle on the outfield scoreboard tells me to," said Ytzen. "I'll make plenty of noise when the action on the field prompts me."
Faust is somewhat understated while summarizing her baseball career.
"I just hope I've provided a real good soundtrack for people's great times in Chicago."
Meanwhile, if you find yourself on the South Side this year, head to the main concourse section right behind home plate, peek your head in and say thanks.
Her door is always open.
Rick Paulas is a freelance writer based in Los Angeles and has previously written for ESPN The Magazine, McSweeney's and Vice magazine. He can be contacted through his Web site, RickPaulas.com.