Commentary
Nike collector creates his ShoeZeum
Originally Published:
June 13, 2011
By
Doug Williams
| Special to Page 2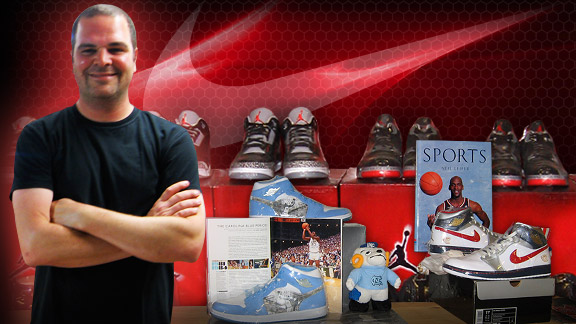 ESPN.com Illustration
SAN DIEGO -- Jordy Geller's parents wouldn't buy him a pair of Air Jordans when he was a kid.
Too expensive, they said.
Well, he's got his Air Jordans now -- hundreds of them, in fact -- among more than 2,000 pairs of Nikes on display in a totally anonymous 9,000-square-foot warehouse adjacent to an adult bookstore near San Diego's Old Town.
Geller calls it the ShoeZeum, and it's one man's tribute to all things Nike.
If Nike's motto is "Just Do It," Geller's is "Just Did It."
"I just got this wild idea," he says. "I started to pursue it, and as I dove deeper and deeper into it, I got deeper and deeper and deeper. And this is the result of it."
"This" is a Disneyland for "sneakerheads" and fans of pop culture, an almost overwhelming display of sneakers arrayed on shelves and tables, organized according to genre, sport, year, color, design and level of innovation.
Want to see shoes designed for Eminem or modeled after Eddie Van Halen's guitar or Cheech and Chong? They're here. The very first Air Jordans? He's got 11 of them. The Grinch-inspired shoes Kobe Bryant wore on Christmas? Sneakers patterned after Homer Simpson, Fred Flintstone or Kermit the Frog? Oh yeah.
PHOTO GALLERY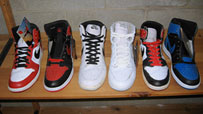 • Take a tour of some of Geller's displays and favorite shoes in the ShoeZeum.

THE TOP 10
Jordy Geller singles out 10 favorite shoes from his ShoeZeum collection:
1. The Pre Montreal. In April of 2010, Geller paid $3,383 for these track shoes on eBay, a 1973 model that had been designed for Steve Prefontaine. He would have these in the 1976 Olympics, but he was killed in a traffic accident in '75. This pair was found in an abandoned storage locker in New Mexico. It came with the original box, a key and spikes.
2. The Pigeon Dunk. This one carries the No. 2 mark of a special numbered series of only 30, a subset of the City Pack, which consisted of four shoes -- just 202 released of each -- to represent four sneaker-loving cities (New York, London, Paris and Tokyo). Geller paid $2,900 for this No. 2 shoe, after earlier paying $10,000 for a complete four-shoe set of the City Pack to a seller in Hong Kong.
3. Air Command Force. This model was the one worn by David Robinson in the NBA and by Woody Harrelson in the movie "White Men Can't Jump."
4. Air Jordan 3. The first Jordans designed by famed Nike designer Tinker Hatfield -- who autographed Geller's when he visited the ShoeZeum in March. It's also the first to have the "Jumpman" logo and a visible air bubble.
5. Air Jordan 4. These are special to Geller, because he couldn't afford the $69.99 price tag as an undergrad student at the University of Arizona. Now, they go for more than $600.
6. Air Jordan 5. These are new, retro re-issues of the original Air Jordan 5s of 1990 and Geller's longest-held shoes in his collection. He pre-ordered this pair in 1999 before their scheduled release in 2000.
7. Air Jordan No. 1s. Geller has 11 first-year Air Jordans from 1985 in an array of colors. He doesn't have every variety of Air Jordan 1 & but he's working on it.
8. JorDunks. Geller wore these black-and-whites for his wedding with a black tux.
9. Eminem Air Jordan IV. These blue shoes were owned and worn by the late DJ AM (Adam Goldstein), a big sneaker collector. It's one of 50 pairs issued to rapper Eminem and his friends. "These two (No. 10, as well) are impossible to get," says Geller, who bought them from DJ AM's family after his death in 2009.
10. Undefeated Air Jordan IV. One of only 72 pairs made for the people at the Undefeated shoe store in L.A. This one also was owned and worn by DJ AM. These final two shoes are among 55 pairs of DJ AM's more than 1,000 pairs that Geller now owns. Another, that was featured when DJ AM appeared on an episode of "Entourage," Geller bought for $3,050.
Shoes are displayed with complementary posters, photos, toys, magazines and props. Stuffed animals are piled around shoes inspired by sharks, tigers, zebras and lobsters. A Michael Vick dog chew toy dangles above Vick shoes. Pee-Wee Herman's arrest report and mug shot are paired with his gray (suit-colored) Dunks.
"I almost wanted it to be hypnotizing," says Geller, 34. "I wanted you to walk through this world and be completely consumed and engulfed into it and leave thinking that there's no other brand but Nike, there's no other shoes like Nikes and nothing like this museum."
The ShoeZeum is a product of Geller's passion for the swoosh, his connection to Michael Jordan (his name is Jordan Michael Geller) and his entrepreneurial wherewithal. He created a multimillion-dollar shoe-selling business on eBay called Sneak's Kicks in which he bought and sold sneakers all over the world.
Geller -- a fast-talking optimist who says he's been inspired by everything from Willy Wonka to "Field of Dreams," "The Last Lecture," Walt Disney and "Man on Wire" -- started in 1999 with a $300 investment, working out of his apartment while going to law school and then working on his master's in business. He'd buy shoes from swap meets, liquidations and overstocks and then turn them on the Web for a profit. Eventually, the business grew and moved into the warehouse that now houses the ShoeZeum.
Geller passed the bar exam on his first try, but decided to stay with what he loved "because I found this niche market."
Geller got to know everything about his beloved Nikes: the innovations, the rarities and what was hot. That knowledge sparked an idea: Why not create a shoe museum, a place where people who had grown up coveting Air Jordans or the latest and coolest kicks -- just as he had -- could see them all in one place?
It became his sole quest.
He stopped selling shoes at the end of 2010 -- putting enough money aside to see him through this ShoeZeum crusade. Where it goes, he's not sure.
Few people have actually seen the collection. It hasn't been open to the public and there's no sign on the warehouse that would lure visitors.
Seven Nike executives came down in March for a tour, some reporters for sneaker websites have visited (sneakernews.com called it "perhaps the most impressive collection on earth") and a couple of baseball players (the Cardinals' John Jay and Padres' Mike Adams) have explored it.
The San Diego Union-Tribune covered Geller's recent "golden ticket" event in which five sneaker fans bid from $170 to $255 each (with the money going to charity) for a private, six-hour experience in the ShoeZeum, complete with food and a shoe-painting session.
Geller will open the ShoeZeum to the public for the first time this Thursday, and is selling a limited number of tickets for $23.23 each (Jordan's number, of course) on his Sneak's Kicks page on eBay (with a $5 rebate for those who show up in Nikes).
After July, Geller's lease runs out on the warehouse. He's thinking about moving the ShoeZeum to Los Angeles, Oregon (the Land of Nike), Las Vegas or making it a traveling show.
"If you're into the culture of the '80s, '90s and now, there's something in there that'll grab you," he says.
Taking the tour
Step inside Geller's giant shoe box and you're greeted first by his little dog, Guinness, and then by the sight of a large, orange "Just Do It" banner hanging over racks of shoes surrounded by poster-covered walls.
Geller doesn't know the exact number of shoes in the ShoeZeum -- he says it's more than 2,000 -- or their combined worth. He claims it's "a million-dollar" collection but says he'd never sell it. "These are my babies," he says.
A tour reveals an army of arcane Nike facts laced with pop culture references, including:
• All but a handful of shoes in the collection are new, never-worn models in Geller's own shoe size: 11 to 12. All but a few are shrink-wrapped for protection.
• Geller has personal items scattered throughout, tying in his love of Nikes, Michael Jordan, eBay and his inspirations. "I wanted to tell my story through shoes," he says. Those include copies of Geller's California attorney ID card -- No. 234523 (the numbers Jordan wore in the NBA, in order); his bronzed baby shoes that sit next to ultra-expensive copper-colored Air Foamposities; the shoes he wore for his law school graduation and wedding; and even the dream car of his youth, a 1973 Ford Bronco (purchased on eBay) that's covered by Denver Broncos gear and sits next to a shoe illustrated by a SoCal freeway map.
• Every prop or toy in the ShoeZeum came from a local swap meet, a tribute to the first pair of Air Jordans he sold on eBay -- found at a swap meet.
• Between 2,000 to 2,500 square feet of the 9,000 total is devoted to Jordan. Geller has every Air Jordan model ever released, including those from his forgettable Washington Wizards era, arrayed in chronological order. "This is where the sneaker collectors lose their minds," he says.
• Displays at the front of the museum, geared "to captivate everyone" he says, feature cartoon characters, superheroes, San Diego theme parks and animals.
• The Air running shoe line -- models from 1979 to 2011 -- is arranged atop a long conveyor belt. It's the shoe Geller says is responsible for his obsession with Nike. His dad was a marathoner and "roped me into this, taking me to sneaker stores" to marvel at the Air's revolutionary, visible air bubbles.
• Shoes are displayed on racks by type (running, basketball, skateboarding, cross training) and in chronological order. Not every Nike shoe is represented; just the ones Geller believes are notable or innovative.
• Tucked away in the back of the first floor is a display of specialty shoes: hiking boots, aqua socks, sand volleyball shoes and flip-flops with the air bubble. Andre Agassi's colorful tennis line sits next to the bland, white shoes of his rival, Pete Sampras, but the shoes face away from each other.
• Upstairs, in the old employee break room, is an homage to all things about kicking back: shoes with themes about reggae, hemp, beer and Hawaii.
• Wild Yellow Submarine shoes for the Beatles, an Eminem collection and "fallen heroes" shoes -- for Milli Vanilli, MC Hammer, Pee-Wee Herman and Vanilla Ice -- are in the music collection, next to the TV/film display that includes shoes designed to look like Ferris Bueller's vest and jacket and an "Anchorman" shoe that shows off Will Ferrell's colorful movie tie as the tongue.
• Upstairs, in a place of honor, are Geller's favorite shoes, a red, white and blue pair of track spikes designed for Oregon runner Steve Prefontaine in 1973: the Pre Montreal. Prefontaine was going to wear this model in the 1976 Olympics, but died in a car accident in 1975. This pair, slightly worn (but not by Prefontaine), was found in an abandoned storage locker in New Mexico. Someone bid $5 for the contents, discovered the shoes and put them up for bid on eBay. Geller's winning bid was $3,383. "A shoe like this, you could just never find it," Geller says. "This is like the early, early, early days of Nike."
Every day, the ShoeZeum grows. Geller searches for new shoes and ponders his next steps. But, he's all in.
Others may see a large pile of shoes. He sees "all sorts of opportunities."
"It's so much like Kevin Costner in 'Field of Dreams,'" he says. "If you build it, they will come. He just felt like it's what he had to do. I felt the same way, and I did it."
Doug Williams is a freelance writer based in San Diego.