Commentary
Rolling a strike in Cowboys Stadium
Originally Published:
July 1, 2011
By
Danny Woodward
| Page 2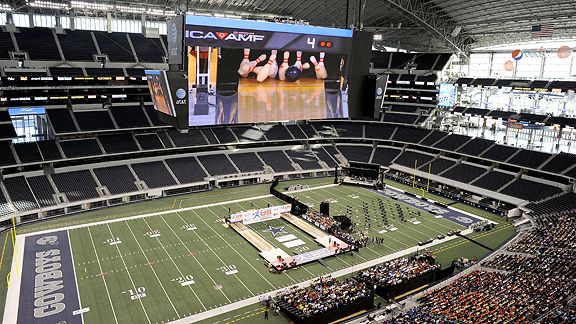 Courtesy Matt Strasen/Bowling ProprietorsApproximately 6,000 fans come out to Cowboys Stadium to watch the U.S. Open of women's bowling.
ARLINGTON, Texas -- There's nothing unusual about Pro Bowlers taking the field at Cowboys Stadium. Happens every Sunday.
But pro bowlers are a different story.
Then again, everything about the 2011 U.S. Women's Open of bowling was different.
For starters, the venue: Cowboys Stadium, which has hosted a Super Bowl but never super bowling. It's the first time that a women's PBA event has been held outside of a traditional bowling lanes.
In the spirit of the venue, each of the Open finalists -- Texans Shannon O'Keefe and Lynda Barnes, Hall of Famer Leanne Hulsenberg, top-seeded Kelly Kulick and Liz Johnson -- conducted their pregame interviews in front of Tony Romo's locker. Then they ran through the tunnel, flanked by the Dallas Cowboys Cheerleaders, and took their places midfield on the points of the iconic blue star.
They stood there, taking it all in, while country music legend Neal McCoy sang the national anthem.
In case you missed it, this is women's bowling.
This whole production was the brainchild of Steve Johnson, the Bowling Proprietors' Association of America's new executive director. He came on board in time for last year's Open -- held in a bowling alley, of all places -- and was uninspired by the experience.
"So I said, 'Where can we showcase the best women athletes from all over the world?' Cowboys Stadium! We built this thing to be the pinnacle, where any woman bowler would love to come to Cowboys Stadium and win this U.S. Open."
For that to happen, Johnson needed to convince everyone that women's bowling belonged on the same field as Super Bowl XLV. He said there were "still skeptics," even as the finalists warmed up on Thursday night. "But if someone's not on board with this now, something's wrong. Because this may be one of the best things that's ever happened to bowling."
If not, it's one of the strangest. When viewers tune in to ESPN2 at 6 p.m. Saturday, they'll see two sets of portable bowling lanes straddling the 50-yard line. (It took crews some 2,100 man hours to assemble this set.)
The idea was to wow the bowling faithful and give channel surfers a reason to pause, even if for the oddity of it all.
"The first thing [viewers] will say is how much have I had to drink," Johnson said. "And then they're going to have to say, 'That's Cowboys Stadium. That's where they just had the Super Bowl. Whatever's happening there must be important and has got to be very special.' My goal is for them to say, 'That was so cool, I'm watching the next tournament, too.' "
That next tournament will be back in a traditional bowling center, favoring sport over spectacle. So this was bowling's big chance. As Kulick put it, "We're taking our gamble, and this is it. We're all-in right here."
Looks like a good bet.
[+] Enlarge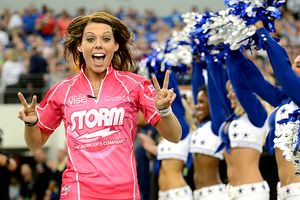 Bowling Proprietors' Association of America Shannon O'Keefe takes in the scene while running with the Dallas Cowboys cheerleaders.
More than 6,000 fans turned out -- one of the largest crowds ever to witness a bowling event -- paying $20 a ticket to spend their evening doing the wave, clanging together Thunderstix and roaring with standing ovations.
Once again … for women's bowling.
All this left Amy Schultz, from nearby Trophy Club, Texas, amazed. And a bit nostalgic. Her late father managed Brunswick plants in two states in the 1960s and '70s. "I wish my dad was here to see this," she said. "He would not believe it. … It's a lot to take in. And if you compare it to the typical bowling alley that's usually fairly small, fairly dark, fairly cramped and most definitely without cheerleaders, this is quite a contrast."
Chris Maitrejean of Grants Pass, Oregon, made his first trip to Texas to witness this. He's participated in, worked at and attended dozens of professional bowling events and called this one completely unique. And just what the sport needs.
"I ran into some young kids at Wendy's on my way in and they said, 'Oh! Are you going to the bowling tournament?' They were excited about it," he said. "And the more people we get in here, the more excited we can get them about the sport."
The crowd was partially partisan, drawn from bowling industry convention-goers. Both the United States Bowling Congress National Convention and the BPAA Convention were in North Texas this week. The International Bowling Museum and Hall of Fame is also in Arlington, a couple of miles from Cowboys Stadium.
Still, organizers say the event marked a revival for their often-struggling sport. Never a marquee attraction, women's bowling has been virtually on hiatus in recent years. The U.S. Open, its top event, wasn't even held between 2003 and 2007, and the season currently consists of just two events.
"This right here is the start to bringing women's bowling back," said Hall of Famer Carolyn Dorin-Ballard. "And there's no better place to start than at Cowboys Stadium, the home of champions."
It's the home of all kinds of things, really.
Although bowling may be a new spectacle at Cowboys Stadium, the venue has fielded much more than football. It hosted an NCAA men's basketball game between North Carolina and Texas in 2009, and the 2010 NBA All-Star Game there attracted a record crowd of 108,731. Manny Pacqiuao beat both Joshua Clottey and Antonio Margarito there, drawing 40,000 fans to each bout. More than 82,000 fans watched Mexico defeat Haiti during the 2009 Gold Cup, one of the best-attended soccer matches in the United States. Cowboys Stadium has hosted monster trucks, motocross, bull riding, yoga and even Zumba classes. And Cowboys spokesman Brett Daniels said there's talk of swimming, tennis and hockey coming to the venue soon.
"We're always open to anything, and anyone that wants to bring us an idea, we're willing to listen," Daniels said. "I talked to some folks over in Europe this week who wanted to learn about bowling in our building. We've tried to create the biggest stage for anyone and everyone to put on an event, and this is just another opportunity to showcase bowling on the grandest stage."
Complete with cheerleaders. Yep. For women's bowling.
The Dallas Cowboys Cheerleaders performed twice during breaks between the strikes and spares.
"I've been around the world at many different events, but I have never experienced a bowling event," said Sydney Durso, who's in her fourth year as a Cowboys cheerleader. "This is awesome. It's certainly something new. When we were practicing earlier, there were bowling balls rolling all around us; we were dancing, and we could hear it when the pins would crash. That was new … and really interesting."
For the bowlers, too.
In all of her career, O'Keefe, who won the 2009 PBA Women's Series Tour Trials and rolled a perfect 300 in an Open qualifier, had never bowled before more than 100 people.
"If even that," she said with a laugh.
"When we first walked in here, I was like, 'Wow, this is awesome.' I was intimidated. … I know people are going to look at this and say, 'Holy crap. What is that?' I mean, everybody bowls -- 70 million people a year -- so they know what the inside of a bowling center looks like. I hope they're intrigued by this."
McCoy was, for one. The singer -- who also put on a postevent concert for fans, who stood listening and noshing from nearly 60 buffet tables in the end zone -- has performed at all sorts of events in all sorts of venues in his long career. But this? "This may not be the strangest place I've ever performed at," he said, "but it certainly ranks up there. This is my first bowling match. And this is doing it in style."
(For the record, McCoy is something of a recreational bowler and carried a 175 average when he was younger.)
Incidentally, Hulsenberg, who had virtually retired a few years earlier, won the tournament by beating two-time Open champ Kulick, 218-183. It marked Hulsenberg's first U.S. Open title, second career major and 27th tour victory overall. She has more than $1 million in career earnings, adding $50,000 for her latest win.
And she celebrated midfield by raising the glass trophy and her 2-year-old son, who was wearing a Dallas Cowboys' T-shirt.
Danny Woodward is a freelance writer based in Fort Worth, Texas.