By Bill Simmons
Page 2 columnist
As you probably know, HBO and NFL Films are following around the Baltimore Ravens during this year's training camp, hoping to capture a "Survivor meets the NFL" feel for a six-week, behind-the-scenes documentary called "Hard Knocks."
When the first episode premiered Wednesday night, I knew it was my civic duty to keep a running diary. Here's what transpired:
Segment One: The Summer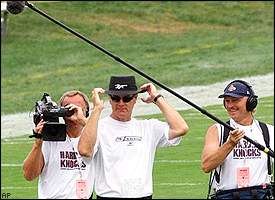 AP
Baltimore Ravens head coach Brian Billick gets ready for his closeup.
11 p.m. -- "Hard Knocks" kicks off with footage of Ravens coach Brian Billick celebrating after last year's Super Bowl. Since Billick's ego is roughly the size of Rhode Island, I'm guessing this won't be his last appearance during the show.
(I mean, you have to question the motives of any football coach who provides a documentary crew with total access at his team's training camp, don't you? Would Bill Parcells have done this? Vince Lombardi? Gimme a break. Billick claims he wants to "season" his team for the constant media scrutiny, which is understandable on paper.)
11:01 --
Intro, opening credits, pulsating rap soundtrack, lots of quick cuts of training camp footage ... the tone has been set. All we're missing right now is narration from Busta Rhymes.
11:03 --
Enter Billick again. We've flashed back to mid-July -- his summer house in Minnesota. There's Billick sitting on a big swing with his legs crossed and pontificating on the rigors of training camp. There's Billick strolling on a dock. There's Billick helping two of his children climb onto a jet ski. There's Billick pretending to be asleep on a hammock with an open copy of Rick Pitino's "Success is a Choice" resting on his chest. (Note to Billick: get a copy of Pitino's new book about his tenure in Boston, "Failure is a Choice." Great read. I highly recommend it.)
11:03 --
Billick: "People will talk about being arrogant, egotistical, eccentric ... and I joke about it and say, 'Well, at least I'm consistently arrogant, egotistical and eccentric.' But I don't think those are bad qualities, as long as you don't take them to excess -- and that leads you to become self-absorbed, self-centered and very selfish."
11:04 --
Video of Billick dropping F-bombs in the locker room last season. That's one reason you have to love any NFL documentary on HBO ... random F-bombs!
11:05 --
Switch to
Ray Lewis
' house, where within the first few seconds we see a Bible resting on a coffee table and hear Ray tell us, "I'm a peacemaker." (How long do you think he was coached by his agents for this interview? Three days? Five days?)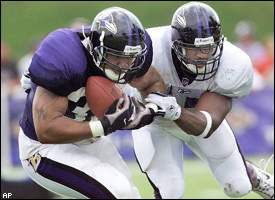 The first feel-good story of camp, Kenny Jackson, right, hits fullback Alan Ricard.
11:05 -- Lewis on his sauna: "We can sit down, relax and sweat ... you come in here and relax, sweat and have fun." In other words, it's a sauna. He also shows off a giant portrait that immortalizes two moments from the Super Bowl -- Lewis celebrating on the sidelines and Lewis' bizarre pregame dance/jig (easily one of the three or four worst moments of 2001). And the chalk outlines on the living room carpet were a nice touch. Apparently he's using this footage as his audition tape for "MTV's Cribs."
11:08 --
Switch to d-lineman
Dwayne Missouri
, a seventh-rounder who's hoping to make the team. We'll be seeing him getting the proverbial "Thanks but no thanks" handshake from Billick in about three weeks; I refuse to get emotionally attached to him.
Tony Siragusa
sums it up best: "Seventh-round draft choice?" Then he simulates his throat being slit.
11:11 --
Rookie tight end
Todd Heap
looks like a bigger, goofier-looking version of Woody Harrelson. Seems like a nice enough guy. Since he's a first-round pick from the Arizona State, I'm willing to bet my entire collection of "White Shadow" episodes that his girlfriend is a hottie. Any takers? Anyone? (Yup... she looks like Britney Spears. What were the odds? As an added bonus, they just got married. I'm telling you, life just isn't fair.)
11:14 --
There's comedy, there's high comedy ... and then there's the footage of Ravens tight end
Shannon Sharpe
and
Bryan Cox
working out together and talking about Sharpe's brainstorm:
-- SHARPE: They should go year-round ... as bad as kids have gotten now? They should go year-round. They should get two days for Christmas, two days for Thanksgiving ... that's it. Go to school.
-- COX (with a "Hey, I'm on TV!" look): Nawww, don't do that.
-- SHARPE: Why?
-- COX: It'll be more crime then because they'll start skippin'.
-- SHARPE: Naw, it's just when they out of school, then they have s--- to think about.
-- COX: Naw, parents need to whup their ass.
-- SHARPE: Well I agree with that, too.
-- COX: I don't abuse my kids, but if they mess up, I'm whippin' their ass.
-- SHARPE: My son, he want tattoos, he want his hair like Allen Iverson ... I tell him, "You better have Allen Iverson pay some of these bills!"
(Note: you can read the full transcript of that exchange in this month's issue of Anyone Can Be Parents Magazine.)
11:15 --
Switch to a shirtless, soaking-wet Tony Siragusa standing on a boat. I will now light myself on fire.
11:15 --
Siragusa on summer vacation: "After July 4, I start getting miserable. My wife hates me. My kids are like, 'Daddy you're mean.'" And if it's any consolation, Tony ... I don't like you, either.
11:18 --
Here's the first feel-good story -- free agent safety Kenny Jackson, who underachieved as a college football player but turned his life around after graduation. These days he's a special education teacher. Last spring he badgered Ravens defensive coordinator Marvin Lewis -- the 2000 winner of the Tony Dungy Memorial "When Is This Guy Gonna Get a Chance to Be a Head Coach?" Award -- and wrote him so many letters that Lewis finally agreed to watch him run a 40-yard dash. Next thing you know, Jackson was getting a training camp invite. (And that thud you just heard? That was me making an impromptu leap onto the Kenny Jackson bandwagon.)
11:21 --
More shots of Sharpe working out, with the added bonus that Cox is busting his chops and claiming that Sharpe's workout is extra-long today only because the HBO cameras are following him. "Take yo' ass home!" Cox finally needles Sharpe. For once, Sharpe is speechless. High comedy. HBO might need to team these two up for a sitcom called "Shut Yo' Ass Up!"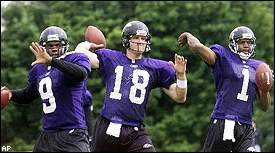 Ortege Jenkins, left, seems to lack the skill, but he should be able to outrap Elvis Grbac, center, and Randall Cunningham.
11:23 -- All right, I'll ask: how can you become the head trainer for an NFL team and have an enormous gut? It's like having a blind guy working at a video store, isn't it?
11:23 --
Switch to Reggie Wardell, a free agent defensive back from Houston who seems totally flustered by the cameras. He gets out of his car, looks at the camera and says, "Wassup wassup fellas. Ladies." That's grounds for his release from the team right there.
11:25 --
Switch to
Qadry Ismail
, who pulls in front of his house and gets greeted by his son, Qadry Jr. I'm willing to roll the dice here and say that there isn't another "Qadry Jr." out there.
11:27 --
Switch to Long Beach, Calif., and rookie quarterback Ortege Jenkins, who's giving a funny diatribe about life in the ghetto. Good stuff. Seems like a good guy. Hopefully his roommate during training camp will hail from Compton so they can get a "Nothin' But a G-Thang"/Snoop-Dre connection going. Bow wow wow yippee yo yippe yea ... Ortege J is in the hoooooouuse.
11:31 --
As we watch a montage of everyone we've met so far (Heap, Sharpe, etc.) leaving for training camp, Dwayne Missouri sums it up best: "I'm running through the whole gamut of emotions -- nervousness, excitedness, anxiousness, I mean everything. Happy, joy, sad to leave this place, I'm definitely going to run through it all." I think he was doing a President Bush imitation.
11:32 --
Highlight of the show so far: A middle-aged man comes up to Ismail, hands him a pen and paper (for an autograph) and asks, "Can you sign this for Bucky? He's a huge Notre Dame fan" as Ismail recoils in horror. You knew we'd have at least one "I'm not Rocket, that's my brother" moment in this show. Good times ... good times.
Segment Two: Camp, Day One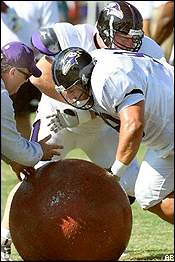 AP
Ravens coach Rex Ryan pushes a weighted rubber ball into the path of Ravens defensive tackle Tony Siragusa.
11:35 -- Siragusa on training camp: "It's almost like you're in jail. I hate it. I hate the coaches, I hate the front office, I want to get back home, it's just miserable. I don't know, it sucks." He's a pretty upbeat guy.
11:36 --
Sharpe actually makes sense about why teams take training camp to these remote locations: "Close-knit quarters -- it breeds camaraderie. You might have a fight with a guy, or a disagreement or an argument with a guy on the football field, but that's as far as it goes. Once you get to the dorm, hey, this is the guy you're gonna have to go to war with."
11:37 --
Various shots of players checking into their rooms raises a scary question: What's life like for Tony Siragusa's roommate? Can you imagine walking into your room for the first time and seeing the 350-pound Goose sprawled on his bed in his underwear? What about seeing the Goose coming out of your bathroom with a rolled-up newspaper and one of those "I wouldn't go in there if I were you" looks on his face? Good God.
11:38 --
I'm already tuning out Billick. It looks like he watched the complete series of Tony Robbins tapes before camp started.
11:38 --
Quick tangent for anyone who watches MTV: remember Segun, the hilarious candidate who was rejected from the Road Rules/Real World Casting Challenge last month despite the fact he wore cuticle gloves and mud masks to bed? Are Sharpe and Segun the same guy or am I crazy? If the HBO cameras catch Sharpe wearing a mud mask to bed, call the authorities.
11:39 --
Siragusa slips another intern a $50 bill and tells him to keep the fridge stocked. I'm not making this up. Then he starts talking about how he hates weigh-ins -- "If I smell a hamburger I gain two pounds." Switch to Billick bitching at the Goose on the phone and urging him to get weighed, finally hanging up in disgust. Good stuff. I'd like to order more bitching and grumbling, please. And hold the Siragusa.
11:40 --
In the first team meeting, Billick warns his players to keep
everyone
out of their rooms -- "No one. Mother, father, agent, girlfriend, boyfriend, whatever." Of course, everyone cracks up at the boyfriend joke. Meanwhile Billick's going full-throttle into his "This is what it's all about -- winning a championship again" speech, which is available on eBay from John Madden.
| | | |
| --- | --- | --- |
| |   | Quick memo to the HBO/NFL Films producers: a little less of Sharpe, a lot less of the Goose, and tone down Planet Billick. Please. We're begging you.   |
| | |   |
11:42 -- Siragusa's in rare form at the first team dinner -- he's ordering rookies around and badgering Heap about his contract (five years, $6.1 million). "Who's your agent?" the Goose asks. "Fire him."
Then he drags Billick over, tells the coach that Heap got screwed on his contract, and urges Billick to allow Heap's wife to stay in the team hotel for a pseudo-honeymoon (because the Heaps obviously couldn't afford one with that measly contract). This segment desperately needed a laugh track.
(Random note: I'm down on the Goose. He's obviously trying to be funny/quirky for the cameras -- with an eye on a TV/radio career after football -- but he's trying a little too hard.)
11:43 --
The Goose somewhat redeems himself with this advice to Heap: "Listen, man, lemme give you some advice. Your wife is
very
good-looking. Very beautiful wife, very nice. Do
not
bring her around here." Then he leaves a reeling Heap alone to finish his dinner. You can't put a price on moments like that one. That might have been my favorite HBO moment since Mark Byars was burning up a forest and screaming "
Burn in Hell!
" during the "Paradise Lost" sequel last year.
11:45 --
Footage of various rookies being forced to sing their college fight songs at dinner. Beyond awkward ... and yet somehow one of the all-time goofy-but-great sports traditions, right up there with the dugout hot-foot and NBA rookies carrying their teammates' luggage. (The highlight here was one rookie belting his song out while a nodding Ray Lewis piped up, "He all right!" to nobody in particular. Could it possibly be a new potential posse member for Ray?)
11:46 --
Quick bites with all the nervous free agents and rookies on the night before practice kicks off ... the tension builds ...
Segment Three: Camp, Day Two
| | |
| --- | --- |
| | "Hard Knocks" |
| | The second episode of HBO's "Hard Knocks: Training Camp With The Baltimore Ravens" airs at 11 p.m. Wednesday. |
11:48 --
Highlights from the first practice so far: Billick wearing a brown mini-fedora and dark sunglasses and looking like he just fell out of a Tommy Hilfilger catalog; Siragusa bulldozing over a backup lineman like a steamroller; Lewis dominating a one-on-one drill; Wardell and Jenkins looking lost in passing drills; Sharpe getting knocked unconscious (all right, I made that last one up -- just wanted to see how it would look like in print).
11:48 --
During a passing drill, a jittery Jenkins (the free agent QB from Long Beach) is bouncing more passes than Curly Neal. Cut to offensive coordinator Matt Cavanaugh, who has a "Didn't we release
Tony Banks
?" look on his face. Cut to Jenkins on the sidelines telling fellow backup
Randall Cunningham
, "I never been nervous like this." Cunningham consoles him and tells him "Laugh it off." He forgets to add, "I was nervous once, too. Now some people consider me to be the greatest video game QB of all-time. Did you ever play Tecmo Bowl? I was the QB for the '90 Eagles ... nobody could stop me ..."
11:50 --
Siragusa gets the last line, as everyone walks off the field after practice: "If we don't win the Super Bowl, this year's a failure for me -- for me, for my teammates, for the organization. We want it again." Fade to closing credits ...
Quick final thoughts
1. Quick memo to the HBO/NFL Films producers: a little less of Sharpe, a lot less of the Goose, and tone down Planet Billick. Please. We're begging you.
2. Even the best "Saturday Night Live" sketch writer of all-time couldn't have come up with a funnier image than this one: Brian Billick lying asleep on a hammock with one of Rick Pitino's books on his chest. I'm eagerly awaiting the poster.
3. After six weeks of these shows, it's probably impossible not to start rooting for the Ravens a little bit. Take someone like Todd Heap, for instance. I met his wife. I saw his house. I saw his wedding photos. I saw him get tweaked by the veterans. You think I won't be rooting for Todd Heap to make a play when I'm watching the Ravens on "Monday Night Football"? (Note: Sorry to use the Dierdorf-esque "You think I won't be ..." device there in the last paragraph -- the classic device where broadcasters start an argument with themselves and act surprised when they prove themselves wrong. I was feeling it. My bad.)
4. More importantly, shows like this -- if they're good enough -- make you take a step back and say, "Hey, I never thought about that before." Like when Sharpe was talking about how important training camp was (because it brings everyone in close quarters and fosters camaraderie), that was a terrific point. We read about training camps every summer, yes, but we never get a real feeling for them, do we? Along those same lines, when some of these players are cut, it will be much more painful to watch, since we feel like we actually know them. I'm already dreading the Jenkins cut in a "Sonny Corleone's about to pull up at the tollbooth again" kinda way.
5. When President Bush unveils his controversial Education Reform Act -- 12 months of school a year, with two days off for Thanksgiving and Christmas -- I just hope he has the courage to credit Shannon Sharpe.
6. My final rating: seven out of 10. Give me anything behind-the-scenes with pro athletes and I'm happy. Throw in a few random F-bombs and I'm even happier. I think we all feel that way. Bill Simmons writes three columns a week for Page 2.