By Sheldon Spencer
Special to Page 2
If all goes as Patrick Ramsey hopes, his name will be one of the answers in a unique trivia query by February, 2005: Name the four quarterbacks Joe Gibbs has coached to Super Bowl victories.
Gibbs' unexpected return to Washington to coach the Redskins has spurred Ramsey to high hopes for his third NFL season. The fact that Ramsey remains upright -- with the aid of crutches, at the moment, as he recovers from December foot surgery -- is an accomplishment in itself.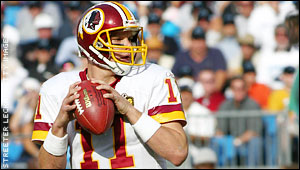 Getty Images
Ramsey was 179 for 337 for 2,166 yards and 14 TDs in 2003.
"Unofficially, the NFL's most-punished quarterback" last season (as the Washington Post described him), Ramsey endured 30 sacks before his season ended in the 11th game against Miami. Recently, Ramsey visited with ESPN.com's Sheldon Spencer to discuss life in former coach Steve Spurrier's "Fun and Gun" offense, why he would welcome Terrell Owens to his huddle and how he stretches a dollar on a millionaire's salary.
1. Tough one to start: Why weren't the Redskins in Super Bowl XXXVIII?
We weren't in the Super Bowl for almost the same reasons the Panthers were. When they were in close games, they almost always found a way to win. When we were in close games, we didn't. We were in so many close games this year. I don't want that to sound bitter, or like an excuse at all. I think we were in like seven games that were decided by seven points or less. So, I think (the Panthers) found a way to overcome the adversity, and we didn't. We did early; and then from then on, we lost the close games.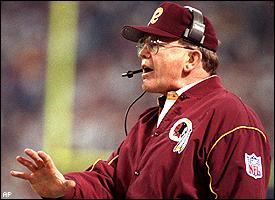 Joe Gibbs won Super Bowls with three different QBs -- Joe Theismann, Doug Williams and Mark Rypien.
2. What do you think Joe Gibbs can do for you, specifically, and for the team as a whole that maybe Steve Spurrier couldn't do?
I think coach Gibbs can teach me what it was about the three quarterbacks that made it to Super Bowls. Coach Spurrier is going to teach fundamentals, and he did a great job of that. He taught a lot of good fundamentals as far as technique -- throwing the ball, dropping back. He taught me a lot about attacking defenses and coverages and timing. I think coach Gibbs can bring a motivational aspect. He brings recognition in that he's won three Super Bowls already. I think that says enough, really.
3. Your broken foot ... you played some games on it.
The whole season. I had it since August. It was in August when we found it. It was uncomfortable early in the season, but it got almost unbearably uncomfortable during the Seattle game. We played Carolina the next week. We played the Miami the next week, and then I didn't play after that.
When was that injury revealed (to the public)?
It was revealed, I think, after the Carolina game. Maybe before.
I'm very much against making excuses, so I didn't want that to be an excuse during the entire season. Whether we were doing well or not doing well, I didn't want that to be something to draw attention to.
Obviously, that's got to affect your mobility. When Spurrier is under pressure about the offense, and you know that you could be helping him more if you had two good feet but you can't say anything (about the injury) ... how difficult was that?
It's frustrating. People take shots at you, but it's part of it. Honestly, I don't see a whole lot of the stuff (in the media), but I don't let it affect me if I do. It's people's jobs. That's what they're paid to do, to give their opinion. You know that if you had a broken foot, they'd probably understand. But at the same time, you don't want to make an excuse.
4. Was there a time for you when you lost confidence in Spurrier?
No. Not really. The only point at which I ever felt like there was a possibility of him leaving, really, was the exit meeting. It was brief, not really detailed. That's when I was a little suspicious. In the middle of the year, there was talk about him going somewhere. But he said he wasn't, so I kind of moved on. I was almost oblivious to what took place.
Have you spoken to him since?
I haven't. He's called me and I've called him.
Let us be the fly on the wall. What would you talk about?
It would basically be, "Coach, how are you doing?" Hopefully, he's happier. I think that's the primary reason he decided to do what he did. I would say, "Thank you very much for what you've done for me, because I am grateful for the opportunity you gave me. I wish you nothing but the best." I'm sure he'll go back to college and do really well.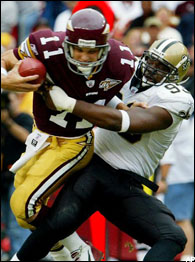 Ramsey got a little too familiar with this feeling.
5. Do you ever have nightmares about being blindsided?
No (laughs), I don't, man. It seems to affect everyone else more than it does me. People comment on it so much. I guess maybe I'm na´ve, but sometimes I feel like it's part of the job. People act like, hey, quarterbacks shouldn't be hit like that. But it's the game of football. You're not out there to not get hit. You're not out there to be babied.
If it helps your team to protect your quarterback better, then so be it. But if you're holding back your team to try to protect (him), then you're not doing anybody any good. That's the way coach (Spurrier) was. He coached offense in a way where there wasn't a lot of emphasis placed on protection. That's the way he's always coached. That's the way he'd always been successful coaching.
6. What did you learn from the sidelines, watching Tim Hasselbeck?
We put in some hot reads and sight adjustments when he went in there, and he did a good job with that. We basically ran our stuff from that point. We condensed it or ... maybe, uh, not simplified it in any way, but we ran shorter, quicker stuff.
Compare and contrast you two as quarterbacks.
He's accurate. He's a very intelligent guy. I don't know that much about him on the field, obviously. But he's a good guy to be around. A good locker room guy. He takes his job seriously.
I'm going to sit in the pocket. I've got a good arm. I'm accurate. And I think I've got a good relationship with my team.
Dan Snyder likes to spend money. Would it shock you -- and how would you adjust -- if suddenly Terrell Owens was in your huddle?
(Laughs) I don't think, after (hiring) coach Gibbs, anything can shock me. That was the ultimate shock. If we signed T.O., I'd be like, "Wow, we got a great player, a great weapon." I consider that a possibility. I didn't consider coach Gibbs a possibility.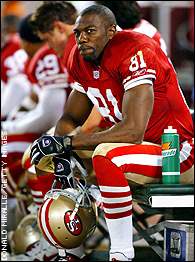 If T.O. leaves San Fran, the Redskins could certainly use him.
I've told people this: It would almost be foolish for me, as a quarterback, to say I wouldn't be happy having a guy like Terrell Owens on my football team. He can make everybody around him a better player.
7. Jesse Palmer (Giants backup QB) is next on "The Bachelor." If you weren't married, would you consider doing something like that?
This is not a knock on Jesse. That may be Jesse's style, but that's far from my style. I'm a private, kind of quiet, person.
Even if there were the lure of $1 million or ...
I wouldn't do it. I'm very traditional. I think it's a great way to meet someone. But to even talk marriage -- having a TV show trying to pick somebody? I think it would be great if you say you're going to meet somebody you might be interested in dating. But when you talk about marriage, I think that's something more sacred than that.
It's not like I'm criticizing him or judging him for doing what he's doing. It's interesting. People will watch it. I'll watch it. It's not something I'll do personally.
8. You were born on Valentine's Day. What's the most memorable birthday gift you've had?
I've always wanted a Benelli shot gun, but I'm too cheap to go buy one myself. I'm a hunter. Last year, my wife gave me one. I was really excited about that. It's a top-of-the-line shotgun.
I deer hunt and duck hunt (in Louisiana) and bow hunt in Northern Virginia. My best friend is Bert Jones' son -- we grew up together. And Bert Jones does ESPN's outdoors shows. So, ultimately, at one point in my life, there's nothing I'd like to do more than host one of those things. Just to even be on them now. That's what I like to do now -- hunt and fish.
You haven't got an invite from Bert yet?
I have. But it's hard. It's really difficult. My first year, I was getting married, drafted and all that. This year, I've got the foot thing, and coach Gibbs. And so I just haven't the opportunity to do it. But I'm sure we will eventually.
I love to bass fish. I would love to go to Colorado and New Mexico and hunt elk. But I can't do that, because that's in early fall.
9. Considering you were an accounting and finance major at Tulane, would you like to help coach Gibbs out with his NASCAR franchise? Maybe look at the books?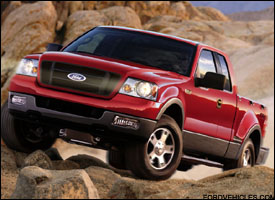 Did Ramsey get his new truck in Redskins colors?
It would be interesting. I've never really been into NASCAR. It's not something I've paid a lot of attention to. But because (Gibbs) is, it might be something I'd pay attention to. I've always been a real estate guy. My father-in-law builds commercial real estate. I'm interested in developing.
Are you dabbling in that yet?
Not yet. I'm trying to ensure my (family's) future first. I'm very cheap. It's very difficult to pry money from my hands. (laughs).
10. That's good that you can admit that. Give me an example of you being a penny-pincher. That's a pretty nice-looking suit, for instance ...
Oh, it's free. They gave it to me at the rookie premiere. Everybody who knows me can give examples. I drive an F-150. I drive a 2002; but just yesterday, I bought the new one. My father-in-law got (the 2004) and I was so jealous. I love it. It's a nice truck. It didn't cost me much between the price and my trade-in.
I don't like to take the toll road because it costs a $1.90 a day. It's bad (laughs). Everybody on the team laughs at me. Robert Royal, our tight end, kids me. He was at our house and heard this. My wife tells me that it's going to cost us $1,000 to move our stuff from our house into another house. I got uptight about that. I wanted to move it ourselves. Eventually, we packed everything and (the movers) moved it, so we saved a little money there.
I know money's hard to come by. I've been fortunate. I've tried to be good with it and try to use it wisely.
What's your biggest splurge since you've become a millionaire?
Probably that truck. That's probably it. Maybe landscaping on our new house. But that's an investment. Maybe the furniture for our new house.
Did you negotiate the price of your new truck?
I tell you, I'm bad. I'm a pain. But I did well. I actually was proud of myself in negotiating (for the new truck). But I'm sure -- as a car dealership always will -- they came out on top.
In his day job, Sheldon Spencer is an editor for ESPN.com.