By Bill Simmons
Page 2 columnist
Editor's Note: The Sports Guy is writing a running blog from Super Bowl XXXVIII in Houston, and he will be updating it a couple of times each day.
Updated: Friday, 7:30 p.m. ET
HOUSTON -- For the average media member or fan who doesn't care about either team, this could be the worst Super Bowl Week ever. There's nothing to hype: One team has already been here, the other team doesn't have a visible star, and there haven't been any scandals or anything (at least not yet). And everyone is depressed because we're in Houston -- the city is sprawling and confusing, and the weather has been reprehensible. It's all very strange. I've only been to one other Super Bowl -- Pats 20, Rams 17, N'Awlins -- and the vibe that week felt totally different. Maybe things will change this weekend ... but I doubt it. Thank God the Pats are here ... I can't imagine what this week would be like if you didn't have a vested interest in the game. More football-related thoughts from the past two weeks:
I wasn't able to mention this until now, but I still feel terrible for the Philly fans. What happened two weeks ago was borderline excruciating. It wasn't just losing the three consecutive NFC title games; it was the way they lost them -- one decent performance against a superior Rams team in 2002, then two straight stink bombs at home. There wasn't a memorable game in the bunch. None of them qualified as a Stomach Punch or anything, but the cumulative effect of all three games was almost as bad. Here's the worst part: After you get the wind knocked out of you enough times as a fan, you never truly bounce back with that particular team. We watched it happen with Marv Levy in Buffalo, or Denny Green's Vikings teams, or even those Browns teams back in the mid-'80s. Once you pass a point where your fans can keep trusting you, it's all over. And everyone dredges up the negative stuff in training camp, and it continues all season, and the fans are waiting to put their guard up any time there's a hint of failure in the air. Eventually, you just have to clean house and start over. There's no other way.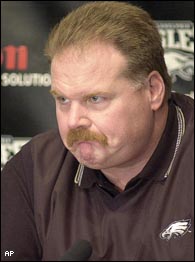 Hey, maybe Andy Reid can get into Bill Simmons' Pantheon of Faces.

I think the Eagles are one season away from reaching that point. If not for the injuries to Brian Westbrook and Carlos Emmons -- which damaged the cause more than many realized at the time -- that housecleaning could have happened this spring. But now they'll talk themselves into stuff like "We just need to be healthy in January" and "We just need to surround McNabb with better receivers." And those wounds from the Carolina game will heal, and everyone will jump back on the bandwagon for one last run.

And if things fall apart next January again? Then, the QB needs to go or the coach needs to go. And that's that. Again, there's no other way.
Speaking of the Eagles and painful defeats, why do TV announcers always add insult to injury by casually dropping lines like, "How many Eagles fans are wondering, 'It's happening again?' " ... As a fan, I can't describe how horrendous it feels to hear something like that. The announcers pulled the same crap when the Sox were playing the Yankees last October. It was like they were getting royalties everytime they said "Nine outs away!" or brought up the thing that rhymes with Schmurse. Here's the best way I can describe it: Imagine being at a bar in college, and you're on one of those stupid hiatuses with your girlfriend. You know it's bad. You know it's probably not ending well. But when you see her hanging all over another guy, that's when you realize it's probably over. And man, does it hurt. Yeah, there's a chance she could have a change of heart and make one more run with you that night ... but probably not. Deep down, you know it. Well, don't you get that same pit-in-the-stomach feeling as you would watching your team blow the NFC Championship Game for the third straight year? And if it is the same feeling, would you want some commentator standing next to you and saying in all seriousness, "Wow, she's doing another lemon-drop shot with that scumbag ... and right now, you're feeling a very familiar pain in your heart. It's the pain of betrayal. Hey, I'm going to the bathroom. I'll be back after this." Seriously, wouldn't you punch him right in the face? No questions asked, right? So why do guys do that when they're announcing games? Why not take even a token consideration into the feelings of the fans from the team with the crummy history?
Speaking of announcers, one final Annoying Announcing Trend before we head into the Super Bowl with two of the best -- Gumbel and Simms. Here it is: During the past four months, how many times did we witness a sequence like this? Let's say it's second down and the team runs a reverse that works, as the receiver runs for 20 yards. The cameras show the guy running back to the huddle. And then the color announcer starts his analysis with, "You talk about a trick play that works to perfection ..." or "You talk about great blocking upfront ..." Wait a second ... I wasn't talking about anything! I'm just sitting here! I haven't said anything! (Geez, you talk about an announcing trend that really annoys the hell out of me ...)
One more TV thing I can never understand, and Simms does this all the time (not that it's a bad thing): We'll be 15 plays into the game, one of the teams will do something, and Simms will say, "Well, they told us before the game, they wanted to throw the ball deep, test these cornerbacks and keep testing them all game." And that's usually what ends up happening. So here's my question: Why don't the teams involved just have someone watching the game and taking notes? Yo, Coach, just heard Simms say they're gonna throw deep on us all game -- let's move the safety back. Wouldn't you do this in a heartbeat? It's like free information!
The player-reporter exchange of the week, courtesy of Thursday's Boston Globe: During (Wednesday's) media session, (Carolina safety Deon) Grant was asked whether the Panthers' unexpected march to the Super Bowl was similar to North Carolina senator John Edwards's campaign for the Democratic presidential nomination, which has gained steam with impressive showings in the Iowa caucus and New Hampshire primary. "Who you say now?" asked Grant with a puzzled look. The reporter repeated Edwards's name, and Grant responded, "I don't know anything about them politics. You lost me on that one. If (Edwards's platform is) a good thing, I'm with it. If it's a bad thing, I'm not with it. But I don't know anything about them politics." (We need to put him in a reality-TV house with Willie Williams, that prep recruit from Florida.)
Forgot to mention this ... in a Business Week interview, DirecTV CEO Chase Carey talked about a bunch of things, including changes he wants to implement over the next few years. Here's a direct quote. "The second area is interactivity -- first with sports and news. (At BSkyB in Britain), Sky is the leader. You can jump to get the latest on the bin Laden story, or you can pick up different camera angles at sporting events. If you come in at halftime, you get a five-minute package of what you missed. What I would love to do is (offer) betting on games." Excuse me? I might be able to wager on games through DirecTV? And watch multiple games? (Getting dizzy.) (Feeling like I might pass out.)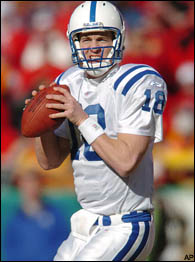 Peyton Manning is still trying to forget that AFC title game defeat.
Forgot to mention this, too: The Pats-Colts game damn near killed me two weeks ago. The Pats doubled Indy's total yardage for most of the game; intercepted Manning four times; punished the Indy receivers to the point where they were tap-dancing across the middle like Gregory Hines; pushed the ball into the red zone seven different times; made every field goal; notched a safety; battered Manning like a piece of veal ... and there were the Colts with 150 seconds to play, attempting an onside kick for a chance to tie the score. Unbelievable. How did the Pats not win that game by 30 points? And how did that game not go over? What a weird three hours.
It's funny how things change in a week. Reader Bobby H. asks the following: "My friends and I were talking after the Pats game, all relishing Manning's meltdown, and trying to figure what Shaquille O'Neal would have to do to have a similarly horrible performance in the conference finals. The consensus was five points (on two-for-32 shooting), two rebounds, and 16 turnovers in 42 minutes. Your thoughts?" He was a little better than that. I would give him 14 points on five-for-26 shooting, with a four-for-19 performance from the line, five boards and 13 turnovers. That's about right. But Shaq could never randomly blame innocent teammates like Manning does, and he definitely couldn't make the Peyton Manning "My God, things are falling apart!" Face (although Shaq has his own face when he shoots free throws.)
Everyone keeps asking how I ended up in a Celebrity Poker Tournament, being held Saturday afternoon (Drexler's, 4 p.m.). And here's the thing: I have no idea. Obviously, I'm not a celebrity. So either they're using me to promote the event -- which is fine, because I will be happily used for something like this -- or one of my bosses lied to them and convinced them that I'm a celebrity. (Editor's Note: Yes, that's exactly what we did.)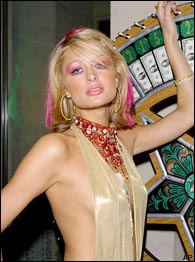 Paris Hilton shows the Sports Guy her "poker face."
Supposedly, Clyde Drexler, Moses Malone, Jeff Bagwell, Yanni, Bobby Labonte, and Marcus Allen and even the Hilton Sisters will be involved. It all seems too good to be true. If I end up making it to the final three with Moses Malone and Paris Hilton, on the night before the Pats play in the Super Bowl ... I mean ... I can't ... no words ... unable ... can't ... trying ... no explain ... babbling ... feeling dizzy again ...
Here's the jinx of the month: According to reader Ken Hay, "You can Pre-Order your Reebok Super Bowl XXXVIII Championship Kit complete with T-shirt, hat and DVD all for $69.99. In a mind-boggling marketing move, these kits are available for pre-order from nfl.com right now for either the Pats or Panthers. What self-respecting overly superstitious fan could possibly conceive of doing such a thing?"
Here's the e-mail of the month, courtesy of Roberto Strom: "Has Andy Reid purchased Marty Schottenheimer's house in Honolulu yet?" (Ouch. Come on, it has been enough time ... the Philly fans can enjoy that one. A little.)
Here's the question of the month: Coming off my last conference championship preview, reader Tom B. from Denver asks, "Regardless of temperature, did I read that your friend J-Bug was wearing leather pants? At what point is it acceptable for a male to purchase leather pants? I can only hope that he said to his buddy when he bought them, 'These will really come in handy if the Pats are in the playoffs and its negative-2 degrees outside.' " The Bug's response? "It happened during my first sales job back in 1998. I made a statement that I would buy a pair of leather pants with my first big commission check. You have seen them; they are pretty damn cool. I'm comfortable enough with myself to wear them. Tell reader Tom to crawl back into his closet." (I'll let the jury decide on this one.) Updated: Friday, 1:30 p.m. ET
We're now officially moving into blog-style format for the rest of the weekend. There will be no rhyme or reason to when anything gets posted. Everything will be mini-columns until Monday. Click here to check out my chat Friday morning on ESPN.com. Friday is looking like one of the nicer days of the week here: Gloomy skies, heavy fog, basically the kind of weather that makes you contemplate suicide. On Thursday night, I stopped by the EA Sports "Madden Bowl," which was my favorite party in New Orleans two years ago. This time? My editor KJ and I took a $25 cab ride out to the Galleria area ... and stayed for about 25 minutes. I'm not blaming the EA Sports people -- they just picked the wrong place (The Roxy Club). Way too big. You couldn't see any of the TVs. And there were too many people. And they wouldn't let me play. One highlight was when Willis McGahee whipped Ahman Green something like 104-7. That's not a misprint. He definitely topped 100 points. Maybe he was frustrated from not playing all season. (Be worried Packers fans ... Ahman was last seen asking people, "Does anyone know how I can get to Main Street so I can jump in front of the light rail?") From what I could gather -- and believe me, it was impossible to figure out anything in this place -- McGahee and Dante Hall were playing in the finals. Even though the drinks were free, KJ and I decided to leave after KJ looked around, then said confidently, "This seems like the kind of place where you could get shot." When we were leaving, we saw Rick Reilly, who seemed very pleased with himself. I didn't know whether I wanted to introduce myself to him or trash-talk him. Finally, KJ pulled me out of there. Still, "ESPN Columnist Fights S.I. Columnist" could have been the greatest Super Bowl Week story since Eugene Robinson needed to unwind on a Saturday night. Maybe next year.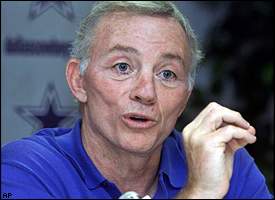 Jerry Jones' arrival definitely livened up the "Barbershop 2" post-premiere party.

From there we headed to the "Barbershop 2" premiere, held at my favorite place (Icon). We ended up in the upstairs lounge, where I finally got to meet Jim Rome, who was wearing a white turtleneck sweater from the Alan Thicke Collection. Good guy, though. You never know with some of these media guys who become successful -- they can go either way when it happens. Also, Thea Andrews from Cold Pizza was there. I'm not allowed to comment on her because the Sports Gal was angry Thursday when I called someone "cute." Instead, I'm going to use the word "personable" for the rest of the week.

Jerry Jones showed up, and that was a big deal. Looks like he still has the same wife from when he became rich. I always like when that happens. Then esteemed Hollywood agent James "Baby Doll" Dixon showed up, and that's when the party really took off. Some people can just light up a room. Within minutes, Baby was ordering everyone drinks and shots. Of course, it was an open bar and everything was complimentary. We didn't have the heart to tell him. From there, the party started heating up: Michael Strahan, Deion Sanders, Dave Navarro, all the stars from the movie, accompanied by some women who seemed very personable ... they were coming in one after the other. The Rock showed up with an entourage, including bodyguards with those little earpieces in their ear so they look more professional. Even Pat O'Brien was there, dressed like a white person this time. As I've said many times, I hate talking to celebrities or athletes because it always ends up being disappointing, and you don't like them as much afterward. So, I usually avoid them, with Rome being an exception last night. Talking to agents and PR people and other people in the business is always much more fun, mainly because you can find out good celebrity stories that way, none of which I can print. One of my favorite conversations was with Stephen Davis' agent, David Canter, just because I got to bust his chops about how Jake Delhomme was going to blow the Super Bowl for his client Sunday. Deep down, he knew. My other favorite conversation was every time I introduced Baby Doll as "Baby," then people would actually say things to him like, "So, Baby, how long have you been in town?" All in all, it ended up being a fun night and I'm giving give the "Barbershop 2" party a 10 out of 10, finishing a whopping eight points higher than the EA Sports party (and easily covering the line of 1½). Special thanks to the PR people running the party (Alisha, Jessica, Amy, Scott and everyone else). Friday night's schedule include: A.) Jimmy's first-ever "on-location" show, coming from the Moutra family's house in Houston. Guests include Nick Lachey, Warren Sapp, Adam Carolla, Shelby Lynne and, hopefully, some celebrity cameos. B) The Maxim party and the ESPN party. C) The Baby Doll Dixon party, held at a Subway on Main Street at 3:30 a.m. Has anyone ever been struck by the Light Rail while holding a meatball sandwich? It could happen Friday night. Back to the game ...
Since we need a semblance of football talk this morning, here are two other Patriots-related subplots that have been mildly intriguing this season. 1. Adam Vinatieri has been relatively shaky all season -- for him, anyway. Turns out he has been battling mysterious back problems. Before the playoffs, he was looming as an X-factor -- with a new snapper and just enough botched kicks to make Pats fans nervous.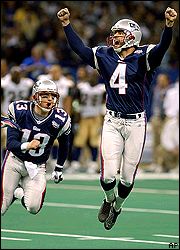 Adam Vinatieri's performance in Super Bowl XXXVI bought him a lifetime of good graces from Pats fans.

Even when he was lining up to make that incredible 46-yarder in zero-degree weather against the Titans, after all the big kicks he's made over the years, some Pats fans (like myself) couldn't imagine that he would come through. He just hadn't been kicking well. But he made it. He's a borderline deity in New England at this point. If they win another Super Bowl, and he does something great again, he's right up there with Paul Revere and Sam Malone.

Which raises the question ... After what happened during the first Super Bowl season, did Vinatieri earn permanent immunity with Pats fans? In other words, could anyone complain this Sunday if he misses a kick and costs the team a second title? I say no. You win a Super Bowl, you make two of the biggest kicks in football history ... and nobody can say anything after that. You just can't. That's like winning the lottery, then complaining because the convenience store where you bought the ticket hasn't had a winner since. But it's an interesting argument. And I hope we never have to find out the answer. 2. You remember my theory about championships: If your team wins it all, you have a five-year grace period where, in theory, you shouldn't be able to complain about anything. After all, the goal is to win the title, isn't it? Everything else over the next few years should be gravy, right? That raises three additional questions... Q: If the Pats blow the Super Bowl, obviously I'll be disappointed, but can I really complain after Super Bowl XXXVI? A: Probably not. Q: If they lose the game in devastating fashion, will it erase what happened two years ago? A: Again, no. A ring is a ring. Everything else is gravy. It's like making an Academy Award-winning movie ... you can't complain because your next one got nominated and didn't win. Unless a few years pass. Then you can get riled up. Q: If it's a five-year grace period, and the Pats win their second title, how many more years get added on to the grace period? A: My buddy Gus and I argue about this all the time -- he maintains that you add the periods together; and since he's a Broncos fan, everything's gravy for him until 2008. I disagree. I think the second grace period wipes out the first one. So if the Pats beat the Panthers again, I start fresh and enter my Gravy Phase for another five years. And that's just the way it is. See, these are the things you end up thinking about when you're waiting two weeks for the Super Bowl. Can we just play the game? Please? Bill Simmons is a columnist for Page 2 and ESPN The Magazine, as well as one of the writers for "Jimmy Kimmel Live." He'll be updating his Super Blog two or three times per day from Houston.