By Darren Rovell
Page 2
Adam spends most of his time on the tennis court these days.
Which is as it should be, being a college tennis player and all. But there once was a time, in fact only a couple months ago, when Adam was spending most of his time in front of the computer working, or at a casino, on the wrong game. Adam is a recovering gambling addict; poker was once his vice of choice.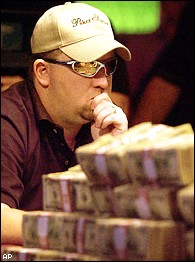 AP
Chris Moneymaker's success has helped create an explosion of interest in poker among young and old.
It all began innocently enough, he says, watching modern-day Mavericks of the felt table living the lives of the old frontier, reaping the glamor and riches that come with winning the next big pot. If only it were so easy.
After watching the World Series of Poker on ESPN last year, he was hooked. Poker ruled his life. He played as much as 14 hours a day.
"The typical day would probably start around 6:30 a.m.," said Adam, who asked that only his first name be used in this story. Many in his family, his father included, are unaware of his gambling addiction. "Stay at the computer until maybe 1 p.m., when maybe I'd go get something to eat and make an appearance downstairs so my parents don't think I'm playing poker. And probably go back to my room about 10 minutes later and play until around 8 p.m. Then, go downstairs, get some dinner and play until 2 or 3 in the morning.
"I did that every day."
Yes, poker has surpassed Paris (no, not the city) as the hottest five-letter word in America, and perhaps lost in the hype are the stories of young adults like Adam, who despises the World Series of Poker countdown clock that scrolls across the bottom of the screen on ESPN and squirms at the thought of touching a playing chip for fear that its texture against his hands will cause a costly relapse.
After downloading the rules of gambling onto his computer, Adam and six friends started playing with $10 buy-ins. Months later, he was losing $500 hands at a local casino he used a fake ID to sneak into or at online poker sites which never asked for proof of his age. Playing all day and night, he said he won as much as $12,000 in one day and lost as much as $7,000 the next. He said he sought help at Gamblers Anonymous, when he was up $7,000 on his poker career, and continues to regularly attend group meetings twice a week.
All In
Watch Darren Rovell's related SportsCenter feature;

which will appear Tuesday at 6 p.m., 11 p.m. and 1 a.m. ET.

"I need to get out of this while I'm alive," Adam remembers saying to himself.
Of course, not every 18-year-old kid who is attracted to playing poker is gambling to the extent that Adam did.
For more than a year now, Bill Nahill Jr. and his friends in Houston, Texas, have been playing poker every Friday night. They set up their professional-looking poker table, get the game started and immediately fill the room with gambling lingo. Although those in Nahill's group say their play is innocuous fun -- buy-ins never surpass $20, and they call their obsession for the card game a hobby -- observers in the gambling world are keeping a close eye on poker's popularity among teenagers to see if it will produce more, and specifically younger, gambling addicts.
Poker can be studied and perfected to a greater extent than roulette or craps. But some say poker is more susceptible to problem gambling because it appears to take more skill than it really does.
"Thinking you have a skill is a major risk factor for developing gambling-related problems," says Howard Shaffer, an associate professor of psychology at Harvard Medical School who is the director of the division on addictions. "The problem, of course, with poker is that there is a modicum of skill, and the skill level is determined in part by whoever else is at the table -- people who may be less understanding of the game or who might be more receptive to bluffing, for example. Fundamentally, when all things are equal, it's still a game of chance."
Poker Central
Have you become obsessed with poker too? Well, no worries -- Page 2 has launched its very own poker section. Check it out.
"It attracts people who are highly competitive," Adam says. "It's a game that you can learn in 10 minutes and feel that you are great at it in an hour."
Every player in Nahill's group has boned up on the rules to become a better player.
"I think we've all read Doyle Brunson's book 'Super System'," says Nahill, who will be attending Amherst College this fall. "I think we've all studied it as much as possible on TV -- studied the different ways they play, real aggressive, real conservative -- to find out who you like the best. And really as you go along, and you see so many hands, and you've played them, you automatically get better."
Almost everyone at the table talks about their favorite poker players, the way kids used to talk about their favorite athletes: Howard Lederer. Phil Ivey. Daniel Negreanu. Chris Moneymaker. Nahill's favorite is Phil Hellmuth.
All have Web sites touting their tips on the game.
Those who don't have an organized game can turn to poker on the Internet. More than $100 million is wagered on the game on more than 200 Web sites every day, according to Pokerpulse.com. And while most sites require players to be at least 18 years old, a minor can find ways to play for money. Just click the box that says you're older than you really are, punch in a credit card number and, chances are, there'll be no more questions asked.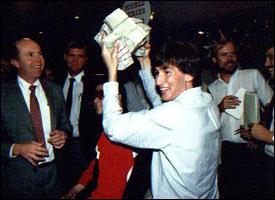 Images like Phil Hellmuth's victory celebration make it look so easy on TV. But for every winner, there are several losers at each table.
"I think we are diligent about trying to make sure people are of legal age, requiring them to agree to a license agreement and following up with them if we have suspicion otherwise," says Dan Goldman, vice president of marketing for Pokerstars.com, one of the most popular poker sites with some 600,000 registered users. As many as 20,000 people play on the site at one time.
But there is only so much a Web site can do.
As executive director of the Council on Compulsive Gambling in New Jersey, Ed Looney's organization plans to produce an educational video on the pitfalls of poker. The amount of stories he has heard about kids and poker are steadily increasing.
"We had an incident where a young kid in the sixth grade lost $300 playing poker, and the teacher found out about it and called the parents," Looney said.
More and more young adults are playing poker and odds are there will be more of those players addicted to poker than in previous times. But many gambling observers believe that while the fraction of those addicted to poker will increase, the total number of problem gamblers in the United States might not.
"Addiction doesn't reside in the game or in the object," Shaffer reasons. "My view is that the addiction resides in the relationship between the person and thing they do -- the drugs they might use, the games they might play -- because for different people, different games will make them feel pleasure, enjoyment, even get a rush."
One man responsible for televising poker said he doesn't believe being exposed to the game contributes to poker-addicted kids.
"I think if a kid is interested in poker, he'll watch it and maybe be a little bit more interested," says Mike Antinoro, executive director of ESPN Original Entertainment, which features The World Series of Poker on Tuesday nights and will produce a new poker-based drama called "Tilt" in January. "But I don't think that there are kids who are not interested in poker that are going turn on poker and say, 'This is something great; I really need to try this.' "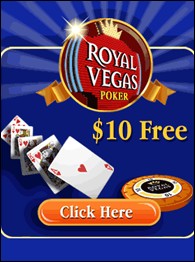 A gambling addiction can be just a click away on a number of poker Web sites, like this ad featured on pokerpulse.com.
Adam disagrees.
"All the kids are seeing what the commercial shows," he says. "This guy is going to win $5 millon and that's all they think about. They don't think about how 2,000 people are losing $10,000."
Chris "Jesus" Ferguson, the 2000 World Series of Poker champion who lost his first game of poker and the 35 cents that went along with it in the fourth grade, says that he doesn't believe kids should be told not to play poker.
"I think poker has really captured the imagination of our youth today, and what you want to do is use that to our advantage" says Ferguson, whose father taught game theory at UCLA. "Because we can actually use poker to teach kids about critical reasoning and mathematics and probability."
Instead, Ferguson believes teaching the probability of winning is the most important aspect of the game.
"If we teach kids the mathematics behind the reasoning that will show them that they're not going to win in the long run," Ferguson said, "then I think we can keep kids away from gambling."
Adam says he's telling his story because he wants people to learn from his mistake.
"Every single person at Gambler's Anonymous didn't start playing with $3,000 buy-ins," Adam said. "They all started by playing $10 buy-ins and all of them say they never thought it would come to that, but it's so easy and accessible these days.
"Who knows how different people will handle it."
Darren Rovell, who covers sports business for ESPN.com, can be reached at Darren.rovell@espn3.com.
Darren
Rovell
PIMPLED POKER FACES