By Darren Rovell
ESPN.com
The crowd of 5,500 people cheered as Marc Turndorf stepped to the plate for his first professional career at-bat.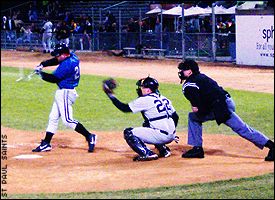 Marc Turndorf said he got more than his money's worth after paying to play in a St. Paul Saints game earlier this season.
The St. Paul Saints outfielder entered the game in the sixth inning as a pinch runner and batted in the bottom of the eighth against 6-foot-1 Lincoln Mincks, a 23-year-old pitcher for the Sioux Falls Canaries.
Yes, this is independent minor league baseball, where sometimes anything seems to go. Still, how many teams would think seriously about signing the 5-8 Turndorf, a 35-year-old video game producer from Los Angeles who hadn't played an organized game of baseball in 18 years?
Turndorf got his chance to face Mincks' 85 mile-per-hour fastball for one reason and one reason only: He paid for it. And though he popped out to Canaries catcher Josh Allan, Turndorf says it was worth the $5,601 he shelled out to play in the exhibition game.
Turndorf is part of a growing number of sports fans willing to pay top dollar to get close to the sport they love. For those who think fantasy camps filled with old-timers aren't exclusive enough, there are plenty of opportunities to get that one-of-a-kind experience rarely found on the open market.
Making fantasy a reality
It takes more than money to make fantasty sports become reality. Sometimes it takes a little attitude.

Turndorf estimates the true value of the package he won on eBay was worth at least $25,000. After three innings in the field and one at-bat on May 14, the Saints actually made him the starting left fielder the next day against a Japanese all-star team, although that was not part of the original deal. He went 0-for-4 at the plate, but made a running catch that was featured in the local paper the next day.
| | |
| --- | --- |
| Price | Event |
| $8,600 | Two hours with Magic Johnson |
| $6,101 | Lunch with Arnold Palmer |
| $1,850 | Lunch with Don King |
| $617.99 | Lunch with Rosey Grier |
"My at-bat got on ESPN, I got to keep my uniform, I played in another game and bookies were even putting odds on my chances to get a hit," Turndorf said.
Online sports book BoDog.com posted 4-to-5 odds that Turndorf would strike out in his first at-bat, and set the odds of a Turndorf home run at 100-to-1. The sports book took $800 in bets on Turndorf, according to spokesman Todd Corrigall.
A price for everything
When officials with the Fort Worth Cats, another independent minor league baseball team, thought of auctioning off the rights for a high-bidding fan to have 1,500 bobbleheads produced in his or her image for a giveaway night, they never expected to get $5,200 for it.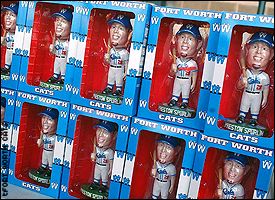 There were a few Preston Spurlin bobbleheads left over after the Cats' giveaway in May.
That's what David Spurlin, a businessman from Richardson, Texas, paid to have bobbleheads of his 19-year-old son distributed at the Cats' game on May 28.
The day of the game, his son, Preston, arrived with family and friends in three Hummer limos and watched fans receive the bobbleheads.
"There's always exciting stuff going on in my family," Preston said. "It's pretty funny that I became a bobblehead."
The majority of fans, who didn't bother to read the description on the back of the bobblehead box, probably had little clue who Spurlin was.
"It's kind of silly," said Willie Ybarra, a Cats fan from Fort Worth. "We'd rather have a player."
Said another fan, Elaine Lang: "If you got a lot of money and you want to throw it around like that, it's your choice."
As part of the deal, Preston's younger brother Steven threw out the ceremonial first pitch before the game, and his sister Jennifer sang "Take Me Out to the Ballgame" during the seventh-inning stretch.
The family also received 100 bobbleheads for their keeping.
"I actually paid a lot of money for something stupid," said David Spurlin, who added that he'd probably burn the bobbleheads that he couldn't give away to acquaintances.
Deep-pocketed hacking
When the chance to play golf with Tiger Woods came up in an eBay auction last year, John Mirlisena couldn't resist. So the 46-year-old banker from Cincinnati bid $50,000 to play golf with Woods at Warwick Hills Golf & Country Club in Grand Blanc, Mich.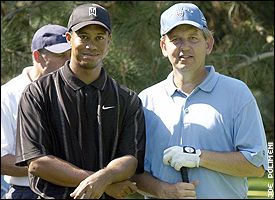 The chance to match his golf skills with Tiger Woods was worth any price for John Mirlisena.
"I didn't really think much about the money," Mirlisena said. "I just happened upon it and I was the only one who made the minimum bid."
Like Turndorf, Mirlisena felt that he got his money's worth. Since proceeds from the auction went to charity, Mirlisena received a tax deduction. He also secured Woods' autographed flags from all four majors and had plenty of time to chat with the man who'd been the world's No. 1-ranked golfer for 264 weeks until Vijay Singh overtook him last weekend. The conversation ranged from Michelle Wie's potential as a professional to Charles Barkley's hideous strokes.
It should be a lasting memory for Mirlisena, who hired a videographer and photographer to chronicle the session.
Woods auctions the right to play with him a couple times a year. In 2002, four men paid $425,000 for the privilege. This year, the round with Tiger at Warwick Hills had only a $10,000 minimum bid, and ultimately sold for $30,100.
Mirlisena, a low-ranking tennis pro in 1980 who said he once played a young Mats Wilander in Bordeaux, France, also paid a couple thousand dollars to play tennis with John McEnroe.
Darren Rovell, who covers sports business for ESPN.com, can be reached at darren.rovell@espn3.com. Kelly Morris of the Fort Worth Star-Telegram contributed to this report.