Bruce Bowen Puts LeBron James on Ice
SAN ANTONIO -- Know what the most irritating/allegedly dirtiest player in the NBA did on his off day Friday?
He helped dedicate a reading and learning center.
Know what the guy who Isiah Thomas said he would beat the (expletive) out of wants to do when he's done playing in the NBA?
Become a high school teacher.
Bruce Bowen attracts hatred like Paris Hilton, which is strange considering he has numerous good works to his credit -- including a foundation that helps underprivileged children -- and has one of the most inspirational stories in the NBA. Bowen overcame a drug-addicted mother, turbulent upbringing and fought his way through the CBA and French leagues.
But it's difficult to think of another NBA player who has more detractors than Bowen. He has been a marked man for awhile, but the dislike of Bowen reached a fever pitch this season because of a perceived knee to Steve Nash's groin, and being vilified by Thomas, Ray Allen and Amare Stoudemire, who accused Bowen of purposely standing underneath players to injure them.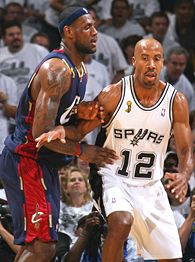 Jesse D. Garrabrant/NBAE via Getty Images
Bruce Bowen shadowed LeBron James in Game 1, holding him to just 14 points on 4-for-16 shooting.
Bowen certainly gained a few more enemies after holding LeBron James to 0-for-7 shooting in the first half and 14 points total in San Antonio's Game 1 victory over Cleveland. Very quickly the talk shifted from the greatness of LeBron to the greatness of Bowen and the Spurs' defense.
Asked what makes Bowen such a great defender, Cavs forward Drew Gooden rolled his eyes in aggravation -- a typical reaction in some NBA circles whenever Bowen's name is mentioned.
"I don't know [what he does]," Gooden said. "He ain't never guarded me."
Touchy, much?
"LeBron James has had success against Bruce Bowen in the past," Gooden added testily. "Bruce Bowen is a great defender, but we shouldn't let that get in our heads. I've seen other great defenders and I've seen LeBron James have 40-50 points on them. I don't even want to get into the subject of Bruce Bowen because I feel like LeBron James can score on anybody."
If Bowen, who on Friday reminded the media they have voted him runner-up for defensive player of the year three straight times, were liked he wouldn't deserve to have his name mentioned among the best defenders to play in the NBA. Think about it: Did anyone like Dennis Rodman or Bill Laimbeer?
"I don't take pride in being a villain," Bowen said. "I wish it was more or less a situation of people saying, 'He's a competitor.' When people go to the basket and make layups and things of that nature, they talk about what a warrior they are. They just have such a strong drive. How come it can't be that way for defenders?"
So what makes Bowen so good? Oh, and in the minds of certain players and some fans, so dirty?
Based on an unofficial poll of Cleveland and San Antonio players, here are the five things that make Bruce Bowen a great defender:
1. Desire. Sounds corny, but this is Bowen's foundation. Most players today want to be offensive juggernauts. Bowen did whatever he had to do to play. His route to San Antonio is a big reason Bowen is relentless on the floor. He was undrafted out of Cal State Fullerton. He played a year for the CBA's Rockford Lightning and two seasons for a pair of French teams. The Spurs are his fourth NBA team.
"The main thing is he wants to play defense," said Cleveland's Eric Snow, who played with Bowen in Philadelphia and has stayed in the NBA 12 seasons, in part, due to his own exceptional defensive ability. "That's where it starts. He has the ability, but he wants to do it. He understands, 'If I do this for my team, we have a great chance of winning and I can stay on this court.' He came into this league having to play defense to play. He's just developed the craft."
2. Hands and feet. "My man AI [Allen Iverson] used to call him 'Happy Feet,'" Snow said, "because he's always moving his feet. He's just irritating. He's always constantly moving, constantly has his hands on you. If there's ever a limit to what a defender can do, he'll always be to that limit."
3. The ability to sense frustration. "When you're trying to score the basketball, you have to go to second and third moves to even have an opportunity to score," said Cavs guard Damon Jones. "Scorers really don't want to expend that much energy."
4. He's a bit of a smart ass. Nobody is questioning the kind of person Bowen is, but he does possess some edge. Consider this exchange he had with the media on Friday:
Reporter: "Isn't it kind of weird there's a dynasty growing here in San Antonio?"

Bowen: "Weird? Why would it be weird? We have the talent here, so why would it be weird?"

Reporter: "For the most part, Boston and L.A., those places have the money. This is the first time this is happening in a small market."

Bowen: "I will knee you in the groin."
(Kidding. He didn't really say that. But how cool would it have been if he did?)
5. Bowen's mug -- and I don't mean his ability to mug. "I don't know, maybe it's his face," said San Antonio center Francisco Elson. "He scares you with his face."
Better that than his knee.
Jemele Hill can be reached at jemeleespn@gmail.com.