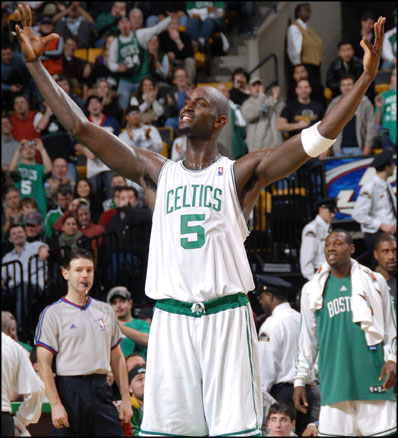 Brian Babineau/NBAE/Getty Images
The Big Ticket left Minny and never looked back.
Losing is never easy. Well, acceptance of it isn't, anyway. And in this particular case, it doesn't matter if you're talking about losing players (KG) or games (32; no, 33; wait, 34 … ) or seasons (this one, for instance). And though a kick in the mouth always hurts, Minny's pain is more raw than most, because trading away the face of the franchise has not only led to a league-worst record but has also created an equal but opposite reaction in Boston, where the Celtics are off to one of the best starts in NBA history with that face at the helm.
Bitter much? Depends on your point of view. The Wolves hadn't made the playoffs since they were beaten by the Lakers in the conference finals in 2004, and there was no reason to think fortunes in the Land of Lakes were about to change. So VP Kevin McHale was pretty sure something had to be done. And getting Al Jefferson (one of the few young bigs capable of anchoring a team from the low post) and Minnesota's 2008 first-round pick (reacquiring the one McHale dealt away in January 2006) was definitely something. Last July's record seven-for-one deal also included young prospects Gerald Green, Sebastian Telfair and Ryan Gomes, vet Theo Ratliff and another future first-rounder. But Jefferson was clearly the biggest fish in the net, reflected by the fact that McHale quickly locked him up with a five-year, $65 million extension. Even if Jefferson can't produce wins right away, getting back their pick means a bad season improves their chances at the No. 1 pick overall.
The problem is, neither slogans nor visions of a lucky ball bounce in May nor the anticipation of future improvement is much help for Jefferson and his teammates right now. The Wolves are in the midst of a bitter winter that has much more to do with a subzero point differential (-8.4) than a subzero windchill. (That'd be -15° in the Twin Cities on Jan. 20, in case you're wondering.) What the Timberwolves need at the moment are veterans who can teach them how to eke out a couple of wins or, at the very least, how to lose more competitively. It's not as if they're Timberpups; Minnesota's average age is 26.6, and a third of the league's teams are younger than that. But Garnett, back in the day, had Sam Mitchell and Terry Porter, both coaches now, to tutor him on practicing hard each day, dressing like a grown-up and handling the media.
Who does Jefferson have? He has Antoine Walker, who is in Minnesota precisely because his work ethic fell short of Pat Riley's expectations in Miami. Walker was nowhere to be found when the Man Who Would Be the Next Big Ticket emerged from the showers after a 111-98 home loss to the Warriors on Dec. 19. Jefferson folded down the collar of his polo shirt, pulled on his baggy jeans and laced up his gym shoes. Only then did he lift his head, a signal to the reporters who had been waiting patiently to hear his explanation of yet another second-half collapse. (This time the Wolves had led by as many as 14 in the first half.) It was only seven weeks into the season, and coach Randy Wittman was already tired of pointing out the same shortcoming: lack of on-the-floor leadership. "You need to start taping some of these and just start playing the tape," he said in his postgame press conference.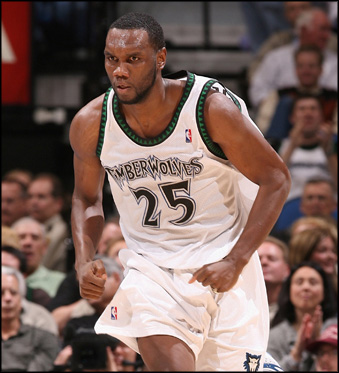 David Sherman/NBAE/Getty Images
Jefferson is a fan fave, but KG's legacy will linger for years.
If Wittman was tired of talking about it, Jefferson was tired of hearing about it. He visibly stiffened when someone asked where the team should look for leadership, the inference being that it should look to him. "What are you talkin' about?" Jefferson growled. "We have a lot of leaders. The guys on the court just got to come together and be like, 'Let's attack back. Let's stop 'em.'" A month later, after another loss to the same Warriors in the same building, Jefferson refused to talk to reporters at all, sending a gofer to fetch his clothes so he could dress in the training room before slipping out a back door.
Neither owner Glen Taylor nor McHale has felt the need to defend publicly—or even explain—their blockbuster deal, despite how grandly the big guy flourishes in Boston or how many critics say they were swindled. It's an odd silence, actually, because the fact is, they have a pretty solid defense. You can crack on them for not moving Garnett sooner or never building around him better, but the truth is, they would have been crazy to have held on to him longer. KG might have insisted he didn't want to go anywhere, but his loyalty had a steep price: the same three-year, $60 million extension Boston tacked on to the $45 million he'll make over this season and next.
A deal like that would mean five more years with a guy who led the team to 32 wins last season and 33 the season before that. Five more years with a guy whose knees, as the Timberwolves knew better than anyone, were already complaining about the 35,000 minutes put on them. Five more years with a guy who historically has deferred in the clutch, so any championship formula would require finding (and paying) someone to be the team's true MVP. McHale, it seems, finally got tired of looking for that someone.
It's too early to tell how two other promising young players, Randy Foye and Rashad McCants, could factor into McHale's scheme, or how many of the guys he picked up in the trade will still be around in a couple of years. But the team does have a plan, and it includes that No. 1 pick. Could you imagine landing a topflight point guard—say, Memphis' Derrick Rose or Indiana's Eric Gordon—to balance Jefferson's inside attack?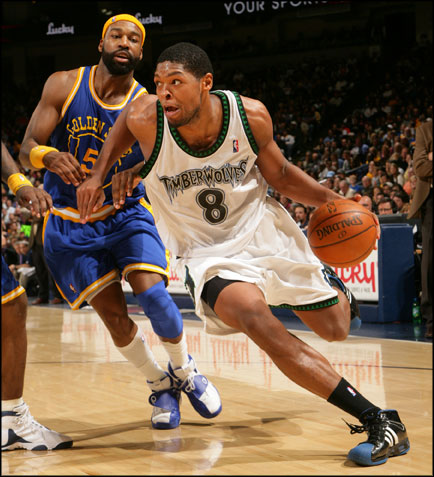 Rocky Widner/NBAE/Getty Images
Gomes' career-high 35 points, on MLK day, helped end Minny's 16-game road skid.
Even now, there are moments when the future peeks through on the floor. On Martin Luther King Day, the Timberwolves, losers of 16 straight road games, were in Oakland for a matinee with those same Warriors. For an afternoon it all clicked, with two pieces of the trade coming up huge. In the 109-108 win, Jefferson fouled out the long and lean Andris Biedrins while collecting 21 points and grabbing 12 rebounds; Gomes, a 6'7" bulldozer with three-point range, poured in 35 points and added 11 rebounds. Veteran guard Marko Jaric was stunned to see his younger teammates' confidence in full-fledged eruption. "We've won five games, and we're talking trash," says Jaric, shaking his head.
The win count is now seven and includes two victories over the mighty Phoenix Suns. Jefferson is quick to explain. "We've only been blown out twice," he says. "We lose games because of mental mistakes. We clean those up, we'll be all right." Buoyed by the win, Jefferson dismissed the idea that extreme pressure has come with being the player to replace an icon. "I'm happy to be in this situation, and I have my extension, so I know I'll be here for awhile," he says. Then he grins and adds, "There's more pressure on Kevin McHale. He's the one who made the deal."
THE FANS STRIKE BACK
It's ESPN The Magazine's issue for the fans, about the fans and even written by the fans.

FAN VS. WILD
We dropped a NASCAR fan five miles from Martinsville with $20 in his pocket and 24 hours until the Subway 500. His mission? Score a ticket to the race -- and survive!

HOW I LEARNED TO LOVE DIKEMBE
What happened when we sent a fan to cover an NBA game?

WHAT I LEARNED AT THE BEARS GAME
Life in the NFL can be a zoo.

DUPED
Its sounds like a fairy tale. Steve Yzerman, the legendary hockey hero, reaches out to Braxton Davis, a sick little boy. Think you've read this story before? Bet you haven't.

WOULD THE REAL O.J. MAYO PLEASE STAND UP?
Lots of people have been saying lots of things about O.J. Mayo for a long time. Care to know if any of it's true?

A LOVE-HATE RELATIONSHIP
For 352 days a year, Ron and Laura Ezell have the perfect marriage. Those other 13 days -- when Auburn or Alabama takes the field -- are a whole other story.

OUTTAKES
Kenny Mayne is kinda scared of Superfans like John "Big Dawg" Thompson, Steve "Raider Mort" Mortara and Joe "The Birdman" Ripley.

CAN'T BEAT 'EM? CURSE 'EM
Cardinals backers are once again bemoaning their team's bad luck. But the football-mad folks in one Pennsylvania town will tell you there's a darker force at work.

NO TICKET? NO PROBLEM
Wanna go to the game without going into debt? We asked some street wise scalpers to let you in on the tricks of their trade.

READ BETWEEN THE LINES
If the Giants-Patriots Super Bowl matchup doesn't have you on the edge of your seat, just follow our prop-bet guide ... and bet your lungs on "Free Fallin'."

FORMULA FOR FAILURE
It's early, but the formula for success in Minnesota isn't adding up. In fact, most fans say the Timberwolves are playing like it's 1989.


ESPN Top Headlines