Here are the rules to scalp by: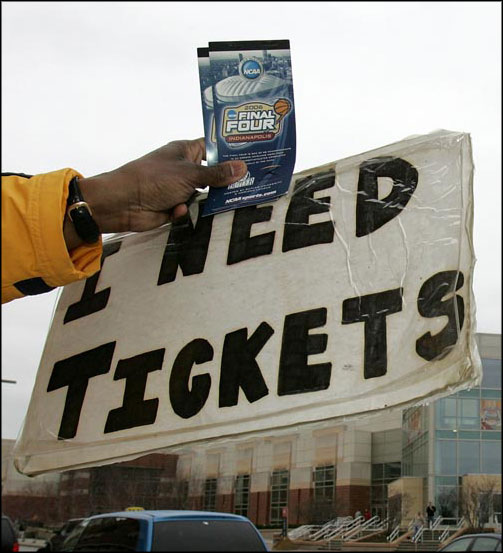 Streeter Lecka/Getty Images
There is absolutely no shame in working a street corner.
1. FOLLOW THE MARKET
Don't let inflated early prices get you down. Monitor StubHub and Craigslist, and if the market hasn't settled enough to buy before gameday, walk around outside the stadium in search of desperate men. "Don't assume the scalper is selling for more than face value," Bill says. Adds Tony: "If it's a half hour before game time and more people are selling than buying, you're gonna get a deal. Panic is in the air."
2. DON'T KID YOURSELF
"If every scalper is saying, 'I need tickets,' even if it's early, you may want to overpay," Bill says. "As game time gets closer, there's gonna be nothing out there."
3. FANS WANNA HELP FANS
Many diehards feel it's their duty to put a homer in the stands. "Look on your team's site and message boards," Mike says. "There's always a ticket thread, and usually they only sell at face." Work the stadium lots early, when families and true believers show up. Says Bill: "Heck, sometimes I'll get free tickets from fans."
4. FIND YOUR INNER SCALPER
Be aggressive. Says Tim: "Go to the stadium and ask fans, 'Who's selling?' or, 'Who's got extras?' A scalper might try to muscle you off the corner, but I've never seen a real fight." You can also run a Craigslist ad. Your post might get flagged—brokers are forbidden and users' objections oddly arbitrary—but there's nothing wrong with simply announcing, "I'm buying."
5. MANY SELLERS ARE NEWBIES
The Internet brings out inexperienced sellers, so don't take the early bait. "I call them quasi-brokers," Mike says. "They ask for too much money, then panic when it gets closer to the event and sell at a reduced rate. That's Craigslist: panicky sellers dumping overpriced stuff at the last minute."
6. CAVEAT EMPTOR IS NOT THE CUBS' NEW CLOSER
"If a seller wants you to Western Union him money," Bill says, "that is pure scam." So is asking you to go off-line to swing "a better deal" on the side. StubHub handles scammers so that you don't have to. But if you're using Craigslist, ask to meet the seller in person. Mike's rule of thumb: "Are they Google-able?" Also, if you can't buy in person, use a trackable method of payment such as PayPal. And as Tim suggests, search online for an image of a real ticket to make sure you don't get stuck with a fake one. "Go to eBay even if you're not gonna buy there," Tim says. "A lot of people have pictures of the tickets in their listings."
7. CHANGE IS GOOD
E-mail tickets are the future: You print them out, ushers scan their bar codes, you get in. Says Tim: "I've gotta log in and tell the team I want to e-mail the tickets, then I enter the buyer's online address, and he gets an e-mail from the team. Once he accepts the tickets, I can't e-mail them to anybody else. So the possibility for fraud diminishes."


THE EXPERTS:
BILL Lives in Philly but has about 25 Chargers season tickets. Can turn a $30K nut into six figures annually. Day job: runs ATMs with fees of $6.99 on the Jersey Shore.
Advice: "Don't assume the scalper is selling for more than face value."


TIM Bill's brother-in-law is a Philly lawyer. Does most of his scalping online but will work a street corner if necessary.
Advice: "Go to the stadium and ask fans, 'Who's selling?' or, 'Who's got extras?'"


MIKE Based in Manhattan, he helps Wall Streeters discreetly sell company seats. Uses group e-mails and Craigslist to pad his 300-deep client roster.
Advice: "Look on your team's fan site and message boards."


TONY Trawled Fenway Park and Boston Garden for four decades before procuring a broker's license and an office. "Most scalpers are not honest," he says. "I'm honest." Good to know.
Advice: "If it's a half hour before game time and more people are selling than buying, you're gonna get a deal. Panic is in the air."



Sport-by-sport speed round:
NCAA Tourney
Find the coaches' hotel. "Assistants don't make any money," Bill says, "so given a chance to score, well, there you go." (Be discreetcoaches aren't supposed to resell.) Also, hit up losing fans after the opening game.
College Football
If you look like Beano Cook, you might want to think twice about buying a student ticket. "When I went to Georgia for grad school, they didn't check student IDs," Tim says. "Other places, like Ohio State, are strict. Then again, I've seen listings on eBay for Ohio State student tickets that come with IDs." Penn State admits anyone with a student ticket—and $25 to pay a no-ID fee.
MLB
What's bad for brokers is good for you. "Day games during the week are tough," Mike says. "Not many people skip work on a Thursday." Be one of those people.
NBA
Again, their loss is your gain. "January sucks," Bill says, blaming crappy weather and Christmas debt for low sales. He also advises buying on weeknights. "I get as much money back as possible and move on."
NFL
Trawl after kickoff, especially at playoff time. Fans make solid plans to watch those games, Bill says, and in the end, the market tends to crash. But you're on your own for the Super Bowl, pal.
THE FANS STRIKE BACK
It's ESPN The Magazine's issue for the fans, about the fans and even written by the fans.

FAN VS. WILD
We dropped a NASCAR fan five miles from Martinsville with $20 in his pocket and 24 hours until the Subway 500. His mission? Score a ticket to the race -- and survive!

HOW I LEARNED TO LOVE DIKEMBE
What happened when we sent a fan to cover an NBA game?

WHAT I LEARNED AT THE BEARS GAME
Life in the NFL can be a zoo.

DUPED
Its sounds like a fairy tale. Steve Yzerman, the legendary hockey hero, reaches out to Braxton Davis, a sick little boy. Think you've read this story before? Bet you haven't.

WOULD THE REAL O.J. MAYO PLEASE STAND UP?
Lots of people have been saying lots of things about O.J. Mayo for a long time. Care to know if any of it's true?

A LOVE-HATE RELATIONSHIP
For 352 days a year, Ron and Laura Ezell have the perfect marriage. Those other 13 days -- when Auburn or Alabama takes the field -- are a whole other story.

OUTTAKES
Kenny Mayne is kinda scared of Superfans like John "Big Dawg" Thompson, Steve "Raider Mort" Mortara and Joe "The Birdman" Ripley.

CAN'T BEAT 'EM? CURSE 'EM
Cardinals backers are once again bemoaning their team's bad luck. But the football-mad folks in one Pennsylvania town will tell you there's a darker force at work.

NO TICKET? NO PROBLEM
Wanna go to the game without going into debt? We asked some street wise scalpers to let you in on the tricks of their trade.

READ BETWEEN THE LINES
If the Giants-Patriots Super Bowl matchup doesn't have you on the edge of your seat, just follow our prop-bet guide ... and bet your lungs on "Free Fallin'."

FORMULA FOR FAILURE
It's early, but the formula for success in Minnesota isn't adding up. In fact, most fans say the Timberwolves are playing like it's 1989.


ESPN Top Headlines