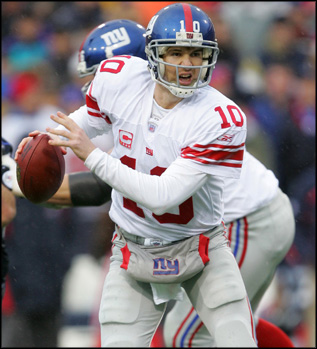 Paul Jasienski/Getty Images
When exactly is Eli Manning a safe bet?
1. LENGTH OF NATIONAL ANTHEM
BOYD GAMING OVER/UNDER:
1 minute 42 seconds

The past 12 Super Bowl anthem singers have averaged 1 minute 44 seconds from "Oh, say" to "home of the brave." Yes, that almost perfectly corresponds with this year's over/under, presumably making any wager a 50/50 proposition. But keep in mind, there are singers, then there are belters. "Because of all the embellishments," says Berklee College of Music's Jan Shapiro, "they tend to take a little longer."
Make that a lot longer. Since Super Bowl XXX, anthem belters (Aretha, Beyoncé) have averaged 2:03. On the flip side, anthem singers (Vanessa Williams, Jewel) come in at a tidy 1:38.
So where does this year's vocalist, Jordin Sparks, fit in? Last year at the NBA Finals, the American Idol winner did her biz in 1:41. Now that the daughter of former Giants cornerback Phillippi Sparks is going global in front of 200,000 million eyeballs, she's not likely to slow it down. Says Shapiro:"It's human nature that if someone's nervous, they're going to rush."
In other words, take the under.


2. PLAYER TO WIN MVP
BOYD GAMING LINE: Tom Brady 1-2; Randy Moss 4-1; Wes Welker 5-1; Eli Manning 7-2; Plaxico Burress 8-1
If you want to score big by rolling with an underdog, look Wes Welker square in his little eyes.
Five times a receiver has caught 10 or more passes in a single Super Bowl. Two of those times, the receiver was rewarded with the MVP. (Four other receivers have won MVPs with fewer than 10 catches.)
This season, Welker had three games with 10 or more receptions, and he also had four games with nine receptions. Since the Giants secondary is somewhat hobbled by injuries and is likely to pay a ton of attention to Randy Moss, Welker has a decent shot to post another of those high-volume days—and pay you off. If you can get him for better than 5-1, take it.


3. WHO WILL SCORE MORE POINTS ON FEB. 3, KOBE BRYANT OR THE PATRIOTS?
BOYD GAMING LINE: Pats 6-5
In one corner, we have the Patriots. The opening Super Bowl line had New England giving the Giants 14 points with an over/under of 55 points. In other words, Vegas was predicting the Pats would score roughly 35 points and the Giants around 20.
That said, Super Bowl winners typically score 30.5 ppg. And the Patriots have averaged 25.3 ppg in their three Super Bowl wins. Even though this year's Pats are neither typical nor average (with an NFL-record 589 total points, or 36.8 ppg), they're averaging only 26 ppg during the playoffs. Then again, they did drop 38 on these very same G-Men in Week 17. What's it all mean? That Brady's bunch is a lock to put up between zero and 67 points come Super Sunday.
In the other corner, wearing gold-and-purple trunks, we have Kobe. The NBA's second-leading scorer is averaging 27.7 ppg. On Sundays, though, he's averaging 29.4. What's more, on Super Sunday, he'll be balling on the road with one day's rest. The only other time this season he played a Sunday road game with one day's rest, he dropped 39 on the Knicks. Bad news is, he'll be facing the Wizards, against whom he has a career average of only 21.2 points per road game. What's it all mean? That Kobe is a lock to put up between zero and 67 points come Sunday.
Confused? You shouldn't be—not when you consider that the only other time Bryant and the Pats squared off on Super Bowl Sunday (Feb. 3, 2002), Bryant emerged with a 24-20 victory. Clearly, he dominates the series. It's Kobe in a walk.


4. FIRST TEAM TO SCORE A TOUCHDOWN
BOYD GAMING LINE: Pats slightly more than 2-1
We've got a number for you: 42%. That's the percentage of drives in which New England has scored a TD, more than double the Giants' scoring rate. Meanwhile, the Pats D was slightly more stingy in allowing TDs (17% of drives) than the Giants (19%).
As for the postseason, the Giants' 26% TD rate still pales in comparison with the Pats' playoff TD rate of 39%. And the gap between the two defenses only grew on the road to the Super Bowl (11% vs. 21%).
Factor in all those rates, and the Pats rate as 2-1 faves to put six on the board first.
BONUS PLAY: In the Super Bowl, first impressions do matter: The team that hits pay dirt first is 30–11.


5. WILL TOM PETTY PERFORM "FREE FALLIN'" AT HALFTIME?
LINE: Technically there isn't one, but go find yourself a Radiohead fan and see what he'll give you.
Tom Petty might not have been the NFL's first pick for its halftime show, but chances are he'll give fans their first choice. And second. And third. "He's a crowd-pleaser," says Rolling Stone assistant editor Andy Greene of the 57-year-old rocker, who reportedly was tabbed only after the Eagles and The Boss passed.
Officially, Petty's biggest hit is "Stop Draggin' My Heart Around," a duet with Stevie Nicks that peaked at No. 3 on the charts in 1981. Yet it's not likely to make the 12-minute set list based on its ballad status. Petty's next-biggest hit is "Free Fallin'," which reached No. 7 in 1989 before reaching millions of moviegoers when Tom Cruise went all car-aoke in Jerry Maguire. "Whenever Tom Petty plays that song, the place goes crazy," Greene says. "It's anthemic."
That's why "Free Fallin'" is as much of a lock as Bill Belichick's scowling.


6. FIRST TEAM TO USE COACH'S CHALLENGE
BOYD GAMING LINE: Even
Over the past five years, Tom Coughlin has challenged 39 plays to Bill Belichick's 31. That makes the Giants coach a 4-3 favorite to toss the first red flag.


7. FIRST TEAM TO COMMIT A PENALTY
BOYD GAMING LINE: Giants slight favorites
At first glance, it's hard to find a favorite here. The Giants ranked 27th in the NFL with only 90 penalties this season (including declined and offsetting ones). The Pats ranked 28th with 88. But have no fear—we've spotted an angle. The Giants earned 59% of their penalties at home—the highest rate in the NFL. The Pats, like most teams, were flagged slightly more often on the road. Given that the Super Bowl is a road game for both teams, the odds slightly favor the Patriots to earn the first yellow flag.
BONUS PLAY: Go ahead, G-Men, hold a Patriot. In the Super Bowl, the team that has the first penalty accepted against it is 26–15.


8. FIRST QB TO THROW A PICK
BOYD GAMING LINE: Eli Manning 5-2
Don't be a sucker. Yeah, Eli Manning enters the Super Bowl riding a three-game pickless streak, while Tom Brady has thrown six interceptions in his past five games. But Manning's career bad-decision rate (balls forced into coverage) is 3%, compared with Brady's 1%. In other words, Manning will make a mistake about once every 33 pass attempts. Brady? Once every 100 passes. Big difference—enough to make Eli the 3-1 fave to get picked first.
BONUS PLAY: Eli, Giants fans are begging you: When in doubt, throw it away. In the Super Bowl, the team that throws the first pick is 11–28.

THE FANS STRIKE BACK
It's ESPN The Magazine's issue for the fans, about the fans and even written by the fans.

FAN VS. WILD
We dropped a NASCAR fan five miles from Martinsville with $20 in his pocket and 24 hours until the Subway 500. His mission? Score a ticket to the race -- and survive!

HOW I LEARNED TO LOVE DIKEMBE
What happened when we sent a fan to cover an NBA game?

WHAT I LEARNED AT THE BEARS GAME
Life in the NFL can be a zoo.

DUPED
Its sounds like a fairy tale. Steve Yzerman, the legendary hockey hero, reaches out to Braxton Davis, a sick little boy. Think you've read this story before? Bet you haven't.

WOULD THE REAL O.J. MAYO PLEASE STAND UP?
Lots of people have been saying lots of things about O.J. Mayo for a long time. Care to know if any of it's true?

A LOVE-HATE RELATIONSHIP
For 352 days a year, Ron and Laura Ezell have the perfect marriage. Those other 13 days -- when Auburn or Alabama takes the field -- are a whole other story.

OUTTAKES
Kenny Mayne is kinda scared of Superfans like John "Big Dawg" Thompson, Steve "Raider Mort" Mortara and Joe "The Birdman" Ripley.

CAN'T BEAT 'EM? CURSE 'EM
Cardinals backers are once again bemoaning their team's bad luck. But the football-mad folks in one Pennsylvania town will tell you there's a darker force at work.

NO TICKET? NO PROBLEM
Wanna go to the game without going into debt? We asked some street wise scalpers to let you in on the tricks of their trade.

READ BETWEEN THE LINES
If the Giants-Patriots Super Bowl matchup doesn't have you on the edge of your seat, just follow our prop-bet guide ... and bet your lungs on "Free Fallin'."

FORMULA FOR FAILURE
It's early, but the formula for success in Minnesota isn't adding up. In fact, most fans say the Timberwolves are playing like it's 1989.


ESPN Top Headlines