Kenny Mayne is kinda scared of Superfans like John "Big Dawg" Thompson, Steve "Raider Mort" Mortara and Joe "The Birdman" Ripley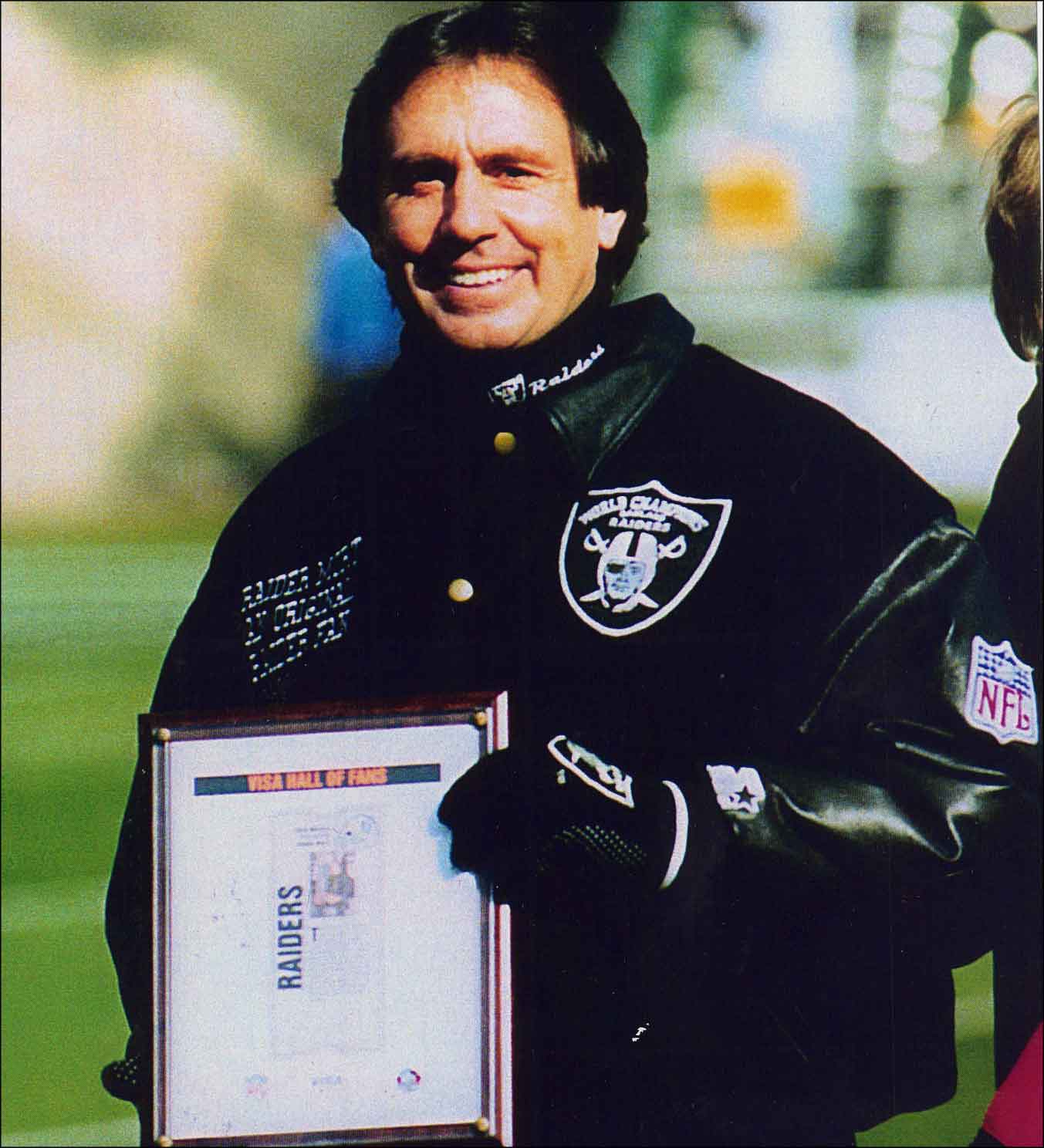 Courtesy Steve Mortara
This guy has been cheering for the Raiders for over 40 years &hellip seriously.
KM:
Joe "The Birdman" Ripley—what's your deal?
JR:
I'm the superhero every metropolis needs. I am the friendly feathered fowl that is professionally unaffiliated with the Philadelphia football franchise. I'm a mere fan. I walk the walk and squawk the squawk. [
Loud Screeching
.] I'm also a Philly union carpenter.
KM:
Right. And you other guys?
SM:
I'm Raider Mort. I was an assistant golf pro, taught high school and had a string of night clubs. Now I'm in real estate and take care of my rental units. I'm also chairman of the board of the Raider Nation, because I'm a Raider from the first day: July 31, 1960.
JT:
And I'm John "Big Dawg" Thompson. D-A-W-G.
KM:
How many other fans have you found who use "Big Dawg"?
JT:
There's only one Big Dawg. And I let Glenn Robinson know it once at a Cavs game. It was the night the Cavs knocked the Bucks out of the playoffs.
KM:
Do you ever forget your real identity and believe you're an actual canine?
JT:
Absolutely. You have to transform yourself into The Dawg. I've been The Dawg since 1985, so in doggy years I'm a pretty old man.
KM:
To show your admiration of a player or coach, do you lick his face?
JT:
I display affection with a hug.

KM: Does Al Davis really wear pajamas to important meetings?
SM: No they are custom-made sweat outfits.

KM: When did you become Birdman?
JR: I was living in Virginia Beach in 1986 or so and would come back for a handful of games a year. I wanted to make a mark, so my buddies down there would know I was at the game if I got on TV. I thought, Why not go with a cape, leotard and squawk? I put it on before I left, and the guys looked at me and said, "You're going to get your ass kicked."
KM: Can you fly?
JR: I fell three bleachers once.

KM: What's the toughest defeat you've ever had to suffer?
JR: The championship game against Tampa. Our last game at the Vet. The team was favored, and everyone figured we'd close the Vet out and go on to win our first Super Bowl.
SM: Ours was the same year. Super Bowl XXXVII, against Tampa. They were just jumping our routes all game, and we didn't switch attacks.
JT: The Drive, in '87. Our comeback against the Jets the week before was the most incredible game I witnessed, and to have Elway do that to us a week later …
SM: I want to back up. From 1967 to 1985, the Raiders were in teh playoffs 15 times. Sure, we won three Super Bowls, but we also twice lost three championship games in a row.
JR: Mort, Mort, Mort, Mort, I got to break out a box of Kleenex. You're killing me.
SM: Yeah, well, I'm making a point here.
JR: What point? You won the big one against us, so I don't want to hear it.
KM: When your team is out of the playoffs, what do you do?
JR: I switch right into college basketball. I'm 100% devoted to Eagles football.
SM: I sit in front of the TV. I like to see how various coaches attack each other.
JT: I watch. It's still football. And I'm a Belichick fan, so I'm 100% on the boat, baby.

THE FANS STRIKE BACK
It's ESPN The Magazine's issue for the fans, about the fans and even written by the fans.

FAN VS. WILD
We dropped a NASCAR fan five miles from Martinsville with $20 in his pocket and 24 hours until the Subway 500. His mission? Score a ticket to the race -- and survive!

HOW I LEARNED TO LOVE DIKEMBE
What happened when we sent a fan to cover an NBA game?

WHAT I LEARNED AT THE BEARS GAME
Life in the NFL can be a zoo.

DUPED
Its sounds like a fairy tale. Steve Yzerman, the legendary hockey hero, reaches out to Braxton Davis, a sick little boy. Think you've read this story before? Bet you haven't.

WOULD THE REAL O.J. MAYO PLEASE STAND UP?
Lots of people have been saying lots of things about O.J. Mayo for a long time. Care to know if any of it's true?

A LOVE-HATE RELATIONSHIP
For 352 days a year, Ron and Laura Ezell have the perfect marriage. Those other 13 days -- when Auburn or Alabama takes the field -- are a whole other story.

OUTTAKES
Kenny Mayne is kinda scared of Superfans like John "Big Dawg" Thompson, Steve "Raider Mort" Mortara and Joe "The Birdman" Ripley.

CAN'T BEAT 'EM? CURSE 'EM
Cardinals backers are once again bemoaning their team's bad luck. But the football-mad folks in one Pennsylvania town will tell you there's a darker force at work.

NO TICKET? NO PROBLEM
Wanna go to the game without going into debt? We asked some street wise scalpers to let you in on the tricks of their trade.

READ BETWEEN THE LINES
If the Giants-Patriots Super Bowl matchup doesn't have you on the edge of your seat, just follow our prop-bet guide ... and bet your lungs on "Free Fallin'."

FORMULA FOR FAILURE
It's early, but the formula for success in Minnesota isn't adding up. In fact, most fans say the Timberwolves are playing like it's 1989.


ESPN Top Headlines