The Ezell family's home sits along Charlotte's picturesque Camilla Drive, framed by towering oaks and green winter azaleas. Passersby would never guess that on the flip side of this postcard is a turf war, with 2-year-old Cole Ezell's future hanging in the balance. Father Ron is a third-generation Alabama fan who, on fall Saturdays, drives eight hours to Tuscaloosa with his family's season tickets in hand. Mom Laura is a 1996 Auburn grad, and her eyes sparkle at the mention of Bo, Cadillac and Toomer's Corner.

As Cole grows older, Ron and Laura escalate their campaigns to sway him toward their respective colors. But Bear and Shug be damned, they'll somehow celebrate five (mostly) happy years of marriage on Feb. 22.
To help them work through their divided loyalties, we scheduled a session with Charlotte couples counselor pastor Gayle Montgomery. Unbeknownst to the Ezells, Montgomery is a Knoxville-bred Tennessee Vol. So let's start healing hearts … or at least slap Band-Aids on them until the next Iron Bowl.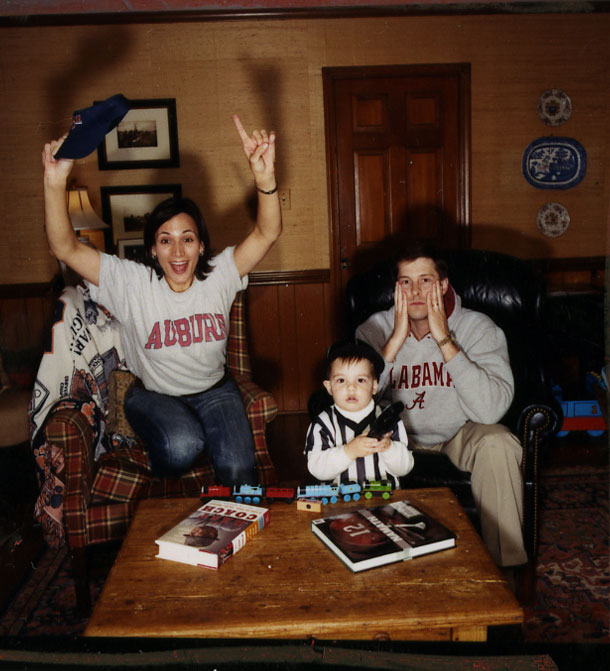 Andrew Hetherington
The Ezell household is a quiet one … except on gameday.
MONTGOMERY:
Ron and Laura, how did we end up here?
LAURA: We actually knew each other a little in grade school. But it wasn't until he was out of grad school and I was working as a flight attendant that we were set up on a date. We started going out, and he was very nice, but he wore Alabama T-shirts every day.
MONTGOMERY: Was that not a red flag for you?
LAURA: Well, we were in our late 20s, and I assumed he'd outgrow it.
RON: She made a remark about hating Alabama fans on that first date. I reminded her that I was still very much an Alabama fan.
MONTGOMERY: Laura, how did that make you feel?
LAURA: I knew he'd actually gone to Samford, so I believed I could change him. But I was apprehensive, skeptical.
MONTGOMERY: Did it make you question Ron's character?
LAURA: Absolutely. Had I known that prior to the date, I wouldn't have gone through with it.
MONTGOMERY: Ron, what are you thinking as you hear this?
RON: Well, it makes me realize that love is deeper than football. I know that's hard to believe, especially in the SEC.
MONTGOMERY: That sounds like a mantra for you. Do you repeat it to yourself during the difficult times?
RON: I do. Near the end of November, when it's time for the Alabama-Auburn game, that's what gets me through.
LAURA: That weekend has been especially hard for Ronnie over the past—what is it, honey, six years in a row? [She pats him on the knee, and he grits his teeth in a forced smile.]
MONTGOMERY: There is obviously a lot of underlying tension here. How do you cope with that?
LAURA: Compromise. Ronnie can have all the Alabama memorabilia that he wants. It just has to stay at his office.
RON: During this past Iron Bowl, we were on a romantic getaway in the mountains. She stayed in the room, and I went down to the hotel restaurant. When we watch Auburn, I comment on the good plays to make Laura feel good, but inside I'm pulling for 0–12 every year.
LAURA: When Alabama wins, I'm happy that Ronnie is happy. But when they lose, I feel like it's a better day for the country.
MONTGOMERY: Let's talk about Cole.
RON: After he was born, I was told in no uncertain terms that he was never to wear any Alabama gear.
MONTGOMERY: Does that rule also apply to Auburn?
LAURA: Ron doesn't need to know what happens at the house while he's at work.
RON: I know there's a No. 24 Cadillac Williams jersey in Cole's drawer, but I have not seen it on him. I worry about the long-term effects of children being exposed to items like that.
LAURA: But Cole has worn an Alabama sweatshirt before.
RON: My parents gave it to him, and one day, when Laura was inside, I took him out and snapped a couple of photos to send to his grandparents.
LAURA: I had no idea until I was scrolling through the digital camera one day and saw it.
MONTGOMERY: And how did that make you feel?
LAURA: It was a shock. I remember gasping.
MONTGOMERY: As Cole gets older and he approaches the decision of which team he'll support, do you feel the tension beginning to rise in your home?
LAURA: Without a doubt. I've always dreamed of going to games with my Auburn family. It is a fervent prayer of mine that Cole will go to Auburn.
RON: Wow. [Nervous laughter.] We'll go to Auburn games with Cole, honey. [She looks up with a surprised smile.] Alabama-Auburn games. [The smile disappears.]
MONTGOMERY: Cole might need someone objective to talk to soon, and I would love to offer my services. I went to Tennessee and have the cutest Vols jersey that I could share with him. Of course, had you chosen the only real school in the SEC in the beginning, you wouldn't be having problems.
RON: Well, now there's one thing Laura and I can agree on.
LAURA: Yes. You can leave now.
THE FANS STRIKE BACK
It's ESPN The Magazine's issue for the fans, about the fans and even written by the fans.

FAN VS. WILD
We dropped a NASCAR fan five miles from Martinsville with $20 in his pocket and 24 hours until the Subway 500. His mission? Score a ticket to the race -- and survive!

HOW I LEARNED TO LOVE DIKEMBE
What happened when we sent a fan to cover an NBA game?

WHAT I LEARNED AT THE BEARS GAME
Life in the NFL can be a zoo.

DUPED
Its sounds like a fairy tale. Steve Yzerman, the legendary hockey hero, reaches out to Braxton Davis, a sick little boy. Think you've read this story before? Bet you haven't.

WOULD THE REAL O.J. MAYO PLEASE STAND UP?
Lots of people have been saying lots of things about O.J. Mayo for a long time. Care to know if any of it's true?

A LOVE-HATE RELATIONSHIP
For 352 days a year, Ron and Laura Ezell have the perfect marriage. Those other 13 days -- when Auburn or Alabama takes the field -- are a whole other story.

OUTTAKES
Kenny Mayne is kinda scared of Superfans like John "Big Dawg" Thompson, Steve "Raider Mort" Mortara and Joe "The Birdman" Ripley.

CAN'T BEAT 'EM? CURSE 'EM
Cardinals backers are once again bemoaning their team's bad luck. But the football-mad folks in one Pennsylvania town will tell you there's a darker force at work.

NO TICKET? NO PROBLEM
Wanna go to the game without going into debt? We asked some street wise scalpers to let you in on the tricks of their trade.

READ BETWEEN THE LINES
If the Giants-Patriots Super Bowl matchup doesn't have you on the edge of your seat, just follow our prop-bet guide ... and bet your lungs on "Free Fallin'."

FORMULA FOR FAILURE
It's early, but the formula for success in Minnesota isn't adding up. In fact, most fans say the Timberwolves are playing like it's 1989.


ESPN Top Headlines