What I learned at the Bears game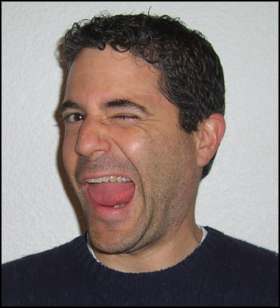 by
MATT ROSENBERG
Age 36
Technology Sales Executive
San Francisco, CA
THOSE FOUR LETTERS GO A LONG WAY
In addition to being a lifelong Bears fan, I also work in sales. That means I've been platinum on every major airline for the last six years. I mention this because my frequent flyer clout was of no use when American Airlines canceled my flight from San Francisco to Chicago. Didn't they understand that I had to get to the Bears game? That I was with ESPN?
Testing my new job title, I sighed to the airline agent that I just had to get to Chicago for the "big game," Bears vs. Vikings. "Oh, I see this ticket was booked by ESPN," she responded. Miracle of miracles, she found me a flight. Better yet, I could upgrade to business class. I was Mr. ESPN! Soldier Field, here I come! Ah, the power of the press.
THERE'S ALWAYS A DOWNSIDE
Normally, I make every effort to avoid interacting with the other passengers on a plane. I avoid eye contact, put on my Bose noise-canceling headset and, if need be, drool on myself. This flight was different. I was Mr. ESPN.
After I sat down, I took out The Mag and my Chicago Bears media guide. I saw the guy next to me look over. I gave him the eyebrow raise. Problem was, 30 minutes later I really wanted out of the conversation. I even thought about drooling after he grilled me over the BCS and whether the Twins would really trade Santana. My day job working for a tech company never seemed so good.
THE NFL HAS THE KEY TO THE MEDIA'S HEART
Media coverage of the NFL is unprecedented. Here's why: They know what men love, and in the press box, they give it to them. Sports? Check. Fast Internet? Check. Cute media-relations staff? Check. A clean bathroom? Check. Food? Checkmate. At a time when most restaurants are moving to lighter, healthier fare, the NFL has gone in the exact opposite direction. Hot wings for everyone!
IT'S HARD NOT TO BE PASSIONATE
It's strange sitting in the press box, a glass fishbowl, not being able to cheer for your team. It was sensory deprivation. You couldn't hear the crowd, feel the cold wind, smell the hot dogs or stale beer. I was Matt, the media bubble boy, and I didn't like it.
THEY REHEARSE THE NATIONAL ANTHEM
I didn't know they did that during pregame, but they do.
THE PLAYERS HAVE BETTER THINGS TO DO
Why were all the players in the locker room during the national anthem, our tribute to our nation? Shouldn't somebody do a story on this? I was outraged.
THE BEARS TOOK THE DAY OFF
My Bears found a way to lose to the Vikes on a last-second field goal. In a lifetime filled with sports teams disappointing me, this year was near the bottom. After the run to the Super Bowl, the Bears trade Thomas Jones, squabble with Briggs, dump Johnson and don't realize that Mike Brown is made of glass. Grossman still doesn't get it, and the O-line crumbles. Worst of all, they play uninspired football. At least the bad teams of years past played hard.
SOME THINGS ARE BETTER LEFT UNSEEN
Remember that moment as a kid when you first learned that Indiana Jones was made on a set and not in a real jungle? You felt confused and cheated, right? That's how I felt watching Lovie Smith's press conference after the game, which took place in a tiny, nondescript room. Total buzz kill.
THE POSTGAME LOCKER ROOM IS A ZOO
In the locker room, the press gathered around Adrian Peterson like a herd of wildebeests. I walked over, and suddenly the pack heard the call of the wild and ran to Olin Kreutz, leaving Peterson alone in front of his locker. I asked him what he'd said to scare them all away. He had no idea. I asked him how they know when to approach him. "Man, I have no idea why they come and why they go," he told me. "They are strange cats." I didn't have the heart to tell him that, in fact, they're wildebeests.
Coming in, I was afraid I'd see the team dancing, laughing, snapping towels at each other, rich guys not caring that they'd lost. You know what? They were angry. They were sad. They were disappointed. I didn't think it was possible, but that made me care about my Bears even more.
THE FANS STRIKE BACK
It's ESPN The Magazine's issue for the fans, about the fans and even written by the fans.

FAN VS. WILD
We dropped a NASCAR fan five miles from Martinsville with $20 in his pocket and 24 hours until the Subway 500. His mission? Score a ticket to the race -- and survive!

HOW I LEARNED TO LOVE DIKEMBE
What happened when we sent a fan to cover an NBA game?

WHAT I LEARNED AT THE BEARS GAME
Life in the NFL can be a zoo.

DUPED
Its sounds like a fairy tale. Steve Yzerman, the legendary hockey hero, reaches out to Braxton Davis, a sick little boy. Think you've read this story before? Bet you haven't.

WOULD THE REAL O.J. MAYO PLEASE STAND UP?
Lots of people have been saying lots of things about O.J. Mayo for a long time. Care to know if any of it's true?

A LOVE-HATE RELATIONSHIP
For 352 days a year, Ron and Laura Ezell have the perfect marriage. Those other 13 days -- when Auburn or Alabama takes the field -- are a whole other story.

OUTTAKES
Kenny Mayne is kinda scared of Superfans like John "Big Dawg" Thompson, Steve "Raider Mort" Mortara and Joe "The Birdman" Ripley.

CAN'T BEAT 'EM? CURSE 'EM
Cardinals backers are once again bemoaning their team's bad luck. But the football-mad folks in one Pennsylvania town will tell you there's a darker force at work.

NO TICKET? NO PROBLEM
Wanna go to the game without going into debt? We asked some street wise scalpers to let you in on the tricks of their trade.

READ BETWEEN THE LINES
If the Giants-Patriots Super Bowl matchup doesn't have you on the edge of your seat, just follow our prop-bet guide ... and bet your lungs on "Free Fallin'."

FORMULA FOR FAILURE
It's early, but the formula for success in Minnesota isn't adding up. In fact, most fans say the Timberwolves are playing like it's 1989.


ESPN Top Headlines